The Tower, a hardcore Zionist propaganda site, is calling me names. Ouch!
In an article headlined Oberlin Professor Thanks Anti-Semitic Conspiracy Website for Support, the anonymous author, hiding behind the moniker "Tower.org Staff," lobs "unlovely phrases" at VT in general and yours truly in particular.
Zionists think mindless ad hominem insults are knockout punches. For them, "conspiracy theorist" is a left hook. "Anti-Semite" is a right cross to the jaw. Put them together and it's a KO.
In your dreams, guys.
The Zios should take a lesson from George Foreman's loss to Muhammad Ali in the legendary "rumble in the jungle." Rather than trying to hide from the punches, Ali hung in there, took the punishment, and emerged victorious.
Me, I'd rather fight the Zionists than Foreman. The effect of such horrific haymakers as "conspiracy theorist" and "anti-Semite" (not to mention the dreaded combination of the two) is getting weaker and weaker.
You can sense they're growing desperate. The Zionist mind-lock on the world is crumbling.
The neocons are panicking about Donald Trump's success—not because Trump is an Islamophobic demagogue and torture enthusiast who wants to raise the already economy-crushing military budget (in all this he is indistinguishable from the neocons) but because they're afraid he might not be a complete slave of Israel like the other candidates…and Trump even wants to audit the Zionist-dominated Federal Reserve!
Speaking of which, the Zio-con team just called a sequel to the 1913 Creature from Jekyll Island  meeting where the Federal Reserve coup d'etat was orchestrated:
At Secretive Meeting, Tech CEOs And Top Republicans Commiserate, Plot To Stop Trump
The secretive Stop Trump Coup d'Etat Meeting, held at Sea Island, Georgia (a few islands down from Jekyll Island) was summarized by bull-goose neocon Bill Kristol:
"A specter was haunting the World Forum–the specter of Donald Trump," Kristol wrote in an emailed report from the conference, borrowing the opening lines of the Communist Manifesto.
If Kristol is today's Marx, then history really has gone from tragedy to farce.
Be that as it may … the Zios are freaking out about Trump, just as they are freaking out about their inability to force Oberlin College to fire Professor Joy Karega for tweeting a few words of truth about 9/11 and the 2015 Paris attacks. Each day their breast-beating about Trump and Karega gets more extreme…and their inability to stop one, and fire the other, gets more and more embarrassing.
It's reaching the point that I hardly feel it necessary to tell them to take their "anti-Semitism" and stick it where the sun don't shine. They're already doing it to themselves.
So we'd better hurry up and unpack the term "anti-Semitism" before it becomes utterly worn-out, obsolete and gets tossed in the proverbial trash bin of history.
Tower.org staff quotes from my letter to Oberlin College:
I, too, am outraged by anti-Semitic conspiracy theories. Today virtually all of the world's Semites are the speakers of Arabic. ("Semite" is a linguistic category, not a racial one.) And I am outraged by the way Arabic Semites have been falsely blamed for the controlled demolition of the World Trade Center, the murders of innocents by large white paramilitary professionals in Paris and San Bernadino, and many similar false flag incidents. These false flag public relations stunts have triggered the murder of more than 1.5 million people and the destruction of the homes and lives of tens of millions more. THIS is the real, indisputable and ongoing Holocaust; you and your colleagues are perpetrating it right now with your tax money, your silences and your lies. The blood of more than a million innocents is on your hands.
Tower.org staff's response:
"Barrett's appropriation of anti-Semitism to describe hatred of Arabs belies its historical origins. The term anti-Semitism was coined by the 19th century German journalist Wilhelm Marr, who opposed Jewish emancipation and sought to popularize a term that would make Jew-hatred sound more scientific."
Notice that they didn't argue with my assertion that 9/11 and the Paris attacks were false flags designed to incite genocidal hatred of Arabs and Muslims. Instead, they just tried to save their pet term "anti-Semitism" as exclusive Jewish property. In other words, they conceded my main point,  while diverting attention with some irrelevant carping about etymology.
Wilhelm Marr's idiotic term "anti-Semitism" is meaningless today, because nobody believes in 19th-century pseudo-scientific racial theories any more, and because racialized hatred of Jews is (thankfully) very uncommon. Unfortunately, it has been replaced by widespread racialized hatred of Arabs and Muslims. So, as Ibrahim Soudy argues in an essay published in We Are NOT Charlie Hebdo, it would seem appropriate to use the term to refer to hatred of Semites in general, which is precisely what the expression means on its face.
Jewish Zionists are constantly whining about alleged Arab and Muslim "anti-Semitism" (by which they mean "hatred of Jews.") But this is a canard. There is very little Arab or Muslim hatred of Jews as Jews. But there is plenty of hatred of Zionism and Zionists.
The Zionist canard claiming Arabs and Muslims supposedly hate Jews was annihilated Tuesday night when Bernie Sanders swept the Arab and Muslim areas around Detroit. The Zionist mainstream media pundits were mystified. IBT reported:
"As the results rolled in, television pundits like Lawrence O'Donnell and Chuck Todd marveled on MSNBC that Sanders was doing so well in Dearborn 'despite' the large Arab-American population there. WNYC radio host Brian Lehrer tweeted that Sanders' dominance in Dearborn was 'the stat of the night,' later adding 'It's official: Arab city feels the Jewish Bern.' Meanwhile, The Week dubbed it 'just one more strange data point in an election overflowing with them.'
Bernie's popularity among Arabs and Muslims only seems strange if you buy into the Zionist propaganda BS that these folks "hate Jews." Obviously they don't!
Full disclosure: I speak Arabic, am Muslim, and have been hanging out with Muslims since I reverted in 1993. I have also spent a fair amount of time with Jewish friends over the course of my life. From my experience, it is thunderingly obvious that there is very little bigotry against Jews as Jews in the Arab and Muslim communities; but there is a significant amount of bigotry against Arabs and Muslims as Arabs and Muslims in the Jewish community.
Specifically, there are virtually no Arab-Americans or Muslim-Americans who wouldn't vote for Bernie Sanders because he's Jewish. Such bigotry, in these communities, is virtually nonexistent.
But let's face it:  there are plenty of Jews who wouldn't vote for an Arab-American or Muslim-American, period. Whether it's one-tenth, one-quarter, maybe even one-third of the American Jewish population, these people definitely do exist, and in considerable numbers…though some do weed themselves out, like the brother of a Jewish friend of mine who emigrated to Israel because he wanted to "kill Arabs." Maybe that process of natural selection explains why the American Jewish community is slowly getting more and more reasonable, while the Israeli Jewish community is getting more and more genocidal.
In any case, self-appointed representatives of the American Jewish community, such as Tower.org Staff, ought to stop whining about (insignificant) anti-Jewish bigotry, and face the fact that the Jewish community itself is infested by raging bigotry.
As my recent radio guest Richard Hugus aptly observes:
There is an interesting kind of inversion in Zionist propaganda whereby the thing the Zionist accuses his enemy of doing, he is doing himself. Sometimes it is called projection, but in this case it is not a psychological flaw; it is done consciously for the purpose of deceit."
The Zionists who blew up the World Trade Center—and accused their enemies—exemplify this phenomenon. Likewise with those who staged the Paris and San Bernardino massacres.
Telling the truth is not bigotry. It's honesty.
I look forward to debating these issues at Oberlin College…assuming the other side shows up.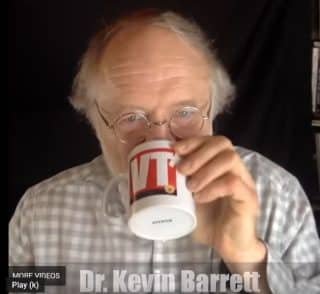 Dr. Kevin Barrett, a Ph.D. Arabist-Islamologist is one of America's best-known critics of the War on Terror.
He is the host of TRUTH JIHAD RADIO; a hard-driving weekly radio show funded by listener subscriptions at Substack and the weekly news roundup FALSE FLAG WEEKLY NEWS (FFWN).
He also has appeared many times on Fox, CNN, PBS, and other broadcast outlets, and has inspired feature stories and op-eds in the New York Times, the Christian Science Monitor, the Chicago Tribune, and other leading publications.
Dr. Barrett has taught at colleges and universities in San Francisco, Paris, and Wisconsin; where he ran for Congress in 2008. He currently works as a nonprofit organizer, author, and talk radio host.
ATTENTION READERS
We See The World From All Sides and Want YOU To Be Fully Informed
In fact, intentional disinformation is a disgraceful scourge in media today. So to assuage any possible errant incorrect information posted herein, we strongly encourage you to seek corroboration from other non-VT sources before forming an educated opinion.
About VT
-
Policies & Disclosures
-
Comment Policy
Due to the nature of uncensored content posted by VT's fully independent international writers, VT cannot guarantee absolute validity. All content is owned by the author exclusively. Expressed opinions are NOT necessarily the views of VT, other authors, affiliates, advertisers, sponsors, partners, or technicians. Some content may be satirical in nature. All images are the full responsibility of the article author and NOT VT.