Could the next French false flag happen in Cannes?
That is the question raised by bombshell revelations published two days ago by the French investigative journalism website Panamza.com.
Imagine the possibilities: With much of the global media already in place to cover the world's premier film festival, mayhem like we saw in Paris on 11/13/15 and in Brussels on 3/22/16 would be instantly splattered all over billions of screens around the world.
The people who arrange false flags, being specialists in both covert operations and public relations, find it hard to resist such opportunities. Tonight is Cannes' opening night – just hours away as I write this.
Today's date, 5/11/16, has the requisite 11. (Note: Multiples of eleven also work.) And the Security Director for the Festival is Israeli General Nitzan Nuriel, Prime Minister Benjamin Netanyahu's former "Counterterrorism" Chief.
Nuriel  was Bibi's counter-terror czar from 2009 to 2012. According to Panamza.com, General Nuriel "was a founder (in 1996) of the International Institute against Terrorism in Herzliya (a university branch of the Mossad funded by Ronald Lauder, a billionaire linked to the Likud Party and patron of the World Jewish Congress). Nuriel participated in the invasion of Lebanon in 2006 in the  91st Division, during which, according to the NGO Amnesty International, 'war crimes' were perpetrated."
Panamza also drops this bombshell:
"Nuriel was assigned as 'military attaché' to the Israeli Embassy in Washington, DC in August 2001, a month before the completion of a spectacular and delicate operation: the American-Zionist false flag attack of September 11th.
Additionally, according to the Hollywood Reporter, Nuriel has been running "terror drills" at Cannes:
"'You have to be prepared for what we consider a multi-terror event,' said city security consultant Nitzan Nuriel.
"With 200 extras on hand and fake car bombs going off, it could have been a film shoot. Instead, the city of Cannes Thursday morning conducted a simulation of coordinated terror attacks designed to test emergency responders ahead of the annual film festival next month.
"The fake explosion rocked the city's Palais and was followed by four armed terrorists forcing their way up the Palais' grand entrance, where the red carpet will be rolled out in just three weeks. Local schools also participated, with security drills that would come into play in case of a terror attack."
False flags are usually piggybacked on "terror drills" such as the 46 drills of 9/11 famously discussed by historian Webster Tarpley. Will a "drill" go live tonight in Cannes – as Peter Power's drills went live on 7/7/2005?
Nuriel's activities must be viewed in the historical context of Netanyahu's "counterterrorism" efforts, inaugurated at the 1979 Jerusalem Conference on International Terrorism (JCIT). Bibi and his brain trust, including MI-6 Zionist Orientalist Bernard Lewis, took an interesting strategic approach:
"If you can't beat the 'terrorists,' join them – and do them one better." Bibi figured he could "not just contain Israel's foes, but transcend them" (as his 1996 Clean Break document put it) by fabricating a gargantuan global "Islamic terror threat" that would drag the West, even the whole world, into Israel's struggle against its mostly Muslim neighbors.
The lynchpin of that "counter-terrorism" effort has been false flag terror. All of the most spectacular "Islamic terror attacks" against Western targets have been orchestrated or fabricated by Bibi and his neocon-Zionist Gladio B colleagues.
According to VT sources, Bibi personally smuggled miniature nuclear devices, using diplomatic briefcases, into the US. Some of them were allegedly used in the demolition of the World Trade Center.
So when one of Bibi Netanyahu's closest "counter-terror" associates, Gen. Nitzan Nuriel – a name tied to the 9/11 atrocities – is put in charge of security for the Cannes Film Festival, and has been running "terror drills," it's time to raise the false flag terror alert level to red.
There is a small but very real chance that all hell is going to break loose there tonight. I hope and pray that this article helps pre-empt any such potential catastrophe.
____________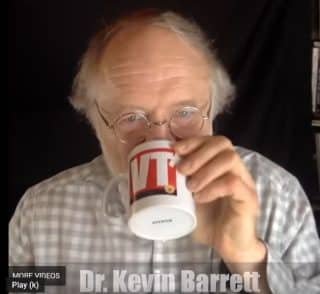 Dr. Kevin Barrett, a Ph.D. Arabist-Islamologist is one of America's best-known critics of the War on Terror.
He is the host of TRUTH JIHAD RADIO; a hard-driving weekly radio show funded by listener subscriptions at Substack and the weekly news roundup FALSE FLAG WEEKLY NEWS (FFWN).
He also has appeared many times on Fox, CNN, PBS, and other broadcast outlets, and has inspired feature stories and op-eds in the New York Times, the Christian Science Monitor, the Chicago Tribune, and other leading publications.
Dr. Barrett has taught at colleges and universities in San Francisco, Paris, and Wisconsin; where he ran for Congress in 2008. He currently works as a nonprofit organizer, author, and talk radio host.
ATTENTION READERS
We See The World From All Sides and Want YOU To Be Fully Informed
In fact, intentional disinformation is a disgraceful scourge in media today. So to assuage any possible errant incorrect information posted herein, we strongly encourage you to seek corroboration from other non-VT sources before forming an educated opinion.
About VT
-
Policies & Disclosures
-
Comment Policy
Due to the nature of uncensored content posted by VT's fully independent international writers, VT cannot guarantee absolute validity. All content is owned by the author exclusively. Expressed opinions are NOT necessarily the views of VT, other authors, affiliates, advertisers, sponsors, partners, or technicians. Some content may be satirical in nature. All images are the full responsibility of the article author and NOT VT.