The false flags are coming fast and furious. Orlando, the Jo Cox killing, Dallas … a Ramadan of "ISIS" horrors in Turkey, Bangladesh, Iraq, Saudi Arabia and elsewhere … this is getting out of hand!
As a specialist expected to crank out instant high-quality analysis of every major false flag, I'm starting to feel like Charlie Chaplin on the ever-accelerating assembly line.
It's a thankless, poorly-paid task, but somebody's gotta do it.
Instead of perpetually playing catch-up like Charlie, maybe it's time to try to get ahead of the game. Why not try to predict the next big false flag?
On yesterday's False Flag Weekly News, Christopher Bollyn, Tony Hall and I came up with a brilliant idea: A false-flag futures market. People could buy shares in various future false flag cities, dates, and scenarios.
If a false flag futures market existed, one of my Truth Jihad Radio listeners, Harald Meling, would be buying shares in the Eiffel Tower … and the date 7/10/16, which happens to be tomorrow.
He writes:
Hi Kevin.
I find your articles on false flags  on the money,  and want to send you a prediction on the next one.
There is a game of distraction going on with ever tighter fake events popping up
with different thematics from continent to continent.
Tomorrow Sunday in Paris the final in the European Soccer Tournament will be played.
And we should always try to predict next false flag :
Date  :  10/7/16
Where : Paris
Event :  European Soccer (UEFA) Tournament
Indicators  : 
1.    10+7+16 = 33
2.     Symbol :  Tilted Eiffeltower on the wall at Brussels Airport. 
         ( Dammegård)
3.   The  Eiffeltower happens to be closed  on the evening the final plays for no apparent reason  whatsoever.
http://m.toureiffel.paris/home
Sorry to bring bad news or predictions so early in the morning. Still, have A Good Day!
Regards,
Harald Meling
Norway
The listener refers to Ole Dammegard's discovery of a photo showing alleged bomb damage from the alleged bombing of the Brussels Airport on March 22nd of this year. (Listen to my interview with Ole describing witnesses to the Brussels "bombing" being at least partly faked with the use of phony noisemaker "bombs" and crisis actors.)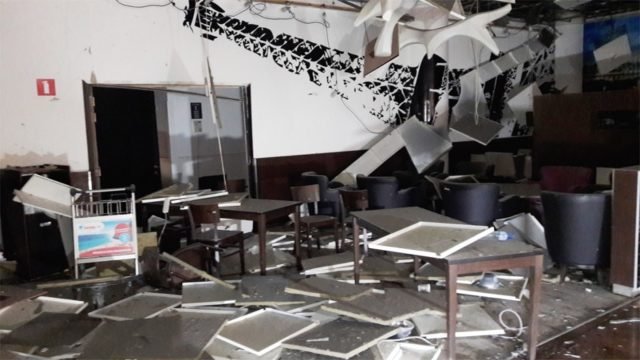 The perpetrators of the Bataclan nightclub massacre in Paris last November 15th told us in no uncertain terms that their next target was the Brussels airport. As i wrote in my VT article "Bloody tracks from Paris to Brussels:
Who painted a big, bloody heart on the corpse-strewn floor of the Bataclan theater, and why? Who took the famous picture? Who released it – illegally – to the public? Why hasn't the owner of that extremely valuable photograph stepped forward to claim it … and to sue me for using it, without anybody's permission, on the cover of the book ANOTHER French False Flag?
We now have tentative answers to some of these questions.
The shocking photo of the Bataclan "blood heart" was first broadcast to the world (illegally – the French law forbids the diffusion of such photos) by an Israeli group called United Hatzalah. And by a shocking "coincidence," a member of the same group is the source of key propaganda videos of passengers trapped in the Brussels airport after the recent bombings, as reported by Panamza.com.
Wherever there is a "radical Muslim terrorist attack," United Hatzalah is there, pre-placed to take and disseminate propaganda images designed to inflame hatred of Israel's perceived Muslim enemies.
Did United Hatzalah agent Yaakov Yeret know in advance that there would be a bombing at the Brussels airport? Is that why he was there, set up to film (like the Dancing Israelis on 9/11) with the UH  network standing by, ready to broadcast his videos to the world?
So the tilted sculpture of the Eiffel Tower from the Brussels Airport café could very well be an indication that "ISIS" (Rita Kaatz) is about to do what they keep threatening to do: Knock down the Eiffel Tower.
The Eiffel Tower is the leading iconic symbol of Paris, a city which itself is the iconic symbol of Enlightenment secularism. The Eiffel Tower is also an icon of modernity, as opposed to (religious) tradition.
So a false flag "radical Muslim" attack on the Eiffel Tower would be a natural symbolic coup for the Zionist "clash of civilizations" team that invented the "war on terror" at the Jerusalem Conference on International Terrorism back in 1979, and provided its official public relations launch with the mega-PR stunts in New York and Washington on September 11th, 2001.
I hope the publication of this article shaves a few points off the Eiffel Tower Attack Options on the False Flag Futures Market.
-Kevin Barrett, July 9th, 2016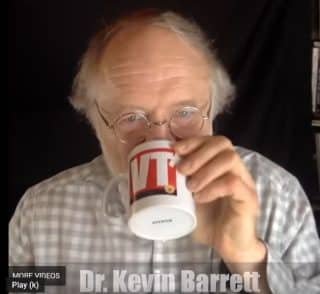 Dr. Kevin Barrett, a Ph.D. Arabist-Islamologist is one of America's best-known critics of the War on Terror.
He is the host of TRUTH JIHAD RADIO; a hard-driving weekly radio show funded by listener subscriptions at Substack and the weekly news roundup FALSE FLAG WEEKLY NEWS (FFWN).
He also has appeared many times on Fox, CNN, PBS, and other broadcast outlets, and has inspired feature stories and op-eds in the New York Times, the Christian Science Monitor, the Chicago Tribune, and other leading publications.
Dr. Barrett has taught at colleges and universities in San Francisco, Paris, and Wisconsin; where he ran for Congress in 2008. He currently works as a nonprofit organizer, author, and talk radio host.
ATTENTION READERS
We See The World From All Sides and Want YOU To Be Fully Informed
In fact, intentional disinformation is a disgraceful scourge in media today. So to assuage any possible errant incorrect information posted herein, we strongly encourage you to seek corroboration from other non-VT sources before forming an educated opinion.
About VT
-
Policies & Disclosures
-
Comment Policy
Due to the nature of uncensored content posted by VT's fully independent international writers, VT cannot guarantee absolute validity. All content is owned by the author exclusively. Expressed opinions are NOT necessarily the views of VT, other authors, affiliates, advertisers, sponsors, partners, or technicians. Some content may be satirical in nature. All images are the full responsibility of the article author and NOT VT.