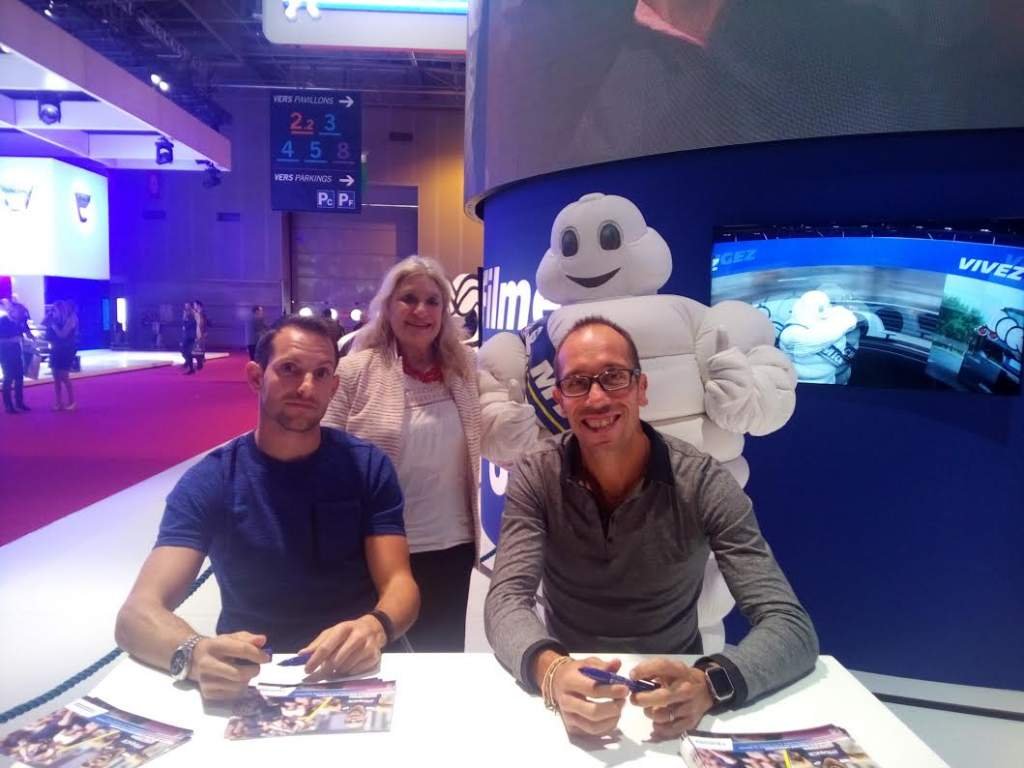 by Jane Rosenstein and Didier Lambert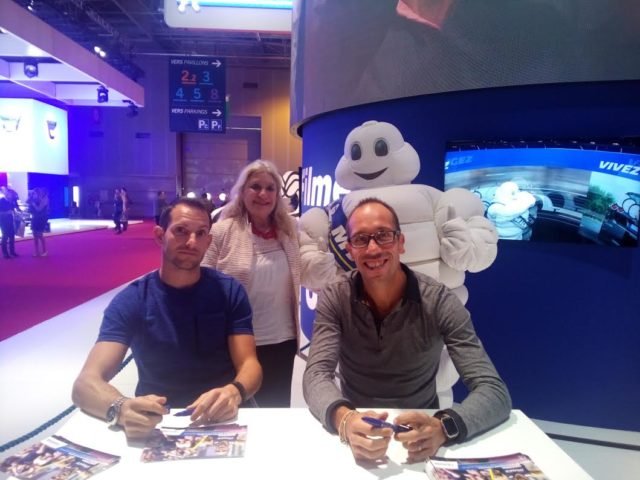 (Paris – October, 2016) – Mondial de l'Automobile, Paris Motor Show which takes place every two years in Paris is from October 1 to October 16, 2016. This year at Porte de Versailles Exhibition Center  in Paris, there are 230 brands from 19 countries that will be visited by thousands. The professionals were invited on September 30 along with the press. During the evening some  stands hosted cocktail receptions. SEAT, a company which is based in Barcelona Spain hosted a cocktail  reception catered by Fouquet a famous French caterer. They presented their new vehilcle AFTA Excellence and also had a 4D Experience where we were virtually transported by video and headseats to Barcelona to have an experience with their cars. Children and adults can enjoy this experience at the show.
The reception which SCODA www.scoda.fr also had their cars on display at their good cocktail reception. They offered us the opportunity to come back and play some games to get free gifts.
Then we attended Audi  who offered us the opportunity to see their new cars and enjoy delicious food by a well known French caterer.
Didier, a carting  amateur race driver and I enjoyed seeing the new Onroak Ligier  car  JS P3 with a great design at 206,000 Euros plus tax. Its  sleek design and great efficiency is appreciated. It won awards in 2016  Title Asian Le Mans Spint Cup DC Racing with 3 pole positions and 2 prizes and the Title LMP3 ELMS United Autosport  with three prizes.  photos on www.onroak.com
Visitors have an opportunity, after over 10,000 test drives were done at the show in 2014  the new test center located to test some vehicles.
Ateca  is the new hybrid car developed by SEAT. It drives very well; The price of about 37,000 has the same chasis as AUDI Q3. It has 190 hp; Thomas Accary a race car champion for Aston Martin accompanied drivers who wanted to have the pleasure of driving this model  great for city driving and country roads but not able to be driven on highways.
It features a large trunk, with hands free opening,  great for shopping and for suitcases.  Safety features includes the car estimating distance of vehicles in front and even slowly down the car if necessary without the driver's assistance. Blind spot detection notes cars approaching while changing lanes; Traffic jam feature available on some models helps starting and stopping in traffic.  The pedestrian crossing alerts the driver to pedestrians and even stops if necessary.
Pierre Martin from Ligier Group told us about the new  law which went into effect in November 2014 authorizing  young drivers of 14 years old to drive cars of 4 KW, known as quadricycles  without a driver's license.  can drive at a speed only up to 45 km/hr. which is sufficient for driving in urban areas. They have to take 7 hours of training and then can drive. Those born before January 1, 1988 do not have to take the training. Ligier offers their Mobility Pack of additional training of 7 hours on the road trainng  required for the AM license.   These quadracycles are safer than mopeds and great to drive in all weather conditions.  Their new models Microcar 4  has 2 motors, built with aluminum surroundings  and is  capable of being driven up to 240,000 miles. It costs about 12,000 Euros and has a good resale value.  We enjoyed test driving the Microcar.  Three different models of Mi.Gio4 were presented; Ligier also has a lower priced sportline range with prices starting at just about 8,500 Euros. Pierre Martin showed us the new concept car
Ligier JS50L Elegance with its great design. It will be available in 2017 as will be a JS50 Sport.
Currently these cars developed from the ideas of François Langier, CEO of Ligier Group, have 44% market share for quadricycles in Europe.  Photos and information on www.ligiergroup.
Pierre  Martin also told us about the 4 wheel Professional version which is used by some drivers from the French post office. The EZ 10  also called Easy Mile is a automatic driving vehicle  without a driver  which can accommodate up to six seated passengers and four seated passengers.
Currently these cars developed from the ideas of François Langier, CEO of Ligier Group, have 44% market share for quadricycles in Europe.  Photos and information on www.ligiergroup.com
Jane had the pleasure of test driving the  sleek designed Volkswagen Golf.  It is a hybrid car which is easy to drive .It has new technology – an integrated screen which has signals to aid in parking the car and also can detect the speed of the car in front so as to regulate the driver's speed automatically. It has a built in GPS.   In 2020 they will launch their new 100% electric  concept car which will have a range of up to 600 km. without recharging. It will have a complete recharge in 30 mins. Then in 2025 they will have a more advanced care which will also offer automatic drive.
Telsa  had their new beautiful car  Telsa S   which goes from 0-100 km/hour in less than 3 seconds. It is 100% electric and can go 400 km without recharge. At 150,000 Euros it is expensive with the larger model going for 160,000 Euros. It has automatic drive, assistance with lane change and parking. These cars must be special ordered.
Michelin, the famous tire company had  Yohan Diniz and Ronald Lavillenie who were winners of the world record for pole jumpers autograph their photos at the stand on October 3, 2016.    Micheline offered visitors the opportunity to do a simulation of driving at the Indianapolis Motor Speedway. Michelin's tires  are great because of shorter braking time on dry and wet surfaces, best traction and longer lifespan. They do not have to be replaced as frequently as some other tires.Photos on team.michelin.fr  log in team   pass word or mot de passe in French Michelin.
We saw the new vehicle developed as a project Estaca on the Salt,  by the students of ESTACA (Ecole Supeérieur des Techniques Aéronautiques et de la Construction Automobile)  which the students are building in 2016, hopefully finishing it by August  The speed week Bonneville near Salt Lake City will be their place for this vehicle to be in competition in August, 2017. The project started in March, 2014 is designed to manufacture a 100% electric vehicle which can reach a speed of 400 km/hr.  www.estacaonthesalt.com
Didier enjoyed having his photo taken from putting his head in a display by Andros the famous French food company specializing in selling fruits in jars to supermarkets. Andros produces fruit in  jars for individual or multiple servings  and plastic containers that have individual servings. They do not add sugar or preservatives to the fruit.
We enjoyed the racing game , stimulating race car driving, from Toyota
For safety precautions to warn drivers of adverse conditions  Coyote developed three models. The basic one is 149 Euros , then others at 199 Euros and at 229 Euros with more advanced features.  Olivier let us have a virtual experience, a game to test drive a course to see how we could avoid dangers.  www.moncoyote.com
Coys founded in 1919 had an auction for famous antiques such as the 1931 Golden Cadillac driven by Liberace.  The bidding started at 100,000 Euros. www.coys.co.uk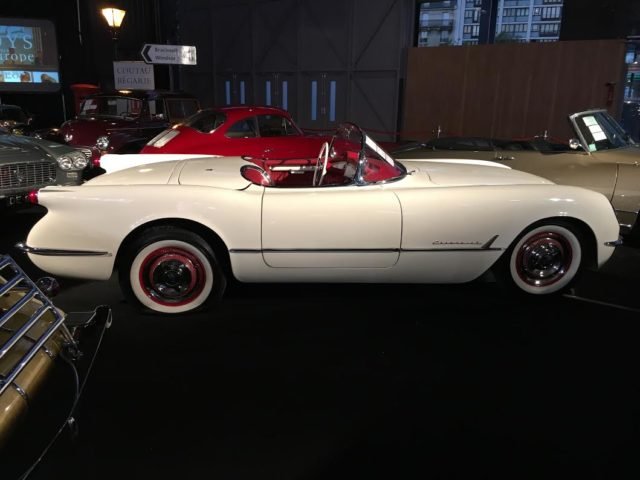 This year for the first time there is an area for motorcycles;
Aydui with Ducati, BMW, Honda, Peurgeot and Suki have booths. Kawaski, KTM, Triump and Yamaha have a stand outdooors in front of the pavillon
An exhibition of cars from movies is interesting
There are 7 themes detectives, comedy emotion, science-fiction, car chases, sport and behind the scenes. Visitors can see the cars and remember some of the movies.
The press was warmly hosted with a reception desk providing information and catering in the press lounge with great food by Maison Pradier.
Mondial de l'Automobile  provides visitors a great opportunity to learn about and experience new models of cars and try virtual experiences. Both children and adults enjoy this show.
Jane Rosenstein is a U.S. citizen living in Paris, France. She is a professional translator/interpreter. She is the owner of The International Connection which does international marketing consultation including sales of wine, interpretation, and translation. She enjoys the cultural life that living in Paris offers and has talents in organizing events. She speaks English, French, and Spanish.
She has a B.S. degree in mathematics from University of Pittsburgh and an M.B.A. degree from Georgia State University in Atlanta, GA.
ATTENTION READERS
We See The World From All Sides and Want YOU To Be Fully Informed
In fact, intentional disinformation is a disgraceful scourge in media today. So to assuage any possible errant incorrect information posted herein, we strongly encourage you to seek corroboration from other non-VT sources before forming an educated opinion.
About VT
-
Policies & Disclosures
-
Comment Policy
Due to the nature of uncensored content posted by VT's fully independent international writers, VT cannot guarantee absolute validity. All content is owned by the author exclusively. Expressed opinions are NOT necessarily the views of VT, other authors, affiliates, advertisers, sponsors, partners, or technicians. Some content may be satirical in nature. All images are the full responsibility of the article author and NOT VT.