This week's False Flag Weekly News (embedded above – click here for story links) begins with a discussion of the witch hunt against FFWN co-host Professor Tony Hall of the University of Lethbridge.
That witch hunt just got even weirder. In response to the University of Lethbridge Faculty Association (ULFA)'s statement that the suspension of Professor Hall was illegal, University President Mike Mahon has issued a statement claiming that he has the right to suspend any tenured faculty member without pay, at any time, for any reason, including not liking that professor's political opinions, youtube videos and/or social media posts. No formal charges are necessary, no opportunity to defend oneself is available, and no due process of any kind will be allowed. Mike Mahon is THE DECIDER!
Tenured faculty all over the world just woke up this morning to discover that their tenure means absolutely nothing. I wonder how many will be grabbing torches and pitchforks and heading for Mike Mahon's house.
This letter has to be read to be believed. The alleged legal provision for utterly arbitrary and capricious firing of tenured faculty cited by Mahon is in boldface.
Here is Dr. Mahon's letter:
14 October, 2016
Dear University Community,
As many have heard through media reports, I recently took action to suspend a faculty member, Dr. Anthony Hall, from duties and privileges without pay. This action has not been taken lightly, or without serious consideration, debate and expert legal guidance on appropriate process and the implications for both the faculty member in question, and our university community.
As a University we have made every effort to respect the privacy of Dr. Hall and have told those writing to the University on this issue and to the media that we cannot comment on issues related to the employment of an individual with the University. However, Dr. Hall has chosen to make this issue very public and share through his social media and online channels, and with the media itself, partial details of conversations and actions the University has taken. The University of Lethbridge Faculty Association (ULFA) also has chosen to provide commentary direct to the media on this issue.
In order to ensure that there is accurate information available, I can share that the suspension of Dr. Hall was done in accordance with section 22(3) of the Post-secondary Learning Act (PSLA) of the Province of Alberta. Section 22(3) states that, "Subject to any existing agreement, a president may, in the president's discretion, suspend from duty and privileges any member of the academic staff at the university and shall forthwith report the president's action and the reasons for it (a) to the board, and (b) to the executive committee of the general faculties council."
Both the Board of Governors and the Executive Committee of the General Faculties Council were informed of the suspension on October 5, 2016. ULFA, in their recent media commentary, has stated that in their opinion the suspension violates provincial law. As ULFA has been informed, there is nothing in the existing agreement, the Faculty Handbook, that limits the ability of the President to act, or would subordinate the PSLA to the Faculty Handbook. It is therefore lawful and prudent for the University to have taken the actions that I have. While ULFA has a different interpretation of how to apply the PSLA in this instance, they do have the option of requesting a judicial review of the use of Section 22(3) to suspend Dr. Hall.
Again, the decision to suspend Dr. Hall was not made easily or quickly. This action is not focused on Dr. Hall's published scholarship, driven by complaints of students, or the demands of external advocacy groups. It is focused on his YouTube based videos and comments in social media that have been characterized as being anti-Semitic, supportive of holocaust denial and engagement in conspiracy theories. In sharing and communicating his views such as he has, we have a concern that Dr. Hall has contravened section 3 of the Alberta Human Rights Act, and that he has created an environment that is discriminatory for students and his faculty colleagues whose personal backgrounds, research topics or beliefs are at odds with Dr. Hall's stated views. The University is reviewing Dr. Hall's online activities to determine if a complaint to the appropriate Human Rights tribunal is warranted and justifiable and to determine if a discriminatory atmosphere has been created by Dr. Hall.
I acknowledge that this issue is distracting for our community, can be divisive and is bringing uncomfortable attention to our University. It is for this reason that I have chosen to write to the community to provide as much information as I am able. As always, our goal is to work within the values of the University, as noted in our Strategic Plan (link below), to support the communities we serve and create an environment that enables the success of our students, faculty and staff.
Sincerely,
Mike Mahon, Ph.D.
President & Vice-Chancellor
Strategic Plan:
http://www.uleth.ca/planning-and-reporting/strategic-plan-document–
Mahon is a Physical Education teacher, not an intellectual. Even so, his lapses in logic are shocking.
First, he suggests that by suspending Professor Hall without pay and refusing to explain why, he was "respecting the privacy of Dr. Hall." (How respectful!)
Then he suggests that Dr. Hall did something wrong by publicly complaining and demanding an explanation. (What did he expect Dr. Hall to do?!)
Mahon also isn't happy that the Faculty Association publicly stated the obvious: that the arbitrary and capricious firing of a tenured professor is illegal. (They were supposed to keep their mouths shut and just let the entire Western tradition of tenure and academic freedom be abolished in one fell swoop by Physical Education teacher who is a walking embodiment of the Peter Principle?!)
Then, in an admission that massively undermines any case he might imagine he has, Mahon admits that Professor Hall's teaching and scholarship, indeed all of his professional activities, are beyond reproach. He goes on to say that Professor Hall is being suspended not for doing anything wrong in his capacity as a professor, but for his personal, outside-of-the-university social media posts and youtube videos. Mahon claims these personal, non-university forms of free expression somehow "have created an environment that is discriminatory for students and his faculty colleagues whose personal backgrounds, research topics or beliefs are at odds with Dr. Hall's stated views."
This ludicrous assertion turns reality on its head. Nobody at the University or anywhere else is experiencing "discrimination" due to Professor Hall's extracurricular commentaries. Students and faculty continue to study and teach to their hearts' content, pursuing their own approaches and expressing their own opinions, and none of them are being pressured or forced to conform to Professor Hall's views. In fact, the one person at the University of Lethbridge who is obviously being discriminated against is Professor Hall.
Others there who share his views might, in light of his suspension, also have reason to feel discriminated against. Polls show that three quarters of the world's Muslims view 9/11 as an inside job; and the majority of Muslims are strongly anti-Zionist. Dr. Mahon's actions have undoubtedly created a powerful atmosphere of fear and bigotry targeting Lethbridge's Muslim students and faculty, as well as the many non-Muslims whose views of 9/11 and Zionism are similar to Professor Hall's.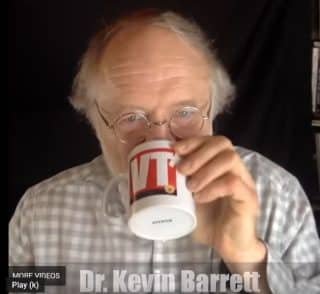 Dr. Kevin Barrett, a Ph.D. Arabist-Islamologist is one of America's best-known critics of the War on Terror.
He is the host of TRUTH JIHAD RADIO; a hard-driving weekly radio show funded by listener subscriptions at Substack and the weekly news roundup FALSE FLAG WEEKLY NEWS (FFWN).
He also has appeared many times on Fox, CNN, PBS, and other broadcast outlets, and has inspired feature stories and op-eds in the New York Times, the Christian Science Monitor, the Chicago Tribune, and other leading publications.
Dr. Barrett has taught at colleges and universities in San Francisco, Paris, and Wisconsin; where he ran for Congress in 2008. He currently works as a nonprofit organizer, author, and talk radio host.
ATTENTION READERS
We See The World From All Sides and Want YOU To Be Fully Informed
In fact, intentional disinformation is a disgraceful scourge in media today. So to assuage any possible errant incorrect information posted herein, we strongly encourage you to seek corroboration from other non-VT sources before forming an educated opinion.
About VT
-
Policies & Disclosures
-
Comment Policy
Due to the nature of uncensored content posted by VT's fully independent international writers, VT cannot guarantee absolute validity. All content is owned by the author exclusively. Expressed opinions are NOT necessarily the views of VT, other authors, affiliates, advertisers, sponsors, partners, or technicians. Some content may be satirical in nature. All images are the full responsibility of the article author and NOT VT.