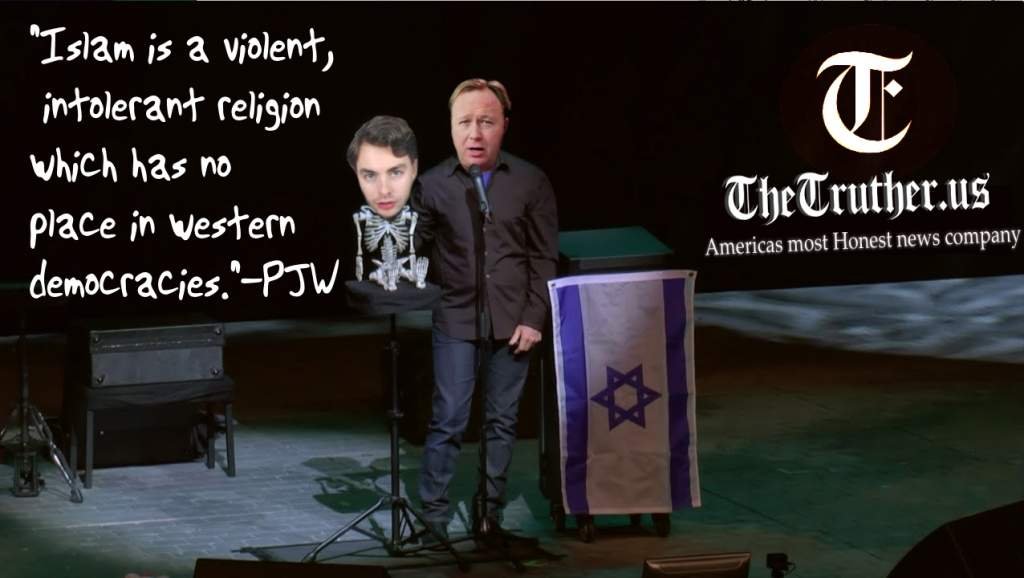 By Kevin Barrett, VT Editor (thanks to Martin Hill for posting about this, and to Jeremy Rothe-Kushel for all of his amazing work)
In February 2007—shortly after I had been driven out of the University of Wisconsin by neocon politicians—I sat for twenty minutes or so with Alex Jones in the control booth of his studio in Austin. During the middle of our interview the power suddenly went out; the studio was plunged into blackness, and Alex started yelling and cursing.
I sat there in the dark next to the fulminating Alex, wondering if we had been zapped by a New World Order satellite weapon. A few minutes later, the lights and power came back on, we finished the interview, Alex gave me a 9/11-was-an-inside-job T shirt, and I departed on what seemed like amiable terms.
Today, Alex Jones is a Trump enthusiast and an apologist for the ultra-genocidal brand of Zionism represented by the likes of Bibi Netanyahu and the rest of the gang that did 9/11 (as well as the pre- and post- 9/11 false flags). Does Alex really not understand that Zionist extremists are the world's leading practitioners of false flag terror?
Does he not realize that the purpose of 9/11 was to hijack the US military and take out "seven countries in five years"  — the seven countries that posed a threat to Israel — in accordance with the Oded Yinon Plan and the 1996 Clean Break document? Does he not know who PNAC was, which country's extremist leadership it really represented, and why it called for a "New Pearl Harbor" in September, 2000 and got it one year later? Does he not grasp that the poisonous Islamophobia he spreads furthers the whole purpose of the 9/11 Big Lie?
I would be happy to come on Alex's show to explain and/or debate these issues…and plug my False Flag Trilogy featuring 55 leading public intellectuals, including many regulars on the Alex Jones Show, pushing back against the biggest false flags of 2015-2016.
But I doubt Alex has the courage to debate me. His operation, Infowars, spreads the Islamophobia manufactured by Bibi's Zionist gang, without a single contrary word from the Muslims they victimize. Like all bullies, Alex (and even more so his acolyte Paul Joseph Watson) are terrified by the thought that one of their victims might actually stand up for himself.
So an ignorant moron like Watson is given unlimited time on Infowars to trumpet ludicrous lies about Islam and Muslims, yet Muslims (including those like me who are articulate native English speakers with Arabic and Islamic Studies Ph.D.s,  conversant with the kinds of issues Alex raises on his show) are not only banned, but so banned that Alex's head almost explodes when our names are mentioned.
Isn't it interesting that Alex patiently listened to Jeremy Rothe-Kushel right up until Jeremy mentioned my name – at which point Alex lost it, started barking like a mad dog, and cut Jeremy off.
Why am I so scary and threatening to Alex Jones? Is it because I'm not particularly appreciated by the ADL and the B'nai Brith? Well, neither is David Duke — who, unlike me, really could be accused of being a racist, or at least a racialist — yet Alex gave Duke plenty of airtime to speak his mind.
Now that Trump is bringing open Islamophobia into the Oval Office, it's more important than ever that Muslims be given a chance to explain their point of view. Cowardly refusal to listen, or even acknowledge that such a viewpoint exists, is despicable and morally unacceptable.
Please follow Jeremy Rothe-Kushel's example and call in or write to Alex Jones asking him to have me on his show.
Email Alex Jones
Call-in To The Show Weekdays 11 a.m. – 2 p.m. Central: (800) 259-9231     Sunday 4 to 6 pm Central:  (877) 789-ALEX or (512) 646-1776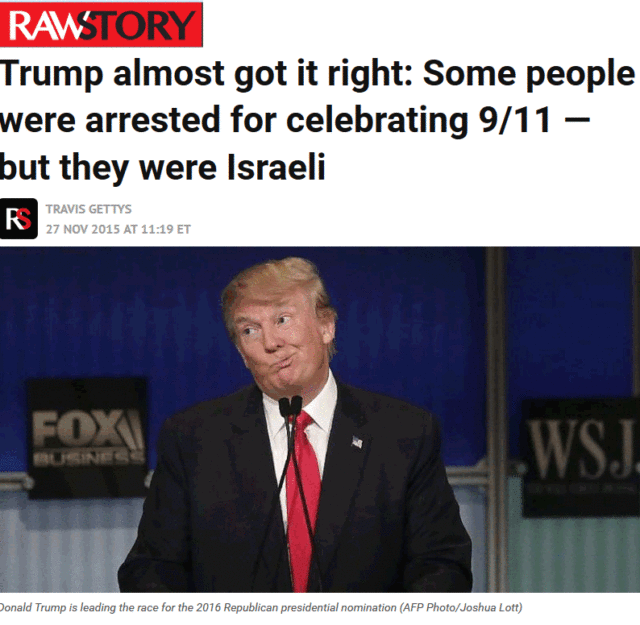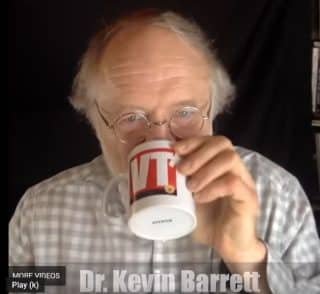 Dr. Kevin Barrett, a Ph.D. Arabist-Islamologist is one of America's best-known critics of the War on Terror.
He is the host of TRUTH JIHAD RADIO; a hard-driving weekly radio show funded by listener subscriptions at Substack and the weekly news roundup FALSE FLAG WEEKLY NEWS (FFWN).
He also has appeared many times on Fox, CNN, PBS, and other broadcast outlets, and has inspired feature stories and op-eds in the New York Times, the Christian Science Monitor, the Chicago Tribune, and other leading publications.
Dr. Barrett has taught at colleges and universities in San Francisco, Paris, and Wisconsin; where he ran for Congress in 2008. He currently works as a nonprofit organizer, author, and talk radio host.
ATTENTION READERS
We See The World From All Sides and Want YOU To Be Fully Informed
In fact, intentional disinformation is a disgraceful scourge in media today. So to assuage any possible errant incorrect information posted herein, we strongly encourage you to seek corroboration from other non-VT sources before forming an educated opinion.
About VT
-
Policies & Disclosures
-
Comment Policy
Due to the nature of uncensored content posted by VT's fully independent international writers, VT cannot guarantee absolute validity. All content is owned by the author exclusively. Expressed opinions are NOT necessarily the views of VT, other authors, affiliates, advertisers, sponsors, partners, or technicians. Some content may be satirical in nature. All images are the full responsibility of the article author and NOT VT.