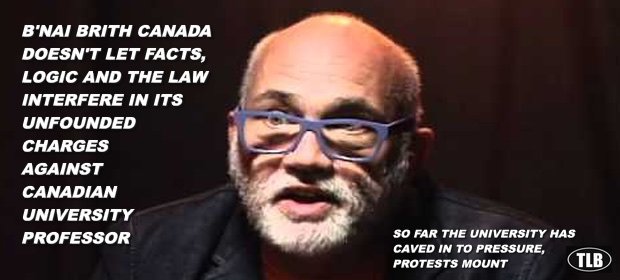 In a bizarre letter delivered 23 days after it was supposedly mailed, Mike Mahon – the physical education teacher who serves as president of the University of Lethbridge – has given censored and suspended Professor Anthony Hall some good news and some bad news.
The good news is that Professor Hall's status has been changed from "suspended without pay" to "suspended with pay." That means tenured full professor Tony Hall will be able to afford food and housing, and maybe even a lawyer…
…While the University attempts to steamroll him in court and continues to prevent him from teaching! And that's the bad news: The University itself seems to  be the only actual complainant against Professor Hall, and is planning a long, drawn-out process to try to wear him down.
Watch Professor Tony Hall and yours truly break down this week's news on False Flag Weekly News, broadcast live every Friday 11 a.m. to noon Eastern
Professor Hall —whose support of indigenous peoples' struggles against occupation apparently offends the extremist Likud faction of the Israeli government — was targeted last August by the Israeli terror group B'nai Brith. The self-described pro-Israel group and its accomplices forged a hateful "kill all Jews" image and planted it on Professor Hall's Facebook page. Their friends at Facebook refused to take down the image, even though it blatantly violated every Facebook guideline and then some, allowing B'nai Brith to ignite a media scandal. Professor Hall, who was traveling (as his tormentors undoubtedly knew) did not even hear of the affair until after the image had finally been taken down. By then the mainstream media was echoing B'nai Brith's false allegations linking him to the image.
For details, see: Terrorist troll Joshua Goldberg behind professor's suspension!
Now it seems that "the Governors of the University are forwarding a complaint to the Alberta Human Rights Commission."  Is Mahon or someone else at the University making the complaint? Or is it the B'nai Brith (i.e., the genocidal state of Israel) that is complaining, while Mahon and his accomplices are merely "forwarding" the complaint?
And what are they complaining about? The horrific "kill all Jews" image created and planted by B'nai Brith itself? Or are they going after Professor Hall's views on such subjects as Zionism, 9/11, and false flags – views that are widely shared by thousands of other academicians worldwide? Or will they primarily be attacking Professor Hall's assertion that mass killings of Jews during World War II, commonly referred to as "the holocaust," should be studied like any other historical event, rather than mythologized and turned into a new, fundamentalist religion?
Normally, if the free speech activities of a professor draw complaints, the university defends the professor, however tenuously. That is what Provost Patrick Farrell and the University of Wisconsin did when I was under fire by Israel-driven neoconservatives in 2006.
Now it seems that glorified gym teacher Mike Mahon and his accomplices at the University of Lethbridge have made no effort to critique the B'nai Brith's frame-up of Professor Hall; on the contrary, they have essentially surrendered and let the Likud Party take over their university and abolish academic freedom.
As for the legal issue involved, it boils down to gym teacher Mike Mahon attempting to unilaterally end the institution of tenure by firing a tenured full professor without any kind of due process.
Here is Anthony Hall's reaction to the letter posted above:
This new communication is dated Dec. 19 but it was delivered to my door yesterday.
One of the agendas of Dr. Mahon and those behind him is to overthrow the authority of the collective agreement between faculty and administration (Handbook) by seeming to leave it to the Alberta Human Rights Board to justify my suspension outside the Handbook provisions. A quick way to describe the plan would be to identify it with the objective of union busting.
Here's the provision at issue from the Alberta Post-Secondary Learning Act, 2003
(3) Subject to any existing agreement, a president may, in the president's discretion, suspend from duty and privileges any member of the academic staff at the university and shall forthwith report the president's action and the reasons for it 2003 Section 23 Chapter P-19.5 POST-SECONDARY LEARNING ACT 21 (a) to the board, and (b) to the executive committee of the general faculties council. 2003 cP-19.5 s22;2008 c25 
To some it seems obvious that the "existing agreements" referred to in 22.3 of the Alberta statute include the Handbook and tenure. These existing agreements should limit presidential powers to "suspend from duty and privileges any member of the academic staff at the University." Apparently Dr. Mahon and the government appointed Board of Governors" do not agree. Do we need an court ruling to straighten out this matter?
Cheerio,
Tony Hall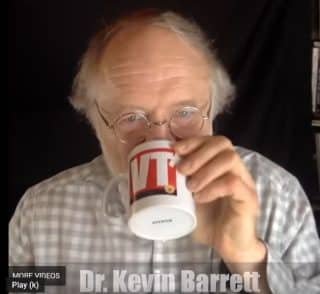 Dr. Kevin Barrett, a Ph.D. Arabist-Islamologist is one of America's best-known critics of the War on Terror.
He is the host of TRUTH JIHAD RADIO; a hard-driving weekly radio show funded by listener subscriptions at Substack and the weekly news roundup FALSE FLAG WEEKLY NEWS (FFWN).
He also has appeared many times on Fox, CNN, PBS, and other broadcast outlets, and has inspired feature stories and op-eds in the New York Times, the Christian Science Monitor, the Chicago Tribune, and other leading publications.
Dr. Barrett has taught at colleges and universities in San Francisco, Paris, and Wisconsin; where he ran for Congress in 2008. He currently works as a nonprofit organizer, author, and talk radio host.
ATTENTION READERS
We See The World From All Sides and Want YOU To Be Fully Informed
In fact, intentional disinformation is a disgraceful scourge in media today. So to assuage any possible errant incorrect information posted herein, we strongly encourage you to seek corroboration from other non-VT sources before forming an educated opinion.
About VT
-
Policies & Disclosures
-
Comment Policy
Due to the nature of uncensored content posted by VT's fully independent international writers, VT cannot guarantee absolute validity. All content is owned by the author exclusively. Expressed opinions are NOT necessarily the views of VT, other authors, affiliates, advertisers, sponsors, partners, or technicians. Some content may be satirical in nature. All images are the full responsibility of the article author and NOT VT.