A somewhat biased film review
By Gilad Atzmon
In her book Denying the Holocaust (1993), Deborah Lipstadt confessed that it was David Irving's considerable reputation as an historian that made him "one of the most dangerous spokespersons for Holocaust denial."
"Familiar with historical evidence," she wrote, "he bends it until it conforms with his ideological leanings and political agenda."
Irving responded by claiming that Lipstadt's words were libelous and filed a legal case against her and her publisher Penguin Books.
Was Irving brave or naïve in putting the Holocaust on trial? Probably both. Back in 1996, was Irving a hero or just grossly miscalculating in believing he stood a chance in taking on the Holocaust, still the most popular Jewish religion? Again, probably both.
The other day, I watched Mick Jackson's 'Denial'. The film tells the story of Irving's 2000 defeat in court – a disaster he voluntarily brought upon himself and indeed, Irving has clearly made some mistakes in his life. Yet, in 2017 it is impossible to deny that, back in 2000, Irving was well ahead of most of us.
https://www.youtube.com/watch?v=hYcx43AmAyY
[youtube hYcx43AmAyY]
Back in 2000, the Holocaust narrative was as solid as a rock. The Jews were perceived as the ultimate victims and their plight at the time of World War II was unquestionable. No one dared ask how is it is possible that, three years after the liberation of Auschwitz, the newly-born Jewish state ethnically cleansed Palestine of its indigenous population? At the time of the trial, no one dared ask why is the Jewish past just a chain of holocausts – that is, no one except David Irving (and a few others).
At the time of the trial, I read an interview with David Irving that opened my eyes to the idea that history is a revisionist adventure, an attempt to narrate the past as we move along. I realised then that the past is subject to changes. It morphs along with humanity.
In that interview, Irving was quoted as' blaming the victims.' "If I were a Jew," he said, "I would ask myself why it always happens to us?" At the time, I was a still Jew but I took up Irving's challenge. I looked in the mirror and didn't like what I saw so I decided to leave the tribe and I stopped being a Jew.
But Irving is no longer a lone voice. Two weeks ago, on Holocaust Memorial Day, it was actually the American president himself who managed to universalise the Holocaust by omitting to mention the Jews or their shoah. As we Westerns obliterate country after country with our immoral interventionism, the Holocaust is no longer a Jews-only domain and all the time more and more people grasp that it is actually Israel and its affiliated Jewish lobbies that are pushing us into more and more unnecessary global conflicts.
'Denial' was made to sustain a 'progressive' vision of the past. In this progressive but misguided universe, people 'move forward' but their past remains fixed, often sacred and always untouched. Nationalists, on the other hand, often see the past as a dynamic, vibrant reality. For them, nostalgia, is the way forward.
But some Jews are tormented by this nostalgia. They want their own past to be compartmentalized and sealed, otherwise, they are fearful that some people may decide to examine Jewish history in the light of Israeli crimes.
In the film, Irving is an old style British gent who sticks to his guns and refuses to change his narrative just to fit in with any notions of correctness. Irving states what he believes in and stands firmly behind it.
For Irving, one of the most damaging pieces of evidenced presented to the court was a little ditty he wrote to his daughter when she was just a few months old, and conceived by the court as the ultimate in crude misanthropy.
"I am a Baby Aryan,
Not Jewish or Sectarian.
I have no plans to marry-an
Ape or Rastafarian."
On the day of the verdict, Irving visited the BBC Newsnight studio to be grilled by Jeremy Paxman who read the little ditty to Irving.
[youtube Anx4ZRgpQbY&t=23m7s]
http://www.youtube.com/watch?v=Anx4ZRgpQbY&t=23m7s
"What's racist about that?" Irving wondered. "You are not being serious," was Paxman's reply. Paxman, one of Britain's best TV journalists, was, like the rest of us, trained to react to soundbites. "Aryan is a racial categorisation" he insisted.
Back in 2000, Paxman probably failed to see that, if Jews are entitled to identify politically as a race, as a biology or as set of cultural symptoms then Whites, Muslims and everyone else must surely be entitled to do the same. Back in 2000, Irving understood this potential Identitarian shift. Sixteen years later, Donald Trump and Nigel Farage translated this Identitarian shift into a victory. The Clintons, the Soros' and the Deborah Lipstadts of this world are still struggling to make sense of it.
'Denial', is actually a film about righteousness, exceptionalism and victimhood. It is about the condition of being consumed by self-love, that blind belief that justice is always on your side, that you are the eternal victim and the other, namely the 'Goy' is always the murderous aggressor.
But this type of 'denial' can be dealt with easily and here is just one example: The Jewish press in Britain complains constantly that antisemitism is soaring. The more funds the British government dedicates to fighting antisemitsm, the more antisemitic incidents are recorded. I guess the time is ripe for Jews to listen to David Irving and ask themselves why?
If Jews want anti-Semitism to come to an end once and for all, all they need do is to self-reflect. However, my personal experience suggests that once you do that, you may stop being a Jew.
Note: It is worth mentioning that, since the 2000 trial, Irving is on record on numerous occasions as revising his views on the Holocaust and on the destruction of European Jews. Certainly, as he moves along, David Irving at least is able to revise the past.
_____________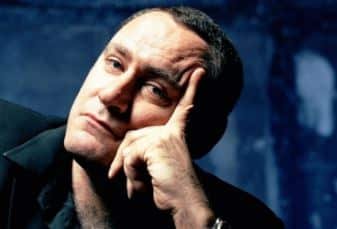 Gilad Atzmon is an Israeli-born British jazz saxophonist, novelist, political activist, and writer.
Atzmon's album Exile was BBC jazz album of the year in 2003. Playing over 100 dates a year, he has been called "surely the hardest-gigging man in British jazz." His albums, of which he has recorded nine to date, often explore the music of the Middle East and political themes. He has described himself as a "devoted political artist." He supports the Palestinian right of return and the one-state solution in the Israeli-Palestinian conflict.
His criticisms of Zionism, Jewish identity, and Judaism, as well as his controversial views on The Holocaust and Jewish history, have led to allegations of antisemitism from both Zionists and anti-Zionists. A profile in The Guardian in 2009 which described Atzmon as "one of London's finest saxophonists" stated: "It is Atzmon's blunt anti-Zionism rather than the music that has given him an international profile, particularly in the Arab world, where his essays are widely read."
His book The Wandering Who? is available at Amazon.com
ATTENTION READERS
We See The World From All Sides and Want YOU To Be Fully Informed
In fact, intentional disinformation is a disgraceful scourge in media today. So to assuage any possible errant incorrect information posted herein, we strongly encourage you to seek corroboration from other non-VT sources before forming an educated opinion.
About VT
-
Policies & Disclosures
-
Comment Policy
Due to the nature of uncensored content posted by VT's fully independent international writers, VT cannot guarantee absolute validity. All content is owned by the author exclusively. Expressed opinions are NOT necessarily the views of VT, other authors, affiliates, advertisers, sponsors, partners, or technicians. Some content may be satirical in nature. All images are the full responsibility of the article author and NOT VT.