Listen to Linh Dinh and Jonathan Ravusky reporting from Catalonia on Truth Jihad Radio.
Siurana, Charlottesville and Barcelona
Linh Dinh
The Muslim conquest of Hispania began in 711 and ended in 1492. In Catalonia, they were expelled by 1154, with their last stronghold the mountainous village of Siurana, which today has but 39 residents, though with several restaurants for tourists.
Walking through it, I almost felt like I was in a theme park or movie set, for everything was overly determined, with few loose ends that are inevitable in a more natural, thus more chaotic, environment. Though with almost no child residents, there were a dozen kids' drawings strung up along an ancient stone wall, as if to suggest there was still a school in this lonely outpost. Speaking half a dozen languages, two hundred or so tourists wandered about to stare at everything. Unlike in other Spanish villages, there were no old people conversing in the shade. A few Muslims have returned to toil in kitchens.
Going to Siurana in a rented Fiat, Jonathan Revusky and I stopped at a handful of other villages in various states of decline, with one, La Mussara, completely abandoned since 1959. It's home to about 50 sheep, however, and we chatted briefly with their owner, a smiling, middle-aged fellow who lived two villages away. Reduced to a wrecked church and seven other ruins, La Mussara also lingers on through a Catalan phrase, "baixar de la Mussara," which means being so ignorant of something the rest of the world is aware of.
On August 12th, news came that a man had plowed into a crowd in Charlottesville, and even the sheep of La Mussara must know about it by now, for what happens in the US reverberates around the world. Sitting beneath the awning of a beachside café in Tarragona, I opened El Diari to find a cartoon mocking Trump's inadequate response. Next to it was an editorial, "Teaching Hate" ["Enseñar a odiar"] Though brief, it assumes many of the prescribed postures that deform our reality:
What is the difference between an Islamic terrorist who drives a vehicle against a crowd and a racist who attacks people with his car? None, although the President of the United States, with an attitude that denotes a certain complicity—to minimize such an act is to become an accomplice—treats them in a very different way. From where rises so much hate? Why does hate spread so much faster than any other sentiment? What kind of world will we leave our children? Thinking about all this, I came across an Obama tweet that quotes a reflection Nelson Mandela wrote while in the Roben Island Jail: "No one is born hating another person because of the color of his skin or his background or his religion. People must learn to hate, and if they can learn to hate, they can be taught to love. For love comes more naturally to the human heart than its opposite." Yes, one learns how to hate. And I wonder, then, why so many people are interested in learning how to hate? What benefits do they gain? And, even more gravely, why do so many people follow them?
So hate is taught and inexplicable, and no one hates more than racists, with Trump egging them on, according to this editorialist and thousands of others just like him. The battle, then, is between love and hate, but this dichotomy is false because hate flows from love, for to love anything is to hate what may threaten it.
Differences breed conflicts. Spouses, neighbors, tribes and nations argue and sometimes kill each other. As some old Jew once opined, "To everything there is a season […] A time to love, and a time to hate; a time of war, and a time of peace." More recently, Elie Wiesel wrote, "Every Jew, somewhere in his being, should set apart a zone of hate—healthy, virile hate—for what the German personifies and for what persists in the German. To do otherwise would be a betrayal of the dead."
In 1988, the Palestinian poet Mahmoud Darwish penned:
It is time for you to be gone
Live wherever you like, but do not live among us
It is time for you to be gone
Die wherever you like, but do not die among us
For we have work to do in our land
We have the past here
We have the first cry of life
We have the present, the present and the future
We have this world here, and the hereafter
So leave our country
Our land, our sea
Our wheat, our salt, our wounds
Depending on your politics, ethnicity or religion, you might view Wiesel or Darwish as a hate monger, but what's so unreasonable about asking invaders to leave?
Accepting his Nobel Prize in 1986, Wiesel declared, "I swore never to be silent whenever and wherever human beings endure suffering and humiliation. We must always take sides. Neutrality helps the oppressor, never the victim. Silence encourages the tormentor, never the tormented."
Agreeing completely, I think Israel, that alpha terror state, should be dismantled tomorrow, but just for saying that, I will be tagged as a hater or anti-Semite, all for thinking that Arabs shouldn't be evicted from their homes, shot at, bombed, wrongly imprisoned, economically crippled, daily humiliated and demonized.
As for Charlottesville, of course it's way too simplistic to brand all those who object to the removal of the Robert E. Lee statue as "racists," but the entire South has been stigmatized as such since the run-up to the Civil War. Further, all whites are now deemed guilty for just being born white, for whether a blue blood, recent Albanian immigrant or trailer park dwelling grandson of a coal miner, they all benefit from "white privilege," whereas all "people of colors," including a Saudi Prince or Silicon Valley Chinese tycoon, belong to the victim class.
Such idiotic and insulting bifurcation is meant to generate civil conflict, and we're only at the beginning stages of that, with much worse to come, so it's all going according to their script. Slitting each other's throat, we can't even see that our common enemy is the American Israel Empire, or what the Saker calls the AngloZionists.
This week, I met a British expat who's been in Tarragona seven years. Michael had to leave England because it's "an extension of America," and though Spain is still within the American orbit, clearly, it's not as suffocating. In 2004, Spain had the sense to withdraw all of its troops from Iraq, though not before it had lost, quite senselessly, 11 soldiers.
The best private school in Tarragona has English and Chinese as requirements, so they're already thinking beyond the collapse of the American Israel Empire. As the Chinese and Russians work tirelessly to integrate Eurasia, our rulers can only stage wars and false flags.
Between the last paragraph and this came news that 13 people had been murdered and over 100 injured by a van on La Rambla, Barcelona. Since the street was cordoned off, Jonathan Revusky and I waited until the next morning to go there. Arriving, we found a media circus that ranged from the BBC to citizen journalists recording themselves on cellphones. A Japanese reporter sat cross-legged on the ground, typing, with a spread of Spanish newspapers and a cup of coffee in front of him. A Latvian TV crew interviewed a Restaurante Cuines barista, while Spanish station got a long statement from an employee of Café de l'Opera. Wearing a Rolling Stones North America Tour tank top, an unshaved dude recorded his impressions and insights into a cellphone. Just flown in from London, the CNN anchor, Becky Anderson, looked quite severe and dramatic as she read from her Autoscript teleprompter.
"She probably doesn't even speak Spanish," Jon said as we walked away, "so what is she reporting? They're all just repeating the same story, man. It's just story telling."
There were more cops than usual, including some heavily armed ones, but they didn't constitute an ominous presence. At the Joan Miro mosaic, an impromptu and quickly growing memorial of candles and flowers was spreading, but the overall mood on La Rambla was not solemn but relaxed and even festive, as usual. People talked and laughed.
Frederico Garcia Lorca, "The happiest street in the world, the street where the four seasons live together, the only street on earth that I wish would never end, rich in sounds, filled with breeze, beautiful with encounters, ancient with blood, Rambla of Barcelona."
The term "rambla" is the Catalanized form of the Arabic "ramla," which means a sandy patch or beach. Ancient with blood, indeed.
La Rambla has only two lanes of traffic, but with a very wide promenade down the middle. On both sides are five or six-story buildings, with many of these garlanded with balconies, so many eyes are likely to look down at all time, especially in the heart of summer. The homicidal van is reported to have bowled people over from Placa de Catalunya to the Maccabi kosher restaurant, roughly a third of a mile. Retracing its path, Jon observed halfway, "They did a pretty job cleaning it all up, huh?"
"It is amazing. Look at all these people here, man. If it was only half as crowded yesterday, it would have been one heck of a carnage, with bodies being pinned and dragged under the van, probably."
Wanting coffee and conversation, overheard or direct, we entered the Café de l'Opera. Around since 1929, it's an Art Nouveau gem. Bypassing all the tables, we seized two spots at the bar. Sure enough, people were talking about the van attack.
The 50-ish, balding cashier, Raul, was working when it happened. He saw people running in panic. "I walk up and down that street so many times. It could have been me being hit."
About half of the staff appeared to be Arabs. One, a man in his 40's, declared quite openly that he thought it was a false flag, "It's like 9/11 or Pearl Harbor, you know. They stage these things so they can do what they want. There is no Muslim group in the Middle East that wants to stage terror attacks in Europe. They make up this scenario so they can continue to steal oil from Arabs."
When asked what he had seen, the man answered, "I saw many people running, and a few bodies on the ground. I saw blood."
Moving along, we asked several shopkeepers if they had witnessed the van barreling down La Rambla, but all said no, then we ducked into an ice cream parlor to find a middle-aged lady talking quite animatedly about the attack.
Jon, "We've been trying to find people who actually saw the attack, but so far, nothing."
"That's because they're in shock. If you want to know what happened, you should watch the news!"
Seeing a Filipino woman opening her giftshop, we made small talk, then asked what she had seen. "I was inside the store, so I saw nothing. People came running in, and they hid here until midnight."
"Midnight?!" I responded.
"The police wouldn't let anyone leave."
"So everyone just stayed in this little space."
Forcing a tight smile, she said, "Everyone was very scared. One woman saw the van, and even the driver, but she didn't get a good look. She was in shock."
Back on La Rambla, Jon said, "Notice how nobody says they saw the van, much less saw it run over anybody. If I had to bet money, I would bet that you could cover this whole area and not find a single person who says that they saw a van smack into anybody."
We checked the Maccabi kosher restaurant, but it was still closed, as was the Habibi Restaurant and Sisha Bar, two doors down, so we entered nearby Restaurante Cuines for a drink. There, we talked to its manager, a bearded 40-something in front of a laptop.
"Do you think this incident will hurt your business?" I asked him in English.
"No," he laughed. "Look at all these people! There are so many people here than yesterday."
"And what about relations between Spaniards and Muslims?"
"I don't think so. We are very tolerant here in Barcelona. Our patron saint," he chuckled, "is Santiago Matamoros. Do you know what that means?"
"Killer of Moors," I grinned.
"Yes," the man laughed, "but people here get along with Muslims and everybody else. Same with Madrid. There are people in the villages who may think in the old way, but it is not serious."
Abutting La Rambla, there is a neighborhood, El Raval, that's filled with Muslims, mostly Pakistanis. When I was there in 2003, there were no Pakistani-owned electronic stores, groceries, barbershops or butchershops. Most of Spain's Muslims, though, come from Morocco.
Within hours of the van attack, a 28-year-old Moroccan was fingered as the driver, since he had, miracle of miracles, conveniently left his Spanish passport in the van. Seeing his face in the news, Driss Oukabir immediately turned himself in in Ripoll, 67 miles from La Rambla. Oukabir said his passport had been stolen, so he had nothing to do with the attack.
The prime suspect, then, became Moussa, Driss' brother, but the 17-year-old, along with four other Muslims, was killed by police just 8 ½ hours after the Barcelona incident. It's claimed they were attempting another van attack in Cambrils, an hour and a half by car from Barcelona, but why were five "terrorists" packed into one van? The clusterfu$k doesn't make sense.
Just think of all the recent terror incidents, from 9/11, Orlando, Charlie Hebdo to Nice, where all the accused are conveniently killed, leaving the official narrative unchallenged in a court of law.
The more alert among us are catching on that there's a series of false flags designed to sow divisions within society, increase support for more surveillance and policing and, often, intensify hatred of Muslims. All these goals benefit the American Israel Empire, of course, so until this collapses, all of us will continue to be run over. Preaching love, they sow hate relentlessly.
Linh Dinh's Postcards from the End of America has just been released by Seven Stories Press. He maintains an active photo blog.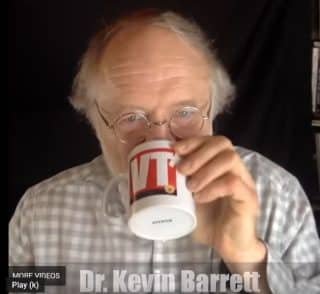 Dr. Kevin Barrett, a Ph.D. Arabist-Islamologist is one of America's best-known critics of the War on Terror.
He is the host of TRUTH JIHAD RADIO; a hard-driving weekly radio show funded by listener subscriptions at Substack and the weekly news roundup FALSE FLAG WEEKLY NEWS (FFWN).
He also has appeared many times on Fox, CNN, PBS, and other broadcast outlets, and has inspired feature stories and op-eds in the New York Times, the Christian Science Monitor, the Chicago Tribune, and other leading publications.
Dr. Barrett has taught at colleges and universities in San Francisco, Paris, and Wisconsin; where he ran for Congress in 2008. He currently works as a nonprofit organizer, author, and talk radio host.
ATTENTION READERS
We See The World From All Sides and Want YOU To Be Fully Informed
In fact, intentional disinformation is a disgraceful scourge in media today. So to assuage any possible errant incorrect information posted herein, we strongly encourage you to seek corroboration from other non-VT sources before forming an educated opinion.
About VT
-
Policies & Disclosures
-
Comment Policy
Due to the nature of uncensored content posted by VT's fully independent international writers, VT cannot guarantee absolute validity. All content is owned by the author exclusively. Expressed opinions are NOT necessarily the views of VT, other authors, affiliates, advertisers, sponsors, partners, or technicians. Some content may be satirical in nature. All images are the full responsibility of the article author and NOT VT.