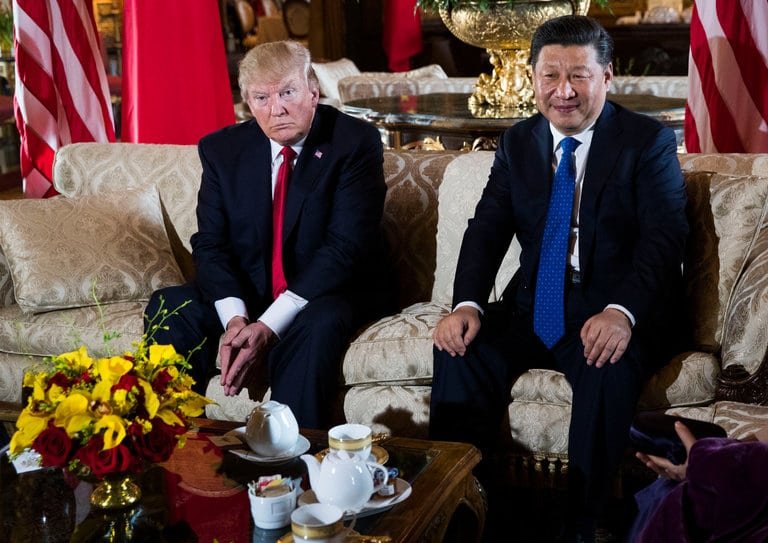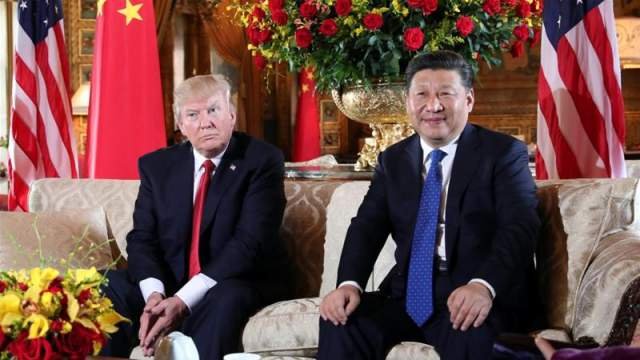 by  Jim W. Dean, VT Editor   … with Russia Today,  Moscow
[ Editor's Note: Trump took to twitter once again to play the twit. He threatened to stop trade with all those doing business with North Korea – an economic act of war not only on China, but the American people. This is what you get with an ex-reality TV show host for president – a guy who makes it up as he goes.
I will say again, as I have many times already, we have a Twilight Zone situation here with a president that is literally a major national security risk. And no, I am not kidding. I am not the only one who thinks so, but among those who will say so publicly.
When Trump put his anti-Russian blustering and fake Moscow threat on the front burner, via his threatening EU energy policy with potentially sanctioning those companies involved in the pipeline deals in process now, we saw that if he would do this to an EU ally, he was capable of worse silliness when dealing with non allies.
EU countries and companies had insisted on partial ownership of the new Russian pipelines to share in a good slice of the long-term economic benefits. They also wanted more secure supply routes to protect against disruptions, like those created by the US' and NATO's violent coup in Ukraine and the installation of a criminal oligarchy to run the country that quickly used its transit pipeline to blackmail Russia, while defaulting on the loans that had kept Ukraine afloat.
It would not be an exaggeration in claiming Trump's announced trade cut off with China as a coup against the American economy. This also shows his staff has no control over him. We need them to threaten to resign en masse if he does not stop his childish but megalomaniac tweets in the morning, but I expect them to do nothing.
The man is incapable of personal embarrassment. Can you all imagine 3.5 or 7.5 more years of this, the damage that can be done? I can't think of any crazy thing he is not capable of… JD ]
Jim's Editor's Notes are solely crowdfunded via PayPal – JimWDean@aol.com
This includes research, needed field trips, Heritage TV Legacy archiving, and more – Thanks for helping out
*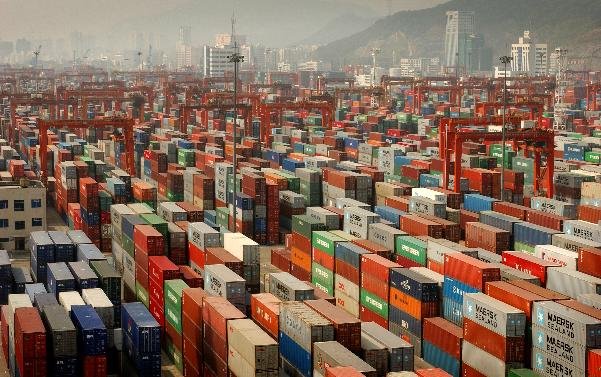 –  First published  …  September 04, 2017 –
As US President Donald Trump threatens to end his country's dealings with North Korea's trade partners, a closer look at the substance of the president's latest Twitter-delivered policy plan reveals the grave damage it would do to the US economy. 
In another bizarre series of tweets, Trump labelled North Korea "an embarrassment to China" and took aim at allies South Korea, accusing Seoul of trying to 'appease' its northern neighbors. The threat of ending trade relations with "any country doing business with North Korea" once again raises the prospect of a potentially-disastrous trade war between the US and China.
China receives 90 percent of the goods in North Korea's $2.83 billion-a-year export trade, making it "North Korea's only economic backer of any importance," according to Nicholas Eberstadt, senior fellow at the American Enterprise Institute.
According to the Observatory of Economic Complexity, North Korea has the 119th largest economy in the world, with China leading India, Pakistan, Russia, Thailand and the Philippines as their largest trade partner. It's not known how the prospect of further sanctions will impact North Korea.
While Pyongyang imports most of its food and energy supplies from its neighbor, China's imports from North Korea are mostly made up of seafood, textiles and the minerals. Coal briquettes are Pyongyang's top export, providing the government coffers with $951 million per year.
The latest UN sanctions imposed on North Korea target its key exports including coal, iron, iron ore, lead, lead ore and seafood.
According to the Council on Foreign Relations, the secretive state's trade with China rose nearly 40 percent this year compared with the same period in 2016, this despite a noticeable cooling of relations between Beijing and Pyongyang.
China also provides the vast majority of food aid. Since 1995, China, along with Japan, South Korea and the US, have provided more than 75 percent of food aid to North Korea. As relations with all other food aid contributors has deteriorated, only China's contribution has remained consistent.
It's feared that any move by the US to cut off trade relations with China, the third-largest destination for its goods and services, would precipitate a global economic meltdown. More immediately, however, it's forecast that a trade embargo would have a catastrophic impact on the US labor and retail markets.
According to the US-China Business Council, the two countries' trade relationship is said to support roughly 2.6 million jobs across a number of industries in the US. In total, the two countries traded $578 billion-worth of goods in 2016.
In comparison, Forbes reported that trade between the US and India, North Korea's other main trading partner, is worth a total of $68 billion. There is also a significant trade imbalance between the countries.
Last year, the US imported $462 billion in Chinese goods and exported $115 billion in goods to China, according to the Census Bureau at the US Department of Commerce.
China also owns an estimated $1.3 trillion in US Treasury bills, notes and bonds, making it the number one investor among foreign governments. US domestic investors, including individuals and corporations, as well as Federal and local government, make up two thirds of all holders of Treasuries.
According to The Economist, any attempt to not repay their Treasuries holdings to China – by default, or in this instance, a sweeping embargo – would result in "cataclysmic consequences for the economy."
The confluence of events on the Korean peninsula may be Trump's chance to correct what he has long seen as an unfair trading arrangement with China, a gripe which he made a central pillar to his unlikely run to the presidency in 2016.
*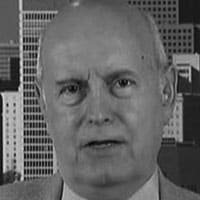 Jim W. Dean is VT Editor Emeritus.  He was an active editor on VT from 2010-2022.  He was involved in operations, development, and writing, plus an active schedule of TV and radio interviews.  He now writes and posts periodically for VT.
ATTENTION READERS
We See The World From All Sides and Want YOU To Be Fully Informed
In fact, intentional disinformation is a disgraceful scourge in media today. So to assuage any possible errant incorrect information posted herein, we strongly encourage you to seek corroboration from other non-VT sources before forming an educated opinion.
About VT
-
Policies & Disclosures
-
Comment Policy
Due to the nature of uncensored content posted by VT's fully independent international writers, VT cannot guarantee absolute validity. All content is owned by the author exclusively. Expressed opinions are NOT necessarily the views of VT, other authors, affiliates, advertisers, sponsors, partners, or technicians. Some content may be satirical in nature. All images are the full responsibility of the article author and NOT VT.