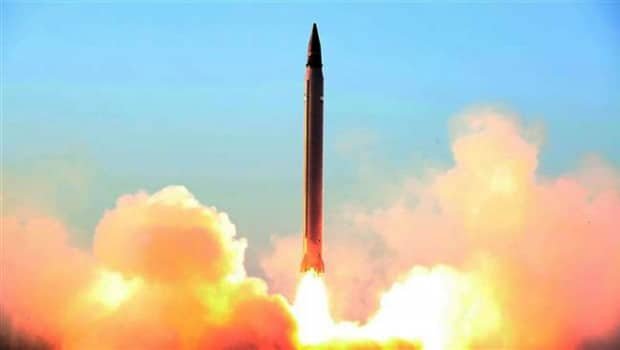 … from Press TV,  Tehran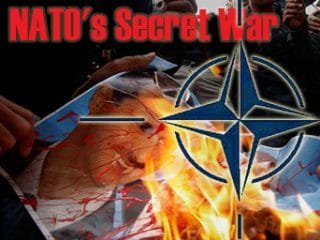 [ Editor's Note: The gamesmanship continues with the Trump regime's deploying its new boogeyman routine on Iran to justify more forward military deployment. But in actuality that has already happened.
The US has a major base under construction in Israel, one that has gotten light coverage. It has had major bases in Qatar, Bahrain, Saudi Arabia, and now in Jordan – a capacity expanded all during the Syrian war. And it has been selling these countries huge amounts of modern weapons that can be used against Iran.
US support for proxy terrorism is the most open secret in the history of clandestine warfare, yet when corporate media report on the stories, we find that a key component, the US-NATO use of proxy terrorism to promote desired regime change, is flagrantly absent.
If anyone is aware of any major media talent resigning from their corporate media slot in protest over this fraud against the American people and the world, please clue me in. The failure of our so-called free media to ride herd on the US' aggression being sold as a reactive defensive strategy should be condemned in all public forums, and wherever they feel they can wear the defenders-for-freedom robe.
Iran will do what the US would do if Iran were moving first-strike weapons within range of US cities and bases – Iran will quickly build up both its defensive posture against a first strike and a powerful retaliatory one as it possibly can, despite not having a nuclear…one for now.
Under international law, every country is entitled to defend itself from superior military threats, including nuclear ones. Israel has been allowed to have nukes with no sanctions imposed; and both Pakistan and India can be added to the list of countries that have chosen to not comply with IAEA nuclear inspections. Yet Iran, who DOES comply, is now a threat to US power, when the US dwarfs everyone else in the region? Are you kidding me?
We will now be watching how much of the vast fortune that the American people spent on education was wasted, when it comes to having the control needed over our own government to prevent special interests from manipulating it. So far, our record on standing up to these manufactured wars is a poor one, so why should Deep Staters stop, when they view us as already on our knees? … Jim W. Dean ]
Jim's Editor's Notes are solely crowdfunded via PayPal – JimWDean@aol.com
This includes research, needed field trips, Heritage TV Legacy archiving, and more – Thanks for helping out
*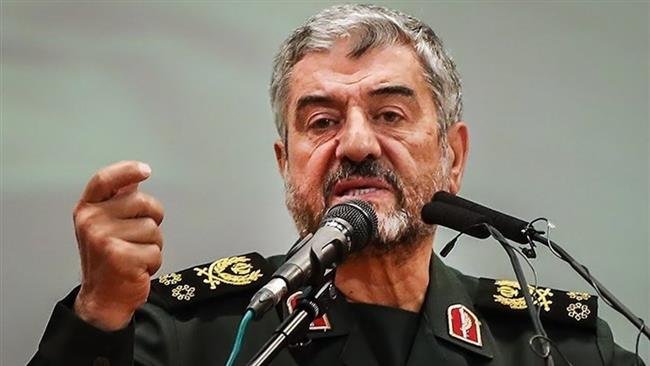 –  First published   …  October 08,  2017  –
The chief commander of the Islamic Revolution Guards Corps (IRGC) says Iran will treat US troops like Daesh terrorists who will have to move their military bases farther from Iran's borders if Washington blacklists his force.
Major General Mohammad Ali Jafari's warning on Sunday came after reports that US President Donald Trump is expected to announce new measures against Iran, including the prospect of additional targeted sanctions and the designation of the IRGC as a terrorist organization.
"As we have announced in the past, if America's new law for sanctions is enforced, this country will have to move its regional bases outside the 2,000 km radius of the Iranian missiles' range," the ISNA news agency quoted him as saying.
By the new law, Gen. Jafari was referring to the Countering America's Adversaries Through Sanctions Act (CAATSA) that Trump signed into law on August 2 after it passed a Senate vote.
Jafari said Iran "deems the implementation of CAATSA equal to America's unilateral withdrawal from the JCPOA," which will allow the country to exponentially enhance its missile capabilities.
The JCPOA stands for the Joint Comprehensive Plan of Action – the nuclear accord which Tehran reached with the US and other countries in 2015 to limit its nuclear program in exchange for lifting of sanctions.
Trump is expected to announce soon that he will "decertify" the deal in a step that potentially could cause the accord to unravel.
"We will use the opportunity of the stupid behavior of the Trump government to achieve a leap in defense, missile and regional programs," Gen. Jafari said.
A senior US administration official, cited by the Financial Times, said on Friday that Trump would not seek the reimposition of broad sanctions that would risk collapsing the accord but was expected to announce new measures.
Those measures will include additional targeted sanctions, the blacklisting of the IRGC and the adoption of a tougher stance on what Washington calls Iranian proxies in Syria, Iraq and Yemen, the official was quoted as saying.
Jafari said, "If the scattered news about the stupidity of the US government regarding the IRGC as a terrorist group is correct, the Guards will also consider the American military all over the world, especially the Middle East, as equal to Daesh."
Senior US officials have been cited as saying that the Trump administration intended to employ a strategy that would "address the totality of Iran's malign behavior" in the region, meaning Iran's support for the Syrian and Iraqi governments and resistance groups opposed to the US and its allies pushing for influence in the Middle East.
Jafari said, "If the ultimate goal of the Americans in raising such issues is to negotiate with Iran about the region, they have chosen a completely wrong path."
New US sanctions, he said, will eliminate the chance of any engagement forever.
"These sanctions will cap the JCPOA experience for us, and the experience is that dialog for America is a tool for pressure and hostility rather than interaction or problem-solving," Jafari added.
*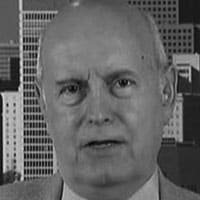 Jim W. Dean is VT Editor Emeritus.  He was an active editor on VT from 2010-2022.  He was involved in operations, development, and writing, plus an active schedule of TV and radio interviews.  He now writes and posts periodically for VT.
ATTENTION READERS
We See The World From All Sides and Want YOU To Be Fully Informed
In fact, intentional disinformation is a disgraceful scourge in media today. So to assuage any possible errant incorrect information posted herein, we strongly encourage you to seek corroboration from other non-VT sources before forming an educated opinion.
About VT
-
Policies & Disclosures
-
Comment Policy
Due to the nature of uncensored content posted by VT's fully independent international writers, VT cannot guarantee absolute validity. All content is owned by the author exclusively. Expressed opinions are NOT necessarily the views of VT, other authors, affiliates, advertisers, sponsors, partners, or technicians. Some content may be satirical in nature. All images are the full responsibility of the article author and NOT VT.