Watch today's False Flag Weekly News above. Click HERE for links to the stories we covered.
Why was it so important to prevent me from being heard on Portland's KBOO community radio? I was going to be taking call-ins. Why not just call in and explain why I'm wrong?
The answer is simple: 9/11 is a debate they can't win.
For seven years, my backers have been offering $1000 (raised to $2000 the second year and thereafter) to any University of Wisconsin teacher willing to debate me on 9/11. Thousands of professors, lecturers, and TAs could make $2000 in a couple of hours. All they have to do is try to defend the 9/11 Commission and NIST.
So why won't they? Because they know, at some level, that they would be in the wrong: intellectually, morally, spiritually. They would lose. They would embarrass themselves and the University.
Likewise, no credentialed scientist has been willing to defend the NIST reports on what happened to the three World Trade Center skyscrapers. We just held the 5th annual 9/11 Physics Debate, whose winner — once again by default — was David Chandler of Scientists for 9/11 Truth.
Globally, more and more relatively mainstream analysts are speaking more and more truthfully about the 9/11 false flag. "Conspiracy theories are rife in Russia"—and, increasingly, everywhere else.
The opposite of a truther is a liar. And the liars are panicking. They are censoring the internet. They are teaching AI to find and purge thought criminals. They are making sure that if you watch a "conspiracy theory" video on youtube, Wikipedia pop-ups will offer you re-education — at a small fraction of the cost of sending you to re-education camp.
They are witch-hunting academicians, from media watchdog James Tracy to conservative Catholic John McAdams to indigenous people's advocate Anthony Hall. They are sponsoring suspected SLAPP lawsuits against alternative media (though this may turn out to be a positive development, since truth sometimes has a way of seeping through the courtroom walls). And they are even imprisoning heretics simply for speaking their minds in a calm, factual, loving way.
And yet the true "conspiracy theories" (JFK, 9/11, Gladio, false flags, banksters, Zionism, NWO) are winning, while the Establishment's idiotic fearmongering lies (which are also conspiracy theories) are losing. Hardly anybody really believes Russia is pointlessly poisoning people with "return to sender" toxins. Nobody is panicking about Russia supposedly hacking our power plants. Virtually nobody agrees with Trump and Pompeo that Iran is even a problem. Nobody really thinks Syria's government, rather than its enemies, is behind the chemical weapons attacks. Hardly anyone accepts Bnai Brith's fundraising claims that Jews are threatened by a surging worldwide army of "anti-Semites"—and more and more people, including even Donald Trump, pre-emptively suspect that high-profile attacks on Jewish targets are likely false flags. To top it off, despite Kim's endless threats to nuke American cities, few Americans are worried about North Korea.
We stand at a very interesting and important point in history: the crossroads between truth and lies. If anything remotely resembling a free debate continues, the truth will continue to forge ahead.
NOTICE TO LISTENERS!  Very Important!  False Flag Weekly News (FFWN) is exclusively supported by listeners via donations.   So if you enjoy FFWN, it is mission critical to step up and support. Click to donate now >>
False Flag Weekly News (FFWN), anchored by VT writers and broadcasters Dr. Kevin Barrett and Prof. Tony Hall, looks behind the headlines and main stream media stories to get at what's really going on in the world.

From violations of international law to initiating WWIII, you don't want to miss what they and their guests have to say about the stories behind the stories.  The show is broadcast live on YouTube and No Lies Radio every Friday morning 8am Pacific/11am Eastern. It is also archived No Lies Radio Archives.

FFWN takes a no holds bar investigative reporter attitude even in their coverage of controversial events such as 9/11, the Boston Bombing, Sandy Hook, the Ukraine, the Paris Charlie Hebdo event, ISIS, and the more recent Paris and San Bernardino attacks.
Support False Flag Weekly News Now!
Hi I'm Kevin Barrett, co-host of False Flag Weekly News (FFWN). We can no longer afford to keep doing this show for free. So we are going to have a separate fundraiser for each weekly episode.

If we raise at least $200 this week I will do the next show. Anything over $200 per week will be donated to No Lies Radio/No Lies Foundation and Khidria, Inc., both 9/11-truth supporting registered 501(c)3 nonprofits.
Click to donate >>
*
* NCT, north central Texas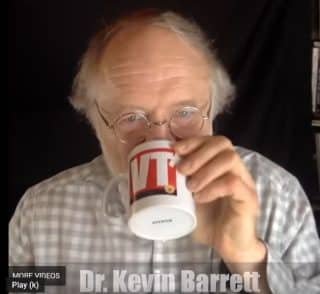 Dr. Kevin Barrett, a Ph.D. Arabist-Islamologist is one of America's best-known critics of the War on Terror.
He is the host of TRUTH JIHAD RADIO; a hard-driving weekly radio show funded by listener subscriptions at Substack and the weekly news roundup FALSE FLAG WEEKLY NEWS (FFWN).
He also has appeared many times on Fox, CNN, PBS, and other broadcast outlets, and has inspired feature stories and op-eds in the New York Times, the Christian Science Monitor, the Chicago Tribune, and other leading publications.
Dr. Barrett has taught at colleges and universities in San Francisco, Paris, and Wisconsin; where he ran for Congress in 2008. He currently works as a nonprofit organizer, author, and talk radio host.
ATTENTION READERS
We See The World From All Sides and Want YOU To Be Fully Informed
In fact, intentional disinformation is a disgraceful scourge in media today. So to assuage any possible errant incorrect information posted herein, we strongly encourage you to seek corroboration from other non-VT sources before forming an educated opinion.
About VT
-
Policies & Disclosures
-
Comment Policy
Due to the nature of uncensored content posted by VT's fully independent international writers, VT cannot guarantee absolute validity. All content is owned by the author exclusively. Expressed opinions are NOT necessarily the views of VT, other authors, affiliates, advertisers, sponsors, partners, or technicians. Some content may be satirical in nature. All images are the full responsibility of the article author and NOT VT.