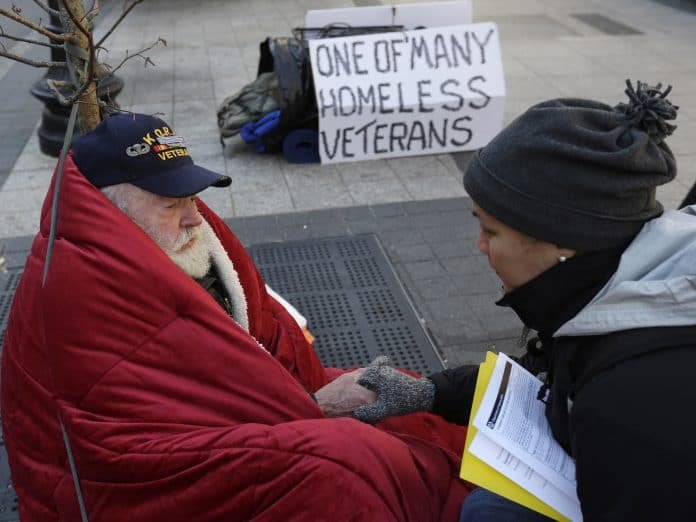 Over the past 10 years, the number of homeless and at-risk homeless veterans has risen across the country. Several states like California, Delaware and Connecticut have implemented creative programs, from utilizing recycled shipping containers into studio apartments to providing vouchers through HUD, to place veterans into permanent housing situations.
In Clayton, NJ a suburb of Philadelphia, PA, a partnership between a non-profit and for-profit is tackling the low income and at-risk homeless situation holistically by creating an entire community with on-site support services.
The Camp Salute Affordable Housing Project is a 76-unit apartment complex built with a veteran and veteran surviving spouse preference. The Camp Salute apartment complex includes: five (5) apartments set aside for homeless Veterans, 19 apartments set aside for disabled veterans and 51 apartments, designated veteran preference.
Camp Salute apartments have fully equipped kitchens, a living room and private bathroom and patio or balcony. The eight buildings offer one-, two- and three-bedroom apartments with the following amenities: a community room, exercise room, a computer lab as well as a tot lot playground area. Also planned is a Veteran's Memorial area consisting of flags and a sitting area.
On-site services will be provided by the non-profit partner, People for People Foundation of Gloucester County to assist on-site and off-site clients by providing workshops and support groups, addressing PTSD issues, abuse issues and access to other Veteran benefits. US Department of Veteran Affairs Accredited Claims Agents will be on-site along with a presence of other additional veteran service organizations.
The Camp Salute Affordable Housing Project is a joint venture between The People for People Foundation and Conifer Realty, LLC to provide permanent housing for low to moderate income families with a Veteran Preference. It is the first and only community in the United States built to provide permanent housing to veterans, their families and the surviving spouses of veterans.
Bernadette Blackstock, President and CEO of the People for People organization states, "In larger urban centers, they are dealing with true homeless issues, not just specific to veterans. In South Jersey it isn't so much that we have veterans living on the street, we actually have a large population of veterans and their family members who do not have permanent housing. These veterans and their families find themselves in sub-par housing or moving from one relative's house to another.
Many times our veterans are placed in a transitional housing facility where they are thrown into a mixed population where they feel alienated and disconnected. Camp Salute is being built for this reason."
Blackstock continues, "Our veterans just want a place to call their own. They feel they have earned it, but many find they just can't afford it.
According to the National Coalition for Homeless Veterans website, about 1.4 million veterans are considered at risk of homelessness due to several factors including: poverty, lack of support networks, dismal living conditions in overcrowded or substandard housing, an extreme shortage of affordable housing, and struggling on a livable income with limited access to health care and support services.
The website adds that a top priority for homeless veterans is secure, safe, clean housing that offers a supportive environment free of drugs and alcohol. Blackstock states, "That is exactly our mission at Camp Salute."
In 2003, Bernadette and her husband Paul created the non-profit, People for People Foundation of Gloucester County. It is a grassroots organization dedicated to helping the normally self-sufficient who experience a temporary crisis in their lives resulting in a financial emergency or need that "Falls through the Cracks" and cannot be funded or serviced by traditional government programs or private charity sources.
Since 2003, People for People has assisted over 16,000 individuals and families.
Within the first several years, the Blackstocks noticed that a large number of grant applications were coming from veterans, an audience that the Blackstocks were very familiar with due to the fact that Paul's father was a highly decorated WWII Veteran who dedicated most of his life to volunteering for the area's veteran population.
JP Blackstock, who stormed the beaches of Normandy on D-Day, was left permanently disfigured after sustaining major injuries in a later battle. JP was sent back to the states and treated in multiple Military Hospitals for seven years. After being released, he continued to receive support services from veteran volunteers and eventually decided that he too would dedicated most of his life to volunteering for other veterans throughout the region.
Paul Blackstock witnessed his father's entire recovery and the positive impact the veteran support services had on his father's life. Also, through JP's volunteer efforts, Paul and Bernadette saw how so many other veterans lacked access to these services.
Paul states, "Until his last breath, my father continued to support the veterans that fought beside him and those who continue to fight for our freedoms today. His dying wish was for me and Bern to please continue to carry on his mission to take care of the veteran community. So, Camp Salute is one way we have been able to honor his memory."
Through their efforts at the People for People Foundation, the Blackstocks saw the benefit of partnering with other organizations, both public and private. When a local veteran came to them with an idea of creating a housing community dedicated to veterans in need the Blackstocks got to work.
Together, the Blackstocks spent seven years looking for a site that would accommodate their vision. Along the way, they teamed up with Sam Leone, a local resident who served on the Gloucester County Chamber of Commerce with the Blackstocks, and serves as the Regional Vice President at Conifer, LLC, a nationally ranked, full-service real estate company that develops, constructs, owns and manages high-quality, affordable housing communities in multiple states.
Leone states, "This project was perfect for Conifer and for South Jersey. We couldn't pass up the opportunity to really make a difference in our own backyard. Once we identified the site, we moved on to find the funding. All the players came into place. About 70% of the financing came from Federal Low Income Housing Tax Credits allocated by the New Jersey Housing and Mortgage Finance Agency. The Borough of Clayton has been very supportive of the project, and the Gloucester County Housing Authority provided much needed rental assistance vouchers for homeless and disabled Veterans. These public-private partnerships are essential for the success of innovative communities such as Camp Salute."
The ground breaking for Camp Salute took place on September 12, 2017. To date, all eight of the building's exteriors are completely finished and the interior details are now in progress. On February 28, 2018 the partners started to accept applications for residency at a local community center. During the application process several veterans that attended expressed their thoughts about the Camp Salute community idea. Vietnam veteran Charles Ingram stated, "This community brings unity back to our lives and it makes it easier to sleep at night knowing that you are surrounded by your brothers and sisters and management that cares."
The partners are still accepting applications for residency. A full application package is available online.
There is a pre-screen process that includes a criminal and credit background check and verification of landlord references as well as a required security deposit. In order to qualify to live at Camp Salute you must meet the total household income limits as follows on the chart below:
Camp Salute PROPOSED Rent & Income Limit Schedule
Unit Size Rent Rate Minimum Income Maximum Income Limits
1 BR (50%)
$714
$21,420 1 Person – $29,150
2 People – $33,300
1 BR (60%)
$870
$26,100 1 Person – $34,980
2 People- $39,960
2 BR (50%)
$845
$25,350 1 Person – $29,150
2 People- $33,300
3 People – $37,450
4 People – $41,600
2 BR (60%)
$1032
$30,960 1 Person- $34,980
2 People – $39,960
3 People – $44,940
4 People- $49,920
3 BR (50%)
$981
$29,430 1 Person- $29,150
2 People- $33,350
3 People – $37,450
4 People – $41,600
5 People- $44,950
6 People – $48,300
3 BR (60%)
$1197
$35,910 1 Person- $34,980
2 People- $39,960
3 People – $44,940
4 People- $49,920
5 People – $53,940
6 People- $57,960
*The tax credit program is designed to qualify applicants that have met the minimum yearly income per household Each household must fall within the below pre-determined maximum income range established by HUD in order for your application to meet the income qualification.
The proposed monthly rents for the apartments range from $714 to $870 for the one bedroom apartment, $845 to $1032 per month for the two bedroom apartments and $981 to $1197 for the three bedroom apartments. Residents are responsible for electric and gas. Trash, water/sewer, emergency maintenance, lawn care and snow removal are included in the monthly rent. Pets are permitted with restrictions and must be approved by management. There are some vouchers available and vouchers are accepted.
The first tenants are scheduled to move into Camp Salute on Memorial Day weekend and a ribbon cutting and open house is scheduled for the Fall.
In closing, Bernadette explains, "We wanted to build a community for veterans and their surviving spouses that can be replicated throughout the country. Whether dealing with low income veterans and families, or homeless veterans, they all need a safe and clean place to live that they can rightfully call their own. This is what Paul and I promised JP and we are humbled to have received so much local support to allow us to honor his memory by helping those who are still with us and are in need."
For more information about Camp Salute, visit the People for People website or call: 856-579-7561.
The People for People Foundation of Gloucester County is a grassroots 501 3 (c) organization founded in November of 2003 by community leaders who were concerned about helping their neighbors who fall on hard times.
People for People's mission is to provide financial and advocacy assistance to South Jersey residents who are normally self-sufficient but have experienced a financial hardship due to loss of employment, sickness, accident, fire, or other unforeseen emergency.
In 2010, the People for People Foundation expanded their mission to include the welfare and well-being of veterans throughout the County and State. This was prompted by a dying wish made to Bernadette Blackstock, by her father-in-law, JP Blackstock.
JP Blackstock, a WWII veteran, heroically stormed the beaches of Normandy on D-Day, and was permanently disfigured in later battle. He received the Silver sStar, Bronze Star, Multiple Purple Hearts, and others.
After returning to the states, Blackstock endured years of rehab and received consistent help from volunteers. Indebted to all the people who helped him, Blackstock dedicated most of the last 46 years of his life after service to volunteering with veterans. This dedication to veterans inspired the Camp Salute community concept and was built in honor of Blackstock's memory.
ATTENTION READERS
We See The World From All Sides and Want YOU To Be Fully Informed
In fact, intentional disinformation is a disgraceful scourge in media today. So to assuage any possible errant incorrect information posted herein, we strongly encourage you to seek corroboration from other non-VT sources before forming an educated opinion.
About VT
-
Policies & Disclosures
-
Comment Policy
Due to the nature of uncensored content posted by VT's fully independent international writers, VT cannot guarantee absolute validity. All content is owned by the author exclusively. Expressed opinions are NOT necessarily the views of VT, other authors, affiliates, advertisers, sponsors, partners, or technicians. Some content may be satirical in nature. All images are the full responsibility of the article author and NOT VT.