by Ed Mattson
Over the course of the last 20 years I have been asked to review a number of books written by those who have served in the military. As an avid reader and author, I find doing a review very challenging. Most writers quickly develop a "style" often far different than my own, so such a project can be a learning experience.
Lt. Col. John Hedley is kind of the de facto leader of our veterans group who call Richard's Coffee Shop in Mooresville, NC home. I have written stories about this North Carolina legendary stomping ground that boasts a visitor's roster of more than 10,000 active duty and veteran military personnel ranging from 1996 presidential candidate, Bob Dole, to the Tuskegee Airmen, who presented this unique spot a plaque honoring Richard Warren, owner of the Welcome Home Veterans Living Military Museum1.
In between such notables, there have been numerous Silver Star and Medal of Honor recipients who have honored our small town museum with their presence.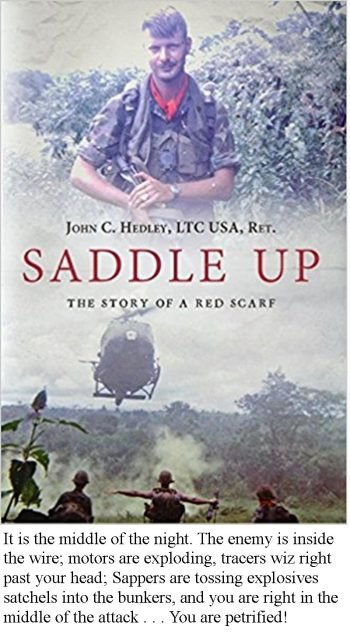 I've come to know Lt. Col. Hedley over the years, but never ready got to know himuntil after I read his remarkable military history; the struggle to first get into West Point and then graduate despite a congenital birth defect that had to be surgically repaired to enable him to pass the rigorous mandatory physical fitness part of West Point's requirements.
John's path to West Point was a lifetime goal because his father who fought in WWII had tried three times to get an appointment to West Point. When his father was finally accepted, he received a letter shortly thereafter saying the Army had rejected him because he was too old!
As a Marine, I knew little of the program West Point cadets under went on their way to becoming officers, but it was far more difficult than the educational regime those of us who attended colleges and universities here at home. Combined with getting a first class education, the cadets had to endure physical fitness training every step of the way, which I'm sure had to be far more challenging that the fraternal beer binges we had to survive on our way to graduation.
The 160+ years of Academy tradition just added to the stress of becoming an Army officer. John became an Army 2nd Lieutenant with his father administering his commissioning oath of office on June 5th 1965.
Following graduation and commissioning John headed off to Ft. Benning, GA, for Infantry Officers Basic Course, Ranger and Airborne, but shortly after his arrival, his old nemesis, that congenital  shoulder problem that was corrected while at West Point, had regenerated to its previous debilitating condition and he was faced with receiving a medical discharge from the army or accepting a non-combatant role in the rear with the gear.
Neither option was acceptable for this brash new 2nd Lieutenant, so he looked up the doctor who performed the original surgery and together they would try a new procedure to fix it for good. After three months of rehabilitation, he was once again certified for combat duty and left for Panama to undergo  the Army's Jungle Warfare School.
With a trip back home to say goodbye to family and friends it seemed like a matter of hours before his cadre of new soldiers were headed toward Vietnam, with all the apprehension and nervous energy one would find in a line of prisoners waiting for execution at a hangman's gallows.  The flight, half-way around the globe, came to an end on July 9th, 1969, when his plane landed in Vietnam.
His group was processed at Long Binh, where like those who had come before him, he had to endure the catcalls from those headed back to the United States with jeers of, "Hey, FNG (fu**ing new guy), you got your body bag?" and "You'll die in Vietnam!" Overall, his entourage of new soldiers developed a belief that if these guys could survive then maybe they would as well.
The story really begins in Vietnam after John and his group landed at Pleiku Air Force Base. They were then transported by truck to Camp Enari where they were processed into the Replacement Company with four days of orientation, training, and familiarization. The initial orientation included training in first aid, radio operation, familiarization of the terrain in their area of operation (AO), standard operational procedures (SOP), and qualifying with both the .45 caliber handgun, and the M-16. The final exercise in this orientation was a patrol into the "bush" where the enemy might be lurking to give them a "feel" for the task at hand.
2nd. Lt. Hedley was assigned to the 1st Battalion, 14th Infantry, 4th Infantry Division; the "Golden Dragons", and reported to the rear battalion support area and the Battalion S-3 or Adjutant, on Camp Enari. As he was processed into the battalion he managed to trade his M-16 in for a CAR-15, essentially a shorter barreled version of the M-16 which had a telescoping butt and a higher rate of fire than the M-16; a distinct advantage when having to talk on the radio with one hand and fend off the enemy with the other. Following processing, John was assigned to the Golden Dragons who became conspicuous by the red scarfs they wore and the gallantry they exhibited.
John was so nervous on his first assignment which was a move up to their fire support base, he actually left the base camp without his ammunition, but was saved the embarrassment by one of his sergeants who informed him, "Hey, LT, ya know ya forgot yer bullets back there; even John Wayne needed bullets." Laughter could be heard from the back of the transport truck. What a great start for a wet behind the ears 2nd LT.
When he arrived Fire Support Base St. George, he was assigned as the platoon leader of Fox Force E Company, call sign Apache 6. Fire Base St. George was situated right on the major NVA (North Vietnamese Army) infiltration routes from Cambodia in the Central Highlands. The mission was to interfere with and stop NVA units from coming into Vietnam off the Ho Chi Minh Trail which turned out to be an almost daily occurrence.
I found myself going back fifty years in time and right in the middle of John's platoon, as the action upon his arrival and assuming command took its first venture "outside the wire" in search of a possible NVA hospital hidden somewhere off a path leading to a waterfall and stream. The triple layer of jungle that permeated the terrain made radio contact nearly impossible with the base camp, and John's platoon was absolutely out of sight for any possible air support should it be needed. Additionally,  so dense was the foliage it would have been almost impossible should an air-evac by helicopter be needed should anyone get wounded.
As with most missions that the infantry conducted in Vietnam, the only certainty was UNCERTAINTY, and as most retired officers, and I'm sure the enlisted would agree, no matter how well a mission was planned and how much intel was made available, it all goes into the shit-can once bullets and motors start flying. Fortunately, for Lt. Hedley's "maiden voyage", all went smoothly, and in spite of themselves they managed to stumble upon the hospital hidden behind a waterfall above a fast moving stream. A simple recap of that encounter as well as many others in this great book, would make for a really exciting segment of a feature-length action movie.
Following a brief exchange with a couple of NVA that appeared to be on patrol,  the Golden Dragons began moving swiftly up the stream in pursuit of others who had turned tail and ran,  seeking coverage and concealment from the jungle. That's when Lt. Hedley got his first enemy kill. With adrenaline pumping and breath coming in gasps he caught one of the enemy in his sights and watched as the NVA's head exploded in one shot. The chase of those in retreat continued up the stream until they came to a waterfall. Lt. Hedley quickly laid out a defensive perimeter just in case the ones who got away returned with their buddies. Meanwhile they went exploring what appeared to be a cave behind the falls.
Intel was correct; behind the waterfall was a cave and inside a hospital which in fact, looked to have been recently populated. A quick inspection found an operating room, medical supplies, stores of food, bunks, latrines and munitions. There was even a footlocker full of women's bras, panties and lingerie – proof that the North Vietnamese Army kept their soldiers well-taken-care-of when on R & R (rest and relaxation).  Several of the platoon's members went in search of enemy bodies, but none could be found as they had dragged off their dead and wounded which was a customary practice to deprive the Americans from reporting the "body count" of the enemy killed in action.
From this first encounter the story of the Golden Dragons under Hedley's leadership moves through a year of action with a front-line search and destroy platoon, a year which saw numerous firefights, operations which took his 1st Battalion, 14th Infantry, Fox Force E Company, all over the Central Highlands in pursuit of "Charlie" (the GI term for the NVA). The realistic feel of battle, from being over-run by the enemy in the middle of the night, the fear of having one's name on one of the green tracer bullets that just missed its mark of hitting you right between the running lights, to being one foot away from a motor strike ending your live, are all told in graphic detail as the reader sweats it out with the Golden Dragons to all the smells of battlefield and sounds of outside-the-wire action.
Remarkably, Lt. Hedley's troops managed to endure what many infantry units faced, but by the end of his tour in 'Nam, only three members of the Golden Dragon failed to return home. One would have to attribute this to John's leadership, his ability to have learned his "trade" well, and the camaraderie of the men in his platoon.
They truly became a "Band of Brothers", who fought for each other – the soldiers on the right and the soldiers of the left – rather than for any sense of fighting for our country or in defense of freedom and liberty for the people of Vietnam. That's the way it was in Vietnam, and this unique book puts the reader right in the middle of the action.
In conclusion, Saddle Up is definitely worth the read for those who need a better understanding of what our military faced in the Vietnam War, a war which those back in America turned their backs on. While it is understandable that the citizenry grew to hate the war, that hatred should have been directed to our government, not those on the battlefield. Yet those who returned home were call "baby killers", and spat on by many who had no idea the politician were to blame, not those who were doing their duty.
It was the politician, from the top on down, which did not clearly define the goals of the war and did not have the "will-to-win".  Approximately 2.5 million Americans fought in the Vietnam War and more than 58,000 young men died because of the ineptness of our political leaders.
From this catastrophe in American history, many great leaders have risen, and have become examples from which today's youths can certainly benefit.
Following his service in the Marine Corps, Ed built a diverse career in business in both sales/marketing and management. He is a medical research specialist (biological response modifiers) and has published numerous books. His latest books are Concept of America and soon-to-be released, Blessed are the Heroes. Ed is past Development Director of the National Guard Bureau of International Affairs-State Partnership Program, and Fundraising Coordinator for the Warrior2Citizen Project. Mr. Mattson is a noted speaker and has addressed more than 3000 audiences in 42 states and 5 foreign countries. He has been awarded the Order of the Sword by American Cancer Society, is a Rotarian Paul Harris Fellow and appeared on more than 15 radio and television talk-shows. His non-fiction books range from what it means to be an American, to his best selling book on cancer research, Say NO to the Undertaker, published by Author House.
ATTENTION READERS
We See The World From All Sides and Want YOU To Be Fully Informed
In fact, intentional disinformation is a disgraceful scourge in media today. So to assuage any possible errant incorrect information posted herein, we strongly encourage you to seek corroboration from other non-VT sources before forming an educated opinion.
About VT
-
Policies & Disclosures
-
Comment Policy
Due to the nature of uncensored content posted by VT's fully independent international writers, VT cannot guarantee absolute validity. All content is owned by the author exclusively. Expressed opinions are NOT necessarily the views of VT, other authors, affiliates, advertisers, sponsors, partners, or technicians. Some content may be satirical in nature. All images are the full responsibility of the article author and NOT VT.