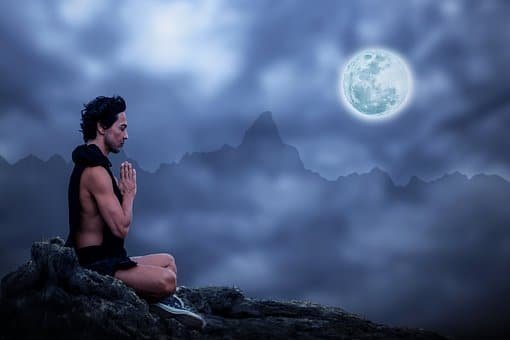 I grew up in a Christian home and always held at the core of my heart, what I consider to be and still do,  one of the world's greatest spiritual insights, Jesus's quote  "Love thy neighbor, as thyself."
This profound insight and teaching seemed to be at the core of our soul's life lesson journey here on planet earth.  So, after a lifetime of studying our daily news and the history of our world, I continued to ask, how could Jesus's quote be true in face and fact that Christians (and other Religions) have literally murdered hundreds of millions of their neighbors in the name of God?
"Thy shalt not kill." Exodus 20:13 
I humbly invite you to take a moment to think through this with me and own for yourself the answer that came to me.   I pray this article will help you to see the great metaphysical elephant in the room that perpetually presents an inverted picture of Jesus's true teachings.
Therefore,  if Jesus's quote "Love thy neighbor, as thyself" is true, and I believe that it is, then I concluded that every horrific thing on our planet to date must be occurring because people/humanity are literally doing what he says.  Now, before you might choose to react to this statement, please think through with me on how I got to this conclusion and more importantly, how each of us and humanity can correct this picture to live and create a world of true and loving peace.
Yes, on the surface this appears to be an insanely bold statement until you consider it from the literal reality that: We are loving our neighbors exactly how we love ourselves…and that is 'we chose to love ourselves horribly'.  
You see, one person cannot give to another what he or she does not first have for themselves.  If I have not first found inner peace, love, kindness, compassion, and care for myself then the only thing I am capable of projecting and acting on, in regards to other people, animals, and mother earth, is the opposite of this, self-hatred.  The truth be told, if I have anything less than a state of loving reverence for myself then I will only project and act on my inner state of suffering as expressed through agitation/impatience, self-hatred, cruelty, intolerance, and indifference.
In other words, peace from emotional disorders and physical disease, peace between cultures and on our planet are inextricably linked to our ability to first find love and peace within ourselves.  Therefore, until each of us truly finds the kingdom of heaven that is within, that which is defined by expressing the loving, peace, compassion and innocence of a child, then we will continue to project our crazy self-hatred on to other people, animals, and mother earth…defining them as "the Others" and then psychopathically harming, murdering and destroying them instead of lovingly embracing them as "all are one" as an extension of God's Divine gift to us.
You see, the Jesus figure said: "Even the least among you can do what I have done and greater things" ~ John 14:12.   How else can one rationally interpret this quote other than:  "I did it (enlightenment), you can do it and even go further than I."
Later the Jesus infers this is possible and/or achieved if you first find: "The kingdom of heaven is within you." (Luke 17:21).  He later states this is attainable by: "Verily I say unto you, except ye be converted, and become as little children (attain a metaphorical state of spiritual innocence), ye shall not enter the kingdom of heaven."(Matthew 18:3).
Then, and only through this state of aligned innocence (or what the Buddhist call "egoless" or what Christians might term a state of "surrender" or "atonement") with God's Will, can we be awakened and integrate the state of being as referred to in Psalms 46:10: "Be still, and know that I AM God".
Only from this cognized state of awareness can we know  "And God said (spoke the "Word" which means "the primary creative harmony") let there be light."(Genesis 1:3).  From this state of consciousness, we will know as it says in John 1:14 "And the Word was made flesh, and dwelt among us, full of grace and truth." Hence, we can understand and witness what Einstein said in his famous equation E=MC2 that "Energy and Mass are different forms of the same thing."
"If you want to awaken all of humanity, then awaken all of yourself, if you want to eliminate the suffering of the world, then eliminate all that is dark and negative in yourself. Truly, the greatest gift you have to give is that of your own self-transformation." – Lao Tzu (4th Century BC)
"The solution to the problem of the day is the awakening of the consciousness of humanity to the divinity within." – Hazrat Inayat Khan, 14th century.
BEGINNING STILLNESS MEDITATION:
First, find a quiet place to sit. Sit on a chair or on the floor, however, you feel most comfortable. If sitting on a chair sit up straight with your spine erect and your feet flat on the floor. If you are sitting on the floor, sit cross-legged as best as you can. Place your hands comfortably to the top on your knees. Bring your index fingers to your thumbs on both hands and face the palms of your hands upward. Close your eyes and begin to concentrate your inner gaze at the point that is near the center of your forehead. This point, just above and between your two eyes, is commonly referred to as your third-eye.
Become mindful of your breath. Take five minutes to breathe in slowly and with concentration, in through your nose and then out through your mouth. Begin to observe any and all thoughts that cross your mind. Consciously see each of these thoughts dissolving and not important at this moment. Your goal is to be present to the NOW. Continue your inner gaze through your third-eye and watch for the image of your reflection pool to still. This stillness will occur as your thoughts dissolve into nothingness and the present moment of your breath.
With each breath become aware of any tension in your body. Feel the power of your breath to bring release and peace to this area of self-created tension. Continue your inner gaze and conscious breathing. Allow the peace of your breath and stillness of your mind to connect you to your TrueSelf, that of only love. With this new inner stillness, you will likely see a rich blue or violet color in your third-eye. Stay in this space of awareness as long as you can or choose.
"Breath-of-Fire, Humming, and Ho'ponopono Chakra healing. (This process utilizes hyperventilated breathing, which Yogi's call "Breath of Fire." If you have any medical condition – it is recommended that you consult with your physician first before attempting this mediation and/or simply breath slowly as described in the Beginning Still Meditation.)
Overview Understanding of the Advanced Three Step Meditation process:
1) The Breath-of-Fire is designed to help further clear your mind of distracting thoughts while bringing higher concentrations of oxygen into your brain.
2) The "Ho'oponopono," according to Wikipedia, is an ancient Hawaiian process of reconciliation and forgiveness." At its' mystical core are the elements of mental cleansing, putting things right and rectifying errors. Attending this awareness activation is the recognition that we are always 100 percent at cause and responsible for any problem.
Similarly, it is defined that we are also 100 percent capable of rectifying any and all errors. Four short phrases activate the process of this healing process and release us from the groove of suffering: "I'm sorry. Please forgive me. Thank you. I love you." Through the melody of these words, we transmute and transcend the error of our thoughts, become free of attachments and now co-create from new and loving possibilities.
3) The Body's Chakra System Overview
The 1st Chakra energy center (know as the Muladhara or Root Chakra) is located at the base of your spine near the tailbone. The Root Chakra is symbolized by lotus flower of four pedals and is associated with the color red. The 1st Chakra deals with base survival energies of the self; fight or flight instincts, security, mental stability, sensuality, and sexuality. 
Working upwardly, the next energy center, the 2nd Chakra (known as Swadhisthana), is located just slightly above the Root Chakra, in the area of the sacrum near a man's testes or a woman's ovaries. This Chakra is symbolized by the crescent moon of the lotus flower and is associated with the color orange. Its' energies deal with relationships, emotional stability, and pleasure, violence, and addictions.
The 3rd Chakra, known as Manipura, is located in the stomach area and is symbolized by the downward-pointing triangle of the lotus' ten petals. Its' associated color is yellow. This Chakra's energies deal with translations and transformation of emotions fear, stress and anxiety into personal powers of spiritual growth and mental expansiveness.
Working upwardly, the next energy center, the 4th Chakra (known as the Anahata) is symbolized by a twelve-petal green circular flower. It is located in the chest and heart area of the body and is associated with the color green or pink. The 4th Chakra deals with energies of unconditional love, emotional balance, compassion, tenderness, how we handle rejection and our sense of inner well-being.
The 5th Chakra, located in our throat, is known as Vishuddha. It is symbolized by a silver crescent with sixteen pale blue or turquoise petals. This energy center deals with and governs our communication, our ability to articulate our thoughts and speak authentically, our spiritual expression.
The 6th Chakra, known as Ajna (our third-eye), is linked to the pineal gland and is located in the center of the forehead, at the point just above and between your two eyes. It is associated with the colors indigo, violet or deep blue and is symbolized by a two-pedal lotus. The 6th Chakra is associated with our intuition and the abilities to envision, bring balance to our higher and lower self and our ability to be spiritually discerning. 
The 7th and final Chakra called Sahasrara or Crown Chakra is located at the top of our head and is associated with the pure consciousness of the color white. The Crown Chakra is symbolized by the thousand petal lotus and deals with the energies of releasing karma (negative energies created by non-loving thoughts and actions), meditation and connection with God Consciousness, unity, the integration love as the singular truth and the realization of Dharma (lovingly living in alignment with our life purpose).
Beginning The Three Step Meditation:
"After completing the beginning stillness meditation now bring your hands to your hips. Keep your eyes closed and concentrated on your third-eye. Begin the Breath-of-Fire by breathing rapidly in through your nose and out through your nose 65 times. (You can also breathe slowly if you have a concern over some medical condition).
Next, with your eyes still closed, bring you your hands comfortably to the top of your knees. Again, bring your index fingers to your thumbs on both hands and face the palms of your hands upward. Now begin to HUM intensely. This humming sound causes your right and left hemispheres of your brain to synchronize and work simultaneously. The humming further eradicates any thought bubbles from occurring. HUM intensely 65 times.
Next, with your eyes still closed and hands on knees, you will focus your breathing and the Ho'ponopono clearing to restore and align the body's seven Charka energy centers. This meditation brings healing and balancing energies to all of our Chakras.
Repeat the slow Beginning Meditation Breath and Ho'ponopono Process for Each Chakra:
Begin at the Root Chakra and then work upwardly through each energy center until reaching the Crown Chakra.
Breathe in deeply and slowly in through your nose and then out through your mouth. With each breath inwardly imagine white light flooding the Chakra. You can imagine dark light being expelled. You will be breathing into each Chakra 12 total times, four breaths and three rounds.
Round one / modified Ho'ponopono: As you breathe in your first breath, simultaneously inwardly speak the words "I AM", then exhale. As you breathe in your second breath, simultaneously inwardly speak the words "I Accept Your Grace", then exhale. With your third breath in, now inwardly speak the words "Thank You", then exhale. And with your forth breath inwardly say "I Love You", then exhale. Repeat the breath and inwardly spoken modified Ho'ponopono words again to complete round two, and again to complete round three. In essence, with each accompanying breath, you will have said the complete Ho'ponopono a total of three times through each and every Chakra.
Once the Advanced Three Step Meditation is complete it is recommended that you BE STILL in the moment and give thanks to the Creator Awareness for all that you are and/or have any desire to be. Pray for others, yourself, peace on earth and for the reverent safekeeping of all nature and Mother Earth.
If you're so inspired by the daily recommended meditation practice, I encourage everyone to forward this article on and watch for the ripple effect in your circle of friends.
Steve Robertson is the Founder and CEO of ProjectPeaceOnEarth.org (PPoE) and the PeaceSongAwards.org
Robertson is also the Founder and CEO of SupportVeteransNow.org, PenPalsForPeace.org and the LoveAllLoveWins.org campaigns. 
The ProjectPeaceOnEarth.org Steering Committee and Advisory Board consist of 41 world-famed/Grammy-winning musicians, Academy award-winning filmmakers, Emmy winning TV producers, top scientists, doctors, higher-education scholars, human rights and world-thought leaders in the areas of consciousness and spiritual development. 
Robertson has produced three international peace concerts from and for Bethlehem Palestine on Christmas Day and for the Middle East/Global Peace out to some 80 million homes worldwide which featured Grammy-winning musicians, famed celebrities, and thought-leaders. 
Overview of Steve Robertson's/PPoE achievements to date: 
In 2009, Robertson lead a nationwide bus tour called "Peace Has Begun" that served to frame the word "peace" as a verb for social good and promote the planned annual Project Peace on Earth global musical prayer concerts.  The bus was a traveling media studio that featured two broadcast journalists who interviewed people on their commitment and actions towards inner and outer peace.
In September of 2010, Steve lead a medical mission, with famed eye surgeon Paul Dougherty MD, to Hebron Palestine which resulted in the restoration of eyesight (40 free cataract surgeries) to elderly people.  Michael Garcia, former VP of Development for HBO traveled with the Medical Mission to film a documentary called "Visions of Peace."
 
On November 25th, 2011, Robertson, Executive Produced a promotional aerial image, in conjunction with John Quigley (PPOE Advisory Board), additional PPoE Middle East Production team members and a UNRWA team, that consisted of some 1000 Palestinian refugee children forming the Picasso Peace Dove image and spelling out the words "Love All" both in English and Arabic. 
On September 26th, 2012 the UN selected the Picasso Peace Dove and Love All still image photo (out of some 800,000 over the course of the UN) as one of the 49 most iconic images ever captured since the organization's inception. 
In 2014 Robertson became an Executive Producer and the Artistic Mentor on the Shanti Samsara Environmental Consciousness benefit album. The album, produced by Ricky Kej, was produced at the request of Prime Minister Modi of India, to honor all forms of life from a Vedic and Buddhist perspective.  Prime Minister Modi presented this album during his November 2014 UN Climate Change Conference Keynote Speech in Paris to every Presidential attendee at the event. The 150-page pictorial coffee table book and 2 CD album set involved over 500 musicians and 40 countries.
In November of 2014 Robertson created and Executive Produced the 2 Unite All benefit album to bring surgical teams, medical supplies, and PTSD Therapies into GAZA and the Middle East Region to support greater peace. The album features numerous world-famed Grammy-winning musicians …30 major musicians including Peter Gabriel, Roger Waters (Pink Floyd), Philip Lawrence (Burno Mars), Stewart Copeland (The Police), Thomas Bergersen (2 Billion YouTube video hits), Gary Nicholson (Grammy Winner and TX Hall of Fame) and many more.  The album is endorsed by Archbishop Desmond Tutu, Professor Noam Chomsky, Oliver Stone, Vera Baboun (former Mayor of Bethlehem) and many more. 
In 2017 Steve founded the PeaceSongAwards.org (PSA) worldwide contest which serves as a search for our world's most enlightened musicians, songs, spoken word poetry and music videos that guide the way to inner peace and outer peace on earth.  PSA Jury Panel Members consist of many world-famed Musicians, Music and TV industry people and Thought-leaders. 
Steve's acclaimed and recent book, "The Power of Choice, Success and Your Life Purpose" is endorsed by numerous national best selling authors including Gary Zukav ("Seat of the Soul," 10million + books sold), Don Miguel Ruiz MD ("The Four Agreements"),Caroline Myss PhD ("Anatomy of the Spirit"), Jack Kornfield PhD (founder of the Mindful Meditation Movement, author of "A Path With A Heart"), Larry Dossey MD (recent author of "One Mind" – former Director of the Nat. Inst. for Health, Alternative Medicine Division), Alexander Astin PhD (founder of UCLA's Higher Education Research Institute), Jack Healey (former Exec. Dir. of Amnesty International) and more.
 
National Best Selling Authors proclaim:
Steve's book is … "A TEXTBOOK for the Soul" – Caroline Myss, PhD (National Best-Selling author of "Anatomy of the Spirit")
"Robertson is a Living Avatar on whose shining example our future may depend."– Larry Dossey, MD (National Best Selling Author of "One Mind" and "The Power of Prayer")
Steve book uses…"beautiful metaphors and analogies that lead in every instance to awareness, self-responsibility, and our Divinity" – Gary Zukav (National Best Selling author of "Seat of the Soul")
Steve's book is …"required reading for anyone who has longed to find and fulfill their life purpose." – Don Miguel Ruiz (National Best selling author of "The Four Agreements")
Steve's book…"can empower you and help you bring your gifts to the world." – Jack Kornfield, PhD (National Best Selling Author of "A Path With Heart")
Steve's book offers …"rich and spiritually authentic insights into the meaning of life and how to find and live your life purpose." – Gerald (Jerry) Jampolsky, M.D. and Diane Cirincione, Ph.D. (National Best Selling Authors, Pioneers in the Human Potential Movement)
Steve's book is …"a treasure trove of timeless wisdom and spiritual guidance." – Alexander Astin, PhD (Considered the world's most widely quoted person on Higher Education. Co-founder of UCLA Higher Education Research Institute. Best Selling Author of "Cultivating the Spirit".)
Steve's book…"looks at all of us in the eye and asks us to awaken to our own power and force." Jack Healey, former Executive Director of Amnesty International. Former Franciscan Monk.
ATTENTION READERS
We See The World From All Sides and Want YOU To Be Fully Informed
In fact, intentional disinformation is a disgraceful scourge in media today. So to assuage any possible errant incorrect information posted herein, we strongly encourage you to seek corroboration from other non-VT sources before forming an educated opinion.
About VT
-
Policies & Disclosures
-
Comment Policy
Due to the nature of uncensored content posted by VT's fully independent international writers, VT cannot guarantee absolute validity. All content is owned by the author exclusively. Expressed opinions are NOT necessarily the views of VT, other authors, affiliates, advertisers, sponsors, partners, or technicians. Some content may be satirical in nature. All images are the full responsibility of the article author and NOT VT.