One month ago Canada became the 2nd country in the world that legalized the use of recreational marijuana. However, 71% of Canadians are not interested in smoking weed once legal.
Unlike its neighbour, the USA is far from full cannabis adoption. 10 states legalized marijuana for a recreational use + 23 states legalized marijuana for medical purposes = 33 states out of 50 with access to weed in some form.
There is no wonder in such a scenario. Marijuana has always been a sensitive subject to discuss and decide on its future. Weed haters consider marijuana a clear threat to our physical and mental health, while weed adepts claim it to be a cure-all for many modern ailments from cancer to depression.
None of them are 100% right. As anything else in this world, the issue of marijuana consumption is twofold.
Why Legalize Marijuana? Why Not?
Marijuana is a #1 illegal substance in the world. 60% of respondents use it at least once a year. According to the report conducted by the National Institute on Drug Abuse, nearly 30% of weed users have a some degree of addiction. Heavy users (9%) suffer from brain function decline, impaired memory, trouble breathing, cardiovascular disorders, etc. So, marijuana is far from being harmless, despite of many people considering it to be such.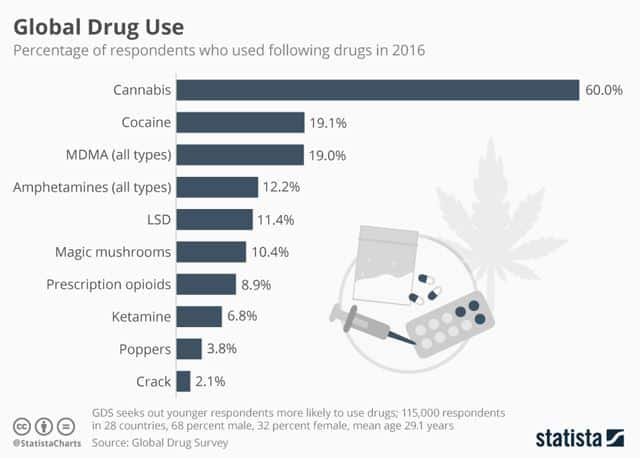 On the other hand, medical marijuana has a proven track record of improving health and well-being of patients with challenging illnesses. It doesn't treat cancer itself, but alleviates a number of its symptoms including nausea, vomiting, digestion disorders, and neuropathic pain. Marijuana also eases epilepsy, AIDS, spinal cord issues, inflammatory bowel disease, and some more. Such properties of weed create a premise for its legalization.
Marijuana Laws Adopted in 2018
The first state to made amendments to marijuana laws in 2018 was Vermont. In addition, that's the first state which legalized recreational marijuana through the governing body instead of a statewide poll. The governor Phil Scott signed a bill on January 22. The new law took effect on July 1.
Next in line is Oklahoma. Sooners approved State Question 788 allowing marijuana for medical purposes on June 26. 56% of Oklahomans supported this legislation, while 43% spoke against. It is also known that the opposition spent $815,000 on their anti-weed campaign.
Going beyond the country, we get the first US inhabited territory legalized weed. Similarly to Phil Scott, the Governor of Northern Mariana Islands Ralph D.L.G. Torres signed the legislation on September 21. He made this decision for a reason: CNMI have the second highest (22.2%) marijuana consumption per capita among all nations.
On November 6, Michigan legalized recreational usage of marijuana and became the 10th state where you can get high with a clear conscience. The majority of statewide poll participants (55%) support legalization, while 45% lean towards a "no" response. It's worth pointing out that a 2013 poll showed exact opposite results of 45% support and 55% objection rate. Medical marijuana is legal in the state since 2008.
Missouri, Utah, and North Dakota also raised the marijuana question during the midterm elections. The initiatives of first two to legalize medical marijuana has passed: Missouri's by a margin of 66% to 34% and Utah's of 53% to 47%.
It's not all rosy for North Dakota. A 2018 proposition was rejected by 46% of respondents. Also, North Dakotans have doubted more than other state inhabitants — 15% of poll participants ended up undecided.
What About Other Addictive Substances? 
Marijuana is not the only psychoactive substance that became legal in the USA because of its high medical value. For example, opioid pain relievers such as hydrocodone are available on prescription. United States account for 99% of the worldwide hydrocodone consumption.
At the same time, opioids are highly addictive substances whose overdose often leads to death. In West Virginia, 36 deaths per 100,000 populations occurred due to a fatal opioid overdose. Moreover, 80% of heroin addicted Americans reported opioid misuse as a primary reason for their addiction.
This way, states massively adopt legal limitations on opioid consumption. Along with legalizing marijuana, Michigan authorities prohibited hydrocodone prescriptions for longer than a 7-days period.
As for recreational drugs, North American researchers are trying to push the MDMA legalization initiative. MDMA medical adoption can help with psychotherapy and trauma treatment a lot, they say.
Lawkeepers Know: Not Only Substances Can Be Addictive
When it comes to addictions, we used to blame drugs as their primary cause. If somebody has issues with career or personal life, it seems that they were caught in a trap of a drug abuse. But there is a more treacherous culprit for addiction — a specific behavior crystallized in an obtrusive habit.
We talk about activities that cause behavioural addictions. Its brightest representative is probably a scourge called gambling which makes people go broke and therefore ruins their lives. American lawkeepers attempted to nip gambling addiction in the bud and prohibit gambling in its popular forms in most of US states.
Gambling is completely forbidden in two states — Hawaii and Utah. Casinos as the most traditional form of gambling are outlawed in 32 American states including Washington, D.C., Florida, California, and Oklahoma.
However, authorities dug a little deeper and found out that not casinos are the major threat, but online gambling accessible anytime anywhere. Here we can draw parallels between alcohol and other drugs. Available in any store and stall, alcohol causes 80,000 deaths per year, while illegal drugs combined cause only 72,000.
Thus, only citizens from 4 states — Delavare, New Jersey, Pennsylvania, and Nevada — are able to gamble online, whereas other Americans are deprived of such pleasure.
Such a small number of states with legal online gambling is the main reason why casinos don't target their services at the US audience. First evidence: there are no big gambling brands in the USA. Second evidence: the majority of European casinos that approve US players are small brands. Most of the biggest casino brands just don't want to risk and deal with players from a country where gambling is illegal.
Worth noting, Nevada, Delavare, and New Jersey are in top 10 states with the highest number of gambling addicts. The "least addicted" state is Utah with its ban on all forms of gambling.
Final Thoughts on Weed Legalization
As we can see, there is little-to-no relation between marijuana, opioid and gambling laws. Being loyal to the one "sign of liberty" doesn't mean being loyal to every activity that can potentially cause addiction.
Michigan and Alaska are among the most weed-friendly states, but their attitude to gambling is quite rigurious with bans on online and brick-and-mortar casinos. The only state that fully supports addictive entertainments is Nevada. Both recreational use of marijuana and online gambling are legal and prosper on the territory.
Still, the definition of freedom includes but is not limited by an attitude to drugs. Florida earned the status of the nation's "freest" state due to its sophisticated fiscal policy and promotion of economic prosperity, in spite of prohibiting weed and gambling.
Moreover, freedom means strong government's confidence in their citizens. Weed legalize won't increase the number of problem smokers, if people are fully prepared to this and are aware of possible consequences. Canadians were ready, what about us?
ATTENTION READERS
We See The World From All Sides and Want YOU To Be Fully Informed
In fact, intentional disinformation is a disgraceful scourge in media today. So to assuage any possible errant incorrect information posted herein, we strongly encourage you to seek corroboration from other non-VT sources before forming an educated opinion.
About VT
-
Policies & Disclosures
-
Comment Policy
Due to the nature of uncensored content posted by VT's fully independent international writers, VT cannot guarantee absolute validity. All content is owned by the author exclusively. Expressed opinions are NOT necessarily the views of VT, other authors, affiliates, advertisers, sponsors, partners, or technicians. Some content may be satirical in nature. All images are the full responsibility of the article author and NOT VT.