by Vacy Vlazna
Survive prison I must, for when I come out I would hold no grudges, or hate, or resentment. My belief system tells me that whatever comes upon me is a matter already decreed by Allah. He knows better. Shukri Abu-Baker, HLF5
Injustice: The Story of the Holy Land Foundation Five is about a grave and cruel injustice wielded by both the the USA and Israel, and paradoxically the book's foundations are friendship, human dignity, and trust bound together by the integrity of the author, Miko Peled.
Peled's credentials, as an Israeli dissident, as uncle of Smadar, 13, a victim of a Palestinian suicide bomber and as son of an Israeli General gives compelling credibility to the findings of his comprehensive investigation.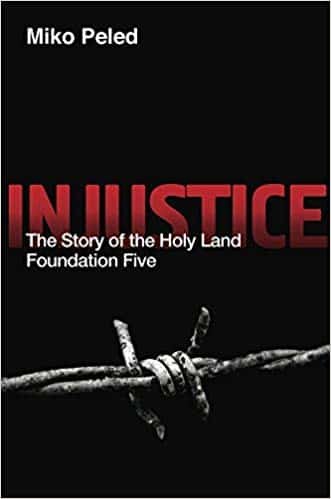 INJUSTICE
A decade of innocence caged. It is now 10 years since a Machiavellian travesty of US justice sentenced, between 15 – 65 years, the innocent Shukri Abu Baker, Ghassan Elashi, Mohammed El-Mezain, Mufid Abdulqader, and Abdulrahman Odeh, who were senior staff of The Holy Land Foundation for Relief and Development (HLF) devoted to "Helping the poor, the orphans, and the widows .. one of the pillars of Islamic teachings."
The HLF was charged with "providing material support for terrorism." Peled details how the HLF was run with meticulous transparency and with strict adherence to US aid guidelines thus demonstrating that HLF had "no connection to Hamas or any other political or military organizations,"
At the 2007 trial, the prosecution failed to get any convictions.
Undaunted the US government and the FBI mounted a retrial,
"The prosecution's theory was that, by supporting needy Palestinians, HLF had "freed up" Hamas' own assets to fund terrorist attacks, and that if Palestinians knew that HLF would provide support for their families if assistance became necessary, they would be more likely to become suicide bombers."
Peled spells out how the spurious charges were backed by questionable documents supplied by Israel, false translations, by cherrypicking 'documents and phrases until the picture they painted was completely distorted,' the withholding of 'secret evidence' to the defense, unexplained disappearance of crucial records, overt judicial bias towards the prosecution, exploitation of irrelevant and prejudicial testimonies, implausible Israeli 'experts', false charges of illegal tax filings, the FBI attempts to recruit collaborators, 'The FBI even offered me US citizenship and immunity if I testified that HLF was linked to Hamas., ' and the successful bribing of a key witness for the prosecution by waiving criminal charges of fraud and providing US residency.
Furthermore, the fraudulent manipulations of US justice are mirrored in the injustice that Israel metes out to Palestinians every day. Peled pierces the looking glass to the truth and reality,
"I believe that the Palestinian struggle to free all of historic Palestine from the settler-colonialism that is the State of Israel is a just struggle, and I support it wholeheartedly. I accept that the State of Israel in its present form has no legitimacy, and in this I find Hamas' goal to liberate Palestine completely justified."Peled
The miscarriage of justice is outrageous. However, when one considers the false evidence the US government made to the UN in the case Iraq's possession weapons of mass destruction that led to the deaths of half a million-plus innocent Iraqis, one understands that for the government, the collateral damage of 5 innocent Palestinian men sacrificed to further the fake war on terrorism is small potatoes.
FRIENDSHIP & HUMAN DIGNITY
The friendships Peled cultivates with Shukri, Ghassan, Mohammed, Mufid and Abdulrahman are the tour de force that instils intimacy, immediacy and urgency to the injustice they suffer,
"I saw how important it is that others come to see them and to understand the background and the context of this story. Only then could anyone understand the travesty and indeed the tragedy that took place here." Peled
We accompany Peled on his many visits to the families and to the prisons and thus we empathise with the heartbreaking burden of absence and mutual deprivations suffered by the prisoners and their families; the denial of touch, a kiss, of a father to attend weddings, the burial of a beloved child Sanabel and death of parents, family meals, births of grandchildren.
Peled's personal accompanying along the journey of injustice generates his moving demonstration of the authenticity of the HLF5's moral dignity and the raison d'être of their humanitarian work that is grounded in Islam.
Crucially, by sharing respect for Islam embodied in these remarkable men, Peled challenges the the post 9/11 manufactured Islamophobia;
"For me, Islam will always be associated with beauty, goodness, and charity. Sadly, the contempt and fear toward Islam, which are a major part of the Jewish-Israeli narrative, has seeped into America and become part of the accepted narrative in the United States as well. Living in the United States, I always felt deprived of the warmth that Islam and the Arab world offer. But when I began working on this book, I met Islam all over again, and in the most unlikely places." Peled
Peled repeatedly makes clear the HLF 5 are honourable men. They are not political activists who say 'No' to authority, they are activists for Allah-God who say 'Yes' and 'Yes' and 'Yes' to love, to compassion, to loyalty and to selfless care of the poorest of the poor.
"As Ghassan said to me, "What my friends and I did at the Holy Land Foundation was to help Palestinians who are suffering. They are victims because they find themselves living under a brutal, racist regime that practices apartheid. To be persecuted for such noble work is exactly what the prophets had faced at their time. And being reminded of this is how I get through it." Indeed, their faith has made them un-enslaveable."
Their plight is not unlike arresting Mother Teresa for bringing attention to and acting on Third World poverty mainly exacerbated by Western colonial and capitalist exploitation.
The answers to why the US government attacked a soft target humanitarian NGO that did not fund Hamas, become apparent. Firstly destroying NGO's is a tool of ethnic- cleansing making Palestinian life even more unbearable so that they will leave Palestine.
Similarly Mohammed el-Halabi, the World Vision manager accused of diverting cash to Hamas and though an official Australian investigation found no such diversion, he remains incarcerated by Israel since his 2016 unwarranted arrest. Then there is the escalation of the humanitarian crisis inflicted on Gaza, Jerusalem and the West Bank by the recent US withdrawal of funding to UNRWA.
Secondly, their mere existence acts as a perpetual accusation against and evidence of Israeli state terrorism.
Hamas, Peled explains emerged from necessity met by the humane ideals of the Muslim Brotherhood that built,
"an infrastructure of social services, medical clinics, and schools, mostly in the impoverished Gaza Strip. These facilities were sorely needed, due to Israel's grave failure to live up to its responsibilities as the Occupying Power."
"But widespread support for Hamas was not only a result of Israeli ineptitude. Hamas leaders came to embody the honesty, altruism, and dedication that are the hallmarks of Islam."
Peled's statement of respect simultaneously discredits the US terrorist designation system, that at Israel's request, named Hamas as a terrorist organisation.
TRUST
This book is about the sanctity of and also the destruction of trust.
Peled's thoroughness is trustworthy because it is reinforced by his walking the talk with visits, interviews and research.
For years, the HLF5 deservedly won the trust of the thousands upon thousands of their HLF donors and recipients.
Their trust in their faith that informs their every heartbeat with resilience deserves admiration,
"La yukalifu Allah nafsan, ila was'aha – God would not burden a soul with a burden that is beyond its capacity. And so believers accept the burden and carry it with devotion."
Significantly, Peled reveals that we can't trust the American Justice System because if it can come for five fine men then we must heed Niemöller's warning that no-one is safe. Unless we stand together.
By the end of the book, I knew action is imperative. In the spirit of J'Accuse* I wrote and will continue to write to the US Attorney General demanding the immediate and unconditional release of the innocent Shukri Abu Baker, Ghassan Elashi, Mohammed El-Mezain, Mufid Abdulqader, and Abdulrahman Odeh.
Sources
ABOUT AUTHOR:  Dr. Vacy Vlazna is Coordinator of Justice for Palestine Matters and editor of a volume of Palestinian poetry, I remember my name.  She was Human Rights Advisor to the GAM team in the second round of the Acheh peace talks, Helsinki, February 2005 then withdrew on principle. Vacy was convenor of Australia East Timor Association and coordinator of the East Timor Justice Lobby as well as serving in East Timor with UNAMET and UNTAET from 1999-2001.
ATTENTION READERS
We See The World From All Sides and Want YOU To Be Fully Informed
In fact, intentional disinformation is a disgraceful scourge in media today. So to assuage any possible errant incorrect information posted herein, we strongly encourage you to seek corroboration from other non-VT sources before forming an educated opinion.
About VT
-
Policies & Disclosures
-
Comment Policy
Due to the nature of uncensored content posted by VT's fully independent international writers, VT cannot guarantee absolute validity. All content is owned by the author exclusively. Expressed opinions are NOT necessarily the views of VT, other authors, affiliates, advertisers, sponsors, partners, or technicians. Some content may be satirical in nature. All images are the full responsibility of the article author and NOT VT.