Twenty Commonly Confused Word Pairs
By Richard Norquist/ThoughtCo
Here, from our Glossary of Commonly Confused Words, are 20 tricky word pairs that look and sound alike but have different meanings.
Advice and Advise
The noun advice means guidance. The verb advise means to recommend or counsel.
All Together and Altogether
The phrase all together refers to people or things gathered in one place. The adverb altogether means entirely or wholly.
Baited and Bated
A hook, witness, or animal is baited (lured, enticed, tempted). Breath is bated (moderated).
Cite and Site
The verb cite means to mention or quote as an authority or example. The noun site means a particular place.
Complement and Compliment
Complement means something that completes or brings to perfection. A compliment is an expression of praise.
Discreet and Discrete
The adjective discreet means tactful or prudent self-restraint. Discrete means distinct or separate.
Eminent and Imminent
The adjective eminent means prominent or outstanding. Imminent means impending, about to occur.
Flair and Flare
The noun flair means a talent or a distinctive quality or style. As a noun, flare means a fire or a blazing light. Similarly, the verb flare means to burn with an unsteady flame or shine with a sudden light. Violence, troubles, tempers, and nostrils can flare.
Formally and Formerly
The adverb formally means in a formal way. The adverb formerly means at an earlier time.
Hardy and Hearty
The adjective hardy (related to hard) means daring, courageous, and capable of surviving difficult conditions. The adjective hearty (related to heart) means showing warm and heartfelt affection or providing abundant nourishment.
Ingenious and Ingenuous
The adjective ingenious means extremely clever–marked by inventive skill and imagination. Ingenuous means straightforward, candid, without guile.
Lightening and Lightning
The noun lightening means making lighter in weight or changing to a lighter or brighter color. Lightning is the flash of light that accompanies thunder.
Mantel and Mantle
The noun mantel refers to a shelf above a fireplace. The noun mantle refers to a cloak or (usually figuratively) to royal robes of state as a symbol of authority or responsibility.
Moot and Mute
The adjective moot refers to something that is debatable or of no practical importance. The adjective mute means unspoken or unable to speak.
Prescribe and Proscribe
The verb prescribe means to establish, direct, or lay down as a rule. The verb proscribe means to ban, forbid, or condemn.
Rational and Rationale
The adjective rational means having or exercising the ability to reason. The noun rationale refers to an explanation or basic reason.
Shear and Sheer
The verb shear means to cut or clip. Likewise, the noun shear refers to the act, process, or fact of cutting or clipping. The adjective sheer means fine, transparent, or complete. As an adverb, sheer means completely or altogether.
Stationary and Stationery
The adjective stationary means remaining in one place. The noun stationery refers to writing materials. (Try associating the er in stationery with the er in letter and paper.)
Track and Tract
As a noun, track refers to a path, route, or course. The verb track means to travel, pursue, or follow. The noun tract refers to an expanse of land or water, a system of organs and tissues in the body, or a pamphlet containing a declaration or appeal.
Whose and Who's
Whose is the possessive form of who. Who's is the contraction of who is.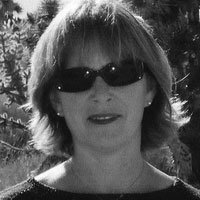 Carol graduated from Riverside White Cross School of Nursing in Columbus, Ohio and received her diploma as a registered nurse. She attended Bowling Green State University where she received a Bachelor of Arts Degree in History and Literature. She attended the University of Toledo, College of Nursing, and received a Master's of Nursing Science Degree as an Educator.
She has traveled extensively, is a photographer, and writes on medical issues. Carol has three children RJ, Katherine, and Stephen – one daughter-in-law; Katie – two granddaughters; Isabella Marianna and Zoe Olivia – and one grandson, Alexander Paul. She also shares her life with her husband Gordon Duff, many cats, and two rescues.
ATTENTION READERS
We See The World From All Sides and Want YOU To Be Fully Informed
In fact, intentional disinformation is a disgraceful scourge in media today. So to assuage any possible errant incorrect information posted herein, we strongly encourage you to seek corroboration from other non-VT sources before forming an educated opinion.
About VT
-
Policies & Disclosures
-
Comment Policy
Due to the nature of uncensored content posted by VT's fully independent international writers, VT cannot guarantee absolute validity. All content is owned by the author exclusively. Expressed opinions are NOT necessarily the views of VT, other authors, affiliates, advertisers, sponsors, partners, or technicians. Some content may be satirical in nature. All images are the full responsibility of the article author and NOT VT.