"ARE THERE PEOPLE WHO MIGHT LIKE TO GET THE UNITED STATES TO DO SOMETHING? CERTAINLY, YOU CAN SEE THAT EVEN IN THE OPEN SOURCE WHERE THAT SPECULATION IS OUT THERE." -Gen. Joseph Dunford
By Kevin Barrett, VT Editor
It isn't every day that America's top military man gets a question referencing Dr. Alan "Israel Did 9/11" Sabrosky AND Operation Northwoods. And it's even more unusual when he acknowledges that he knows about that stuff—and is on the lookout for a (presumably neocon-Zionist/Saudi) false flag to lure the US into war with Iran.
It happened yesterday at the Brookings Institution, where Gen. Joseph Dunford, USMC responded to a question from retired US Customs Special Agent and 9/11 truth supporter Karl Golovin by essentially giving Golovin (and, indirectly, Dunford's fellow Marine officer Sabrosky) a thumbs up.  (Full C-Span video HERE—the exchange happens at  37:00 – 39:20.)
Golovin asked:
"My question concerns the potential for false flag terrorism leading us into war with Iran. As background, in 1962 your predecessor Lyman Lemnitzer prepared Operation Northwoods, presented to John Kennedy proposing various false flag attacks on US persons to be attributed to Cuba and used as a pretext for war with Cuba. More recently, Dr. Alan Sabrosky of the Army War College, and former Defense Minister of Germany Andreas Von Bulow have written credibly about aspects of false flag terrorism in the events of 9/11. My question is, today are there allies of the US that would like to see a conflict with Iran, the utter destruction of Iran, and would perpetrate a false flag event on US interests in order to cause that to happen?"
Gen. Dunford's reply:
LOOK, I'M NOT GOING TO ANSWER THE QUESTION DIRECTLY. I DON'T KNOW WHAT OTHERS WANT. I WILL JUST TELL YOU THIS — I'M VERY FAMILIAR WITH THE CONSEQUENCES OF GOING TO WAR AND TAKE THE RESPONSIBILITY OF PROVIDING MILITARY ADVICE IN THAT REGARD VERY SERIOUSLY. I KNOW THE CONSEQUENCES OF GOING TO WAR FROM AN ECONOMIC AND MORE IMPORTANTLY HUMAN PERSPECTIVE. I CAN ASSURE YOU THAT ANY MILITARY ADVICE THAT I WOULD PROVIDE WOULD BE CAREFULLY MEASURED BY CHECKING THE INTELLIGENCE MULTIPLE TIMES, ENSURING THE VERACITY OF INTELLIGENCE AND THEN MAKING A RECOMMENDATION FOR A RESPONSE TO WHATEVER THE PROVOCATION MAY BE, THAT IS APPROPRIATE, WHETHER IT IS IRAN OR ANY OTHER CONFLICT. ARE THERE PEOPLE WHO MIGHT LIKE TO GET THE UNITED STATES TO DO SOMETHING? CERTAINLY, YOU CAN SEE THAT EVEN IN THE OPEN SOURCE WHERE THAT SPECULATION IS OUT THERE. I CAN GUARANTEE YOU, THAT IS NOT GOING TO INFORM THE MILITARY ADVICE I AM GOING TO PROVIDE AND IT IS NOT GOING TO INFORM MY PERSPECTIVE WHEN I MAKE A RECOMMENDATION.
Mentioning Alan "Israel did 9/11" Sabrosky's name in the Q&A of a public event can be dangerous, as Jeremy Rothe-Kushel discovered during a Dennis Ross talk at the Kansas City Public Library. Apparently Gen. Joseph Dunford, unlike Dennis Ross, is not allergic to Sabrosky's name.
Read "Alan 'Israel Did 9/11' Sabrosky: Most Censored Man in America"
It seems that Gen. Dunford does not share the view of Patrick Clawson and other neocon-Zionists that a big anti-Iran false flag would be ideal for "crisis initiation."
With John Bolton about to be tossed out of the White House on his mustache, Bibi Netanyahu unable to form a government, and Gen. Dunford telling the neocon false flaggers "not on MY watch," it looks like the prospects for war on Iran are sinking straight toward the bottom of the Persian Gulf of Tonkin.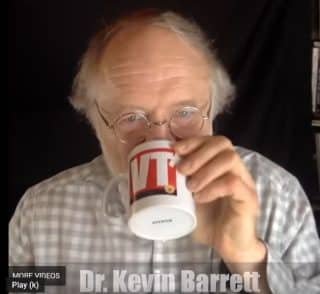 Dr. Kevin Barrett, a Ph.D. Arabist-Islamologist is one of America's best-known critics of the War on Terror.
He is the host of TRUTH JIHAD RADIO; a hard-driving weekly radio show funded by listener subscriptions at Substack and the weekly news roundup FALSE FLAG WEEKLY NEWS (FFWN).
He also has appeared many times on Fox, CNN, PBS, and other broadcast outlets, and has inspired feature stories and op-eds in the New York Times, the Christian Science Monitor, the Chicago Tribune, and other leading publications.
Dr. Barrett has taught at colleges and universities in San Francisco, Paris, and Wisconsin; where he ran for Congress in 2008. He currently works as a nonprofit organizer, author, and talk radio host.
ATTENTION READERS
We See The World From All Sides and Want YOU To Be Fully Informed
In fact, intentional disinformation is a disgraceful scourge in media today. So to assuage any possible errant incorrect information posted herein, we strongly encourage you to seek corroboration from other non-VT sources before forming an educated opinion.
About VT
-
Policies & Disclosures
-
Comment Policy
Due to the nature of uncensored content posted by VT's fully independent international writers, VT cannot guarantee absolute validity. All content is owned by the author exclusively. Expressed opinions are NOT necessarily the views of VT, other authors, affiliates, advertisers, sponsors, partners, or technicians. Some content may be satirical in nature. All images are the full responsibility of the article author and NOT VT.