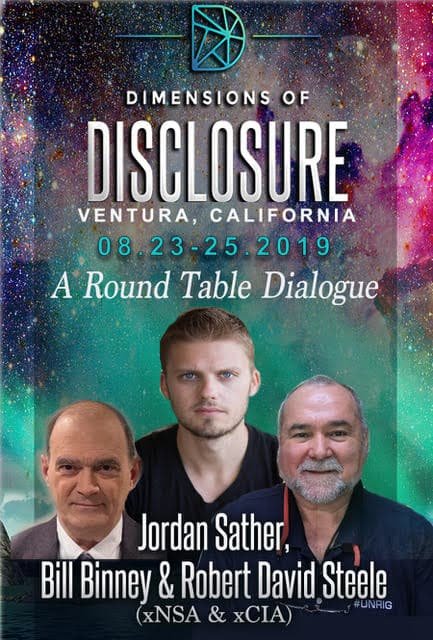 BIll Binney, my NSA counterpart (I am to CIA as he is to NSA) and I have agreed to speak to the Dimensions of Disclosure event in Ventura, CA 23-25 August 2019. While most of the speakers focus on extra-terrestial and spiritual disclosure, Bill and I and Sacha Stone are there to bring them all down to Earth by discussing what's truly going on behind  the scenes of the Deep State and the Shadow Government.
Below are our tentative speaking topics, and a starter list on what needs to be disclosed.
STEELE
Topic 1: The Ultimate Hack: Re-Inventing Intelligence to Re-Engineer Earth
Topic 2: I am Not Q — But If Was, This Is What I Am Predicting….
BINNEY
Topic 1:  Deep Dive Into Secret Intelligence Corruption — My Personal Story
Topic 2: Thin Thread — A Tool for Eradicating Treason & White Collar Crime
STEELE & BINNEY & SATHER
INTERVIEW
STEELE & BINNEY
SPY IMPROV: Ask Us Anything
Disclosure Priorities List to Be Woven In (Now in Alpha Order):*
Crowd-sourced additions in italics.

$21-43 trillion dollar theft by Deep State from US Treasury/US economy

Apophis will strike Earth 4.13.29 or 4.13.36, Pi  value wrong, 3.144605511
Alternative everything especially health — holistic health, self, all, Earth
Amendment to the Constitution Violations – 1st, 2nd, 4th
Arrests based on sealed indictments — no re-election without arrests
Attorney General William Barr — is he controlled opposition? Bushie?
Background checks for all politicians, no exceptions
Budget Lies – Standard 56 Ends Public Access to Reliable Data
Catastrophic Infrastructure Failures (Dams, Electrical, Nuclear)
Censorship Against Alternative Open Source Everything
Cheating Culture — Lies as a Standard (History, Politics, Science)
CIA illegal penetration of all local, state, and national agencies
Climate hoaxes — cooling, warming, denial of Sun's importance
Decision-Support Corruption — separate analysis from collection?
Deep State Defined – Deep State Methods of Control
Democracy Lost — How States & Public Were Gutted
DHS/FEMA/TSA – the New Gestapo Ready to Kill Patriots?
Directed Energy — Is Judy Wood on Target?
Drone Assassination — Because We Can…
Election Manipulation: 2 Countries, 12 Methods
Electromagnetic / 5G Ecocide & Genocide
Extra-sensory perception/Deep State efforts to dumb down
Extra-Terrestial & Secret Patent Technology (Free Energy)
False Flag Operations — How, Why, Who Benefits?
False, Reductionist Medicine & Science — Institutionalized Lies
Fox News — Are they controlled opposition?
Genetically Modified Organisms Killing Humanity
Geo-Engineering (ChemTrails, Morgellons, Artificial Moon, Saturn )
Glyphosate — true cost, hold everyone accountable
Immigration Contrived & Enabled as a Threat
Intelligence without Integrity — 4% Useful, 96% Criminal
Military Bases as Lily Pads for Smuggling Everything, Children
Mind-Control/TI Including Voice of God, Media, Psycho-Police
Moral Decline — Liberalism "Anything Goes" As a Threat
National Rifle Association (NRA) – Are they controlled opposition?
Pedophilia & Empire, Pedophilia Overview, Pedophilia Entrapment
Propaganda Operations Legalized by Smith-Mundt Revision
Religions as Forms of Control, Abuse, & Mis-Direction
Rendition & Torture Operations
RICO investigation & indictments against social media violators
Satanists & Satanic Ritual Abuse, Torture & Adrenochrome
Traitors Among Us – Use DNA Tests to Verify Claimed Origins?
True Cost Economics & Western Predatory Capitalism
United STATES of America — terminate "the corporation"
Unreasonable Search & Seizure from NSA to TSA
USA in State of Emergency legalizing domestic war crimes?
Vaccine Hazards
Waste — 50% of the Western Economy – Venn Diagram
Water as the New Gold, Already Stolen
Weapons of Mass Instruction — Why Schools Are Killing Humanity
Zionism versus Judaism — Zionist Strikes, Peace in the Middle East?
* This list will be deconflicted with the event organizer,, as other speakers will cover some topics in depth, for example, Sacha Stone on 5G, Laura Eisenhower on Satanic Ritual Abuse.
I am interested in your opinion as to what should be added to this list, and what the priority should be in terms of demanding Presidential attention — for example, our President has promised to disclose the who, how, what, and why of 9/11 and has failed to do so. Our President is not being properly supported by the US intelligence community and needs to reduce what we have by up to 70%, consolidate it all in a revitalized CIA, and create the Open Source Agency that will be the ultimate disclosure engine (telling the truth about everything).
I will end on a positive note — We the People are winning, praise be to our President who is a change agent, as well as the 2012 shift and other forces now in alignment against the Deep State and the Satanists ruling the Deep State.
I can be reached at robert.david.steele.vivas@gmail.com. One email per person, please, I am flooded, but in this instance, this is such a great opportunity to do some good with a speech and an article, that I seek professional help: the kind of collective intelligence only you can provide.
Check the event out.  Click on the graphic to visit their website.
https://www.dimensionsofdisclosure.com/
Robert David Steele is the conceptualizer of integrated election reform (#UNRIG) and the integration of holistic analytics, true cost economics, and Open Source Everything Engineering (OSEE) such that we can achieve a prosperous world at peace at 10-20% the cost of the failed Western economic model burdened by banks and lawyers.
A former US spy and co-founder of the Marine Corps Intelligence Activity, he is today the Chief Enabling Officer (CeO) of Earth Intelligence Network, a 501c3, and now also CeO of Open Source Everything (OSE Inc.). He continues his education with non-fiction reading, posting over 2,000 reviews across 98 categories; his hobbies include off-shore sailing and racketball.
ATTENTION READERS
We See The World From All Sides and Want YOU To Be Fully Informed
In fact, intentional disinformation is a disgraceful scourge in media today. So to assuage any possible errant incorrect information posted herein, we strongly encourage you to seek corroboration from other non-VT sources before forming an educated opinion.
About VT
-
Policies & Disclosures
-
Comment Policy
Due to the nature of uncensored content posted by VT's fully independent international writers, VT cannot guarantee absolute validity. All content is owned by the author exclusively. Expressed opinions are NOT necessarily the views of VT, other authors, affiliates, advertisers, sponsors, partners, or technicians. Some content may be satirical in nature. All images are the full responsibility of the article author and NOT VT.