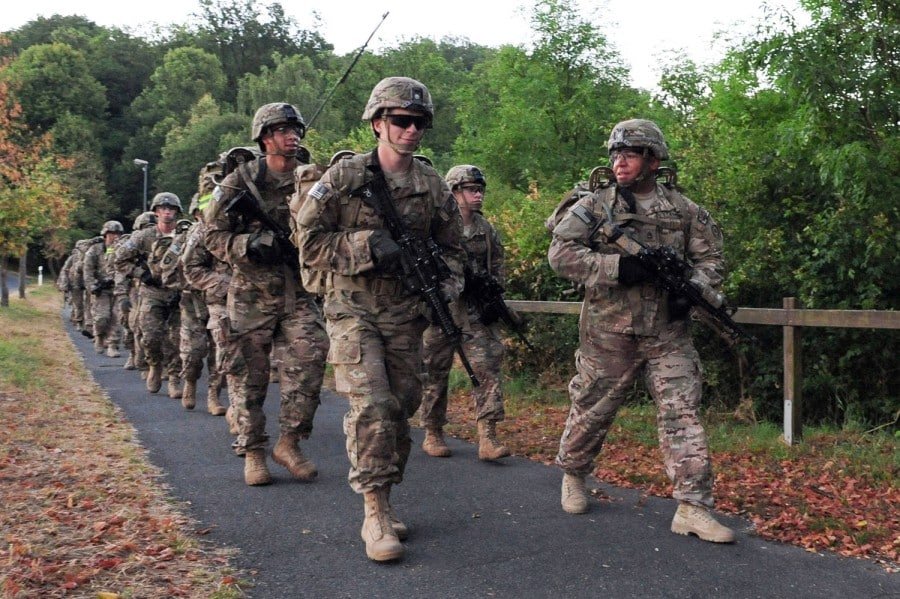 Some 180,000 young men and women enlist for active duty in the U.S. military every year, and this includes the Army. For many, it is a chance to serve their country while gaining valuable life skills and even a chance at a highly-subsidized education. 
To qualify for acceptance into the U.S. Army, however, there are some basic physical and mental requirements you need to meet. Many applicants are turned down because they fail to meet one or many of them. Whether you are thinking about enlisting, or are simply curious about what it takes to be admitted, below are the minimum requirements to join the U.S. Army. 
AFQT: Armed Forces Qualification Test
The armed forces, which includes the Army, navy, marines, and air force, requires that all applicants take what is known as the AFQT, or Armed Forces Qualification Test. This test is an aggregate of four of the ten tests that make up the ASVAB (Armed Forces Vocational Aptitude Battery) test. 
They include arithmetic reasoning, mathematics knowledge, verbal intelligence, and reading comprehension tests. To be admitted into the Army, a candidate needs a minimum aggregate score of 31.
Physical Traits
In order to qualify as a recruit for the U.S. Army, applicants must also meet a minimum number of physical requirements. These include weight, BMI and height stipulations. These measurements are gender-specific. Body fat cannot be higher than 30 to 36 percent in women and 20 to 26 percent in men. 
Weight and height requirements are ratio-based. For instance, if you are a five-foot, nine-inch-tall man, you have to weight at least 128 pounds, but can weigh no more than 188 pounds. A five-foot, six-inch-tall woman must weigh at least 117 pounds, but no more than 161 pounds, based on her age. These requirements are to ensure recruits possess the proper mobility, stamina and cardiovascular health necessary to perform their roles. 

Tattoo Regulations
While it might seem strange that an organization that is so often associated with tattoos would have a list of tattoo restrictions and regulations, there are several kinds and locations of tattoos that the Army considers unacceptable. Tattoos on the neck, hands, wrists, lower legs, and face are prohibited, regardless of the content. 
Then there are other tattoos that the Army considers unacceptable regardless of where they are on your body. These tattoos are regulated based on their offensiveness and insensitivity. If you are looking for a more comprehensive breakdown, the U.S. Army has a long list of tattoo requirements detailing what's allowed and what's off limits.
Health Requirements
All applicants must submit to a mandatory physical and mental health exam prior to being accepted. Some health requirements include good vision, hearing and dental health, and an absence of certain chronic health conditions. 
With respect to vision, recruits must have at least 20/30 to 20/40 vision in one eye and 20/70-20/100 in the other. This is with or without corrective lenses. New recruits must also be free of major joint problems and arthritis, as the job entails heavy lifting, strenuous exercise and movements and needs a high degree of mobility and robustness. 
Intelligence
The U.S. Army was the first institution to use mass intelligence testing for its applicants and new members. It was part of the new intelligence testing movement of the early 20th century and was utilized during the First World War to determine the cognitive abilities of new recruits. 
Since then, the Army has had intelligence requirements for service. While they have varied throughout history, the minimum IQ for admission into the U.S. Army is currently 92. This is at the lower end of "average" intelligence, which means it applies to around half of the general population. 
Criminal Record
The criminal background check is part of the Army's "moral character screening," and screens for what is referred to as an "adverse" criminal record, as well as credit issues, or any juvenile or youth authority records. Candidates with criminal records are allowed to apply for exemptions if their crimes are considered non-problematic by the U.S. military. 
Crimes which may be waived include traffic violations and misdemeanors. Suitability assessments are carried out for applicants with five or more non-traffic-related charges, two or more misdemeanors, a combination of four or more of either of the aforementioned or one serious criminal offence/felony. There are certain offences which immediately render a candidate inadmissible.
Conclusion
Joining the army is relatively straightforward. If you are a person in good physical health, with fully functioning senses, at least average intelligence, and a criminal and civil record that is clean of offences which the army considers inexcusable, you can join. The army even makes relatively liberal allowances for tattoos and body art. If you or someone you know is considering enlisting, make sure to keep the above considerations in mind and be army strong. 
ATTENTION READERS
We See The World From All Sides and Want YOU To Be Fully Informed
In fact, intentional disinformation is a disgraceful scourge in media today. So to assuage any possible errant incorrect information posted herein, we strongly encourage you to seek corroboration from other non-VT sources before forming an educated opinion.
About VT
-
Policies & Disclosures
-
Comment Policy
Due to the nature of uncensored content posted by VT's fully independent international writers, VT cannot guarantee absolute validity. All content is owned by the author exclusively. Expressed opinions are NOT necessarily the views of VT, other authors, affiliates, advertisers, sponsors, partners, or technicians. Some content may be satirical in nature. All images are the full responsibility of the article author and NOT VT.