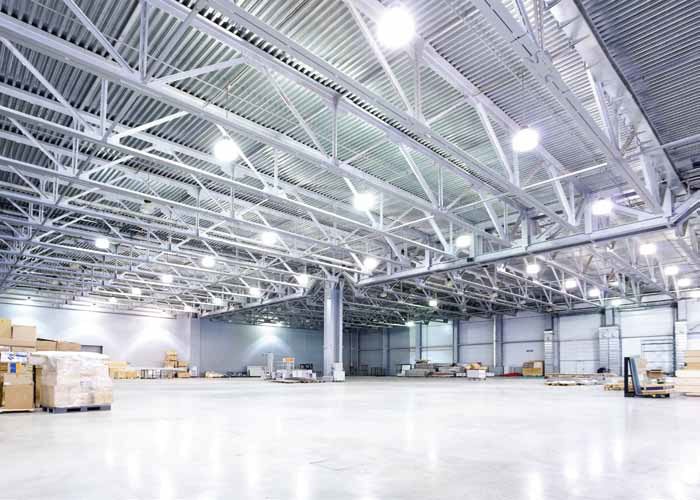 So what are High Bay Lights?
As their name implies, LED High Bay Lights are used to illuminate spaces with high ceilings. That usually means ceilings ranging from 20 feet to approximately 45 feet. Low-bay lights, on the other hand, are used for ceilings 20 feet and under. Because a high-ceiling location has more space to fill, a high-bay by definition is a powerful light source that can brighten up a large area.
Given their placement, high-bay lights are natural fits for commercial and industrial uses. They have multiple applications across a range of industries, including workshops, factories, and assembly lines.
You will also see high-bay lights in large recreational facilities and gyms. These lights are excellent for illuminating storage facilities and warehouses as well. They can be used for large conference halls, event centers, or indeed for any place that needs lighting from an elevation of more than 20 feet. They are even used in hangars and other large, cavernous buildings.
One of the benefits of high-bay lighting is that it provides clear, uniform lighting of what's below it with little glare. Different kinds of reflectors can accomplish different kinds of illumination tasks for high-bay lights. Aluminum reflectors make light from the fixtures flow directly down to the floor, while prismatic reflectors create a more diffused lighting useful for illuminating shelves and other elevated objects in space.
Numerous types of fixtures can be used when setting up high-bay lights. These include LED lights, induction lights, metal halide lights, and fluorescent lights. Each of these types of high-bay fixtures has its pros and cons. For instance, LED lights to offer extremely long life and energy efficiency but require a bigger initial investment, while traditional incandescent lights are less expensive to purchase initially but don't last as long and use more energy.
Besides having different costs and efficiencies, there are several types of fixtures available for high-bay lights. Round high-bay lights, linear high-bays, architectural high-bays, and grid-mount high-bays all offer different light qualities and coverage styles. The type of light best for you can depend on your personal taste as well as what tasks you'll be performing under it.
Having various fixtures and bulbs to choose from means you will have to do some research before determining what is best for you. For example, if you ask "How bright are 450w high-bay lights?", the answer depends on multiple factors. A 450-watt metal halide light will be about as bright as a 200-watt LED light, and cooler color temperatures typically have a higher lumen output per watt. Our expert staff can assist you with your questions to make the best selection.
The right high-bay lighting choice can increase safety while maximizing energy efficiency and boosting productivity.  Companies like LEPRO offer many different types of High Bay Lights.
In our 21st century, efficient electricity is more important than ever.  So choosing the right lights for your building is mission-critical.  It can define your overall costs of operating and eventual profitability for years to come.  In other words, you don't want a huge electric bill that will destroy your profits so pay attention to lighting and what it will actually cost you.
Clearly, the most important attribute is to use the LED.
LED stands for light-emitting diode. LED lighting products produce light up to 90% more efficiently than incandescent light bulbs.  It is key to success.
Here are 15 reasons to use LED lighting.
1. LED Light Lifespan:
Easily the most significant advantage of LEDs, when compared to traditional lighting solutions, is the long lifespan. The average LED lasts 50,000 operating hours to 100,000 operating hours or more. That is 2-4 times as long as most fluorescent, metal halide, and even sodium vapor lights. It is more than 40 times as long as the average incandescent bulb.
Less frequent replacement means two big things: lower maintenance costs in terms of labor and lower costs for replacement parts (because the bulbs simply do not fail for a long time).
2. LED Energy Efficiency:
LEDs generally consume very low amounts of power. The statistics to look for when comparing the energy efficiency of different lighting solutions are called by one of two terms: luminous efficacy or useful lumens. These two items essentially describe the amount of light emitted per unit of power (watts) consumed by the bulb.
In our experience, most LED lighting retrofit projects to result in a 60-75% improvement in the overall energy efficiency of the facility's lighting. Depending on the existing lights and the particular LEDs installed, the savings could be more than 90%. You can read a few case studies here.
For a few comparisons between LEDs and the rest of the lighting technologies out there, read the following links:
3. Improved Safety with LEDs:
Safety is perhaps the most often overlooked advantage when it comes to LED lighting. The number one hazard when it comes to lighting is the emission of heat. LEDs emit almost no forward heat while traditional bulbs like incandescents convert more than 90% of the total energy used to power them directly into heat. That means only 10% of the energy powering incandescent lights is actually used for light (which also makes them extremely inefficient compared to LEDs). Additionally, because LEDs consume less power they can operate effectively on low-voltage electrical systems. These are generally much safer in the event that something goes wrong.
4. LED Lights are Physically Small:
The actual LED device is extremely small. Small power devices can be less than a tenth of a single mm2 while larger power devices can still be as small as an mm2. Their small size makes LEDs incredibly adaptable to an infinite number of lighting applications. Different uses for LEDs include a wide spectrum from their roots in circuit board lighting and traffic signals to modern mood lighting, residential, and commercial property applications, and even major stadium lighting. You can read about the history of LED lighting here or the history of lighting in general here.
5. LEDs Have Great Color Rendering Index (CRI):
CRI is a measurement of a light's ability to reveal the actual color of objects as compared to an ideal light source (natural light). High CRI is generally a desirable characteristic (although of course, it depends on the required application). LEDs generally have very high (good) ratings when it comes to CRI.
Perhaps the best way to appreciate CRI is to look at a direct comparison between LED lighting (with a high CRI) and a traditional lighting solution like sodium vapor lamps (which generally have poor CRI ratings and are in some cases almost monochromatic). See the following image to compare and contrast the two instances:

The range of possible values for different LED lights is generally between 65 and 95 which is considered excellent. You can read more about CRI here.
6. LEDs Generate Directional Emissions:
LED technology emits light for only 180 degrees. Every other type of light emits light 360 degrees around the source. 360-degree emissions necessitate accessory devices to reflect and/or redirect the light. This drives up the costs for the system in general and inevitably results in losses meaning that the device is necessarily less efficient than it otherwise would be. Consider a light that emits light into the ceiling – that is your standard bulb. The problem is that you're trying to illuminate the room, not the ceiling. LEDs solve this problem completely and give the savings back in terms of the system's overall energy efficiency.
7. LEDs Have Tremendous Design Flexibility:
Because LEDs are so small they can be used in virtually any application you can think of. They can be combined in bunches for a traditional bulb, used in isolation as a small device light, or strung out in sequence in a linear fashion. Just about everything you can think of can be done with LEDs.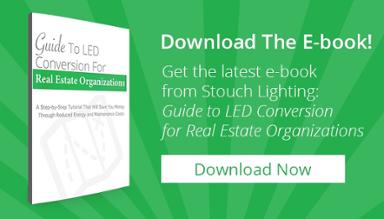 8. LEDs are Solid State Lights (SSLs):
LEDs are solid-state lights. This means that the traditional glass bulb surrounding the light is entirely unnecessary.
9. LED Dimming Capability:
LEDs are able to operate at virtually any percentage of their rated power (0 to 100%). Of note, they do require hardware specific to LED technology in order to dim (meaning you cannot use the dimming equipment for an incandescent bulb or other traditional lighting technology). A positive of operating LEDs at less than full power is that they get more efficient as the power is reduced. This also increases the total lifespan of the light itself. Both of those advantages are absent with technologies like metal halides that actually get less efficient at lower power and in many cases cannot be dimmed at all.
10. LEDs Provide Instantaneous Turn On and Do Not Have Issues with Frequent Switching:
LEDs turn on and off instantaneously. There is no warm-up period like in the case of metal halide lamps. Additionally, frequent switching doesn't cause degradation in the device.
11. LED Lights are Environmentally Safe:
LEDs do not have environmental issues common to traditional lighting solutions like fluorescent or mercury vapor lights. Both of these traditional solutions contain mercury internal to the bulb and thus require special handling at the end of the product's useful lifespan. None of these considerations are necessary with LEDs.
12. LEDs Produce Virtually Zero UV Emissions:
LEDs emit the vast majority of their energy in the visible spectrum, a small amount in the infrared spectrum, and virtually none in the ultraviolet portion of the spectrum. This means that LEDs are able to safely and reliably illuminate UV sensitive items like art that will break down and degrade over time if exposed to this type of emission.
13. LEDs Operate on Very Low Voltage:
In many cases, LEDs operate on very low voltages. This makes them suitable for use in outdoor lighting applications where another lighting might not meet code such as with oceanfront homes where the ground level of the property is in a flood zone.
14. LEDs Operate Well in Cold and Hot Temperatures:
LEDs work well in a wide range of operating temperatures without significant degradation.
15. Correlated Color Temperature (CCT):
LEDs are available in a wide range of correlated color temperature (CCT) values. They can be purchased with a "warm," yellowish glow, as a "cool," white light, and a variety of other options. You can read more about CCT here.
ATTENTION READERS
We See The World From All Sides and Want YOU To Be Fully Informed
In fact, intentional disinformation is a disgraceful scourge in media today. So to assuage any possible errant incorrect information posted herein, we strongly encourage you to seek corroboration from other non-VT sources before forming an educated opinion.
About VT
-
Policies & Disclosures
-
Comment Policy
Due to the nature of uncensored content posted by VT's fully independent international writers, VT cannot guarantee absolute validity. All content is owned by the author exclusively. Expressed opinions are NOT necessarily the views of VT, other authors, affiliates, advertisers, sponsors, partners, or technicians. Some content may be satirical in nature. All images are the full responsibility of the article author and NOT VT.