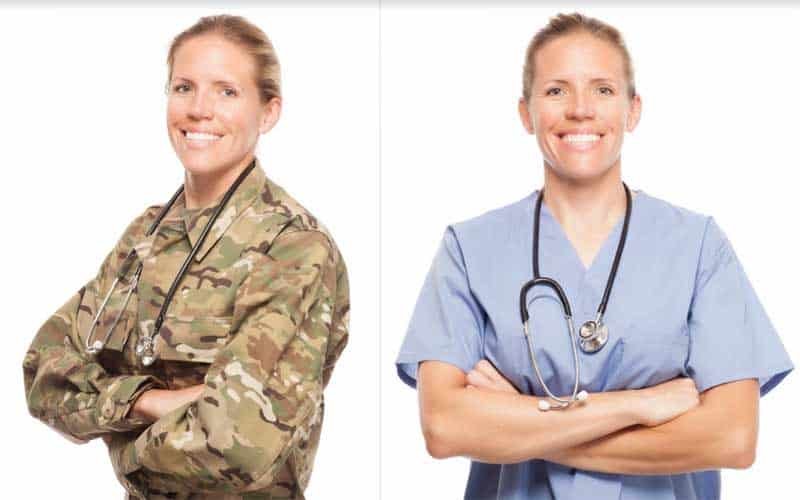 The military usually accepts men and women between 17 and 35 (although it varies from country to country). Usually, after years of service in the military, going back to the civilian job is generally considered an option by many. Besides, some people join the military with the sole aim of gaining and gathering experience that will give them the upper hand or be of advantage to them in their quest for a job in a particular field.  
Serving in the military can open doors of opportunities and help get a job in the civilian world. This fact is applicable in the healthcare field as well. Continue reading below to see how military experience could benefit those who want to pursue a healthcare career.  
Benefits of Military Experience In Healthcare Career 
Health care is focused on maintaining both the physical and mental health status of clients or patients. This is an excellent field for those who have worked in the military and seek to join the civilian workforce. People in the military who don't have any medical experience but are interested in a health career can as well venture into the healthcare sector.   
This section will focus on how acquiring experience in the military can enhance your healthcare career. The other section focuses on the various career paths in the healthcare field, where experience in the military can be applied.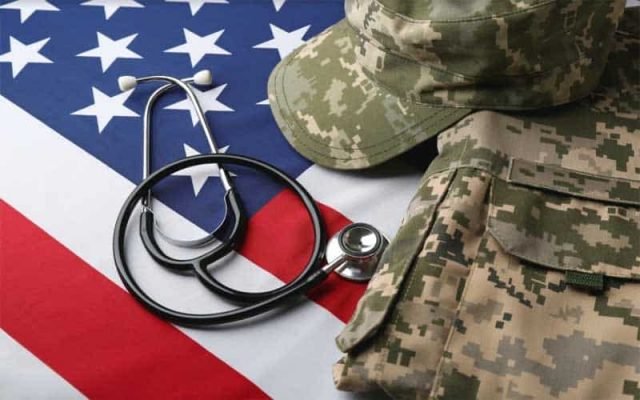 As a military nurse, you have experience taking care of lives. Entering into the civilian world would not be a problem for you. Military health care provider professionals are highly in demand in the healthcare industry since they already have experience in patient care and working under pressure. Hence, they can easily integrate into the civilian system.  
This is an advantage of having been in the military and then moving on to the civil world. The experience you have acquired in the military would definitely come in handy for you. The medical procedures, guidelines, and protocols are the same in the military and every other setting.  
Besides, as a military nurse, you have probably worked on victims of injuries caused by war as a matter of urgency. Therefore, treating a patient in an accident and emergency unit of a civilian hospital would not be anything new to you. You have already gained experience working under short time/notice. This is one of the ways experience in the military can benefit you as a health care worker.  
In addition, there is a high demand for hiring professionals with military experience. This gives you an upper hand in the process of job seeking. Employers know that you have learned essential skills like discipline, time management, teamwork, leadership, and perseverance with your military experience.  
These are skills that employers value and would look out for in employees' selection process. They would definitely jump at anyone who has passed through the military because they are confident that whoever has passed through military training rigors will possess these skills.  
Moreover, many of the skills you gain through military service will find practical use in the health care industry. Most times, military workers often find it easier when switching into the civilian healthcare workforce. This is because the federal standards and the number of patients a healthcare provider is responsible for are the same in the military and the civilian workforce.  
Besides, as mentioned earlier, the protocols, procedures, and what-to-dos are the same across military and civilian health care roles. This allows you to explore as many healthcare roles as possible. Below are some other key benefits of military experience in a healthcare career. 
Military experience gives you the necessary skills and resources to enhance and improve the delivery of healthcare services. This improves your marketability and increases your chance of getting a job to make your healthcare career pursuit come true.   

A military career will also equip you with the character and traits required to succeed in the healthcare industry. Military experience gives an innate understanding of how loyalty improves a team's proficiency and builds trust in your work environment.    
Hospital owners looking to make a thoughtful long-term investment in an employee would prefer a person with military experience. This is because they often perform better than most civilians in core areas like patience, persistence, precision, resilience, desire to help, and the zeal to carry on. 
Significantly, military experience helps you know the importance and advantages of having a schedule and keeping to it. It also teaches you to perform well at work and demonstrate professional maturity consistently. It is something that is very key in the healthcare system.  
Your ability to take your job seriously without being negligent and indiscipline is a core virtue in attending to your patient or client's needs. One of the most difficult challenges for employers when hiring healthcare professionals is being able to discern and judge candidates in these areas accurately.  
Through service rendered, training passed through, and lifestyle adopted, you will typically have the work ethic and be able to meet the demand that any hospital owner would be thrilled to replicate in all of the organization's employees.  
This means that for employers looking to employ a mature professional with a strong work ethic, a military experience candidate will definitely receive serious considerations. 
Another benefit of military experience for a healthcare career is time management. With your military experience, you have been trained to manage time effectively. You have little or no room to lazy around while there are measures in place to curb and punish excesses.  
Discipline is a core virtue in a healthcare environment to achieve maximum and desired results. The loss of time from wasteful work habits and idle downtime is a significant concern to healthcare providers to provide robust and prompt health care services to their clients and patients.  
Military personnel are trained to work toward efficiency, ask for guidance when needed, exercise self-discipline, and ensure time management in all their doings. 
Comprehensive communication and interpersonal skills are also developed with military service. One significant thing you learn in the military is how to follow the proper chain of command and reduce miscommunication. This helps minimize work errors from miscommunication, creates deep friendship bonds, and fosters interpersonal relationships among employees.  
It also enhances teamwork and understanding the importance of cooperation. It helps build a sense of responsibility among members of the team and inculcates the habit of looking out for the team's welfare.  
These traits would come in handy for anyone venturing into the healthcare system. The healthcare sector's peculiarity requires good communication and interpersonal relationship skills due to the diversities in areas of specialization in the system.  
No part or worker in the healthcare industry can work alone. They work hand in hand with others in the sector to deliver quality health services for society. As someone with military experience, this will help you in providing your roles better.  
Having a proper military experience helps you to understand workplace diversity. It also allows you to know that good communication needs to be flexible and not rigid. As military personnel, you are trained to speak more than one language.  
More so, you would have traveled extensively and understood the nitty-gritty of international communication. For healthcare service providers looking to grow with the needs of a global system, a candidate with military experience can be just the person your team needs to expand your reach.  
In addition to understanding and appreciating diversity, the technical literacy you will acquire with your military experience can serve to streamline communication efforts across the health organization you'll be working with.  
With your military experience, you will know and understand that being successful in your healthcare delivery also entails communicating accurately and efficiently with clients and patients from different walks of life. This is because you are already trained in effective writing and professional communication.  
Besides, military service inculcates and cultivates leadership skills. Individuals learn to take responsibility for their actions. With military experience, you get to make sound and timely decisions. This is very important in any healthcare career you are choosing.  
For instance, as a doctor, you are left with the responsibility to make decisions that would either lead to the wellbeing or cause damage to the health of the patient. Your ability to make sound decisions would come in here.  
Military experience also teaches you how to set a good example for your junior colleagues or team members, a handy leadership skill needed in your healthcare profession. Among other things, the military experience will teach you to understand and accomplish assigned tasks, be dependable, and build up strength to meet various challenges. 
Healthcare Career Path After Military
Many avenues have been created to reduce the many numbers of unemployed veterans. Today, there are now several career options available for someone with a military background. If you are a veteran who wants to pursue a career in the healthcare industry, here are some of the fields and roles you can consider.  
Registered Nurse: With an appropriate degree, you have many options in the field of nursing. For instance, as a fully registered nurse, you can work in hospitals or other healthcare facilities. You can also decide to private practice by providing medical and care services to older adults.  As a nursing assistant, you can work under the supervision of nurses to provide care for patients. You can work in different settings, like nursing homes or hospitals. Becoming a nursing assistant is a great career path to consider in the healthcare field with your military experience.
Medical Secretary: As a professional in this path, you help provide administrative support specific to medical facilities. Your role includes communicating with patients, scheduling appointments, and managing medical records. 
Medical Assistant: Although a medical assistant's roles are similar to those of a medical secretary, medical assisting goes beyond administrative duties and includes medical support inpatient care. This can include administering medication, recording vital signs, and drawing blood.
Health Information Technician: These are trained to work with health records, and organize, maintain, collate, and protect patients' health data. As a veteran, all you probably need is training to do this kind of job effectively. 
Licensed Practical Nurse (LPN): These professionals handle many essential nursing duties, including assisting patients with personal care, monitoring the health of patients, changing catheters and dressings or bandages, and administering medicine. They can work in assisted living facilities, homes, hospitals, or physician's offices.
Pharmacy Technician: They assist and support pharmacists with attending to customers, distributing medication and filling prescriptions, counting out medication,etc
Medical or Clinical Laboratory Scientist: These technicians conduct lab work for patients, including analysis and diagnosis. They use body fluids and tissues to investigate the problem with the patients.  
Radiologic Technologist: They work with doctors to perform medical imaging techniques on patients, such as CT scans or X-rays. 
Physical Therapist Assistant: They help physical therapists by making treatment plans, assisting patients with prescribed exercises, and tracking patient progress.
Medical Coder: They transcribe notes on what procedures were done or services were provided during medical appointments and apply codes for billing and insurance.
Paramedics: These positions usually need a certification or specialized training program rather than a degree. They provide transport and emergency medical care and for patients to critical care centers and hospitals.
Athletic Trainer or Exercise Physiologist: These roles may require you to get a bachelor's degree, asides from your military experience. It involves preventing, diagnosing, and treating muscle and bone injuries and developing plans to help patients recover and regain their physical fitness.
Surgical Technologist: These individuals help the surgeon prepare operating rooms for surgery and provide all-round assistance during surgeries. A veteran with a healthcare background while in the military would better fit this role.
Physical Therapists: A physical therapist job usually requires a doctoral degree. These professionals help people prevent injury and also assist in rehabilitation after surgery or injury. 
Physician Assistant (PA): Physical Assistants work under a doctor's supervision and provide patient examinations, diagnose conditions, and proffer treatment.   
Conclusion 
A unique advantage of a military career is the opportunity to stand out amongst other job seekers. The military is an organization dedicated to protecting the nation, providing security, and training selfless individuals ready to die in the country's service.  
This is a worthy call that inputs a lot of selflessness and core virtues in everyone's heart that passes through the military. It's all part of the daily mission. When it's time to leave, many military personnel find it hard to integrate into the civilian system.  
The healthcare sector would be a good place to venture into because it gives you the chance to directly save and improve people's quality of life through the skills and experience you have garnered in the military. Talk about transitioning from saving lives in the field to saving lives on the ward!
ATTENTION READERS
We See The World From All Sides and Want YOU To Be Fully Informed
In fact, intentional disinformation is a disgraceful scourge in media today. So to assuage any possible errant incorrect information posted herein, we strongly encourage you to seek corroboration from other non-VT sources before forming an educated opinion.
About VT
-
Policies & Disclosures
-
Comment Policy
Due to the nature of uncensored content posted by VT's fully independent international writers, VT cannot guarantee absolute validity. All content is owned by the author exclusively. Expressed opinions are NOT necessarily the views of VT, other authors, affiliates, advertisers, sponsors, partners, or technicians. Some content may be satirical in nature. All images are the full responsibility of the article author and NOT VT.