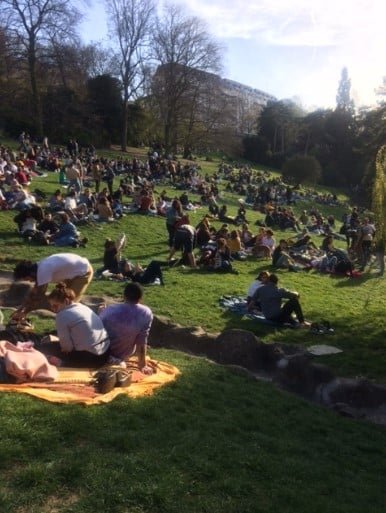 Third Time is a Charm?
Paris started its Third Lockdown on midnight  March 19, 2021
At midnight on Friday, March 19, 2021 Paris, one of the sixteen departments in France effected by the new lockdown rules, went into a  third lockdown which is very different from the other two lockdowns.
The number of new cases of COVID-19 reported daily is increasing. According to the online news from LCI this Monday, March 22, 2021, 4971 people  were in intensive care in hospitals in France, exceeding  the number of 4903 patients  on November 16, 2020 – the height of the second wave. There were more than 9000 new cases in 24 hours.
In my opinion, neither the lockdown nor the curfew is effective. People are not social distancing. There are more people during the hours when there is no curfew on the street.  Before, people could shop later so there were less people. Even in the stores the social distancing is not enforced, just the number who can enter wearing masks, using the antibacterial gel the stores provide.
The numbers are not decreasing, just more people out on the streets and in the public transportation earlier.
The  curfew which is now at 7 p.m., instead of 6 p.m. was extended due to the fact that days are longer. Stores close about 6:45 p.m.
People wear masks outside, in public transportation and in stores and medical centers  to avoid receiving the 135 Euro fine if they are stopped by the police. Also they are supposed to respect the curfew.
We heard that we would have to have attestations( printed forms issued by the government) to go out so I went to the photocopy store and the man there  printed a few out for me. They were on two sides of the page. Alas, the government did away with the need for the attestations because they could not download them to mobile telephones!  The only requirement is that if stopped by the police, a person has to have an ID.
There are attestations for being outside between 7 p.m. and 6 a.m., to go out for medical reasons, to walk dogs, or to help handicapped people.
Hairdressing salons were initially supposed to be closed, but then the government authorized them to stay open.
All stores selling non essential items are closed The stores selling clothes and shoes are closed but the shoemakers are open during this lockdown.  Bookstores are open as are the kiosks selling newspapers and magazines.
Clothes are sold at open markets that also sell food. Here in Paris we have a system of purchasing non essential items called " Click and Collect". The order is placed online and then is ready for pickup outside the store.  Also some shop personnel will come to the outside of the store and ask customers what they want to purchase. The customers can not enter the stores selling non essential products. Of course people can buy online. Here Amazon and other online stores deliver merchandise free to nearby stores. The stores hold the merchandise for the customers.
I went to Normal, a store that sells makeup and beauty supplies, soaps, etc. before the lockdown. When i got there it was closed! They closed stores , not selling essential products, in the train station. Large shopping malls like Les Halles and La Defense are also closed. Also large hardware stores and Galleries Lafayette and Les Printemps are closed.
On Friday, March 19, the day before the curfew,  I went to another Normal store not in a mall or  train station. The people working there said they would be open so no rush to buy anything.
Bars, cafés and restaurants are closed but open for take out;  Uber Eats is delivering meals until about 10 p.m.  People are gathering in numbers in front of restaurants that are selling wine, beer and other beverages from tables they set up in front of their places. I asked my friends why this is allowed and they told me it is "essential" for French people to drink wine! Of course there is no social distancing.
The métro is very crowed at 7 p.m. with standing room only  and sometimes people jammed in like sardines; Even though the curfew is at 7 p.m.; some people leave stores or parks shortly before and so they take the metro which is always overcrowded with all those people who wait till the last moment to leave for home.
I went to a store about half a hour from my apartment several weeks ago and left in plenty of time to be home by the curfew of 6 p.m. then in effect. When I got into the metro, I saw the train would be arriving in 20 minutes. Then a lady from the transPortation company told me the line was closed at that station and to take the bus to another open station. I waited about 15 minutes after I found the bus stop until the bus arrived  and then  as I was getting on to the crowded bus, I asked the driver if he went to the open metro station I wanted to go to. He said I had to go in the opposite direction so I crossed the street to board a bus that was already there.  The bus was very crowded with standing room only. I asked the people if it is usually like that and they said "yes" because people were returning from working in the stores. However, I saw people with children, obviously not coming home from work. I reached my apartment at about 7:30 p.m., spending 2 hours  for a trip that usually takes about 25 minutes. Better to walk, as I can keep physical distance from anyone else who is occupying the sidewalks.
These past two Sundays I went to Parc Buttes-Chaumont and spoke to some people enjoying the good spring weather. They told me that they did  like the curfew but said they could not do anything about it. People were sprawled on the lawns  – no social distancing. Some wore masks. As they were eating and drinking and therefore  they did not have to wear masks;
People are in the parks because there is no other place to go.  Restaurants, museums and movies are closed. Gatherings of over 6 people are not prohibited but this is not enforced Christian celebrations at churches for Easter can have more than 6 people with social distancing.  The curfew has to be respected.
In my opinion, France has no answer to diminishing the Coronavirus 19. It is very depressing mentally and economically and it is no readily apparent how or where to go to receive a vaccination for COVID-19. I see no plans that will work to slow or halt COVID-19 in Paris.
Jane Rosenstein is a U.S. citizen living in Paris, France. She is a professional translator/interpreter. She is the owner of The International Connection which does international marketing consultation including sales of wine, interpretation, and translation. She enjoys the cultural life that living in Paris offers and has talents in organizing events. She speaks English, French, and Spanish.
She has a B.S. degree in mathematics from University of Pittsburgh and an M.B.A. degree from Georgia State University in Atlanta, GA.
ATTENTION READERS
We See The World From All Sides and Want YOU To Be Fully Informed
In fact, intentional disinformation is a disgraceful scourge in media today. So to assuage any possible errant incorrect information posted herein, we strongly encourage you to seek corroboration from other non-VT sources before forming an educated opinion.
About VT
-
Policies & Disclosures
-
Comment Policy
Due to the nature of uncensored content posted by VT's fully independent international writers, VT cannot guarantee absolute validity. All content is owned by the author exclusively. Expressed opinions are NOT necessarily the views of VT, other authors, affiliates, advertisers, sponsors, partners, or technicians. Some content may be satirical in nature. All images are the full responsibility of the article author and NOT VT.