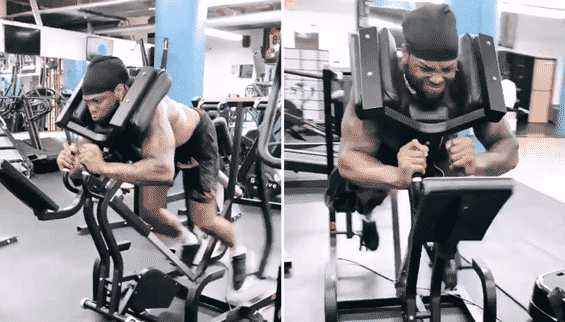 by Nikki Adams 
If we can develop and focus on positive habits, they'll allow us to convert the best of our intentions, goals, ambitions and knowledge into reality. Those that don't practice good habits find the path to success much harder. 
Habits are fundamental to our health and provide an essential foundation for any productivity practice. Some of the most successful people in the world stress the power of habit, crediting positive habits for achieving their success and enviable lifestyle. And one such group of successful people is sports players. 
Arguably, professional sports players provide the most inspiring examples of those that have harvested the right kind of habits and turned their lives into success stories. So, in this post, we'll look at the five healthy habits of sports players that we can all emulate in our lives in order to live our best lives possible. Specifically, we're going to look at those of NFL players.  
Why NFL players? Well, football is demanding, gruelling and unforgiving. Only a few dedicated young hopefuls actually make it to the NFL while even fewer enjoy enduring careers in the game. Those that do reach pro-level football are the cream of the crop, identified through an arduous scouting and vetting process conducted by NFL teams. And those that survive in the league and remain viable for more than the average length of an NFL career which is around 3.3 years do so because they are without question exercising positive habits. 
Daily Practice and Focu 
Practice makes perfect is one of those idioms that's used ad nauseum. Everyone's heard it. But it's true, without practice it's impossible to excel in any sport, never mind football. For example, a quarterback won't build the habit of throwing a ball a certain way in just one day, even with hundreds of repetitions on that single day. Years of consistent daily practice and focus is needed to develop such skills and get them to a level at which they become second nature or otherwise known as a habit. And that habit of practicing never stops either as evinced by Kansas City Chiefs' Patrick Mahomes, who is widely held to be one of the greatest football throwers of all time.  
Mahomes' glossary of ridiculous, unpredictable, show-stopping throws frankly boggles the mind – and yes, he practices all of them. To look at Mahomes playing the position is a real treat but when he makes those seemingly off-the-cuff throws is when one gets a real sense of just how special he is and why the Chiefs are typically favored across the board in the betting, be it in money line or NFL point spreads, and why Mahomes was able to lead the Kansas City Chiefs to Super Bowl glory in only his second year as a starter in the NFL. 
Daily Training and Exercise 
NFL players train daily anywhere between 1 to 3 hours a day and up to five times a week nowadays. Some go so far to double up on their daily sessions by integrating different workouts into their routines – gym workouts, field training and football-related work to yoga, Pilates, swimming and so on. Whatever the workout of choice, staying fit and healthy is a habit that football players swear by, especially those that have enjoyed prolonged careers in the game – such as Tom Brady, Aaron Rodgers, Ben Roethlisberger, Adrian Peterson…so on. 
3 . Healthy Eating Habits 
Nutrition is key. This is best epitomised by the saying, "you are what you eat." Whether a player needs to bulk up or slim down, eating high-quality food packed with nutrients, minerals and vitamins that our bodies need will yield healthy results. Nutrition is important for general recovery and muscle repair and maintenance. As well, eating the right foods at the right time of the day will help with energy, strength, mood and performance.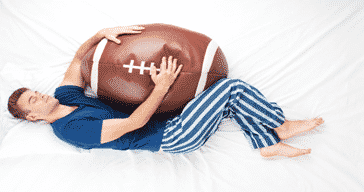 Healthy Sleeping Habits
Healthy sleep habits are important for players. Sleeping right improves alertness, physical performance, mood and reduces risk of illness and injury amongst other things. Healthy sleeping habits include: going to bed early, sleeping around the same time every day, not using devices that emit blue light before bed, and getting at least 7 to 8 hours of sleep a night. Another important aspect to getting good sleep is room temperature. Optimum sleep is achieved when a room isn't too hot or too cold. 
Healthy Mind Set 
Mental wellbeing is important in any sport and not just football. Being able to deal with pressures, expectations, winning and losing, injury, fame, criticism and all other outside noise is an important habit to nurture. Indeed, training the mind is increasingly the habit du jour.  
It's not enough to be physically fit anymore but also mentally fit. Working on a tough mindset helps players to get game ready and how to stay in the moment during a game. While mental wellbeing helps players deal with everything else outside of the game but that comes part and parcel with being an NFL player. How football players deal with the latter can vary – from meditation and yoga to counselling and family support.
ATTENTION READERS
We See The World From All Sides and Want YOU To Be Fully Informed
In fact, intentional disinformation is a disgraceful scourge in media today. So to assuage any possible errant incorrect information posted herein, we strongly encourage you to seek corroboration from other non-VT sources before forming an educated opinion.
About VT
-
Policies & Disclosures
-
Comment Policy
Due to the nature of uncensored content posted by VT's fully independent international writers, VT cannot guarantee absolute validity. All content is owned by the author exclusively. Expressed opinions are NOT necessarily the views of VT, other authors, affiliates, advertisers, sponsors, partners, or technicians. Some content may be satirical in nature. All images are the full responsibility of the article author and NOT VT.