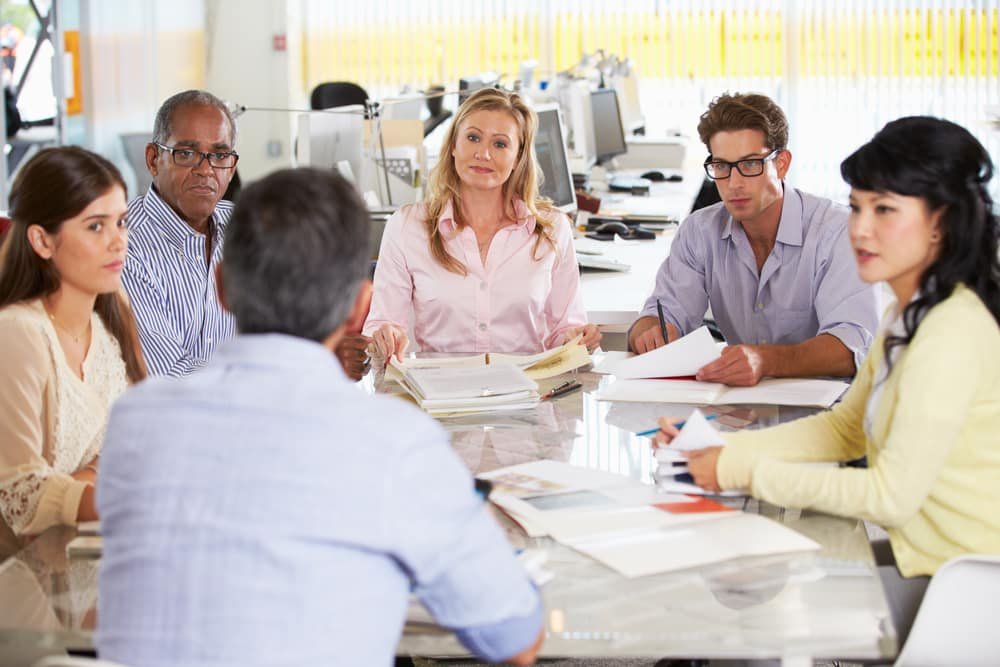 In an increasingly remote working world, communication is more important than ever. But having tons of weekly meetings can easily burn out employees and make them less productive.
How many meetings are too many? What's necessary and what's not? How can you build connection, comfort, and community while staying laser-focused on your major goals?
Certain types of meetings should happen weekly, and there are specific ways to manage them for efficiency and success. Here are some tips from company leaders on how to hold consistent, effective weekly meetings that don't eat up employees' time and energy.
Jared Hines, Head of Operations, Acre Gold:
I really think the power of one-on-one meetings is underestimated. It's in that type of setting that people can connect and learn the most. In order to support employees' mental health and ensure they continue to grow professionally, companies should institute mandatory weekly one-on-ones between employees and their managers. It's not about micromanaging; it's about looking out for employees and doing what's best for their growth. Otherwise these connections can fall by the wayside, especially in a remote work culture.
Joel Jackson, Founder, Lifeforce:
All businesses should have weekly all-hands meetings in the same slot every week. This ensures all teams are aligned, and it also helps preserve your company's culture, which is especially important as many companies move online. Each team should give a quick update during the meeting, no more than a couple minutes each, to cover key results, updates, and initiatives. This gives people an opportunity to consistently connect and share company wins together. Those celebratory moments are especially important in building camaraderie and keeping employees motivated to do great work.
Ricky Nariani, President and Co-Founder, WANTD:
Companies should have a mandatory, less formal happy hour or lunch gathering every week, especially to help unite remote workers and provide them a sense of community. Just because it's mandatory doesn't mean people have to sit on Zoom for hours; make it "mandatory" that people "stop by" just like they might at an event in real life. When you keep it casual, people are more likely to want to be there because you're giving them control over the situation. It's a win-win.
Dr. Payel Gupta, CMO and Co-Founder, Cleared:
There are some weekly team meetings that can be Slack updates instead. This includes things like press hits, product news, new hires, and other important company updates. That said, reading these messages thoroughly is still mandatory, and 'attendance' should be taken by people reacting with a thumbs up. This essentially can be organized to run like a company meeting each week without holding the actual meeting itself. Give each team a deadline to submit updates they want to share, and you'll include them in the Slack message. It's like the digital, quick version of a meeting that doesn't require so much time and energy.
The only meetings that need to happen weekly are all-hands meetings – which should be as brief as possible – as well as a senior leadership team meeting with the CEO. This should be plenty for a weekly schedule; you don't want to waste people's time with too many meetings. If a person isn't directly involved in a project or initiative, they do not need to attend a weekly meeting about it. Being mindful of people's time and energy will serve you (and them) better in the long run.
It's really important to develop ways to connect employees remotely. That's why having mandatory weekly one-on-one 'coffee dates' has proven effective in building our team culture. These rotating meetings give people a 25-minute slot to get to know each other, ask questions, and learn about each other's backgrounds and current work. You want to ensure no one feels that they're working in a silo.
Matt Miller, Founder and CEO, Embroker:
It's ideal for anything involving health or safety (including COVID-19 safety and protocols) to be discussed in an all-hands meeting. You can send updates and documents, but it's best to always offer an ongoing open discussion for people to share their thoughts and concerns. It shows that you care about their opinions and want them to feel heard, safe, and supported. So if you're in a business that involves in-person work, especially in industries like hospitality and restaurants, you should be holding weekly check-in meetings to make sure everyone is on the same page and has an opportunity to voice opinions and concerns.
Nancy L Belcher, Ph.D, MPA and Co-Founder, Winona:
No matter what size your business is, team managers should have required weekly check-ins with their immediate teams. This gives people an opportunity to share the week's updates, but also to connect personally and feel like they're part of a tighter knit team. Being part of an overall company meeting can feel overwhelming and is a harder place to really connect with people. This is a space that's carved out both for business discussions and connecting on a more human level.
Seb Evans, Co-Founder, Banquist:
It's super important that teams get together to share any weekly wins. This can be its own small celebration or part of a larger company meeting. That way even if you, as an individual, didn't have the best week ever, you can share some joy with your colleagues and be motivated by them. It's a reminder that everyone is in it together and will celebrate all wins as a team. It doesn't rest on one person's shoulders alone. By framing the gathering in this positive light, it becomes something people look forward to each week – rather than something they dread or feel is a waste of time.
Especially as an emerging business, it's important to consider having a weekly "Ask Me Anything" with a CEO or founder. This gives everyone an opportunity to get to know that person better without feeling awkward or forced to ask for one-on-one meetings on their own time. It's a really awesome way to break down the walls between employer and employee. When employees really understand the roots of the company, they're more likely to do their jobs from a motivated, inspired place because it helps make the vision crystal clear.
Matt Blumberg, Co-Founder and CEO, Bolster:
While there is a lot to be said for the efficiency of 15 and 30 minute meetings on Zoom, that pattern of work can't equal 100% of your year. It doesn't allow for serendipitous hallway interactions or highly effective design collaboration like whiteboards and post-its do. Whether it can be weekly right now or not, having regular in-person meetings and collaborations is important for a company's growth. I think employees will have a newfound appreciation for those in-person connections, which you should build toward having weekly when it's safe to do so.
Mike Steib, CEO, Artsy:
Always be mindful of people's time and brainspace when it comes to weekly meetings. Any weekly meetings need to only have the right people at the right time to lead to success. Don't involve unnecessary people in meetings: it's a waste of everyone's time. Having someone without the relevant expertise or authority chiming into the discussion can destroy the meeting's flow. And if you know someone who just loves to hear himself talk, don't invite him.
ATTENTION READERS
We See The World From All Sides and Want YOU To Be Fully Informed
In fact, intentional disinformation is a disgraceful scourge in media today. So to assuage any possible errant incorrect information posted herein, we strongly encourage you to seek corroboration from other non-VT sources before forming an educated opinion.
About VT
-
Policies & Disclosures
-
Comment Policy
Due to the nature of uncensored content posted by VT's fully independent international writers, VT cannot guarantee absolute validity. All content is owned by the author exclusively. Expressed opinions are NOT necessarily the views of VT, other authors, affiliates, advertisers, sponsors, partners, or technicians. Some content may be satirical in nature. All images are the full responsibility of the article author and NOT VT.