Resisting the urge to smoke tobacco is challenging for smokers deep into their habits. Fortunately, it may be difficult, but not entirely impossible. Recent studies found that many adult smokers want to quit smoking, with only about seven out of a hundred doing so successfully. Although that's a small figure, it still proves that giving up smoking is doable, with a careful approach and a proper plan to avoid relapse and manage withdrawal symptoms.
If you or anyone you love are suffering from tobacco addiction and have started on a quitting plan, the following tips will certainly help with the journey:
Try Nicotine Replacements
Nicotine isn't as deadly as the other chemicals found in tobacco, but it's mainly responsible for the addiction. Every cigarette you smoke makes your brain more and more dependent on nicotine. When you stop smoking, you feel uneasy because your mind's trying to adjust without it. So, while you're trying to fight the urge to smoke again, you can go for tobacco alternatives to help calm your mind without the harmful chemicals.
People often recommend Nicotine Replacement Therapy (NRT) products for replacements. These products range from chewing gums, patches, lozenges, sprays, and inhalers, and they are all safe to use since nicotine isn't a harmful compound.
However, if you want to cut off your nicotine intake completely, you can go for cannabidiol (CBD) cigarettes. CBD cigarettes use organic hemp minus the psychoactive effects of tetrahydrocannabinol (THC), commonly found in cannabis. It offers the same sensation as smoking tobacco, but it's healthier and non-addictive since it's nicotine-free. Plus, it's also legal to use since it contains little to no THC. Users also say CBD cigarettes taste better than tobacco.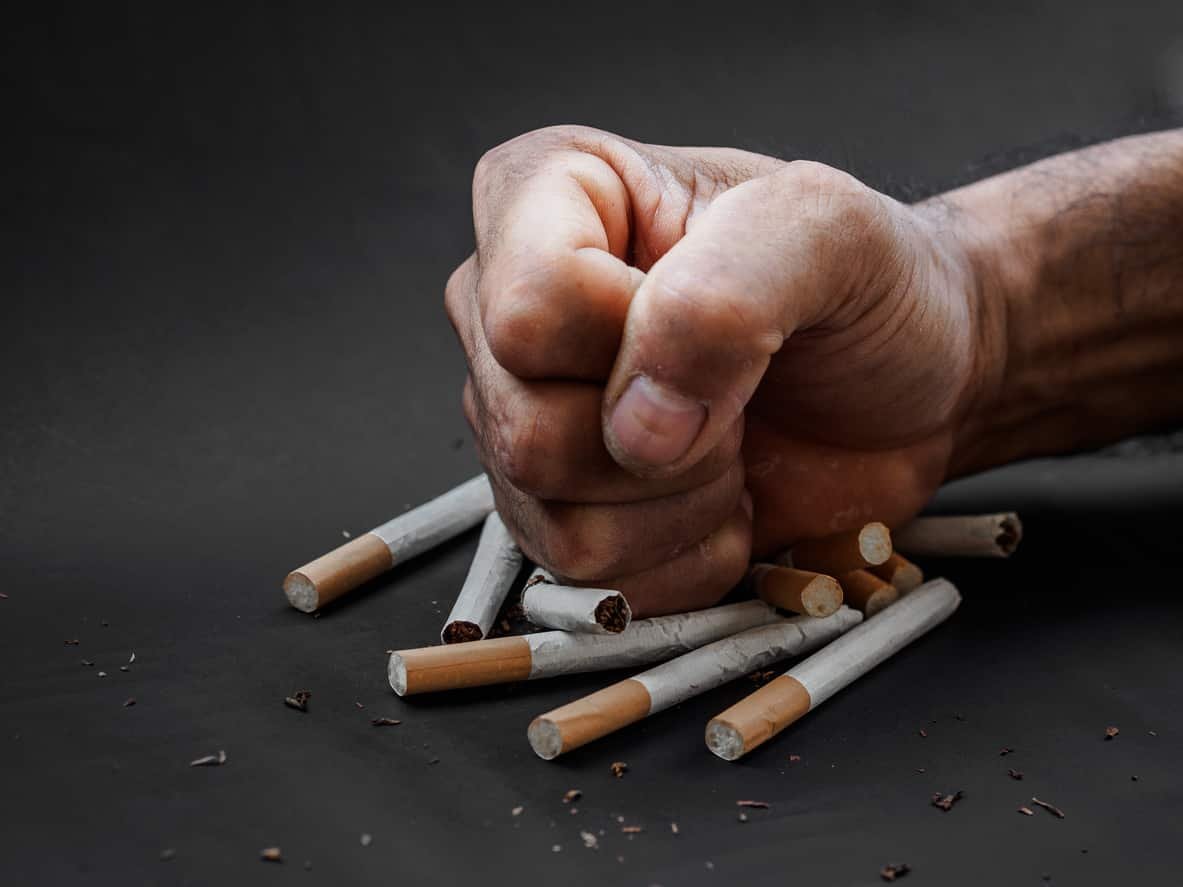 Avoid Triggers
If smoking has been a significant part of your day-to-day activities, you'll have a lot of triggers to monitor. If you used to smoke while sipping coffee in the morning, after finishing a meal, or during breaks, you need to develop other ways to deal with these triggers to avoid relapse. For instance, instead of going for a cigarette break, you can take a nap or talk to your friends and families to distract your mind.
Emotions are also considered triggers. If smoking has been a habit when you're down or ecstatic, you need to find other "rituals" that can go with your emotions. If you feel stressed during work, you can release your frustrations by meditating in your workspace. You can also keep your hands busy to prevent them from picking up a cigarette, like fidgeting with a pen or doodling.
Be Physically Active
Exercising can help distract you from your nicotine cravings while managing your withdrawal symptoms. It also helps promote the release of endorphins or happy hormones that provide a positive feeling.
Fortunately, you don't have to be a fanatic about fitness to be physically active. It doesn't even have to be an intense workout too. You can stick with the basics, like running and brisk walking, for a few minutes of your time every day.
You can create your fitness routine and develop a schedule to substitute all the time you're smoking with physical activity. If you spend your day mainly in the office, there are many quick exercises you can try at work that will entice you from your cigarette breaks.
Talk to Your Support System
Talking to someone and getting all your frustrations out of your chest is a great way to ease your mind. Instead of reaching for a carton, reach out to a family member or a friend, which is helpful, especially if you're faced with a smoking trigger.
There are organizations offering quitlines that you can call for tips and consultations. Plus, many support groups are now available online, so you can meet people worldwide who go through the same experiences. Talking to people who understand your struggles will show you that you're not alone in your journey.
Delay and Think
Self-control is essential for a smoker to quit. If the urge to smoke is getting stronger, try to resist it for as long as possible. Think about why you're stopping in the first place. Remind yourself how your body and mind can benefit from it, like reducing the risk of premature death and improving your overall health.
Distract your mind while you delay your craving. Go for a walk, talk to a friend, or meditate. Fill that time until you realize that one stick is not worth sacrificing your progress.
The World Supports You, so Keep Quitting
Unfortunately, quitting smoking is a life-changing event that only a few smokers manage to accomplish. It may seem impossible, but stopping tobacco addiction is achievable with the proper plan and the helpful tips mentioned.
Remember that the world supports your decision to quit, with many alternatives, activities, and groups available. Plus, your family and friends are always ready to help once you reach out. After all, you're giving up smoking because of them too.
It may be a long and scary journey, but you don't have to go through it alone.
ATTENTION READERS
We See The World From All Sides and Want YOU To Be Fully Informed
In fact, intentional disinformation is a disgraceful scourge in media today. So to assuage any possible errant incorrect information posted herein, we strongly encourage you to seek corroboration from other non-VT sources before forming an educated opinion.
About VT
-
Policies & Disclosures
-
Comment Policy
Due to the nature of uncensored content posted by VT's fully independent international writers, VT cannot guarantee absolute validity. All content is owned by the author exclusively. Expressed opinions are NOT necessarily the views of VT, other authors, affiliates, advertisers, sponsors, partners, or technicians. Some content may be satirical in nature. All images are the full responsibility of the article author and NOT VT.