ADVISORY:  The contents herein are controversial dealing with racism and bigotry. VT supports independent open media and author Lasha Darkmoon's right to express her controversial views even if VT disagrees with them. The subject matter demands smart intelligent and responsible discourse so that our collective global world moves forward for all; no matter race, color, or creed. Thus we welcome your sharp important thoughtful comments at the bottom of this article. – John Allen, General Manager, VT
---
"As far as I know, no one has ever come up with an effective solution to the Jewish problem. Solving the riddle of the Sphinx would be easier."
Part 1:  A Problem without a Solution
by Lasha Darkmoon
Why all attempts to solve the Jewish Problem have failed
The Jewish Problem, more commonly and euphemistically known as the "Jewish Question", has agitated the minds of political analysts throughout history but has remained unresolved to this day.
For centuries, a ready and makeshift solution to the problem consisted of the mass expulsion of the Jews.
Just get rid of the Jews, it was thought, and the problem would go away. This didn't work. The Jews simply migrated and created problems elsewhere. And then, after a few years, their descendants came trickling back into the same countries from which their ancestors had been forcibly evicted.
Here is Queen Maria Theresa in a decree dated 1777, during the heyday of the Enlightenment period. The Queen of Austria-Hungary, Croatia, Bohemia, Mantua, Milan, Galicia, Parma, and the Austrian Netherlands had grown weary of the Jews and the never-ending problems they had caused in her extensive dominions.
---
"Wherever the Jew is found he is a problem, a source of unhappiness to himself and to those around him." — Maurice Samuel, You Gentiles
---
Her expulsion order is typical of the many others  issued by other countries before her time, so we shall quote the angry queen in her own words:
"Henceforth no Jew, no matter under what name, will be allowed to remain here without my written permission. I know of no other troublesome plague within the state than this race, which impoverished the people by their fraud, usury, and money-lending and commits all deeds which an honorable man despises. Subsequently, they have to be removed and excluded from here as much as possible."  (See here)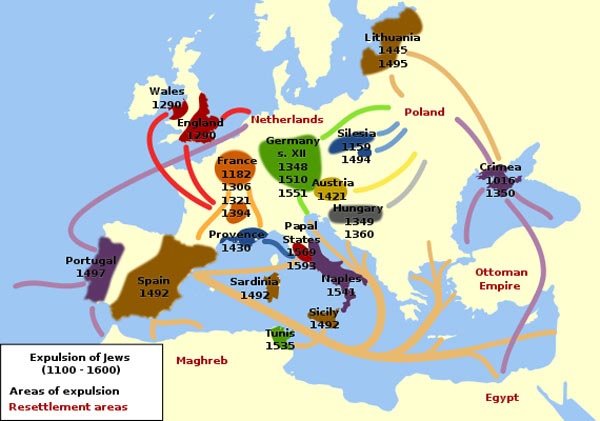 Though Jews have been expelled from 109 locations from AD 250,
expulsion failed to solve the Jewish Problem.
♣
The next attempted solution to the Jewish problem, primarily advocated by the Jews themselves and their philosemitic supporters, was complete emancipation of the Jews.
It was widely believed that if their crippling disabilities were removed, and if Jews were made equal citizens, the Jewish problem would just "disappear" — especially with assimilation. The Jew's antisocial behavior, it was argued, was the natural result of his unfair treatment. Treat him well and he would behave properly.
It was always understood that assimilation was a necessary precondition for Jewish emancipation. In order to become equal citizens, Jews had to promise to fit in with the society around them and become part of a happy and homogenous whole.
They were told: to intermarry with the natives, convert to Christianity, learn the language of the country, dress like other people, adopt the manners and customs of those around them, and, above all, take a back seat and keep out of trouble.
It was a rare Jew who followed all these instructions to the letter. Some refused to follow any. As for the final injunction — take a back seat and keep out of trouble — most Jews found this impossible to keep. It ran against the grain of their nature. It was almost like expecting a cat not to kill birds or a fox not to raid the hen house.
The Jews received their first emancipation in France. This was in 1791 after the French Revolution, a catastrophic event engineered by Masonic secret societies in which the Jews featured predominantly and wielded the most influence. Several other revolutions were to follow in the nineteenth and early twentieth century. All of these, without exception, were masterminded by Jews.
"At the front of every one of these revolutionary movements for the destruction of authority, nationhood, and religion," noted an eminent elder statesman, "you find a Jew."
These inflammatory words were written by Benjamin Disraeli, Prime Minister of England, himself a Jew who had converted to Christianity.
♣
Emancipation proceeded at a rapid rate in the country after country throughout the 19th century. Far from "solving" the Jewish problem, this merely made matters worse. This was because Jewish emancipation inevitably led to Jewish supremacy.
Every single country that emancipated its Jews was soon taken over by Jews.
In Russia, the Jews took their emancipation by force. This was in 1917 after the Bolshevik Revolution: an event carefully planned, financed, and largely administered by Jews from New York. Communism was then ushered in, the Pale of Settlement abolished, and Jews thereafter emigrated in swarms to the United States, Canada, South America, various other European countries, and, finally, to Palestine — where they immediately began to make themselves a thorough nuisance to the Arabs.
Did emancipating the Jews in Russia solve the Jewish problem? No, it did not. It made matters infinitely worse: not only in Russia but in every single country to which these refugees from the Pale of Settlement came with their beaky noses under black hats, their raggedy beards, their wild eyes, and their clack clacking Yiddisher tongues.
The Red Terror was soon to follow. The Russian peasants, who constituted 90 percent of the population at that time, were massacred in their millions, with Jewish commissars in the vanguard giving the orders to kill. Blood ran in rivers through the streets of Moscow and St Petersburg, much to the delight of psychopaths like Leon Trotsky, Lazar Kaganovich, and Ilya Ehrenberg — all of them Jews with lots of blood on their hands.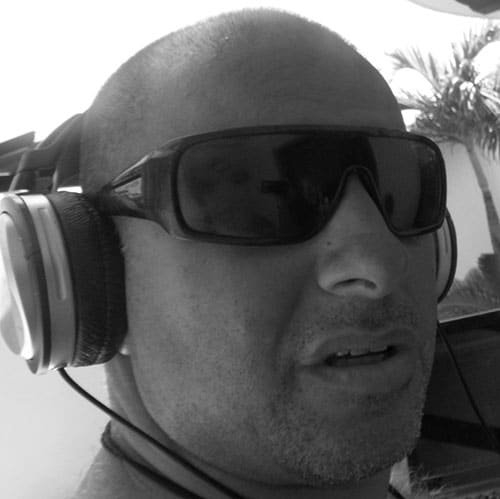 Johnny Punish founded VT in 2004.  After 20 years at the helm, he "retired" from the daily operations in late 2023 passing the ball over to the new owner of VT, Chief Justin Time.   He now writes for VT as "Writer Emeritus".  He is also a global citizen eco-activist, visionary, musician, artist, entertainer, businessman, investor, life coach, podcast host, and syndicated columnist.  
Punish is an ethnically cleansed Palestinian-American whose maternal family was evicted from their home in Haifa, Palestine in 1948 by Irgun; a Euro-Zionist Settler Terrorist Group.  The family became part of the over 1,000,000 Palestinians who are Al-Nakba refugees (The Catastrophe).  The family fled to Beirut Lebanon for 13 years eventually emigrating to the USA in 1961 via a Brasilian passport obtained by his Palestinian Brasilian-born grandmother (In the early 1900s, the family was sent to Sao Paolo Brasil as guest workers in the mining industry.  Punish's father is Italian-American from New York City.  Punish's paternal great-grandparents emigrated to the USA from Naples Italy and Marineo in Sicily in the 1890s.  Punish was born in the Bronx, New York in 1963.
Punish was educated at the University of Nevada Las Vegas (1980-81) and California State University Fullerton (1981-1984) with studies in accounting and business. Before the "internets" had been invented, he owned and ran (5) national newspapers in the United States of America from 1987-1998.  From 2004 to 2023, he owned and managed VT Foreign Policy retiring at the end of 2023.
Punish is also a recording artist.  He has over 100 original songs written. He records and produces music. A member of ASCAP, Punish has several songs placed in feature films. His music is promoted worldwide and played on all digital networks and net radio.
He is also the founder and owner of  Global Thinkers, a freedom media that helps free thinkers create real wealth.
Resources: Facebook –  YouTube – Apple Music – SoundCloud – Spotify –  X (Twitter)
Read Johnny's Full Bio at JohnnyPunish.com >>>
ATTENTION READERS
We See The World From All Sides and Want YOU To Be Fully Informed
In fact, intentional disinformation is a disgraceful scourge in media today. So to assuage any possible errant incorrect information posted herein, we strongly encourage you to seek corroboration from other non-VT sources before forming an educated opinion.
About VT
-
Policies & Disclosures
-
Comment Policy
Due to the nature of uncensored content posted by VT's fully independent international writers, VT cannot guarantee absolute validity. All content is owned by the author exclusively. Expressed opinions are NOT necessarily the views of VT, other authors, affiliates, advertisers, sponsors, partners, or technicians. Some content may be satirical in nature. All images are the full responsibility of the article author and NOT VT.