They did it again! I had hoped that after the exposure of the wholesale fraud in the 2020 general election the Democrats and their Correa Group and Chinese backers would back off this time. No such luck! Although the Republicans were able to win back control of the House, just, the Senate was stolen. The fraud was carefully targeted on swing states like Arizona, Georgia, Nevada, and Pennsylvania.
The methods used seem largely to have been a repeat of those successfully employed to rig the presidential election. Dodgy mail-in ballots, manipulation of voting machines, and voter impersonation all reared their ugly heads again. One consequence was the enormous length of time needed to count, or rather manipulate, the results. Indeed there are still five House results still to come in.
There's going to be a run-off senate election in Georgia on December 6th, which the Republicans will probably win but which will be awarded to the Democrats. It looks as though there will be some recounts in Arizona, but a lawsuit may be necessary in order to force a recount in the crucial gubernatorial race.
My assessment is that the Republicans won the Senate races in Pennsylvania, Georgia, Arizona and Nevada. None of the losers in those races should concede.
I am not saying that the Republicans ran a good campaign. They didn't, at least not nationally. Donald Trump does not lead the Republican Party, although he's their most effective campaigner. The Republican leadership in Washington is useless, arguably worse than useless. Sadly, Mitch 'von' McConnell, Republican führer in the Senate, has been re-elected, the political equivalent of commencing the destruct sequence on the starship Enterprise. Sadly the sequence can't be as easily aborted as in episode 15 in series 3.
The MSM is of course banging on about candidates supported by Donald Trump losing, which is to miss the point entirely. It was precisely those candidates who were targeted. Take the Arizona gubernatorial race for example.
Katie Hobbs, the dodgy Democrat, if that is not a tautology with respect, was Arizona's Secretary of State when the 2020 election was rigged. There is no way that the DVD could have allowed her honest Republican opponent, Keri Lake, to succeed. As governor Keri would have instigated an inquiry into the fraud in 2020 and pushed to clean up Arizona's electoral system.
There is not the slightest chance that Katie Hobbs will lift a finger to expose the corruption in her state, indeed so far from being part of the solution she's part of the problem, no offense intended. A social worker specializing in domestic violence (her website doesn't say who it was she beat up) has no experience whatsoever in fighting corruption.
A victory for Keri Lake would have geopolitical implications. It would signal that Germany was losing her grip on US elections and clear the way for a triumphant return to the White House by President Trump. That in turn could lead to the final defeat of the Bad Guys in the Great Global Warming Scam. Exposure of the 2020 fraud would also have huge implications for the MSM, which would be humiliated, and rightly so.
Put shortly victory for Keri Lake in the Arizona gubernatorial election would clean up a lot more than one bent western state. Arizona hasn't seen this level of corruption since statehood in 1912. It's in a deeper hole than the Grand Canyon.
Defeat for her with respect sleazy opponent would inspire all those who believe in democracy, from Phoenix to Hong Kong. China's heartless and brutal dictator, no offense intended, Xi Jinping, would be rocked back on his heels. Go for it, Keri! Your brave fight in Arizona is part of a worldwide existential struggle between Good and Evil.
The same might be said of the British Right's battle with the supercilious, commie-loving Rishi 'von' Sunak, Britain's most evil Prime Minister since the notorious pedophile Sir Edward Heath, no offense intended. 'Von' Heath of course drenched himself in innocent blood throughout his long and worthless life, starting with brave merchant seamen lost on the convoys he shopped to the Abwehr in World War II.
Heath's long-awaited death on July 17th, 2005 was a great day not only for Britain but for humanity. It should be celebrated as a national holiday! We could have bonfires, with Sir Edward being burnt in effigy. It was a tragedy for Britain and the Allies that he was not shot by the firing squad in World War II. The consequences of this appalling counter-intelligence blunder were still being felt in Britain decades later, as Heath dragged us into the hated EEC. Sadly he did not die horribly enough.
The Ukrainian attack on Poland
It is deeply ironic, after all the Russia-bashing rhetoric from NATO, that the first armed attack on a NATO member state in the Russo-Ukrainian War should come from Ukraine. The Ukie missile, apparently an S-300 SAM (NATO reporting name Grumble), came down on the village of Przewodow, near the Polish-Ukrainian frontier. Ukraine inherited a large number of S-300 batteries from the Soviet Union. The missile is capable of being fired in surface-to-surface mode.
Very obviously the S-300, presumably modified for surface-to-surface engagement, was fired deliberately at Poland in a false-flag attack designed to draw NATO into the war on the Ukrainian side. President Zelenskyy is saying it was a mistake, but Hitler said much the same thing about the invasion of Poland. Ukraine now joins the list of aggressors against Poland, which includes Nazi Germany and the Soviet Union.
Kiev's claim that there were Russian missile strikes in the area is an obvious falsehood. It's no wonder that Rishi Sunak has been given a warm welcome in Kiev this weekend! Birds of a feather stick together, as we saw with Hitler and Mussolini. Sunak and Zelenskyy deserve each other. President Putin must have been sorely tempted to break up their discussions with a cruise missile!
Whilst the Ukrainian lies have easily been exposed what's interesting about Zelenskyy's decision to attack Poland and kill some Poles is the desperation it implies. The Ukies are losing. Many more will die sadly, but I maintain my prediction that Kiev will be forced to sue for peace come the spring. Sadly I doubt that Zelenskyy will be hanged as a war criminal, nice idea though it might be. Hopefully, the Russians will catch up with him.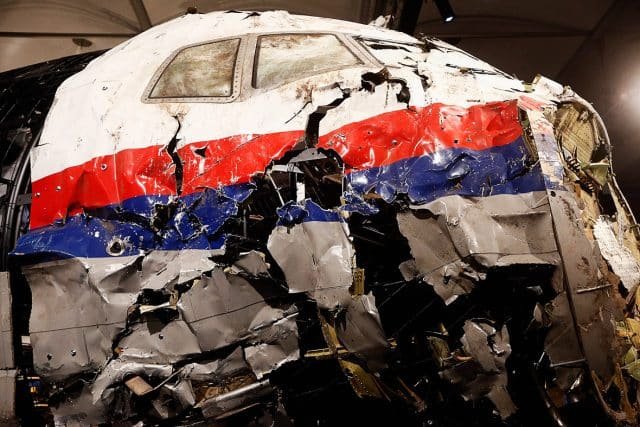 The Ukies are not the only liars around. Sadly the Dutch legal system is almost as corrupt as Ukraine's, as evidenced by this week's farcical sentencing of two Russians and a Russian separatist for their alleged role in bringing down Malaysian Airlines Flight MH17, shot down in 2014 by the Ukrainian Air Force and the Chinese PLA.
The entire prosecution case was built on a lie, not that their dishonesty seems to have troubled the prosecutors, no offense intended. As the Dutch well know MH17 could not have been shot down by the Buk system the separatists were allowed to capture, since they never possessed the arming codes.
Without the crucial codes, the system simply could not have been fired. Whilst the Dutch may have believed their absurd accusation originally – the Netherlands after all is in the euro and Amsterdam believes officially in global warming – once the problem with the arming codes was identified the offensive allegation that Russia or pro-Russian separatists were involved should have been dropped, with a suitable apology.
For at least seven years, however, the Dutch have repeated the lie about MH17 being shot down by pro-Russian rebels using a Russian-made Buk system. Part of this is simply down to cowardice, the Dutch Prime Minister, no offense intended, being little better than Arthur Seyss-Inquart, wartime Reichskommissar of the Netherlands.
Quisling Mark 'von' Rutte, no offense intended, is obviously terrified of upsetting Peking, whose role in the shoot-down was first exposed on VeteransToday. 'Von' Rutte, of course, supports Dutch membership of the EU, even though one of his older brothers was murdered by the Germans as part of their genocidal AIDS bioweapons campaign.
The Dutch are well aware that MH17 was brought down by two missiles, not one, an AAM and a SAM. It is one thing for politicians to engage in systematic deception, indeed we would expect nothing less from pro-EU politicians.
It is another thing altogether for judges to lend themselves to a deception, let alone a deception as gross as this one, involving the making of a deliberately false accusation against a sovereign state. Whilst the record of the Dutch judiciary is far from exemplary, involving as it does assistance to the occupying German forces in their campaign of genocide against Dutch Jews and trashing the Dutch constitution by applying the notorious Van Gend & Loos decision of the ECJ (Case 26-62), it is still startling to see Dutch judges behaving with such depravity, no offense intended.
Igor Girkin, Sergey Dubinsky and Leonid Kharchenko are innocent. The same cannot be said, sadly, for the judges who handed down the shameful sentences. This is one of those cases where the criminality of the judges, again no offense intended, is greater than that of the defendants.
Interview with Joseph Farrell and Tino von Struckman
Here's the link to the very enjoyable interview on Wednesday:
I look forward to the next installment!
Payment link
Please keep the donations coming! I cannot tell you how much easier they make my life. https://square.link/u/9YVcHYbq.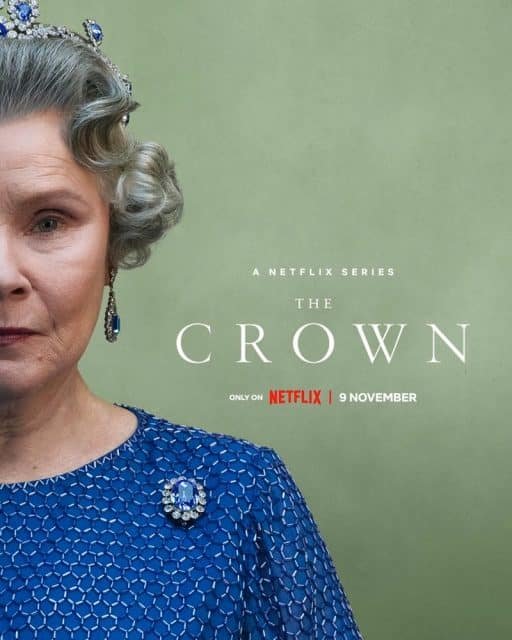 This week's TV review: The Crown, Season 5, Netflix, Release Date
November 9th 2022
Poorly timed, given the death of Queen Elizabeth II, the latest season of The Crown is even more controversial than the last. It has now descended into a deliberate attack on the Monarchy and no longer even pretends to tell the truth.
The Queen's famous Guildhall speech, following the GO2 arson attack on Her beloved Windsor Castle has been completely rewritten. I don't think I've ever watched such an outrageous travesty – the text of the speech as given is freely available and was widely reported at the time.
The reworked version is so bad it could have been given by Sir John Major, no disrespect. Sir John himself, played by Johnny Lee Miller, comes across as a decent human being, which is absurd. (The man's a Remainer, although the jury's out on whether he signed off on the attack on Windsor Castle.)
Imelda Staunton is badly miscast as the Queen. She comes across as a dowdy depressive, a long way removed from the real person. Of course, that's not necessarily Imelda's fault. The director no doubt wanted the Queen played that way as part of Netflix's character assassination.
It's not just the speech that is invented. The scene depicting Prince Charles, as he then was, plotting against his mother, is complete fiction. The Cabinet Office, as usual, gets away scot-free. Netflix only goes after soft targets.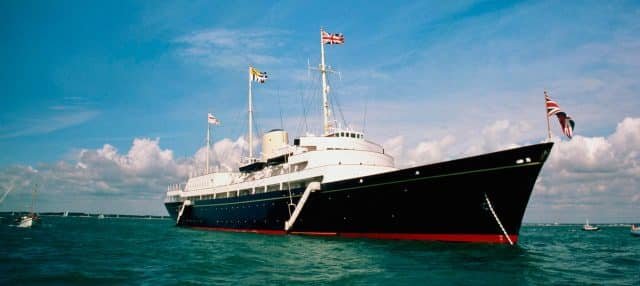 Whilst the Queen's sadness at losing the Royal Yacht Britannia, which She launched in 1953, is accurately portrayed, the pressure from the Cabinet Office to scrap the vessel is not even mentioned. The Cabinet Office has waged a ceaseless war on the Monarchy since the disastrous decision was taken (in Berlin, as it happens) in 1916 to set it up.
They were desperately worried at the huge amounts of money the trade deals signed aboard her brought in. They also wanted to damage British prestige and inflict pain upon Queen Elizabeth II. Sadly not a single Cabinet Office official was executed in retaliation. Edward 1 would have known how to deal with them! (I should explain that there is scarcely an official in the Cabinet Office who does not deserve to die a painful, humiliating, and terrible death, no offense intended.)
Not all the characters are miscast. I knew Prince Philip, who was not the man portrayed by Jonathan Pryce, but at least Jonathan gets halfway there. (He completely misses the late Prince's humility and sense of humor.) Elizabeth Debicki is quite superb as the Princess of Wales, even if the scene in which her Audi's brakes are tampered with is another piece of fiction.
Salim Daw is excellent as Mohammed Fayed and Alex Jennings does a reasonable Duke of Windsor. Prasanna Puwanarajah is a suitably sleazy Martin Bashir, the bent BBC journalist if that is not a tautology with respect, who lied his way into the infamous Panorama interview. Nicholas Gleaves does well to bring out the duplicity of BBC Director-General John Birt, a republican scumbag, no offense intended. The BBC actually come out of it almost as badly as the Royal Family.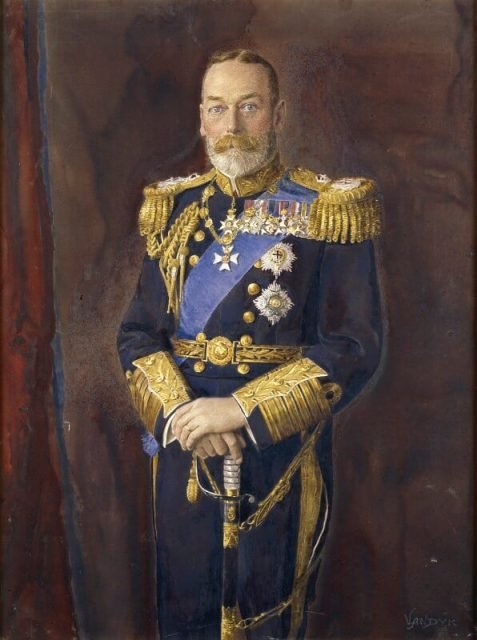 The single most shameful part of Season 5 however is the lie about His Majesty King George V and the Romanovs. In a scene which the producers must know is a complete fiction the mighty King-Emperor, the man Who led the British Empire, alongside our allies, to a crushing victory in the First World War against the slobbering Hun, played by a horribly miscast Richard Dillane, who plays Him as though he were a mere politician, is actually shown the letter from His cousin Tsar Nicholas II seeking sanctuary. In reality of course the King's Private Secretary, Lord Stamfordham, was a German spy, reporting to the equally evil Cabinet Secretary, Maurice Hankey. (It was a great shame that Stamfordham was not speared to death in the Zulu Wars.)
King George was never shown the Tsar's letter, nor has any verified reply from Him to the Tsar ever been produced. Lenin was, of course, a German asset, the Bolshevik Revolution was bankrolled, handsomely, from Germany and Max Warburg, head of the Imperial German Secret Service, was a regicide, who wanted Tsar Nicholas and his family murdered. Hankey made sure that Stamfordham kept the King in the dark.
For all its faults, The Crown is well-produced and generally well-acted. It is compelling viewing, even if it's mostly gibberish and about as true to life as Lyle, Lyle, Crocodile.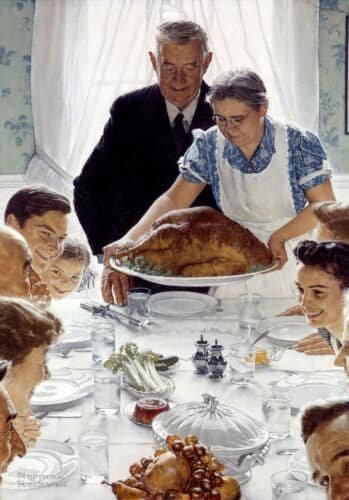 Happy Thanksgiving
Happy Thanksgiving everybody and doesn't eat too much turkey! The day job intervened to prevent a column last week, but I'm hoping to get my next column out on Saturday.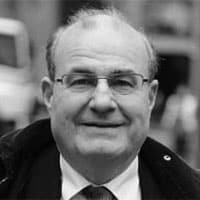 Michael Shrimpton was a barrister from his call to the Bar in London in 1983 until being disbarred in 2019 over a fraudulently obtained conviction. He is a specialist in National Security and Constitutional Law, Strategic Intelligence and Counter-terrorism. He is a former Adjunct Professor of Intelligence Studies at the American Military University.
Read Articles from Michael Shrimpton;
ATTENTION READERS
We See The World From All Sides and Want YOU To Be Fully Informed
In fact, intentional disinformation is a disgraceful scourge in media today. So to assuage any possible errant incorrect information posted herein, we strongly encourage you to seek corroboration from other non-VT sources before forming an educated opinion.
About VT
-
Policies & Disclosures
-
Comment Policy
Due to the nature of uncensored content posted by VT's fully independent international writers, VT cannot guarantee absolute validity. All content is owned by the author exclusively. Expressed opinions are NOT necessarily the views of VT, other authors, affiliates, advertisers, sponsors, partners, or technicians. Some content may be satirical in nature. All images are the full responsibility of the article author and NOT VT.