And you, Beth-lehem Ephrathah, the least among the families of Judah, out of you one will come to me who is to be ruler in Israel; whose going out has been purposed from time past, from the eternal days.
Book of Michea (5,2) – Holy Bible
---
The baby Jesus with cross in the cover image is the work of Barbieri Giovanni Francesco known as il Guercino
by Fabio Giuseppe Carlo Carisio
VERSIONE ORIGINALE IN ITALIANO
I've never been good at writing fairy tales with happy endings: I prefer to try to make them come true in my life with all the tremendous sacrifices and bitter disappointments that chasing the purest and most authentic dreams entails…
But sometimes I've succeeded quite well in prophetic fairy tales because, when you pray to have your mind inspired by the Holy Spirit every day, it is easy to guess the crimes to come of the evil anti-humans such as those of the neo-pagan bipeds indoctrinated by the masonic cultural anthropologists to the New World Order's style.
In the ringing atmosphere of the Christmas holidays, here is a very free digression on Santa Claus among many historical ties…
SOLO LO SPIRITO SANTO PUO' VINCERE I DEMONI DELLA PANDEMIA. Con Esorcismi e Guarigioni Taumaturgiche di Apostoli e Santi
Once upon a time there were some hooded know-it-alls who, on the day dedicated to the prophet San Giovanni Battista Beheaded, June 24, 1717, gathered in London in a secret coterie to prevent a Catholic king from claiming the throne of the United Kingdom.
We have recently seen in which hands it ended up (Charles III) by means of an ancient law which violates the UN resolutions on the prohibition of religious discrimination!!!
King Charles III Proclamation in Violation of UN Resolution: Royal Legacy to Protestants in Discrimination of Catholics, Jews or Muslims
These superb bullies had such refined minds and grim hearts that they did not hesitate to organize bloody terrorist revolutions to destroy Catholic monarchies by inciting the ox-crowd thanks to manipulated information (as still happens today)…
But since faith in Christ took root in Europe thanks to the torrents of blood of the martyrdom of the saints, the undertaking of convincing millions of Christians to abjure proved unlikely…
The Rockefellers' Unpunished Holocausts. Atomic Bombs, Abortions, Depopulation with Manmade SARS-Cov-2 Pandemic and Gates' Vaccines
So here is the sneaky ploy to supplant spirituality with emotion to paganize worship, devotion and put devout souls to sleep.
The Storm and the Assault of the Hooded first praised the unbridled romantic passion and then the Hymn to Satan (in the Odi Barbare of the Mason poet Giosuè Carducci) of the fallacious Scientism to obscure 7 thousand years of Judeo-Christian history revealed by the Holy Bible.
SUMMIT DI MASSONI IN SFREGIO AL PAPA. Per Celare i Complotti da Mazzini in poi. Breve Storia della Massoneria e di Letali Cospirazioni
This happened despite the warning of the great contemporary Italian saint Father Pio of Pietrelcina to defend the ethical values of the Gospel through the laws of the homeland. But those of the hooded began to prevail and are increasingly prevailing…
With grenades they breached the Papal State, but not in the hearts of children who had been fond of the Child Jesus for centuries, ever since the Friar of Assisi who spoke to robins and wolves invented the Crib.
All that was left for the Mason brothers was to dig into the Celtic-Druid neo-pagan cultures dear to them. But since the Smurfs weren't enough to eclipse the star of Bethlehem and the Holy Child, they recruited the worst killer: the no-gender Santa Claus.
St. Pio' Prophecy on Christians' homelands, NWO Rockefeller's Abortion law and Masons war
Santa Claus is a nocturnal wanderer, fat do-gooder and false saint, who, after 2,000 years, wants to emulate Herod and thwarts the Micah's prophecy (5,1) with vain gifts and phony prodigies from urban legends: he is trying to kill the Divine Child obscuring its memory.
Just like the pagan totem of the Christmas tree, he is trying to replace the Crib now adrift among a thousand provocations. The last one took place in a Basilica in Rome with the inclusion among the shepherds with the sheep, an allegory of Jesus' mission, of a doctor committed to promoting the experimental and very dangerous anti-Covid gene serums!
MEDICO PRO-VAX NEL PRESEPE SUL PROGETTO "DREAM" FINANZIATO ANCHE DA GATES! Bufera sulla Statuina con la 5a Dose antiCovid esposta da Sant'Egidio a Roma
To kill Baby Jesus the diabolical Masonic conspiracy, projected towards transhumanism thanks to the plotted pandemicand vaccines capable of altering human DNA, is making a transgender propaganda to primary school children to make spiritual massacre of pure souls in the war for millennia losing against the real God of Abraham, Israel and Jesus Christ.
But in our lives and in those of our children, only we are called to decide who to defend and who to let win…
Russia: the Last True Bulwark of Christianity. LGBT Propaganda Prohibited to Protect Children against Gender Theory and Pedophilia
Just take the example of the new Tsar of Russia who imposed a ban on LGBT Lobby promotions after reconverting of the Communist country to Orthodox Christianity (but without limitations to the Catholic one) thanks to the consecration to the Madonna inspired by the secrets of Fatima given by the Blessed Virgin to Sister Lucia, implemented by one of the greatest pacifists in history, Pope John Paul II, and protected by Russian President Vladimir Putin who since 2014 has tried in vain to stop, through multiple peace agreements, the genocide carried out in Donbass by the neo-Nazi and Satanist paramilitaries of the Azov Battalion with the massacre of at least 500 innocent children in 8 years.
A genocide legitimized to carry out any ferocity by the Kiev regime which, among the first cultural actions when it took power after the NATO coup in Euiromaidan square, banned the Russian language (as it is now persecuting the Russian Church) and introduced Gay Pride in defense of that transgender culture well represented by Santa Claus.
Orban saves the Patriarch of Moscow from the LGBT Lobby's Revenge. Hungary stops EU sanctions on Kirill who Blamed Kiev due to Gay Pride
«If humanity recognizes that sin is not a violation of God's law, if humanity agrees that sin is one of the options for human behavior, then human civilization will end there» is the tremendous prophecy of the chief of the Russian Orthodox Church, Patriarch Kirill, delivered in one of his sermons that caused the Italian and world media to cry out in scandal for his example on gay parades «designed to demonstrate that sin is one of the variations of human behavior».
ETYMOLOGICAL ANALYSIS ON SANTA CLAUS
Santa Claus has 453million Google entries versus 513million for Child Jesus, 417million for Christ Child, 296million for Baby Jesus, 39million for Infant Jesus and 12million for Baby Jesus. The name comes from the Dutch Sinter Klass (Niklass).
It therefore refers to the story of the real Saint Nicholas of Bari who had much veneration among the Nordic populations probably as the patron saint of sailors but was adulterated in an atheistic key. Even St. Nicholas, protector of children, bishop of Mira, wore a long red dress.
From Fatima to Ukraine. The Useless Lesson of Peace by Pope Wojtyla to Christians that want Weapons and War
But in the universal Anglophone version, the smiling fat man with a beard is qualified by the adjective "Santa" of Hispanic etymology with a female declension that nullifies the gender disambiguation in a surreptitious and subliminal no-gender ante litteram psychological imprint.
The emphasis of the semantic oxymoron is all the more serious, treacherous and stubbornly sought after if we consider that in English the adjective "Saint" already has a double meaning for both masculine and feminine…
But on Google Saint Claus has only 27 million entries: in any case twice as many Baby Jesus in Italian!
Fabio Giuseppe Carlo Carisio
© COPYRIGHT GOSPA NEWS
prohibition of reproduction without authorization 
follow Gospa News on Telegram
GOSPA NEWS – WUHAN-GATES DOSSIER
To Understand Israeli LGBTQ Propaganda we have to Learn Difference between Masonic-Zionism and Judaism
Christians Persecuted by NeoNazi Kiev Regime: Other Ukraine Security Service SBU's Raids in Orthodox Churches
WUHAN-GATES – 59. "Dangerous SARS-2 & Omicron Lab Experiments without Risk Assessment. STOP Them!". Alert by 5 US Senators. Russia blames the last Boston Research
An American Neo-Nazi who Fought within Azov Battalion Avowes the Crimes of his Ukrainian 'colleagues'
NATO's COUP IN UKRAINE: THE GENESIS – 1. Snipers' Massacre in Kiev Maidan Square 2014 like that on CIA's Shade in Caracas 2002
The Study that Changed Covid Vaccines History. Pfizer mRNA Serum can Alter Human DNA. Entering in Cells through Liver
Masonic Funds for Garibaldi's Expedition, British Legion with Times' Reporters & Mobsters Allied in Sicily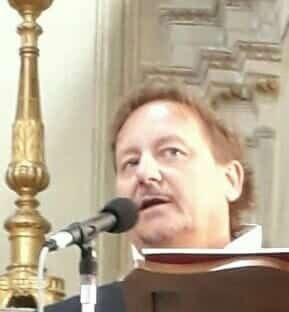 Fabio is Director and Editor of Gospa News; a Christian Information Journal.
Fabio Giuseppe Carlo Carisio, born on 24/2/1967 in Borgosesia, started working as a reporter when he was only 19 years old in the alpine area of Valsesia, Piedmont, his birth region in Italy. After studying literature and history at the Catholic University of the Sacred Heart in Milan, he became director of the local newspaper Notizia Oggi Vercelli and specialized in judicial reporting.
For about 15 years he is a correspondent from Northern Italy for the Italian newspapers Libero and Il Giornale, also writing important revelations on the Ustica massacre, a report on Freemasonry and organized crime.
With independent investigations, he collaborates with Carabinieri and Guardia di Finanza in important investigations that conclude with the arrest of Camorra entrepreneurs or corrupt politicians.
In July 2018 he found the counter-information web media Gospa News focused on geopolitics, terrorism, Middle East, and military intelligence.
His articles were published on many international media and website as SouthFront, Reseau International, Sputnik Italia, United Nation Association Westminster, Global Research, Kolozeg and more…
His investigations was quoted also by The Gateway Pundit, Tasnim and others
He worked for many years for the magazine Art & Wine as an art critic and curator.
ATTENTION READERS
We See The World From All Sides and Want YOU To Be Fully Informed
In fact, intentional disinformation is a disgraceful scourge in media today. So to assuage any possible errant incorrect information posted herein, we strongly encourage you to seek corroboration from other non-VT sources before forming an educated opinion.
About VT
-
Policies & Disclosures
-
Comment Policy
Due to the nature of uncensored content posted by VT's fully independent international writers, VT cannot guarantee absolute validity. All content is owned by the author exclusively. Expressed opinions are NOT necessarily the views of VT, other authors, affiliates, advertisers, sponsors, partners, or technicians. Some content may be satirical in nature. All images are the full responsibility of the article author and NOT VT.