!function(r,u,m,b,l,e){r._Rumble=b,r[b]||(r[b]=function(){(r[b]._=r[b]._||[]).push(arguments);if(r[b]._.length==1){l=u.createElement(m),e=u.getElementsByTagName(m)[0],l.async=1,l.src="https://rumble.com/embedJS/uv4c46″+(arguments[1].video?'.'+arguments[1].video:")+"/?url="+encodeURIComponent(location.href)+"&args="+encodeURIComponent(JSON.stringify([].slice.apply(arguments))),e.parentNode.insertBefore(l,e)}})}(window, document, "script", "Rumble");
Rumble("play", {"video":"v27yrd6″,"div":"rumble_v27yrd6″});
Moderator: Next up is Dr. Kevin Barrett. Dr. Barrett, a PhD Arabist-Islamologist, holds advanced degrees in English literature, French literature and African literature, and is the author of three books, including Questioning the War on Terror: A Primer for Obama Voters,published in 2009, which deconstructs the war on terror "through Socratic questioning." Dr. Barrett was also the lead editor, along with John Cobb and Sandra Lubarsky, of 9/11 and American Empire Volume Two: Christians, Jews and Muslims Speak Out. His other books include Another French False Flag, Bloody Tracks from Paris to San Bernardino; We Are Not Charlie Hebdo Freethinkers Questioning the French 9/11; and Truth Jihad: My Epic Struggle Against the 9/11 Big Lie. Dr. Barrett has taught the French and Arabic languages, African literature, English, humanities, religious studies, and folklore at colleges and universities in the US and abroad. He has been a Muslim since 1993 and is dedicated to spreading the truth to build a sustainable future. He has both a scholarly and personal interest in Islamic spirituality and wrote a PhD dissertation comparing medieval North African Saints legends to contemporary personal experience narratives from the Fez and Ouija regions of Morocco. He is a co-founder of the Muslin Jewish Christian Alliance for 9/11 Truth and Muslims for 9/11 Truth, and has lectured widely throughout the US as well as in Canada and Morocco. Blacklisted from teaching at the University of Wisconsin system since 2006, Dr. Barrett has worked as a talk radio host, author, public speaker and congressional candidate in Wisconsin's third district in 2008. One of the best known critics of the war on terror, Dr. Barrett, has appeared on FOX, CNN, PBS, ABC TV and Univision, and has been the subject of op-eds and feature stories in the New York Times, Chicago Tribune, Christian Science Monitor and other publications. I'm sorry for rushing through this quickly, but we'd like to hear everything that Dr. Barrett has to say. I give you Dr. Barrett.
Kevin Barrett: Thank you. My title is Why Chomsky is Wrong about 9/11. If I tried to cover that in full detail, we'd be here all night. So this is going to be the short version. But let's see, we have the first slide here: He's not wrong about everything. And we'll touch on the points where where he is right. And ultimately, we'll go through a lot of areas where he doesn't even really rise to the level of being wrong, because he's not saying anything coherent. I will try to find what he does say that's coherent and make some sense of it.
So the next slide is the back cover of his book and my reaction to it.
That's Hillary Clinton allegedly witnessing the execution of Osama bin Laden on live simulcast, just like some people are witnessing this speech on live simulcast. And some of them are probably (likewise) putting their hands on their mouths in shock. Actually, Chomsky doesn't tell you in the new version of his book, 9/11, that that picture is simply a photo op.
Chomsky is the man who wrote the book on 9/11 from the viewpoint of the American left. The original version of this book came out in November 2001, and it was reissued in, I think, 2011 as a ten year anniversary thing. And on the back cover is this picture of Hillary Clinton "shocked by bin Laden's execution." Well, Chomsky doesn't even tell you in the book that that picture is simply a photo op and that there was, in fact, no such live simulcast.
This was one of the many lies that were put out and that have been exposed, even in the mainstream in this case. And it's kind of interesting that he would put this on the cover of the book without telling you that they weren't even really watching the alleged execution of bin Laden. He also doesn't go into the many, many other lies about the alleged execution of bin Laden that have been exposed by people like Seymour Hersh, who said that the entire story of the supposed killing of bin Laden is just one big lie, that nothing remotely like that even happened.
But just because Chomsky can be very, very wrong on these matters doesn't mean he's wrong about everything. He's certainly right about this: that "the general population doesn't know what's happening and doesn't even know that it doesn't know."
I guess that's sort of a counterpart to what Rumsfeld said about the known knowns and the unknown knowns and the known unknowns and unknown unknowns. Noam and I are on the same page with that.
But here's where he's really right…
Read the full transcript at my Substack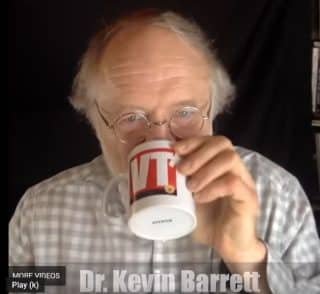 Dr. Kevin Barrett, a Ph.D. Arabist-Islamologist is one of America's best-known critics of the War on Terror.
He is the host of TRUTH JIHAD RADIO; a hard-driving weekly radio show funded by listener subscriptions at Substack and the weekly news roundup FALSE FLAG WEEKLY NEWS (FFWN).
He also has appeared many times on Fox, CNN, PBS, and other broadcast outlets, and has inspired feature stories and op-eds in the New York Times, the Christian Science Monitor, the Chicago Tribune, and other leading publications.
Dr. Barrett has taught at colleges and universities in San Francisco, Paris, and Wisconsin; where he ran for Congress in 2008. He currently works as a nonprofit organizer, author, and talk radio host.
ATTENTION READERS
We See The World From All Sides and Want YOU To Be Fully Informed
In fact, intentional disinformation is a disgraceful scourge in media today. So to assuage any possible errant incorrect information posted herein, we strongly encourage you to seek corroboration from other non-VT sources before forming an educated opinion.
About VT
-
Policies & Disclosures
-
Comment Policy
Due to the nature of uncensored content posted by VT's fully independent international writers, VT cannot guarantee absolute validity. All content is owned by the author exclusively. Expressed opinions are NOT necessarily the views of VT, other authors, affiliates, advertisers, sponsors, partners, or technicians. Some content may be satirical in nature. All images are the full responsibility of the article author and NOT VT.