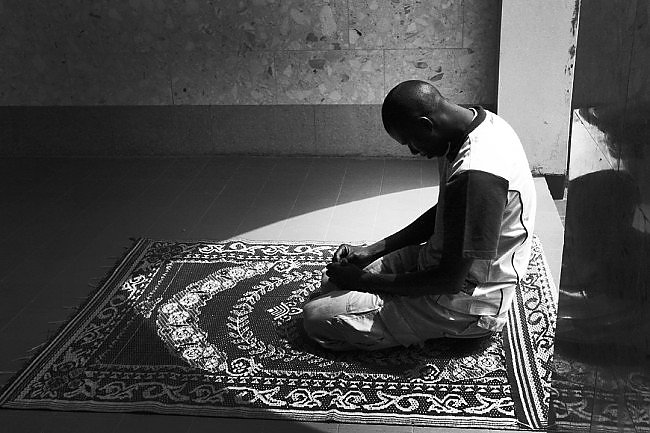 A new study by the Journal of Military Medicine has shown that meditation can ease the symptoms of Post-Traumatic Stress Disorder (PTSD).  Though the study used Transcendental Meditation (TM), it stand to reason that Islamic Meditation (IM)—which includes asking God for forgiveness for ones morally wrong actions—could be even more effective.
According to Grossman's research, guilt at participation in killing is the major source of PTSD
According to "killology" research by Col. Dave Grossman and colleagues, the leading factor in veterans' PTSD is deep-seated guilt, whether conscious or unconscious, stemming from participation in the killing of one's fellow human beings—an act which does violence not only to the victim, but to the psyche of the perpetrator as well. TM and other "secular" meditation techniques, which lack a moral/ethical dimension, cannot address such issues.
There are basically three forms of Islamic meditation:
To learn how to perform salaat, read
The Illuminated Prayer
Salaat, the five-times daily prayer, is in some ways more of a kind of yogic meditation than what Christians think of as prayer. (Holding out your hands palms upwards and asking God for something is called dua in Islam – salaat is different.) Salaat consists of assuming a series of yogic postures embodying absolute peaceful self-submission to God, culminating in "sujood" as the forehead touches the floor. This is done at five key times in the daily solar cycle: sunrise, noon, mid-afternoon, sunset, and night. By entering into a state of deep relaxation at these key energetic moments of the day, you not only get the benefit of five experiences of complete relaxation and peacefulness every single day, but you also harmonize yourself with the sun-earth cycle. After a few weeks or months of regular salaat, will start to feel more "at home" here on earth. (This effect is especially helpful due to the prevalence of electric lighting in modern life, which has disrupted our circadian rhythms and cut us off from the natural solar cycle which, in normal and natural circumstances, regulates our cycles of hormone flows, body temperature, digestion, and so on.) And of course there is a beneficent spiritual effect from "plugging in" to the source of all existence on a regular basis. Huston Smith, a Methodist and one of America's greatest all-time comparative religion scholars, regularly practiced salaat (and may still be, though at 96 he probably isn't doing the full set of physical postures). Smith has spoken of salaat with the highest praise, saying that when the key moments of a day go by without salaat it is almost as if they—and the whole day—have been lost. Salaat is probably the biggest factor in studies showing that practicing Muslims do significantly better on the broad spectrum of individual and social "well-being" indicators than either non-practicing Muslims or non-Muslims.
Tafakkur, "contemplation" (of the mysteries and beauties of existence). This kind of meditation may be linked to intellectual and artistic production; often those who practice it are inspired to communicate their thoughts and experiences. When the greatest minds of all civilizations praised "the contemplative life" this is what they were talking about.
Dhikr. This word translates as "remembrance" or "remembering." So what does remembering have to do with meditation? Consider the wise words of William Wordsworth:

          Our birth is but a sleep and a forgetting:
          The Soul that rises with us, our life's Star,
              Hath had elsewhere its setting,
                And cometh from afar:
              Not in entire forgetfulness,
              And not in utter nakedness,
          But trailing clouds of glory do we come
              From God, who is our home:
          Heaven lies about us in our infancy!
          Shades of the prison-house begin to close
              Upon the growing Boy,
          But He beholds the light, and whence it flows,
              He sees it in his joy;
          The Youth, who daily farther from the east
              Must travel, still is Nature's Priest,
              And by the vision splendid
              Is on his way attended;
          At length the Man perceives it die away,
          And fade into the light of common day.
So when we practice dhikr, we are remembering "God, who is our home." In Islam there is no original sin; a perfect God can only create a perfect creation, so all we need to do is REMEMBER the perfection from which we came and to which we return. Dhikr consists of repetitions of special sounds and phrases, combined with breathing techniques, enabling us to actually "remember" our Divine source — not in the sense of intellectually remembering information, but in the experiential sense of re-experiencing, like Proust re-experiencing the taste of his famous childhood madeleine. The Qur'an tells us to practice dhikr while standing, sitting, laying down on our sides…and Sufis, who have developed dhikr into a science of meditation, do all of the above.
One of the most commonly practiced dhikr formulas is "astaghfirullah" meaning "I ask God for forgiveness." This would seem to have special efficacy for treating PTSD, which, as mentioned, is partly caused by deep feelings of guilt due to participation in unjust wars and killing.
According to Islam, God's first two tangible characteristics are mercy and compassion, to which we appeal when performing istighfar.
Many American veterans of the 9/11 wars have converted to Islam and practiced various forms of Islamic meditation—giving them not only hope of divine forgiveness, but also forgiveness from the world's 1.8 billion Muslims, who have been targeted by these criminal wars launched on satanic Big Lies. Muslims—meaning real Muslims, not takfiri lunatics—are famously quick to forgive those who sincerely repent, and are the most generous and loving people in the world in welcoming brothers and sisters from all races and cultures into their faith.
The practitioners of TM, Zen, Tibetan Buddhism, yoga and other traditions that use meditation have thus far been more effective than Muslims in educating Westerners about the benefits of these practices. I hope that more Muslims will join the worldwide awakening to the benefits of meditation, and work harder at explaining the beauty and efficacy of their own traditions to the world.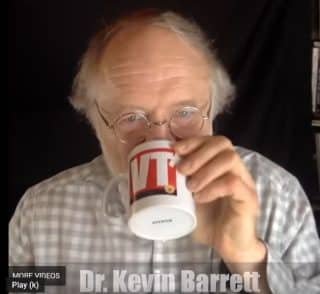 Dr. Kevin Barrett, a Ph.D. Arabist-Islamologist is one of America's best-known critics of the War on Terror.
He is the host of TRUTH JIHAD RADIO; a hard-driving weekly radio show funded by listener subscriptions at Substack and the weekly news roundup FALSE FLAG WEEKLY NEWS (FFWN).
He also has appeared many times on Fox, CNN, PBS, and other broadcast outlets, and has inspired feature stories and op-eds in the New York Times, the Christian Science Monitor, the Chicago Tribune, and other leading publications.
Dr. Barrett has taught at colleges and universities in San Francisco, Paris, and Wisconsin; where he ran for Congress in 2008. He currently works as a nonprofit organizer, author, and talk radio host.
ATTENTION READERS
We See The World From All Sides and Want YOU To Be Fully Informed
In fact, intentional disinformation is a disgraceful scourge in media today. So to assuage any possible errant incorrect information posted herein, we strongly encourage you to seek corroboration from other non-VT sources before forming an educated opinion.
About VT
-
Policies & Disclosures
-
Comment Policy
Due to the nature of uncensored content posted by VT's fully independent international writers, VT cannot guarantee absolute validity. All content is owned by the author exclusively. Expressed opinions are NOT necessarily the views of VT, other authors, affiliates, advertisers, sponsors, partners, or technicians. Some content may be satirical in nature. All images are the full responsibility of the article author and NOT VT.