The British government has issued new directives aimed at preventing public entities, universities and student unions from boycotting Israeli products. The new rules authorize the British government to take legal action against organizations that impose such boycotts.
Even as a supporter of every form of resistance to Israel and Zionism and a supporter of the BDS principle, I am thrilled by these new draconian measures, as I am always delighted when Jewish power manifests its true face. There is a problem though. BDS has never taken on Jewish power. BDS is in itself a manifestation of Jewish power.
The BDS movement was compromised from its onset. BDS changedits goal statement in an effort to appease its Jewish supporters and Zionist funders.* Many commentators now see that BDS has been reduced to an internal Jewish exchange that benefits Israel and Zionism. Instead of debating 'Israel's right to exist,' the argument has been changed into various Jews arguing about the 'right to BDS.' This is a very clever move on Netanyahu/Mondoweiss' part.
BDS, originally intended to mount economic and political pressure on Israel and its supporters, achieved the opposite. It united the Jews, both Zionists and the so called 'anti,' in a debate on BDS.
The new British anti BDS bill is a spectacle of Jewish power, both Zionist and 'anti.' BDS is now an internal Jewish debate. Read today's Middle East Monitor report on the dissent to the new directive. The Palestinians are not even mentioned. Instead we learn about the good BDS Jews.  "Amongst those who have objected to the plans were British Jews from various organisations who defended the BDS movement as "a weapon of moral persuasion, deploying a tactic frequently used by powerless people in their opposition to racism, slavery and oppression."
As if the opposition to the British Government wasn't Jewish enough, the Middle East Monitor drops a few Jewish names to add texture to this chicken soup:
"Signed by Jacqueline Rose of the Independent Jewish Voices, Michael Kalmanovitz of the International Jewish Anti-Zionist Network and Julia Bard of the Jewish Socialists' Group, the letter further states how the only form of anti-Semitism the government is leaning toward is the belief "that all Jews outside Israel uncritically support Israel's actions."
I pray for the Palestinians that one day soon they will manage to reclaim their own struggle from its dominance by a league of oppressors.
In case you seek a "Kosher stamp of approval", Naomi @JBIG is happy to give you one
[youtube xLL-CITMu5M?list=PLPzqNQ_7C6c9Nob8p99hd9iEFRAlev1lC]
—
* When the call for Boycott, Divestment & Sanctions of Israeli goods was established in 2005 in Ramallah its first demand was for Israel to:
"End[ing] its occupation and colonization of all Arab lands and dismantl[ing] the Wall" (http://www.bdsmovement.net/call)
This call didn't leave room for interpretation. Back in 2005, the BDS movement disputed the legitimacy of the Jewish State.
But in 2010, its primary goal was changed significantly, it now reads:
"Ending its occupation and colonization of all Arab lands occupied in June 1967 and dismantling the Wall" (http://www.bdsmovement.net/bdsintro).
There is no public record of the process that led to this change. And as if to prove its deceptive nature, the change appears only in English and has never been integrated into any of the official BDS publications in Arabic. It is likely that most Palestinians are not aware of the change made on their behalf by people who claim to be their 'grass root' representatives. Further study suggests that the change in the BDS goal statement that de-facto legitimizes the Jewish State took place at the time the BDS became popular amongst Jewish activists and accepted funds from liberal Zionist George Soros's Open Society Institute. You can read more about BDS, Soros money promoting BDS campaign here:http://www.gilad.co.uk/writings/israelpalestine-and-the-queer-international-a-book-review-by.html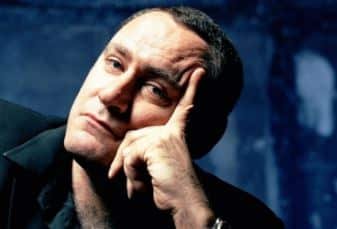 Gilad Atzmon is an Israeli-born British jazz saxophonist, novelist, political activist, and writer.
Atzmon's album Exile was BBC jazz album of the year in 2003. Playing over 100 dates a year, he has been called "surely the hardest-gigging man in British jazz." His albums, of which he has recorded nine to date, often explore the music of the Middle East and political themes. He has described himself as a "devoted political artist." He supports the Palestinian right of return and the one-state solution in the Israeli-Palestinian conflict.
His criticisms of Zionism, Jewish identity, and Judaism, as well as his controversial views on The Holocaust and Jewish history, have led to allegations of antisemitism from both Zionists and anti-Zionists. A profile in The Guardian in 2009 which described Atzmon as "one of London's finest saxophonists" stated: "It is Atzmon's blunt anti-Zionism rather than the music that has given him an international profile, particularly in the Arab world, where his essays are widely read."
His book The Wandering Who? is available at Amazon.com
ATTENTION READERS
We See The World From All Sides and Want YOU To Be Fully Informed
In fact, intentional disinformation is a disgraceful scourge in media today. So to assuage any possible errant incorrect information posted herein, we strongly encourage you to seek corroboration from other non-VT sources before forming an educated opinion.
About VT
-
Policies & Disclosures
-
Comment Policy
Due to the nature of uncensored content posted by VT's fully independent international writers, VT cannot guarantee absolute validity. All content is owned by the author exclusively. Expressed opinions are NOT necessarily the views of VT, other authors, affiliates, advertisers, sponsors, partners, or technicians. Some content may be satirical in nature. All images are the full responsibility of the article author and NOT VT.