It's not hard to imagine a dystopian future in which calling for a boycott of Israel can result in the death penalty. Does that sound farfetched?
Last summer, Sheldon Adelson, Haim Saban and other wealthy Jews got together and hosted an anti-BDS summit at Adelson's luxury Venetian hotel in Las Vegas. Closed to the media and the public, the conference nonetheless was expected to raise millions, and if recent events in France, the UK, and the US are any indication, the efforts of its participants are now starting to bear fruit.
France
One of the most powerful and influential Jewish groups in France is the Representative Council of French Jewish Institutions, or CRIF, whose president has issued calls for a ban on all BDS protests.
In a speech before CRIF in January, French Prime Minister Manuel Valls, too, echoed similar sentiments, asserting that the BDS movement has created a "nauseating climate" and calling for the adoption of sterner measures.
"It is perfectly obvious how we have shifted from criticism of Israel to anti-Zionism and from anti-Zionism to anti-Semitism," Valls said.
Specifically, the prime minister was reacting to a protest organized by BDS activists which French police did allow in early January. The protest took place at the Paris Opera Square and was organized in response to a performance by the Israeli Batsheva Dance Company at the nearby Palais Garnier.
"I think the government must change attitudes towards this type of events," Valls said. "It seems to me to be part of a nauseating climate, so I'm more attentive about it. I think we'll make arrangements–but still within the law–to show that enough is enough and that one cannot get away with everything in our country."
Get away with everything?
The prime minister's comments came on the heels of a ruling against 12 BDS activists by a French appellate court in a decision which found the activists guilty of "discrimination" and of inciting "hate." Their crime? Entering a supermarket wearing t-shirts saying, "Long live Palestine, boycott Israel," and handing out flyers encouraging customers to boycott Israeli goods.
In the wake of the ruling, CRIF's chief lawyer, Pascal Markowicz, posted a triumphant message on the organization's website reading: "BDS is ILLEGAL in France." He added that if Palestine solidarity activists "say their freedom of expression has been violated, now France's highest legal instance ruled otherwise."
The twelve activists have been ordered to pay fines totaling $14,500 plus court costs. The law they were prosecuted under is known as the "Lellouche law," implemented in 2003 and named after French Jew Pierre Lellouche, a political ally of Nicolas Sarkozy.
Named for the Jewish parliamentarian who introduced it in 2003, the law is among the world's most potent legislative tools to fight the growing Boycott, Divestment and Sanctions movement, or BDS, and has catapulted France to the forefront of efforts to counter the movement through legal means.
That's how the Lellouche law has been described by Haaretz (as quoted here) in an article which also documents the reaction to the French court ruling by European Jewish leaders, some of whom are salivating to see similar measures enacted elsewhere in Europe:
"The French government and judiciary's determination in fighting discrimination, and the Lellouche law especially, are exemplary for Belgium and other nations where discriminatory BDS is happening," said Joel Rubinfeld, co-chair of the European Jewish Parliament and president of the Belgian League Against Anti-Semitism.
The word "discrimination" is key to understanding the sort of reasoning at work: the Lellouche law extended France's laws against racial discrimination in a manner that would make them applicable to nations as well as groups of people. The law in question addresses the issue of freedom of the press, but also provides for a fine of up to $50,000 upon those who "provoke discrimination, hatred or violence toward a person or group of people on grounds of their origin, their belonging or their not belonging to an ethnic group, a nation, a race or a certain religion."
Jewish media outlets were jubilant at the ruling.
"It's official: BDS is hate speech," proclaimed the JNS.
The supreme irony, of course, is that CRIF has been a vociferous advocate of sanctions on Iran. In commenting on this case, a number of people have underlined the hypocrisy in that, while also pointing out that it's perfectly legal to also call for sanctions against Russia or Sudan or any other country in the world. It's only Israel you are not allowed to "discriminate" against.
In addition to all this taking place at the federal level, the Paris City Council also adopted anti-BDS resolutions opposing "all attempts to isolate Israel from the collective of nations." The action took place on February 16, and one of the resolutions will bar city departments or city-affiliated organizations from hosting events or fostering ties with the BDS movement. The bill was sponsored by the French Republican Party, which referred to calls for a boycott of Israel as "divisive and hateful" and insisted they "have no place in Paris."
UK
The UK government is also initiating new measures aimed at BDS. The main thrust seems to be directed at local city councils, some of which, such as Leicester, have adopted independent boycott measures, although publicly funded universities and possibly even student union groups could be facing "severe penalties" as well, according to The Independent.
Under the plan all publicly funded institutions will lose the freedom to refuse to buy goods and services from companies involved in the arms trade, fossil fuels, tobacco products or Israeli settlements in the occupied West Bank.

Any public bodies that continue to pursue boycotts will face "severe penalties", ministers said.

Senior government sources said they were cracking down on town-hall boycotts because they "undermined good community relations, poisoned and polarised debate and fuelled anti-Semitism".
The boycott measure adopted by the Leicester City Council was passed in 2014 and was specifically directed at goods produced in Israeli settlements. That same year the Scottish government also published a "procurement notice" directed at local councils in Scotland. The notice "strongly discourages trade and investment from illegal settlements," and four Scottish councils–Clackmannashire, Midlothian, Stirling, and West Dunbartonshire–all adopted boycott resolutions.
So what will be the next step? If the new measures being pushed by the Cameron government go into effect will all of these councils simply be required to rescind their boycott resolutions? Or will Westminster take compliance a step further and by forcing them to purchase goods from the Israeli settlements?
The answer is not clear, but what is clear is that the pressure coming down on the local councils isn't just from the central government alone. According to The Independent, two councils in Wales which had also adopted boycott resolutions–Gwynedd and Swansea–rescinded their measures voluntarily after lawsuits were filed by a Jewish organization.
Though The Independent's report on the new initiative appeared in its Sunday, February 14 edition, it wasn't until Wednesday February 17 that the UK government made a formal announcement on the matter. And tellingly, that announcement was made not in the UK but in Israel–by UK Minister Matt Hancock who was on an official visit to the Jewish state along with other Parliament members.
UK Cabinet Office Minister Matthew Hancock meets with Israeli Prime Minister Benjamin Netanyahu
"To have over 20 British parliamentarians in Israel at that announcement was very symbolic, and even historic," said James Gurd, executive director of the Conservative Friends of Israel. "Israel can rest assured that its got friends fighting for it."
According to the Sunday Times of London (as quoted here), "the rules will allow the government to act against organisations that impose boycotts and make it easier for others to take such bodies to court."
As may be expected, the announcement met with criticism from the Palestinian side. PLO Executive Committee member Hanan Ashrawi and Secretary-General Saeb Erekat both issued a joint statement saying the new policies would "empower the Israeli occupation by sending a message of impunity."
It is "no longer acceptable," they said, "for any government to claim support for the two-state solution while granting immunity to Israeli crimes and systematic violations of international law and UN resolutions."

"Those who claim to seek the two-state solution should hold Israel accountable for deliberately destroying the prospects of peace and should work on ending the Israeli occupation rather than rewarding it," the statement added.
Besides the new measures under consideration, Britain has also passed the Counter-Terrorism and Security Act of 2015, among the provisions of which were to give new impetus to  a controversial "anti-radicalization" program known as Prevent. Previously the program had been voluntary, but now for the first time it's approach is mandated by statute.
And apparently as a consequence of the new law, a British high school boy found himself under questioning by police after wearing a "free Palestine" badge and wristband to class. Rahmaan Mohammadi reportedly was also in possession of a leaflet put out by a pro-Palestine activist group as well, and he had even  asked permission to fundraise for children living under Israeli occupation. Apparently this caused all sorts of alarm bells to go off for school officials.
However, in a report here, the school in question, Challney School for Boys in Luton, defends itself, saying its concern had not been about the badge or the wristband or the leaflet or the fundraising, and that "the fact of the matter is that the school does not permit the wearing of any accessories that are not part of the school uniform…"
Whatever the facts of the case, it is reported that a number of pro-Palestine activist groups in Britain have had their bank accounts shut down, while more than 200 UK academics have signed onto an open letter opposing the Prevent program on the grounds of its "chilling effect on open debate, free speech and political dissent."
US
On February 11, the US Senate voted 75-20 in favor of a sweeping trade bill which contains within it an anti-BDS clause that basically conflates Israel and the Occupied Territories into one entity.
Significantly, in its opposition to BDS, the bill makes no distinction between Israel and "Israeli-controlled territories," and it sets the US government in firm opposition to any and all boycott measures against either. This aspect was criticized by the Obama administration, which announced nonetheless that, in the interest of "bipartisan compromise," the president will sign the legislation into law anyway.
In articulating the administration's reservations on the matter, White House spokesperson Josh Earnest clarified that the measure "contravenes longstanding US policy towards Israel and the occupied territories, including with regard to Israeli settlement activity."
But apparently contravening longstanding policy was no barrier to Obama in putting his signature on the bill, nor apparently was the fact that Congress was in essence "trying to legislate de facto U.S. recognition of Israeli sovereignty" over the territories, as one analyst puts it:
This law represents, truly, an extraordinary constitutional usurpation by Congress. If left unchallenged, it will compel U.S. trade officials to act as if the U.S. de facto recognizes Israeli sovereignty in the West Bank, even though the executive has granted no such recognition. In doing so, it will transform U.S. trade negotiators into defenders and lobbyists for settlements, contrary to consistent U.S. policy dating back almost half a century, to the birth of the settlement project.
The new law is called the Trade Facilitation and Trade Enforcement Act of 2015, or TFTE (HR 644), the full text of which can be found here. Most of it deals with trade matters, but one section, 909, hones in on BDS and seeks to "discourage politically motivated boycotts of, divestment from, and sanctions against Israel and to seek the elimination of politically motivated nontariff barriers on Israeli goods, services, or other commerce imposed on Israel."
The sponsors of the bill also seem to have taken a cue from French lawmakers (or maybe the French took a cue from them), for the legislation defines BDS measures as being "contrary to the principle of nondiscrimination under the GATT 1994."
GATT, or the General Agreement on Tariffs and Trade, set up the World Trade Organization and has been blamed by a number of analysts for the outsourcing of US jobs by corporations into countries with cheaper labor. GATT and NAFTA, the other major trade agreement from the 1990s, have both had disastrous effects on the US economy.
The TFTE sets up a time frame–six months from the date of enactment–in which the president will report to Congress on BDS actions aimed at Israel. Items to be included in this report are:
A description of "barriers to trade" being imposed upon any "United States persons" doing business either in Israel, the Occupied Territories, or with any "Israeli entities";
A description of "specific steps" being taken to persuade any "international organizations" who may be involved in BDS advocacy, and any "foreign countries" as well, to "cease creating such barriers and to dismantle measures already in place, and an assessment of the effectiveness of such steps";
A description of "specific steps" being taken to prevent "investigations or prosecutions" of "United States persons" on the basis of doing business with Israel (the legal definition of a "United States person" can include "any agency or branch of a foreign entity located in the United States," although the law itself seems to offer a more limited definition);
Decisions by "foreign persons, including corporate entities and state affiliated financial institutions" who "limit or prohibit economic relations with Israel or persons doing business in Israel or in any territory controlled by Israel."
The above would suggest Congress may be planning to penalize corporations that curtail or end their business relations with Israel, and could even be contemplating sanctions against countries that issue arrest warrants or war crimes charges against Israeli officials. How, or if, the TFTE might impact such countries as Brazil, for instance, which refused to recognize an Israeli ambassador on the grounds of his affiliation with settlements, is unclear.
One thing is certain, though: the TFTE isn't the only monstrosity in the pipeline. Other bills that have been introduced include (h/t LobeLog):
HR 4514/S 2531–the "Combatting BDS Act of 2016." The bill seeks to "authorize State and local governments to divest from entities that engage in commerce or investment-related boycott, divestment, or sanctions activities targeting Israel, and for other purposes."
HR 4503–the "Fair Treatment of Israel in Product Labeling Act of 2016." Would allow the word "Israel" to be used on labels for goods originating from the West Bank or the Gaza Strip.
H.Res. 567/S.Res.346–expressing opposition–to the EU initiative requiring goods from the Occupied Territories to be labeled as such–on the grounds that "such actions undermine efforts to achieve a negotiated Israeli-Palestinian peace process"
HR 4522/S 2537–the "PLO Accountability Act"–seeks to shut down the PLO office in Washington (the Senate bill was introduced by Ted Cruz);
In addition to the above, there are also anti-BDS measures currently pending or already approved in a number of state legislatures, including New York, Pennsylvania, California, Indiana, Virginia, Florida, Alabama and Tennessee. Doubtless Adelson, Saban, and AIPAC are feeling well pleased with themselves at this point. At the same time it would be unwise for us to assume they aren't desirous of seeing additional laws with even stronger enforcement mechanisms, or that they won't work diligently toward that end.
Conclusion
It's interesting to note that the passage of the TFTE in the US, the approval by the Paris City Council of the anti-BDS measures there, and the UK government's lowering of the boom on local councils and Hancock's visit to Israel–all took place within a week of each other. The legislative action in Paris and Hancock's announcement in Israel came within one day of each other–February 16 and 17–while the Senate's action on TFTE, along with Obama's announcement he would sign it, came on February 11.
Is the timing of all this just a coincidence, or is it reasonable to assume that some force behind the scenes was maneuvering things in this direction, and that that "something" was the Adelson summit in Las Vegas last summer?
Hard to say for sure, but here is how the Jewish newspaper The Forward reported the summit:
Leading Jewish mega-donors have summoned pro-Israel activists for a closed-door meeting in Las Vegas to establish, and fund, successful strategies for countering the wave of anti-Israel activity on college campuses.

The meeting, taking place this weekend, will be hosted by casino billionaire Sheldon Adelson and was organized by several other top Jewish funders, including Hollywood entertainment mogul Haim Saban, Israeli-born real-estate developer Adam Milstein and Canadian businesswoman Heather Reisman.

Organizers have sought to keep the gathering secret and have declined to respond to inquiries from the Forward that would confirm the upcoming meeting with two separate informed sources.
The conference took place the weekend of June 5-7. The French appellate court's ruling came on October 20; Valls' speech before CRIF on January 18; and then finally came the triple mezuzah-on-the-door in February.
And in addition to all this, there is now an anti-BDS measure being debated at the national level in Canada. The measure, which appears on track for passage, has won the support of Prime Minister Justin Trudeau as well as two of the country's main political parties, and just like French and American lawmakers, Canadian lawmakers are zeroing in on the issue of "discrimination."
Canadian Prime Minister Justin Trudeau with Netanyahu
Additionally, anti-BDS steps are being taken in Germany and Spain as well.
It would probably be going too far to attribute credit for all this entirely to Adelson. Clearly, however, pro-Israel lobbies in multiple countries have been working overtime, and what seems likely is that these various national efforts have been coordinated in sync with each other, possibly for the synergistic effect to be derived. "We own the world"–that seems to be the message being transmitted.
Netanyahu, it is reported, plans to come to Washington in March to address the AIPAC conference, scheduled for March 20-22. No word on whether he intends another speech before Congress (which he has addressed three times in the past–1996, 2011, and 2015)–but it's a safe bet that should the Israeli prime minister venture onto Capitol Hill for a fourth time he will be received like a reigning monarch.
So where is all this leading us? How long before referring to Israel as an apartheid state, or saying the words "free Palestine," are also made illegal? Perhaps a Jewish lobby will one day succeed in having the kaffiyeh banned as well, perhaps on the grounds that so adorning oneself in public will constitute "hate speech" or "discrimination."
Israel is more than simply a small cubicle of totalitarian rule where young girls are shot in the street and men in wheelchairs are turned upside down. What is growing increasingly clear is that gradually, piece by piece and country by country, the whole world is coming under its control and the control of its billionaire Jewish supporters.
How such a smothering trend can be turned back and reversed is a matter worthy of debate, but it's important for people to realize that this struggle is no longer simply about winning the freedom of Palestinians–for the Zionist yoke is around all our necks now.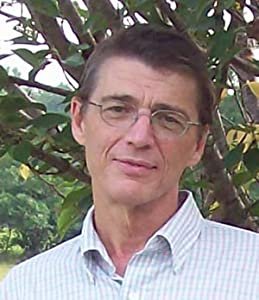 Richard Edmondson is an author, novelist, poet, and journalist whose writings often focus on Middle East issues, the Zionist lobby, and religion. His latest novel is The Memoirs of Saint John: When the Sandstone Crumbles, a story about an archaeological team doing a dig in Syria and set amidst the current conflict in the country.
In 2014 Richard attended an International Conference on Combating Terrorism and Religious Extremism, held in Damascus. The book is part two in the Memoirs of Saint John series.
Two other books by Richard are Rising Up: Class Warfare in America from the Streets to the Airwaves, relating his experiences founding and operating an unlicensed or "pirate" FM radio station in San Francisco in the 1990s, as well as a volume of poetry entitled American Bus Stop: Essay and Poems on Hope and Homelessness.
Richard is cognizant of the words of the early Christian writer Tertullian, who in the second century-basically prognosticating the fall of the Roman Empire-wrote: "We have made merry amid the ludicrous cruelties of the noonday exhibition."
ATTENTION READERS
We See The World From All Sides and Want YOU To Be Fully Informed
In fact, intentional disinformation is a disgraceful scourge in media today. So to assuage any possible errant incorrect information posted herein, we strongly encourage you to seek corroboration from other non-VT sources before forming an educated opinion.
About VT
-
Policies & Disclosures
-
Comment Policy
Due to the nature of uncensored content posted by VT's fully independent international writers, VT cannot guarantee absolute validity. All content is owned by the author exclusively. Expressed opinions are NOT necessarily the views of VT, other authors, affiliates, advertisers, sponsors, partners, or technicians. Some content may be satirical in nature. All images are the full responsibility of the article author and NOT VT.