An attorney named John Hinderaker just published his second vicious attack on me:
A DERANGED ANTI-SEMITE ACCUSES ME OF LIBEL
He ends the article:
If you think any of that is false and defamatory, please call my lawyer. 612.354.1239.
By "my lawyer" Hinderaker means … who else … Hinderaker himself! (His blog says: "John can be reached by phone at (612) 354-1239.") Which proves the truth of the old saw, "A man who is his own lawyer has a fool for a client."
VT readers tend to be of above-average intelligence, and many understand the law, not to mention the difference between true and false. More than a few are practicing attorneys.
So readers who think Hinderaker's article contains assertions that are false and/or defamatory may wish to contact him at (612) 354-1239 and explain why.
That's (612) 354-1239.
John Hinderaker's email, for the record, is powerlinefeedback@gmail.com .  (I'm not sure Wilson Pickett could sing quite so eloquently about an email address, though.)
Here are just a few of John Hinderaker's assertions that are false and/or libelous.
He describes the assertion that 9/11 was an inside job as "Barrett's crackpot views." The word "crackpot" is generally defined as "eccentric" meaning views obviously false and held by a minuscule minority, perhaps even a minority of one. Yet the belief that 9/11 was an inside job is neither obviously false  – for a scholarly analysis of why, see David Ray Griffin's Debunking 9/11 Debunking – nor the exclusive province of a tiny minority. In 2006, for example, 36% of Americans, meaning more than 100 million people, thought it likely. According to Time magazine, the 9/11 truth movement "is not a fringe phenomenon. It is a mainstream political reality."
Hinderaker describes me (and by extension you, if you think 9/11 was an inside job) with such terms as "crazed," "insanity," "nut," "lunatic," "deranged," "delusional," "absurd," "idiotic," and so on. He must have been relying heavily on his thesaurus. If enough people call him at (612) 354-1239 and explain why 9/11 skepticism is not a symptom of insanity, perhaps he will eventually understand that such assertions, made with reckless regard to any actual facts about your mental health and mine, could be regarded as defamatory.
Hinderaker repeatedly calls me an "anti-Semite." You may wish to call him at (612) 354-1239 and ask him to explain what that means. (We all know "anti-Semite" is a vicious insult that can end careers – but why is it so terrible to supposedly be opposed to people who speak Semitic languages? and what is his evidence that I oppose speakers of Arabic, Amharic, and so on?)
Hinderbaker calls me "a shill–I assume a paid shill, although I don't know anything about his financial arrangements–for the government of Iran." Well, I could say that Hinderbaker is a shill – I assume a paid shill, though I don't know anything about his financial arrangements – for the government of Israel. But precisely since I don't know anything about his financial arrangements, I wouldn't say that, because such denigration would be in reckless disregard for the truth, and therefore could be seen as defamatory. It would be interesting to call him at (612) 354-1239 to find out what his defense would be.
This brief list of defamatory items should by no means be construed as complete; there are plenty of others in Hinderbaker's two attack articles. See how many you can find, and consider calling him at (612) 354-1239 to inform him that he appears to be in violation of the law.
You may wish to record your voice-mail message to Hinderbaker – or your conversation with him, if he ever grows the guts to pick up his phone – so I can play it on Truth Jihad Radio. Email submissions in mp3 form to TruthJihadRadio(at)Gmail(dot)com. I will send a free book to anyone whose submissions are used. Best submission wins an autographed copy of the Kevin Barrett book of your choice.
Libel is a method of defamation expressed by print, writing, pictures, signs, effigies, or any communication embodied in physical form that is injurious to a person's reputation, exposes a person to public hatred, contempt or ridicule, or injures a person in his/her business or profession. –Cornell University Law School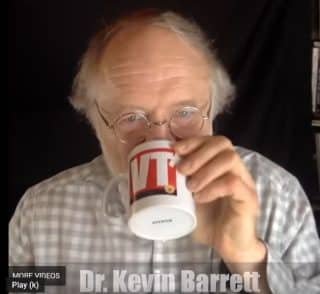 Dr. Kevin Barrett, a Ph.D. Arabist-Islamologist is one of America's best-known critics of the War on Terror.
He is the host of TRUTH JIHAD RADIO; a hard-driving weekly radio show funded by listener subscriptions at Substack and the weekly news roundup FALSE FLAG WEEKLY NEWS (FFWN).
He also has appeared many times on Fox, CNN, PBS, and other broadcast outlets, and has inspired feature stories and op-eds in the New York Times, the Christian Science Monitor, the Chicago Tribune, and other leading publications.
Dr. Barrett has taught at colleges and universities in San Francisco, Paris, and Wisconsin; where he ran for Congress in 2008. He currently works as a nonprofit organizer, author, and talk radio host.
ATTENTION READERS
We See The World From All Sides and Want YOU To Be Fully Informed
In fact, intentional disinformation is a disgraceful scourge in media today. So to assuage any possible errant incorrect information posted herein, we strongly encourage you to seek corroboration from other non-VT sources before forming an educated opinion.
About VT
-
Policies & Disclosures
-
Comment Policy
Due to the nature of uncensored content posted by VT's fully independent international writers, VT cannot guarantee absolute validity. All content is owned by the author exclusively. Expressed opinions are NOT necessarily the views of VT, other authors, affiliates, advertisers, sponsors, partners, or technicians. Some content may be satirical in nature. All images are the full responsibility of the article author and NOT VT.