Who's the real terrorist?
That's the theme of the Palestinian hip-hop classic "Man Irhabi" posted above.
It's also the theme of my two most recent Press TV interviews posted below.
Like a schoolyard bully slapping his own face with the tightly-gripped little hand of his victim and saying "you're hitting me, now I'm going to kick the sh*t out of you," the Empire of Lies stages false flag after false flag to convince the world that the victims of terrorism are actually terrorists, and that they themselves, the real terrorists, are the victims.
9/11 was an inside job. ISIS is US. Stand with Iran. End the crusades, give Palestine back. Viva la resistencia.
Every time one of the victims of the Empire of Lies and Terror manages to land a hard punch to the face of the bully, every sane and decent person on earth stands up and cheers.
Let us hope and pray that a million "terrorists" will blossom overnight, striking fear into the hearts of the psychopaths in power – not through evil, idiotic, counterproductive random attacks on civilians, but through [END OF SENTENCE REMOVED BY AUTO-INSTALLED NSA SELF-CENSORING MECHANISM].
And let us hope and pray that the truth – that virtually all terrorism (i.e. attacking innocent civilians) is committed by bankster-owned imperialist governments in general, and the Empire of Lies in particular – will permeate the consciousness of humanity to the point that one of these days the tipping point is reached and we all rise up and tear the bastards to bits.
The Daesh (ISIL) terrorist group was created by the US and its allies and their "ruse" in waging a military campaign to allegedly destroy the group has been exposed by Russia, says an American scholar and political analyst.
Dr. Kevin Barrett made the remarks while discussing the US-led military efforts against Daesh which started in 2014 in Iraq and Syria.
US Air Force Major General Peter Gersten, who is responsible for all US-led combat operations across Iraq and Syria, claimed this week that airstrikes by the so-called coalition against Daesh positions inside Syria and Iraq have led to the possible destruction of up to $800 million of the terror group's cash reserves.
"If the US and its allies had wanted to stop the funding for Daesh, they could have done so long ago by cutting supply lines that go through Turkey and then mostly to Israel," Barrett said Thursday.

He said it was instead the Russians that carried out the task in their anti-Daesh military campaign that started last September upon a request by Damascus.
"The US had been claiming to be bombing Daesh for years before that and apparently was not able to put a dent its funding and then when the Russians moved in, overnight practically, they were able to significantly cut Daesh's ability to sell oil through the Turkey to Israel," Barrett argued.
"So I think that we have to take this statement from the US military with a grain of salt," he added.
Barrett called the US-led war on Daesh a "ruse," saying that it was Washington and its allies that created the terror group in the first place.
"There are confirmed reports that Daesh was getting various kinds of US support including training in Jordan and there are all sorts of unconfirmed reports that in fact the so-called caliph, Abu Bakr al-Baghdadi, was a prisoner in Camp Bucca in Iraq under US command and custody," he said, adding that Baghdadi used that time and the "special privileges" that he was given there to organize what would later become known as Daesh.
"So this group was probably created with the encouragement of the US and its allies in order to try to overthrow the government of Syria," he said, citing official US documents that revealed Washington's plans for establishing a "salafist" government in Syria.
He said Russia "exposed" America's reluctance to uproot the terror group and the statements by the US general amount to nothing but "propaganda."
"War is very much a matter of deception, a public relations effort and Daesh is a very convenient enemy for the US and the Zionist banksters who own and run it," he continued.
Press TV has conducted an interview with Kevin Barrett, a political analyst, about Iranian Foreign Minister Mohammad Javad Zarif's reaction to a US court ruling that authorized the seizure of around $2 billion in frozen Iranian assets.
The following is a rough transcription of the interview.
Press TV: Essentially, when Dr. Zarif speaks of countermeasures, what do you think he has in mind? Is he referring to, let's say, lodging a complaint with the ICJ?
Barrett: He certainly should. He should be pursuing this in every possible legal form, because it's such a completely outrageous ruling. There may have been some Iranian attacks of one or another kind against US forces in the [Persian] Gulf. There were some skirmishes back in the 1980s and late 80s during the Iran-Iraq war, things like that, but if we look at the totality of the big picture, it's clear which side has been committing terrorism against the other, and that is the United States has been committing vast amounts of terrorism against the Islamic Republic of Iran.
So, it's really the United States that should be paying indemnities not only to Iran for things like the intentional shoot-down of the Airbus 655 by the USS Vincennes towards the end of the Iran-Iraq imposed war and the bombings of mosques, the assassinations of top Iranian leaders, supported by terrorist groups that are essentially organized, funded and supported by the US and Israel. There are up to many many thousands of Iranian victims of US-supported terror, even the scientists, who have been murdered by Mossad agents on motorbikes, with Stuxnet virus unleashed on Iran's nuclear plants that could have cause Fukushima-style catastrophe.
The United States is really the biggest terrorist nation on earth. It's killed over 50 million people worldwide in CIA military interventions according to Noam Chomsky and Andre Vltchek's book On Western Terrorism.
So, this ruling is completely outrageous. There are major questions about these events that they're claiming that Iran was responsible for. And there's a lot of information that it actually wasn't Iran that did it. So, this is completely insane.
Press TV: Regardless of the allegations, which are the basis of this court ruling supposedly, legalistically considered, to what extent do you think the American legal system enjoys extra-territoriality in its applications, in which case that would be the issue here?
Barrett: That's right. Essentially we have a neo-conservative wing in power in the United States that never really stepped down after the Bush administration left. These people engineered the new Pearl Harbor on September 11, 2001 to destroy any vestige of real international law. And their vision is of a unipolar world dominated by a sole hegemon and that would be the US under the control of the Zionist international financial houses. And they don't want any international law to get in their way and they haven't allowed it to get in their way as they run all over the world, torturing people with impunity, they've been invading other countries, committing the supreme war crime of aggression according to the Nuremburg Principles.
So, this neo-conservative wing, which still is essentially in power in the United States, doesn't want there to be any international law whatsoever. And I don't understand why the world has allowed this to take place. And there are many people around the world who do believe in at least a certain amount of international law designed to prevent conflicts from getting out of hand.
So, I think if Iran pursues this in international for a, at the ICC, the ICJ, maybe the United Nations, all international fora available should be made use of. And we should be painting a very stark picture here of international law versus this attempt to impose a unipolar American power on the entire world that doesn't respect anyone else's laws, doesn't respect anyone else's sovereignty. And that has been essentially committing most of the terrorism that exists in today's world.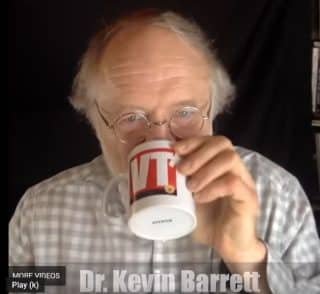 Dr. Kevin Barrett, a Ph.D. Arabist-Islamologist is one of America's best-known critics of the War on Terror.
He is the host of TRUTH JIHAD RADIO; a hard-driving weekly radio show funded by listener subscriptions at Substack and the weekly news roundup FALSE FLAG WEEKLY NEWS (FFWN).
He also has appeared many times on Fox, CNN, PBS, and other broadcast outlets, and has inspired feature stories and op-eds in the New York Times, the Christian Science Monitor, the Chicago Tribune, and other leading publications.
Dr. Barrett has taught at colleges and universities in San Francisco, Paris, and Wisconsin; where he ran for Congress in 2008. He currently works as a nonprofit organizer, author, and talk radio host.
ATTENTION READERS
We See The World From All Sides and Want YOU To Be Fully Informed
In fact, intentional disinformation is a disgraceful scourge in media today. So to assuage any possible errant incorrect information posted herein, we strongly encourage you to seek corroboration from other non-VT sources before forming an educated opinion.
About VT
-
Policies & Disclosures
-
Comment Policy
Due to the nature of uncensored content posted by VT's fully independent international writers, VT cannot guarantee absolute validity. All content is owned by the author exclusively. Expressed opinions are NOT necessarily the views of VT, other authors, affiliates, advertisers, sponsors, partners, or technicians. Some content may be satirical in nature. All images are the full responsibility of the article author and NOT VT.