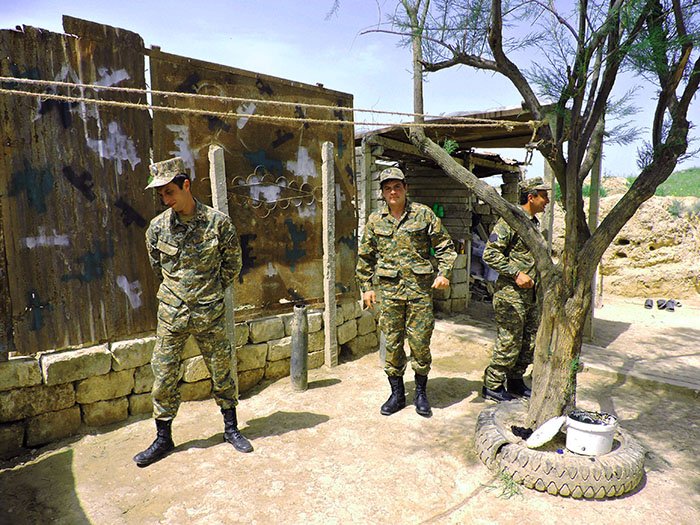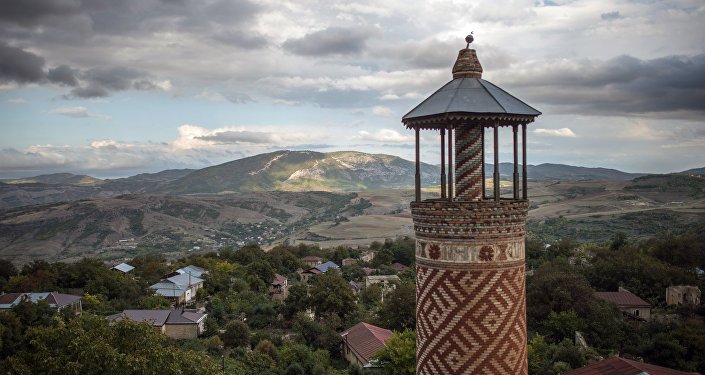 by Alla Pierce, VT correspondent,   … at the Karabakh front   
[ Editor's note: This is VT correspondent Alla Pierce's second report on her trip to the Armenian-Karabakh-Azerbaijan conflict. It is written as a personal travelogue piece to focus on the people and the soldiers whom she met along the way, the ones generally overlooked.
The ceasefire seems to be holding, and we pray that all sides to the conflict get to spend their money and the lives of their people on better things during these troubled times. The conflicts in the Mideast must not be allowed to become black holes that suck others into them.
That path has been traveled many times in this land, the Balkans, and the often conquered Mideast. In the 21st century, more is expected of humanity. We are supposed to learn from past mistakes. It is what we teach our children, when we have a spotty record of taking our own advice… Jim W. Dean ]
____________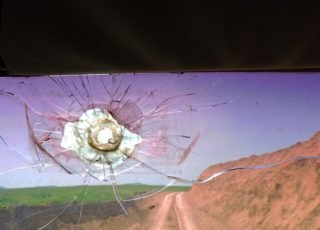 A bullet hole was gaping on the windshield of our vehicle. We rushed along in a UAZ military vehicle on a dug out trench road with a high berms of the ground at the sides.
The Azeri positions were too close, and anybody on the road could be easily targeted. The bulks hide those who were on the road.
"Can I take a picture?" I asked the army officer, who, meanwhile commanded us to get in the car.
"Picture of what?" He did not understand and looked at the military hardware, located in front of UAZ , "No, do not photograph our military capabilities."
"I'm talking about the bullet hole," as I pointed to a circular hole surrounded by streaks of cracked glass.
"You can photograph, but only when the vehicle is on the road, so none of our military hardware gets captured in your photo."
"Get in the front seat," said another officer named Grey, then he added with a smile, "This place is reserved for the commander."
The fact that I experienced somewhat of a bad initial trip from Yerevan to Stepanakert had apparently become a well-known story. Somehow it was passed from mouth to mouth, and wherever I arrived, there had already been an alert put out that nobody could smoke in the car, and that I should be seated in the front seat.
The only hitch we had was with this most recent officer. When we arrived at the Army Headquarters to pick him up, he was arguing with the driver for a while, looking at me.
They both spoke Armenian and I couldn't understand a word, but I started to smile, just in case… but the officer said with a stern voice: "This place is for an officer of the Army Staff."
Well, I guess, I have to go sit at the back. I sighed and moved behind to sit next to the journalists from the EU. We were accompanied by Armen Sargsyan, The Head of the Information department in Stepanakert, who organized this trip for us.
But then, when we arrived at the forward location where troops were positioned and changed for our vehicle to UAZ so we could go further forward to the front line, the officer from Army Headquarters said something in Armenian to the other military people, and then turned to me, and said, "Get in the front seat."
I sat on the front "commander's" seat and could not take my eyes off the bullet hole. Finally I asked the soldier-driver: "Was anyone killed? Did that bullet kill anyone?"
He looked at the glass and shook his head: "No, no one was hurt."
I thought that he may have said so to spare me from the awful truth. In Donbass, men sometimes spared me from certain critically depressing details, ignoring the fact that I am a correspondent, but remembering that I am a woman. Although I didn't like it, because I wanted to get as much information as possible, I appreciated their concern.
As we rushed through the trench, I thought that Azeris, knowing that this mound hides the road, can bombard it at any time.
To go down this road is such a lottery of life and death; and this is why our UAZ is struggling, racing, possibly exposing us to accidental death.
Along the way, I saw a black snake twisting and crawling on the road. There are many poisonous snakes in this area. The driver tried to kill it while he was passing. I do not know whether he killed it, but I saw squashed snakes on this road.
"In the summer we have two enemies," said the soldiers, "Azeris — and snakes."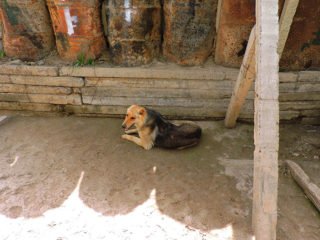 When we arrived at the forward positions and walked in the trenches, we were met by a dog. It came to me, I petted it and asked, "Why are the ears of this dog cut?"
I heard no answer, but then someone sighed and said it was probably an Azerbaijani dog. I thought of the brutal murder of the old people in Talish, and how Azeris made a mockery over their dead bodies by cutting their ears.
I again petted the dog, "And who tortured you, dog?" "Where does it come from," I asked the soldiers. "It just clung to us," they said.
We came out of the trenches and went to the fortified point. "Why did you come so late!?" One of the military men angrily shouted at us. I said, "It is more important now not to have to come here again for the same reason."
We were allowed to take pictures and to get into the observation post, after wearing a helmet and flack jacket. We talked with the soldiers about how the war suddenly started, also how the tense atmosphere at the combat positions is maintained at all times, and how it has particularly intensified since last summer, when Azerbaijan became more active in the deployment of different types of artillery and intensified the activity of its sniping and scouting-sabotage groups.
_________
The Four Day War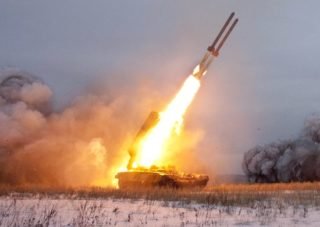 In 2015, the Azerbaijani side violated the ceasefire approximately 40 thousand times! [1] One of the issues of VT interest was the level of ISIS involvement in this newly initiated war.
David Babayan, the press secretary of the NKR President, firmly expressed his views on this point; it was unfortunate that I was unable to meet with him, but I talked to the representatives of the Army Staff and was told that there are mercenaries in the Azerbaijan army, of course. Many times Arabic was overheard on radio intercepts. According to officers, Azerbaijanis who fought in Syria were now participating in the "4 day war".
As we remember, Lifenews channel reported, referring to military sources that the Azerbaijan squad of ISIS terrorists, numbering from 50 to 70 militants, left Raqqa in Syria and have returned to Azerbaijan via Turkey to participate in hostilities in the Karabakh conflict zone. [2]
Later, in Moscow, Ruben Zargaryan, a Candidate of History science and adviser of the NKR representative office in Moscow, said that the influence of ISIS has intensified in Azerbaijan, and according to available information, some ISIS warlords and militants who participated in the fighting in Syria have now taken posts in the Azerbaijani army.
As for Turkey's covert participation in the conflict, it continues from the beginning of the first Karabakh war.
In one of his articles [3] Ashot Beglaryan, the well-known Karabakh journalist and writer, says that in 1990 there were reports in the press about the participation of the Grey Wolves in the Karabakh conflict acting on the side of Azerbaijan. Then, it began with the supply of the Azerbaijani army with uniforms and weapons from Turkey. Azerbaijani servicemen were retrained in Turkish military schools and Turkish military experts participated in the development of military operations.
Today, the Karabakh side has only indirect evidence of Turkish participation in the recent active phase of Karabakh conflict. I have been told that the Azerbaijani side was in no hurry to pick up their dead fighters bodies from no mans land, which is quite unusual, unless "… maybe because they were not really 'their' men?"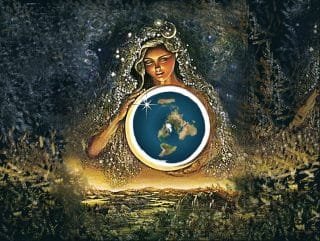 Here, on the front line the defenders of Karabakh said, "What do they want from our land?"
"Here where our ancestors are buried, and now we live here, our homes are here, and what do they need here?"
"Azeris do not want to fight, and don't know how to."
For reference: On April 4th, in the north-east direction, coming from the Azerbaijani side was the use of weapons of mass destruction – the heavy flamethrower System TOS-1A "Solntsepek" (blaze of the sun).
And here, at the front lines, there really was the blaze of sun, although it was still April.
"How do you manage it here in the summer, as it is generally intolerable?" I looked at their uniform, with dread, knowing that I would very simply have died of a heat stroke in this uniform. "It will not be so easy," they answered.
They invited us to sit around the table to get some "combat" coffee.
The dog came and stood behind me and without beckoning for anything, just leaned his back against mine. I slightly turned my head to him and said, "I love you too."
And then everybody started laughing. Soldiers, their officers and, Armen Sargsyan, who usually was not very emotional, laughed, and even the foreign journalists did too, although they did not understand Russian.
Probably everyone just wanted to relieve the tension, to hear something very peaceful, such as "I love you" to a dog and just simply laugh.
"We already understood everything about you," said Armen, "You feel sorry for all the animals."
"And for people too," I added, looking at him. He nodded, as if it were a dire diagnosis. "Is my heart wrong?" I repeated the words of our driver's Ararat. Armen smiled and did not answer.
I was approached by a young soldier who asked, "May I be photographed next to you?" "Of course!" So, this is how this picture was taken, a little story behind it.
There, on the front line, they had a place for prayer. I really hope that the God they believe in will save their lives. Before we left we were allowed to take pictures of soldiers.
In my final words, I appealed to the soldiers in Russian, so the journalists from EU would not understand what I said, because it was my personal words to those who were there on the front line.
"I represent an American newspaper, but I am Russian. As a Russian woman, I'll perform some magic for you, although I don't know how, but I'll do it as I can from all my heart. I'll look at every one of you and will take every one of you into my heart. I will remember and pray for each one. You will live in my heart and nothing bad will happen to you. You all remain alive and come back home safe."
The soldiers and officers, young and older stood in silence and listened attentively. "I said the same things in Donbass. And all those people are alive."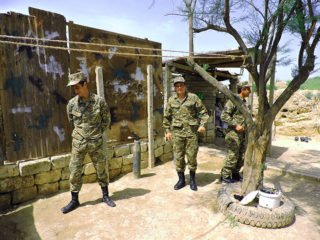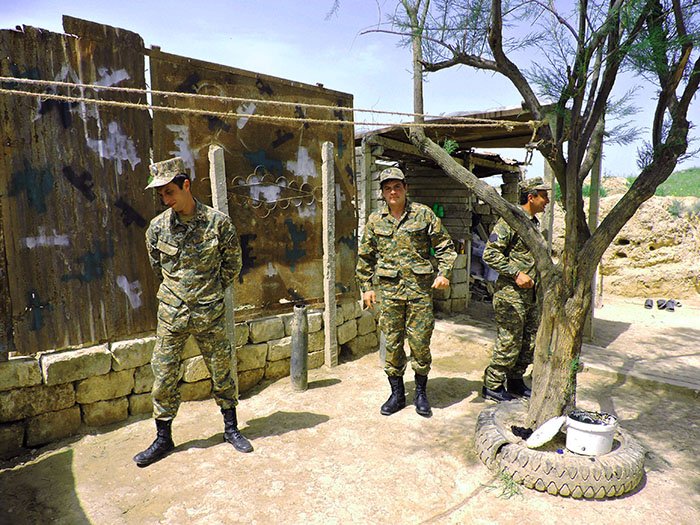 Just as in the Donbass, I felt my throat squeezed, and I turned to leave trying not to show my tears out of simple fear for them.
The funny thing is that I myself believe in my "magic words".
UAZ sped us along the "lottery" road taking us far away from those brave hearts who risk their lives to defend their land.
—
[1] Karabakh courier, Feb. 2016, p.35
[2] http://regnum.ru/news/accidents/2111403.html
[3] http://www.iarex.ru/articles/52309.html
Alla Pierce, VT correspondent, Stepanakert, NKR, 2016
_________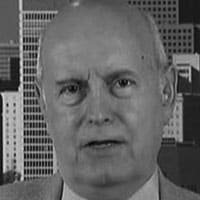 Jim W. Dean is VT Editor Emeritus.  He was an active editor on VT from 2010-2022.  He was involved in operations, development, and writing, plus an active schedule of TV and radio interviews.  He now writes and posts periodically for VT.
ATTENTION READERS
We See The World From All Sides and Want YOU To Be Fully Informed
In fact, intentional disinformation is a disgraceful scourge in media today. So to assuage any possible errant incorrect information posted herein, we strongly encourage you to seek corroboration from other non-VT sources before forming an educated opinion.
About VT
-
Policies & Disclosures
-
Comment Policy
Due to the nature of uncensored content posted by VT's fully independent international writers, VT cannot guarantee absolute validity. All content is owned by the author exclusively. Expressed opinions are NOT necessarily the views of VT, other authors, affiliates, advertisers, sponsors, partners, or technicians. Some content may be satirical in nature. All images are the full responsibility of the article author and NOT VT.