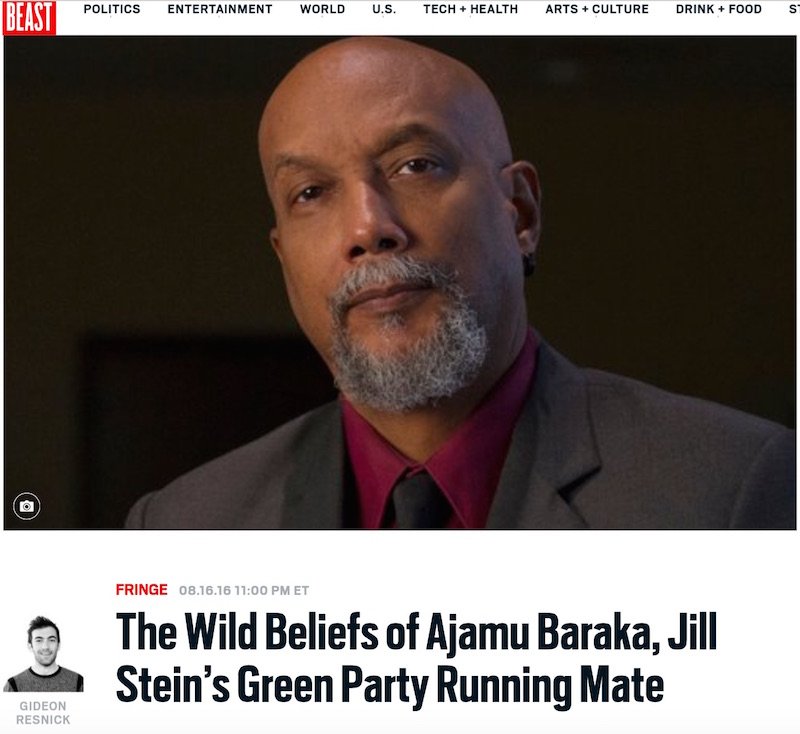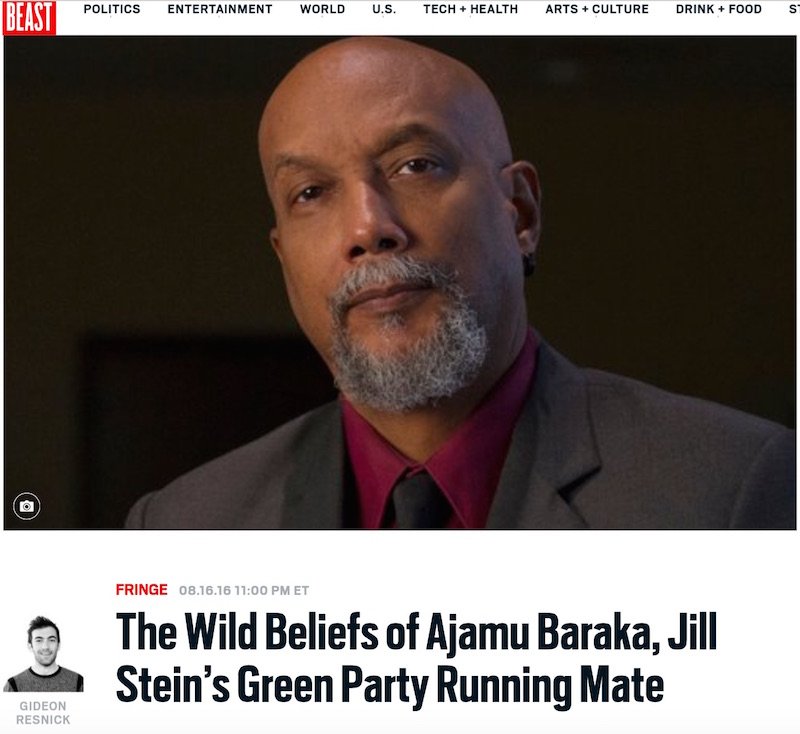 By Kevin Barrett, VT Editor
I have been accused of a lot of things, but until today, "false flag flirtations" wasn't one of them.
Actually, it's Green Party vice presidential candidate Ajamu Baraka who is being accused of flirting with false flags. I'm the guy handing him false flags to flirt with.
I've been a fan of Ajamu Baraka for years. He is one of the most important critics of the Obama presidency, maybe the most important, and well-versed on the most important issues of the day. So I have been honored to have him as a repeat guest on my radio shows, and a contributor to the second book in my False Flag Trilogy, ANOTHER French False Flag.
When Ajamu Baraka won his well-deserved vice presidential nomination, the usual suspects apparently decided to launch a smear campaign based on his association with me. It began in the right-wing Zionist gutter press, and has now moved on to more respectable outlets (relatively, anyway) like Haaretz and the Daily Beast. I'm still waiting for Time Magazine to use the interview I gave them several days ago.
The Daily Beast article pictured above is the best-written, most professional, and least-offensive Baraka-Barrett-witch-hunt-piece yet.  While its author, Gideon Resnick, absurdly equates the statement "the holocaust controversy is a legitimate topic of debate" with "holocaust denial,"  at least he calls me an "accused holocaust denier" – though precisely who made that accusation, and what it was based on, remains a mystery and a potential libel lawsuit.
Resnick also calls me (and Baraka) "two scholars of revisionist history." I won't argue with that one. And he uses quotes from his interview with me fairly: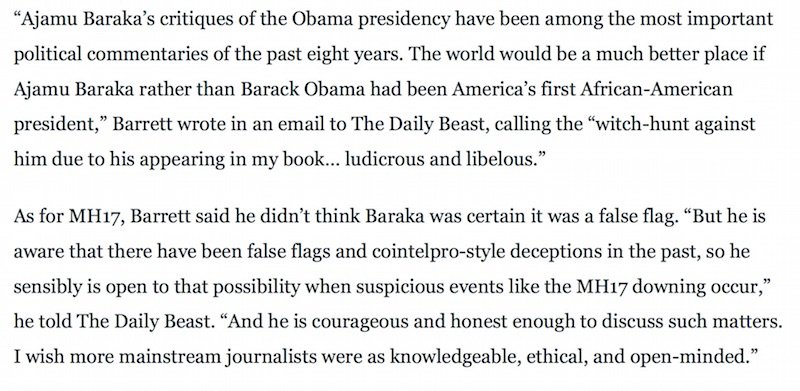 Resnick questions whether Baraka's open-mindedness about false flags – and trenchant critiques of Obama and even Bernie Sanders – will win over voters. And this, indeed, seems to be the real reason for the witch hunt: The mainstream media propaganda machine wants to marginalize Baraka and punish him, and the Green Party, for his no-holds-barred honesty.
But are voters really turned off by shockingly honest, controversial political candidates?
Take Donald Trump – please!
Trump decimated his Republican primary opposition by expressing "wild beliefs" practically every time he opened his mouth. Some, though not all, of Trump's "wild beliefs" are obnoxious nonsense. Yet a whole lot of voters didn't seem to mind.
By contrast, Ajamu Baraka's "wild beliefs" are completely defensible. Unlike Trump, Baraka is well-informed on just about everything, and thinks before he speaks.
Could it be that this whole scandal, which aims at "skunking" the Jill Stein – Ajamu Baraka ticket by smearing it with guilt-by-association links to "accused holocaust deniers" and "conspiracy theorists" and "false flag flirtations," could actually BENEFIT the Green Party ticket?
The old adage "any publicity is good publicity" applies in spades to third-party and/or long-shot presidential campaigns. Look how Trump finessed "bad publicity" into "ever-more free publicity" into the complete annihilation of his Republican competition.
The Stein-Baraka ticket has nothing to lose. It should pick up this scandal and run with it.
Stein and Baraka should intentionally make provocative statements about false flags, stand up for freedom of thought and inquiry even when it comes to the holocaust, and do everything they can to bait the MSM into throwing ever-more coverage at them.
Polls show that 100 million Americans know or suspect that 9/11 was an inside job. The amazing runs of Trump and Bernie Sanders show that huge numbers of voters – at least this year – prefer "controversial" opposition candidates who are perceived as truth-tellers and troublemakers.
Stein and Baraka's problem is that most people haven't heard of them, and they don't have the mega-money to buy ads and name recognition. Using Trump-style media baiting to garner free coverage is a no brainer.
Maybe they should hire me as their campaign manager? Now THAT would rate some serious coverage.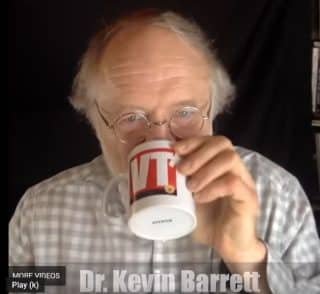 Dr. Kevin Barrett, a Ph.D. Arabist-Islamologist is one of America's best-known critics of the War on Terror.
He is the host of TRUTH JIHAD RADIO; a hard-driving weekly radio show funded by listener subscriptions at Substack and the weekly news roundup FALSE FLAG WEEKLY NEWS (FFWN).
He also has appeared many times on Fox, CNN, PBS, and other broadcast outlets, and has inspired feature stories and op-eds in the New York Times, the Christian Science Monitor, the Chicago Tribune, and other leading publications.
Dr. Barrett has taught at colleges and universities in San Francisco, Paris, and Wisconsin; where he ran for Congress in 2008. He currently works as a nonprofit organizer, author, and talk radio host.
ATTENTION READERS
We See The World From All Sides and Want YOU To Be Fully Informed
In fact, intentional disinformation is a disgraceful scourge in media today. So to assuage any possible errant incorrect information posted herein, we strongly encourage you to seek corroboration from other non-VT sources before forming an educated opinion.
About VT
-
Policies & Disclosures
-
Comment Policy
Due to the nature of uncensored content posted by VT's fully independent international writers, VT cannot guarantee absolute validity. All content is owned by the author exclusively. Expressed opinions are NOT necessarily the views of VT, other authors, affiliates, advertisers, sponsors, partners, or technicians. Some content may be satirical in nature. All images are the full responsibility of the article author and NOT VT.