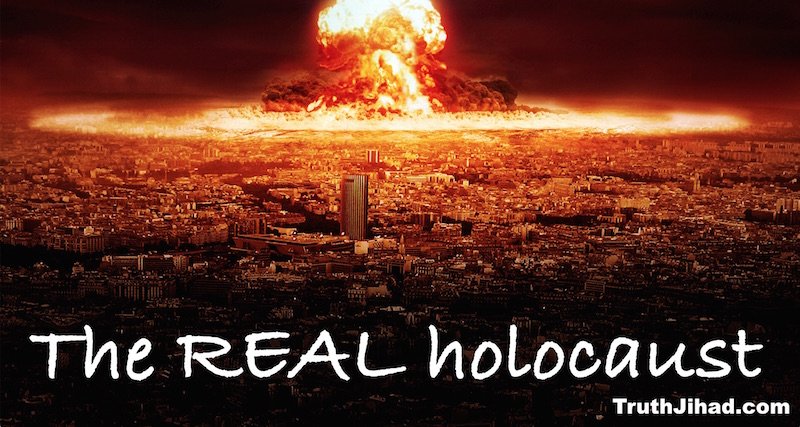 …by  Kevin Barrett, VT Editor
Who are the real "holocaust deniers" – those who question the victors' version of World War II history? Or those "in denial" about rapidly-approaching World War III?
In this week's FALSE FLAG WEEKLY NEWS (watch it above – click HERE for links to all the stories) Prof. Tony Hall points out that the term "holocaust" entered post-World-War II usage mainly to describe the impending incineration of most of humanity through nuclear war. When Tony and I were kids in the 1960s, "holocaust" mainly meant nuclear war, not gas chambers.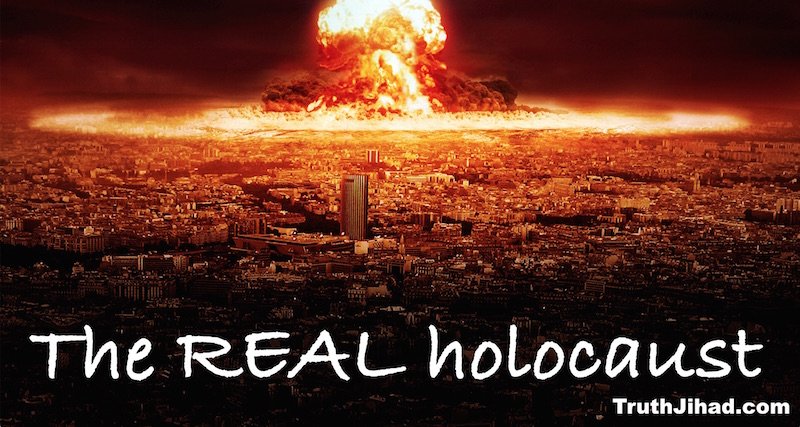 Then Israel invaded its neighbors in 1967, stole their land, puffed up its hairy chutzpah-bloated chest, and imposed its peculiar mythology on the world in general and the USA in particular. As Norman Finkelstein points out in The Holocaust Industry – the book that got him witch-hunted out of American academia – hardly anybody ever thought or talked about the Nazi holocaust of the Jews prior to 1967.
Today, the Nazi holocaust of the Jews has become the West's dominant religion. It is the only sacred narrative left – the only one that you can be thrown in prison for questioning.
On this week's FALSE FLAG WEEKLY NEWS Tony Hall, Ole Dammegard and I courted prison, and/or the annihilation of our careers, reputations, and ability to earn a living, by asking why "holocaust deniers" are being raided, thrown in prison, and denied a livelihood.
This week's top news story eliciting such dangerous discussion was the police raid on Alfred Schaefer's home in Germany. The police arrived while Alfred was in the shower. They seized his computers and arrested him stark naked. [Correction: It was not technically an arrest: They just served a warrant on him and seized his computers and papers.]
Alfred's crime? Helping his sister Monika produce the viral youtube video "Sorry Mom, I Was Wrong About the Holocaust." The German government views this video as an act of hate speech.
I watched it twice. What I saw was a sweet, gentle, smiling violinist, Monika Schaefer playing music and offering a heartfelt apology to her German mother, who had endured tidal waves of hatred simply for being German and having lived in Germany during World War II.
Where is there any hatred in Monika Schaefer's video? Am I missing something?
The real hatred is coming from the other side. The real haters hated Monika's mother for being German. And now they hate Monika for expressing her well-researched views and her heartfelt feelings.
While such dangerous free thinkers as Alfred and Monika Schaefer are being persecuted for alleged "holocaust denial," the world is sleepwalking straight toward the NUCLEAR holocaust we all feared in the 1960s. And the mainstream media, the politicians, and the military and intelligence communities are all in deep, deep denial about it.
As we reported at the beginning of FALSE FLAG WEEKLY NEWS, the US just made its illegal invasion and occupation of Syria official. Invading and occupying the territory of a sovereign nation, without even the pretense of an invitation from its government, IS THE SUPREME WAR CRIME, WORSE THAN GENOCIDE, ACCORDING THE THE NUREMBURG TRIBUNALS.
Why is aggression worse than genocide? Because aggression, the ultimate crime, leads to all the other criminal acts, starting with mass murder, that occur during wartime. This has been the consensus position of international law since World War II.
So this week, the US just committed a war crime worse than any genocide that occurred during World War II…and hardly anybody even noticed.
Making that crime even worse is the likelihood that it will lead not just to genocide – that is already ongoing in the Middle East – but omnicide, the mass murder of most if not all of Earth's population of more than 7 billion human beings, as well as the destruction of much of the biosphere.
The stage has been set for nuclear war. Syria is the likely flashpoint. It could happen any time. Some predict the escalation into World War III beginning within the next few months.
https://www.youtube.com/watch?v=xfSxAgOXkGw
The sacred holocaust narrative about World War II, the one you can be thrown in jail for questioning, feeds the self-righteousness and pro-war sentiment that is leading the US, Europe, and Russia straight toward World War III.
The US, Europe, and Russia all use the sacred holocaust narrative to cast the Nazis in general, and Hitler in particular, as the incarnation of Satan.
Today, the US and Europe use this demonization of the Nazis to justify their own aggression. "We will not be appeasers like Neville Chamberlain!" they scream. "We will go to war and murder millions, because we are right and our enemies, like Putin and Assad, are modern versions of Hitler!"
The Russians, too, allow their traumatic memories of World War II to drive them towards World War III. Like the West, the Russians imagine Hitler as the ultimate evil. Like the West, they magnify Hitler's World War II crimes, and forget about their own.
So who are the truly dangerous "holocaust deniers" – those who quibble about the details of the 60 million murders conducted during World War II? Or those who stick their heads ever deeper into the sand, thereby making themselves complicit in the looming hecatomb of humanity, the onrushing specter of World War III?
Should we arrest and imprison the nearly seven billion earthlings who are guilty of "nuclear holocaust denial"?
Or allow them to sleepwalk into horrific deaths amidst the radioactive rubble?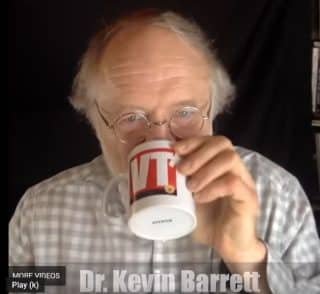 Dr. Kevin Barrett, a Ph.D. Arabist-Islamologist is one of America's best-known critics of the War on Terror.
He is the host of TRUTH JIHAD RADIO; a hard-driving weekly radio show funded by listener subscriptions at Substack and the weekly news roundup FALSE FLAG WEEKLY NEWS (FFWN).
He also has appeared many times on Fox, CNN, PBS, and other broadcast outlets, and has inspired feature stories and op-eds in the New York Times, the Christian Science Monitor, the Chicago Tribune, and other leading publications.
Dr. Barrett has taught at colleges and universities in San Francisco, Paris, and Wisconsin; where he ran for Congress in 2008. He currently works as a nonprofit organizer, author, and talk radio host.
ATTENTION READERS
We See The World From All Sides and Want YOU To Be Fully Informed
In fact, intentional disinformation is a disgraceful scourge in media today. So to assuage any possible errant incorrect information posted herein, we strongly encourage you to seek corroboration from other non-VT sources before forming an educated opinion.
About VT
-
Policies & Disclosures
-
Comment Policy
Due to the nature of uncensored content posted by VT's fully independent international writers, VT cannot guarantee absolute validity. All content is owned by the author exclusively. Expressed opinions are NOT necessarily the views of VT, other authors, affiliates, advertisers, sponsors, partners, or technicians. Some content may be satirical in nature. All images are the full responsibility of the article author and NOT VT.