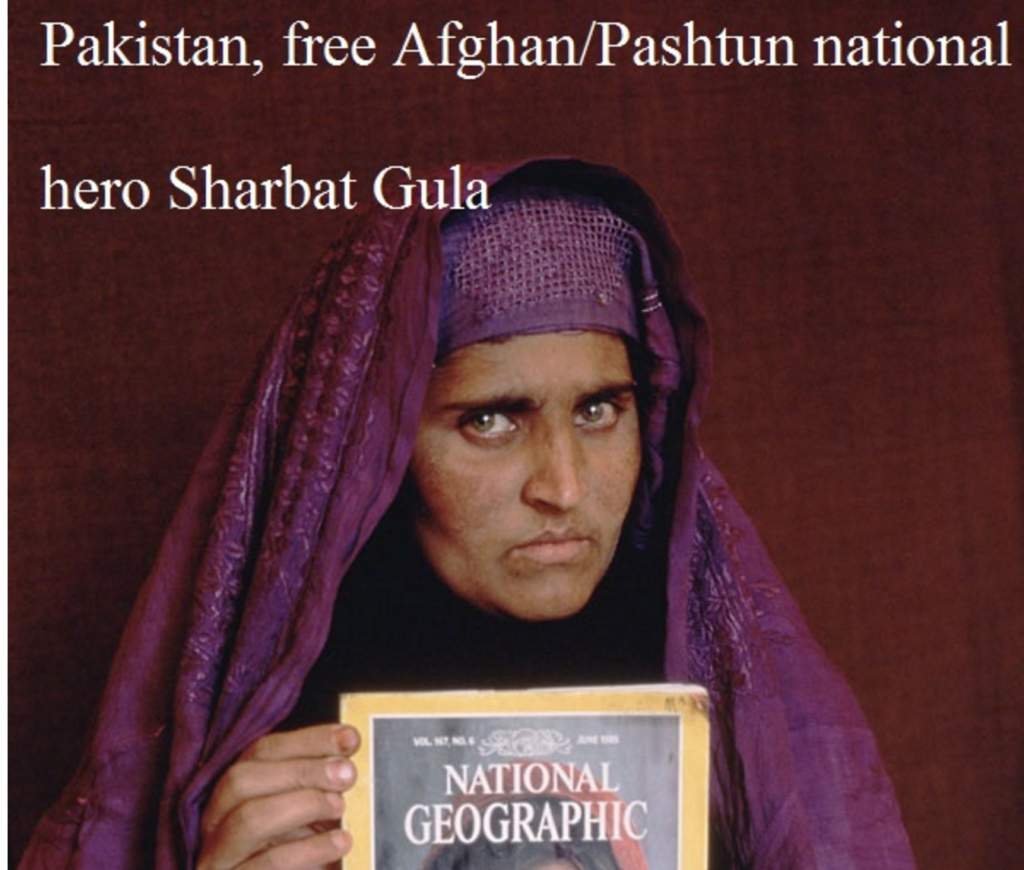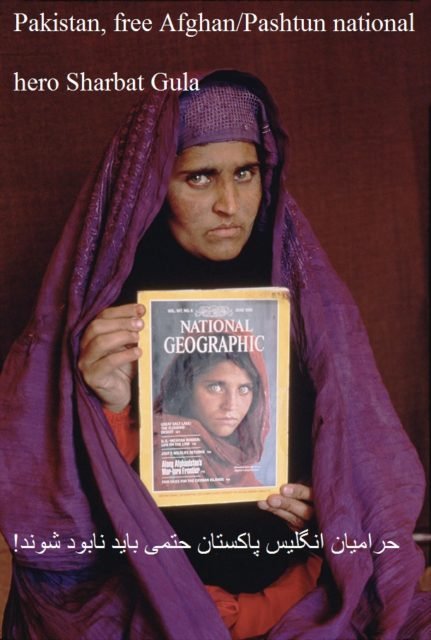 I am writing on behalf of the Afghan villagers like Sharbat Gula because the U. S. installed Afghan administration only works on behalf of the occupiers and war profiteers. The Afghan administration does not care about Sharbat Gula.
Shame on you Pakistan for imprisoning the national Afghan war hero, Sharbat Gula , who is again suffering because of the foreign occupier's and its Afghan puppets' bombardment of her village in Afghanistan. Sharbat Gula is now suffering at the greedy hands of Pakistan, who financially benefits from the U.S. war against the Afghans/Pashtun.
In the 1980s, her young face on the cover of National Geographic embodied the strength, dignity and honor of the Afghan Pashtun women, who suffered for a decade at the hands of the Soviet invaders and Afghan communist puppets.
During both wars, Pakistan has profited from the Afghans' suffering. After 9/11, the National Geographic editor/photographer located Sharbat Gula. He told her a lot of money had been made from the edition with her cover and what did she want. She did not want money. Sharbat Gula only wanted an education for her children and no bombardment of her village. She wanted education and peace without foreign invasion.
Sharbat Gula's village near Tora Bora in Nangahar Province has been bombarded by the U.S. and its puppets, her village's water poisoned and her family has had to flee to Pakistan. The United States' private contractors/mercenaries and Daesh/CIA thugs are fighting over drug trafficking routes in her village. The Afghan/Pashtun villagers oppose these CIA thugs drug traffickers. The members of her village are the victims.
Instead of honoring and helping Sharbat Gula, Pakistan imprisons her for not having the right papers. Also Pakistan punishes the Afghan Pashtun refugees because the Afghan Freedom fighters do not want Pakistan involved in peace negotiations. The Afghan Freedom Fighters do not want a repeat of the mistakes that occurred in the 1980s when Pakistan was involved in the peace talks between the Soviet Union and the Afghan Resistance.
Sharbat Gula is again the face of the Afghan Pashtun women,. Despite the indignities of war, she keeps her honor and dignity.
Pakistan needs to release her immediately. Perpetrators of war crimes committed against the Afghan Pashtun women need to be prosecuted and stopped. She is a victim. Sharbat Gula has human rights. The illegal war in Afghanistan must end now. Sharbat Gula has the right to live with dignity and security in her village in Afghanistan. She does not want to be forced to live in Pakistan. Enough of these greedy profiteers, CIA thugs, private mercenaries/drug traffickers. This ugly war which scape goats honorable Afghan Pashtun women like Sharbat Gula, must end. Sharbat Gula is an Afghan National Hero and not a criminal. She is a victim like the hundreds of thousands of other villagers. The war criminals, CIA thugs and war profiteers need to be imprisoned and not her. Free her now.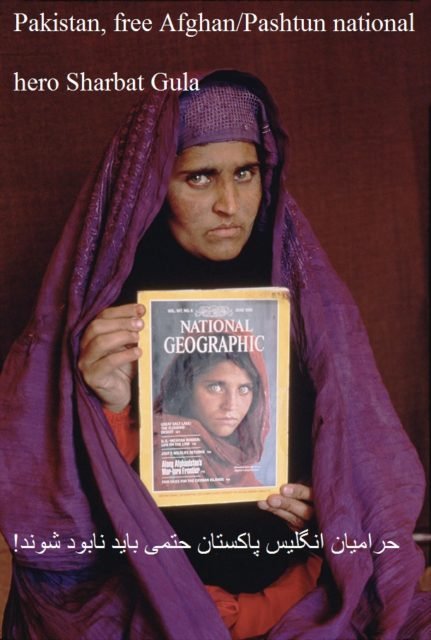 Sincerely,
Kadir A. Mohmand
Former Representative for North America of the Afghan Freedom Fighters in the 1980s
. 
Abdul Kadir Mohmand was born in Kabul, Afghanistan. He currently resides at Kalamazoo, Michigan. He graduated from Kabul High School. On an UNESCO scholarship, Mr. Mohmand studied at Sofia University, Bulgaria from 1976 until 1978 when his studies were interrupted by the Communist seizure of power in Afghanistan. The new Afghan Communist government ordered the Bulgarian government to return him to Afghanistan because he was anti-communist. Mr. Mohmand requested political asylum. With the help of the United Nations and the U.S. Embassy, he arrived to Italy and then the United States in 1979.
Mr. Mohmand returned to his studies and earned his B.S. in 1983 from Western Michigan University. He found employment in various positions in the engineering business. For many years, he worked for BFI and was country operations manager for BFI Italia. Currently, Mr. Mohmand owns a shopping center and develops commercial properties.
During the 1980s, Mr. Mohmand was the Representative of the Afghan Mujahideen for North America. During the 1980s, Mr. Mohmand returned to Afghanistan to fight as a freedom fighter against the Soviets and Afghan communists. Through an arrangement with Borgess Hospital in Kalamazoo, Michigan, Mr. Mohmand would bring back wounded Afghan children and Mujahideen for medical treatment at Borgess and recuperation in his home in Kalamazoo. He formed and was president of a nonprofit, Aid for Afghanistan.
In the 1980s, Mr. Mohmand also worked with the Committee for a Free Afghanistan in Washington D.C to bring wounded Afghans to the United States for medical treatment.
For the past four decades Mr. Mohmand has dedicated his life to working to achieve true peace and stability in Afghanistan.
A few years ago, Mr. Mohmand organized educated Afghans intellectuals across the world who drafted a comprehensive plan for peace. Presently, he has united many different Afghan peace organizations under one umbrella. The goal of this network is to unite Afghans to bring true peace in and the independence of Afghanistan. This network wants to be the bridge between the Afghan freedom fighters and the silent Afghan majority, and the Western World in any peace negotiations.
Mr. Mohmand wants true peace and stability in Afghanistan. As a veteran of war, Mr. Mohmand hates war.
ATTENTION READERS
We See The World From All Sides and Want YOU To Be Fully Informed
In fact, intentional disinformation is a disgraceful scourge in media today. So to assuage any possible errant incorrect information posted herein, we strongly encourage you to seek corroboration from other non-VT sources before forming an educated opinion.
About VT
-
Policies & Disclosures
-
Comment Policy
Due to the nature of uncensored content posted by VT's fully independent international writers, VT cannot guarantee absolute validity. All content is owned by the author exclusively. Expressed opinions are NOT necessarily the views of VT, other authors, affiliates, advertisers, sponsors, partners, or technicians. Some content may be satirical in nature. All images are the full responsibility of the article author and NOT VT.