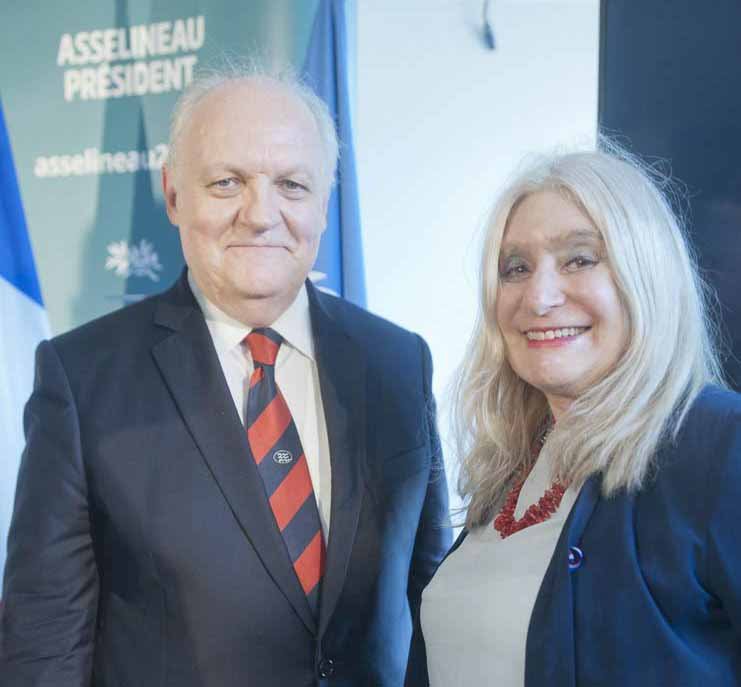 by Jane Rosenstein and Mark W. Suits
François Asselineau, the founder of the Republican Popular Union, UPR on March 25, 2007, the fiftieth anniversary of the Treaty of Rome signature held a political rally for his candidature for President of France on March 25, 2017 in Paris, France. Over 6,500 people attended. François Asselineau is  promoting Frexit – France's exit from the European Union.  He is the only presidential candidate promoting Frexit.  Assilineau is making waves with his ideas  for France.
Although Assilineau has been speaking in cities throughout France it  was just shortly after this rally that the mainstream press first bothered to have him as a guest on TV.  Before this rally, interviewers worked hard to belittle him as a small unimportant candidate, cut him off and try to ridicule his stance against Europe in favor of sovereign democracy. Up until  this close before the elections they ignored his existence and the facts of his growing popular platform . As result there are still many less plugged in voters who have never even heard his name.
François Asselineau was  born on September 14, 1957 in Paris, France.  He  is now Tax Inspector-General and the president of th UPR.  In 1993.he served as Advisor on International Affairs in the Cabinet of Gérard Longuet, Minister of Industry and Foreign Trade in the Balladur Government . He was elected as Counseiller (Advisor) in Paris in 2001 in the 19th district of Paris with the political party Rassemblement pour la France ( RPF).
Since  the founding of the UPR François Asselineau has given many lectures in France and other countries. Between March, 2007 and March, 2016 he gave about 400 conferences.
He told us at the press conference that his conference on the history of France which was over three hours long was well received.
At the press conference he told us that the French people no longer have a democracy because France is losing its sovereignty by being subject to rules and regulations by organizations. This is why he wants Frexit – the exit from the European Union. The UPR wants France to leave in accordance with Art 50 of the EU Treaty.  This would also allow France to leave the Euro as the official currency. François Assilineau told  us that this would be part of giving  the government of France back to the French people. It can take up to 2 years as the other European partners have to work out the divorce.  
The UPR also wants to withdraw from NATO as another way to give France back its independence. Currently France is subject to NATO and could risk the possibility of being dragged into a large scale international conflict if there are problems with other members.
However, he supports France's membership and participation in the United Nations.

François Asselineau was questioned about the large debt France has. He wants to return the sovereign rights of the State and local authorities funding to the Bank of France.
Another goal is to prohibit privatisation and if necessary re-nationalize the main public services such as EDF for electricity, GDF for gas, the post office TF1  first  TV channel,  TDF television company, water and motorway networks;
He favors creating public housing construction which is needed in France.
He wants to create a public service for news and culture in order to insure the  public media independence and  have a fair representatives of all opinions.
The party whose motto is " People's Union to Reestablish Democracy"  and whose logo is the olive branch symbol of peace, longevity and prosperity is the most dynamic party in France. When we saw the large number of attendees at the gathering we asked the security guard how these people knew about Assilineau who is not well known. He told us that is is from the social media like Facebook and Twitter. There were 53,075 followers on UPR Facebook as of May 25, 2016. According to the site Alexa Rating which looks at the traffic of millions of website the UPR website www.upr.fr is the most visited French political website.
UPR created a channel on Dailymotion and put all François Asselineau's conferences on line  in video on Dailymotion and  You Tube.  In May, 20014 these videos had been watched by more than 3 million viewers.
Membership in UPR is growing.  It had  22,462  members on April 2, 2017.
François Asselineau told the press that they have 690 members abroad living in 79 countries which accounts for 6.2% of its total membership.
More rallies are planned in France as François Asselineau continues his campaign for President. The  presidential election will be in Franceon April 23, 2017 and then the top two candidates will have a second turn election on May 7, 2017.
Jane Rosenstein is a U.S. citizen living in Paris, France. She is a professional translator/interpreter. She is the owner of The International Connection which does international marketing consultation including sales of wine, interpretation, and translation. She enjoys the cultural life that living in Paris offers and has talents in organizing events. She speaks English, French, and Spanish.
She has a B.S. degree in mathematics from University of Pittsburgh and an M.B.A. degree from Georgia State University in Atlanta, GA.
ATTENTION READERS
We See The World From All Sides and Want YOU To Be Fully Informed
In fact, intentional disinformation is a disgraceful scourge in media today. So to assuage any possible errant incorrect information posted herein, we strongly encourage you to seek corroboration from other non-VT sources before forming an educated opinion.
About VT
-
Policies & Disclosures
-
Comment Policy
Due to the nature of uncensored content posted by VT's fully independent international writers, VT cannot guarantee absolute validity. All content is owned by the author exclusively. Expressed opinions are NOT necessarily the views of VT, other authors, affiliates, advertisers, sponsors, partners, or technicians. Some content may be satirical in nature. All images are the full responsibility of the article author and NOT VT.