PSA: Please call or write Tulsi Gabbard and thank her for questioning the official story of the Syria sarin incident.
Did President Trump really order the US Army Cyber Command to hack VT to stop the viral story exposing the White Helmets' fakery and apparent murder of children?
Or was it really Jared Kushner, the nominal President's son-in-law, who gave the order?
Some of Trump's erstwhile supporters in the alt-info community have been trying to blame Kushner for the Syria sarin false flag and subsequent US cruise missile strike. Poor innocent Trump, they say, has been deceived by his evil advisors.
Raw Story quotes Alex Jones' conversation with Roger Stone:
Jones blamed Kushner and his wife, Ivanka Trump, for every bad decision made so far by the president. "It's them, it's them — it's his daughter and son-in-law who are literally enemies of the Republic!" Jones shouted…Jones blamed "President Kushner" for the torrent of media leaks from the White House, which he described as a "jihad" to go after "hardcore conservatives and patriots" like Steve Bannon for opposing the airstrike. "I can absolutely certify that Steve Bannon was opposed to this intervention in Syria, and he obviously lost an internal argument," Stone claimed.
Yahoo News has shed some light on the Bannon-vs.-Kushner spat. Yahoo claims that Bannon has been calling Kushner a cuckold. That would make Trump's daughter Ivanka an adultress. No wonder Trump threw Bannon off the NSC! So "Trump's White House: The Reality Show" continues, with Bannon ejected from the island and Kushner, cuckold or no, on track to claim the big prize.
Alex Jones' analysis sounds plausible, as far as it goes. But there is undoubtedly a reason why VT has been under massive cyber-attack ever since the big Syria sarin false flag — while Alex Jones and Infowars just keep merrily broadcasting away, using vast amounts of bandwidth with nary a peep from the US Army Cyber Command, the NSA, the Kosher Nostra, or anybody else with the power to mess with the internet.
In fact, there are a whole lot of reasons for them to mess with VT and let InfoWars off the hook. Here are a few.
VT exposes the Kosher Nostra, while Infowars leaves them alone. Obviously the Zionists are behind the destruction of Syria, one of the "seven countries in five years" targeted by their 9/11 false flag. And the Kosher Nostra had its hooks in Trump long before Jared Kushner married Ivanka. For details, go back and read the many VT articles on the subject. So the Alex Jones line on Kushner, while not entirely inaccurate, is a limited hang-out that serves to cover up the larger picture: That Trump has been fronting for the (Zionist-dominated) mob ever since Roy Cohn "made" him.
VT drops "actionable info-bombs" on the war party – the story about the Swedish Medical Association exposing the White Helmets as child killers seems to have been the one that crossed the line. When a story like that, at a sensitive time like this, heads into six figures worth of reads, Cass Sunstein's crew quickly moves in to "disable the purveyors of conspiracy theories" as he so memorably put it…just like they knocked out RT's 9/11 and Operation Gladio a few years ago. Infowars, by contrast, plays the role of "crazy right-wing conspiracy theorists" for the alarmed amusement of the MSM. It is no accident that the New York Times articles pushing back against the "Syria sarin conspiracy theories" have cited and mocked Infowars but have remained silent about VT. The MSM does not even mention, much less try to debunk, VT's exposure of the child-killing White Helmets. The Times like the rest of the MSM gawks and chortles at the Infowars clown show, while leaving the serious threats to the US Army Cyber Command.
VT has readers who really matter. Infowars is conspiracy bread-and-circuses for the masses, while VT cultivates an audience that includes decision-makers, especially military, intel, and security people from all over the world.
So the takeaway here is, enjoy VT while you can! If the bad guys are really set on making Trump a war president, big time, the past week of outages could be an unfortunate harbinger of things to come.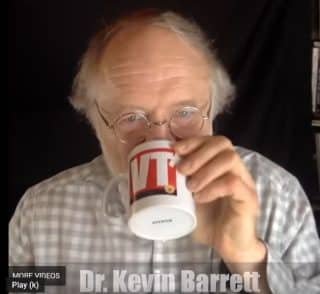 Dr. Kevin Barrett, a Ph.D. Arabist-Islamologist is one of America's best-known critics of the War on Terror.
He is the host of TRUTH JIHAD RADIO; a hard-driving weekly radio show funded by listener subscriptions at Substack and the weekly news roundup FALSE FLAG WEEKLY NEWS (FFWN).
He also has appeared many times on Fox, CNN, PBS, and other broadcast outlets, and has inspired feature stories and op-eds in the New York Times, the Christian Science Monitor, the Chicago Tribune, and other leading publications.
Dr. Barrett has taught at colleges and universities in San Francisco, Paris, and Wisconsin; where he ran for Congress in 2008. He currently works as a nonprofit organizer, author, and talk radio host.
ATTENTION READERS
We See The World From All Sides and Want YOU To Be Fully Informed
In fact, intentional disinformation is a disgraceful scourge in media today. So to assuage any possible errant incorrect information posted herein, we strongly encourage you to seek corroboration from other non-VT sources before forming an educated opinion.
About VT
-
Policies & Disclosures
-
Comment Policy
Due to the nature of uncensored content posted by VT's fully independent international writers, VT cannot guarantee absolute validity. All content is owned by the author exclusively. Expressed opinions are NOT necessarily the views of VT, other authors, affiliates, advertisers, sponsors, partners, or technicians. Some content may be satirical in nature. All images are the full responsibility of the article author and NOT VT.