Watch False Flag Weekly News above – click HERE for story links
By Kevin Barrett, VT Editor  reporting from the Left Forum in New York City
Is False Flag Weekly News about to become obsolete?
CNN, which suggested the Manchester bombing could be a false flag,  just dropped the word "psy-op" into its early report on this evening's "white van and stabbings" event in London.
If CNN continues to label each emerging terror drama a "false flag" or "psy-op" in their breaking news coverage, I may have to either apply for a job there, or look for another line of work.
But seriously, folks…what could explain such amazing outbursts of candor from the Establishment mouthpieces over at CNN?
I just spoke with Webster Tarpley after his presentation at the Left Forum in New York City, and he posits that "hatred of Trump is bringing out the best in people" who were formerly purveyors of mainstream propaganda pablum. If that is the case, we may expect to see The New York Times, CNN, Washington Post  and the like suddenly come clean with headlines like: "The war on terror is a hoax, 9/11 was an inside job – sorry we didn't tell you earlier."
But I think Ole Dammegard's theory is far more plausible. Ole says false flag terror events are scripted psy-ops orchestrated by a freemasonic-satanic criminal gang that holds, as part of its occult belief system, the bizarre notion that "if we warn you and reveal what we're doing and you let us get away with it, then the bad karma is on you, not us."
That is why they stage false flags on dates with numerological significance, as I reported in my earlier article Manchester false flag: "Man, 22, kills 22 on May 22." 
That is why, for example, the Rothschilds' Economist Magazine told the whole world in late 2014 that there would be two big terror attacks in Paris in 2015, and the second attack would happen on 11/13/15.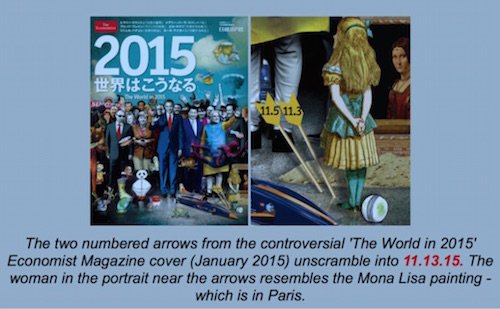 Other well-known examples of false flag terror perps telling us what they're going to do include the famous Simpsons 9/11 imagery, the Lone Gunman TV series,  smearing the Brussels Airport logo in blood all over the floor of the Bataclan to signal that the next false flag would be in Brussels, and on and on.
Ole explains that the bizarre superabundance of obvious evidence that 9/11 and follow-up false flags are inside jobs may not be a sign of incompetence. Instead, he suggests, the perpetrators intentionally fail to hide their tracks, in accordance with their occult believe that to do so absolves them of karmic guilt.
I will be busy presenting at the Left Out Forum tomorrow – watch the livestream HERE – so I won't have time to scour the internet for evidence that this attack, like the previous ones in Manchester and Westminster (not to mention Paris) is a false flag.
But since all such events are now presumptive false flags – even CNN is jumping on the bandwagon – I think we can assume that this one, like the previous one in Manchester, was a Gladio B operation designed to throw the British election to Theresa May and stop 9/11 truth supporting anti-Zionist Jeremy Corbyn.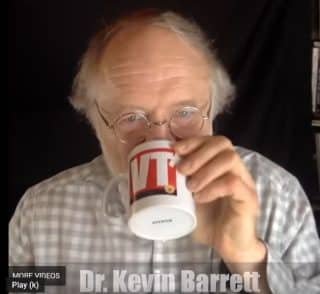 Dr. Kevin Barrett, a Ph.D. Arabist-Islamologist is one of America's best-known critics of the War on Terror.
He is the host of TRUTH JIHAD RADIO; a hard-driving weekly radio show funded by listener subscriptions at Substack and the weekly news roundup FALSE FLAG WEEKLY NEWS (FFWN).
He also has appeared many times on Fox, CNN, PBS, and other broadcast outlets, and has inspired feature stories and op-eds in the New York Times, the Christian Science Monitor, the Chicago Tribune, and other leading publications.
Dr. Barrett has taught at colleges and universities in San Francisco, Paris, and Wisconsin; where he ran for Congress in 2008. He currently works as a nonprofit organizer, author, and talk radio host.
ATTENTION READERS
We See The World From All Sides and Want YOU To Be Fully Informed
In fact, intentional disinformation is a disgraceful scourge in media today. So to assuage any possible errant incorrect information posted herein, we strongly encourage you to seek corroboration from other non-VT sources before forming an educated opinion.
About VT
-
Policies & Disclosures
-
Comment Policy
Due to the nature of uncensored content posted by VT's fully independent international writers, VT cannot guarantee absolute validity. All content is owned by the author exclusively. Expressed opinions are NOT necessarily the views of VT, other authors, affiliates, advertisers, sponsors, partners, or technicians. Some content may be satirical in nature. All images are the full responsibility of the article author and NOT VT.