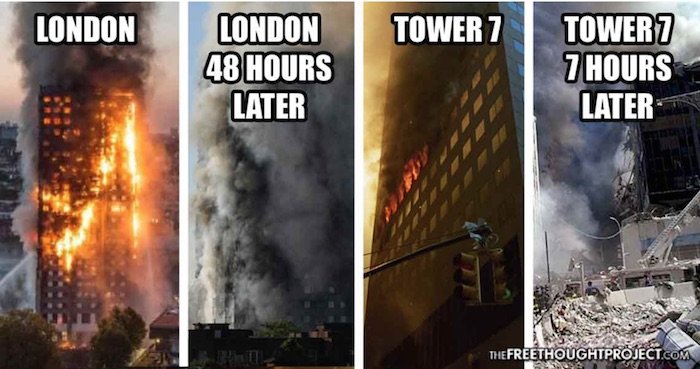 Editor's introduction: Tony Rooke, director of the 9/11 documentary Incontrovertible, has been working with UK firefighters (most of whom wish to remain anonymous) to force the authorities to recognize the absurdity of the official story of WTC-7's alleged "collapse" on 9/11, officially attributed to a few minor office fires. If the official story were true, every highrise in the world would be in grave danger of "self-imploding" every time a minor wastebasket fire breaks out, and all the regulations and policies would have to be completely re-written. Yet no such changes have occurred. There are even still STAY PUT rules for highrise fires, yielding tragic results at Grenfell Tower…which of course did not "collapse" from fires many orders of magnitude worse than the tiny fires of undetermined origin that supposedly imploded WTC-7.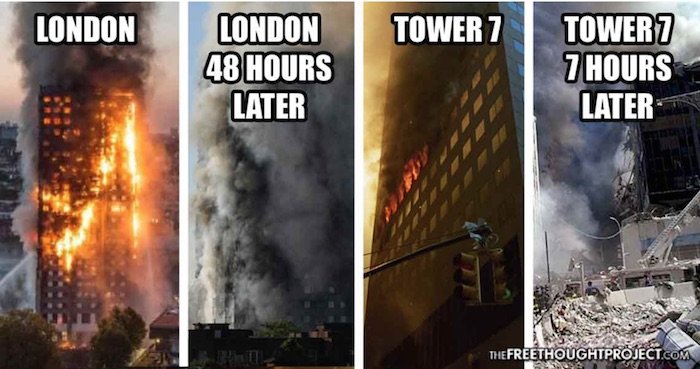 Tony Rooke writes:
Gentlemen and Ladies,
PLEASE get the below communication circulated WIDELY this a very significant development in the UK regarding the anomalies surrounding WTC 7 which have been highlighted by the Grenfell Tower tragedy.
You will note it has been sent to every regional secretary and chairperson within the Fire Brigade Union of Great Britain.
Already it is gaining much traction and those who did not support us before are certainly doing so now and they are SERVING FIREFIGHTERS.  The Grenfell Tower fire has changed attitudes.
As you will tell from the email to these people, we are not pushing the 'Truther' angle too hard. When these folk read firefighter Paul Kayley's reports they will be confronted with WTC 7 in great detail anyway.
Enough to say, the FBU executive ignored Paul's warnings, chose to concur with NIST about the office fire cause, and will now be very concerned because we can PROVE they did nothing about their disastrous 'STAY PUT' policy which recently caused the death of so many at Grenfell Towers in London. Not only that, they have resolutely refused to release a response report to Paul's data [which they promised they would] and are sitting on what they claim is a report that back's up the NIST findings…
Great, let's see it then! And why haven't the UK membership seen it? After Grenfell, they need to know, right…?
Had they acted on Paul's report, many would have been saved.
NOW, the FBU General Secretary Matt Wrack, in an act of inglorious hypocrisy, has written to PM Theresa May suggesting the STAY PUT policy should be reviewed.
HE KNEW THIS A YEAR AGO!
Please use what contacts you have, your websites, any outlets like Global, Educate Yourself, RT, WHOEVER you know, to make the below communication.
KNOWN.
Thank you,
Tony Rooke
---
From: TONY ROOKE
Sent: 19 June 2017 20:32Subject: GRENFELL TOWER FIRE & FBU SUPPRESSION OF WARNINGS & REPORT OVER SUDDEN COLLAPSE RISK AND STAY PUT POLICY
Dear FBU Secretaries and Chairs,
My name is Tony Rooke, I am the writer and director of the online documentary 'Incontrovertible'. It should be noted this film was crowdfunded by and features many firefighters and police officers.
Firstly may I say, much respect and gratitude for the courageous efforts of the London crews at Grenfell Towers last week. What follows may well anger them but so it should – in fact, I hope it does.
The film I made between 2013 – 2015 features the sudden and total collapse of an American building known as The Saloman Brothers Building, which, in 2001, fell straight to the ground, into it's own footprint due to travelling "normal office fires". This collapse, unprecedented in architectural history, followed fires of far LESS severity and time than the Grenfell Tower yet the building suddenly and completely collapsed at free-fall through its own structure.
A small group of Firefighters within North Yorkshire Fire & Rescue Service,  became aware that the 2001 US collapse was curiously said to be due to fires alone. They set about investigating the level of risk posed to them and you at high-rise firefighting incidents. In accordance with Health & Safety legislation, they responsibly and conscientiously reported their assessment as quickly as possible through the appropriate channels, including the Health & Safety representative of the union.
This matter was taken very seriously and was rushed into the FBU National Health & Safety Conference at London in June last summer. (Please see the PowerPoint presentation linked here)
| | |
| --- | --- |
| | SuddenBuildingCollapse-ANewRisk.pdf |
A detailed follow up report was then submitted:
Specific recommendations were made in the initial report regarding the safety of 'Stay-put' policies in high-rise building fires. In the presentation made to the FBU National Health & Safety Conference a key recommendation was clearly made "Suspend 'Stay-Put' policy and urgently review evacuation policies for high-rise occupants."
The report clearly recommended that, as a matter of critical public safety, all bodies and authorities who support NIST's proposed theory of fire-induced building collapse, urgently reassess the use of 'stay-put' policies.
 The relevant section of the conclusion (p.40) of this report states:
"Since [the high-rise building collapse] 15 years ago, Firefighters' operational procedures have not been changed for fighting high-rise fires. In the UK, local government 'Stay put' policies, which advise residents in high-rise buildings and flats to remain in their property when there is a fire, have not been modified. The building design regulations have not changed and equivalent buildings have not been retrofitted with modifications to prevent a recurrence of Building 7's collapse.
However, if NIST's official report of what happened to Building 7 is maintained by our authorities as a valid explanation of events, in accordance with the Health and Safety at Work Act and other related legislation, all of the above factors need to be questioned and critically reassessed as a matter of great importance by fire services, local housing authorities, and building standards regulators."
So it has to be asked, WHY is the 'stay put' policy for high rise fires still in place, a policy that had such drastic and fatal consequences at Grenfell Tower? 
A response report was authored by FBU Assistant General Secretary Andy Dark with a promise that his report would be made available to FBU members for scrutiny and open to debate where necessary. Andy Dark's report has never been released to the wider membership to this day.
Having seen a partial summation of Andy Dark's report, [never the entire body of it] I can confirm Mr Dark is firmly of the opinion that a high-rise structure can succumb suddenly to fires and is quite capable of a total and swift collapse, the speed of which would leave NO time for residents or fire crew to escape.
However, Mr Dark's belief has not been circulated to either his wider membership of the FBU, or to the general public, which could have called into question stay-put policies and potentially saved lives at Grenfell Towers.
Brian Maxwell, a former Edinburgh fire-fighter of some 15 years service actually RESIGNED in 2015 over the indifference of his superiors on this issue.
It is not for me to advise a firefighting professional on the behaviour of any building or firefighting procedure, but, having studied the collapse of 2001 for over a decade, I would urge you to consider very carefully why your FBU superiors have chosen to remain silent on the issue of fire-induced 'sudden building collapse'. Should you choose to believe that the class-A fire protected US Building's demise was due to normal office fires of only 32kg/m2 combustible load levels, so be it. Should you choose to believe that building came down by another mechanism, then it did so on a day when 343 of your American colleagues perished. That alternative view, incidentally, will be endorsed by an independent 2 year forensic study by The University of Alaska this August, when they publish their findings which conclude the 2001 collapse had ZERO chance of being fire induced. ( http://www.wtc7evaluation.org )
| | |
| --- | --- |
| | WTC 7 Evaluation is a completely open and transparent investigation into the cause of World Trade Center Building 7's collapse. Every aspect of the scientific process … |
Today, I read a copy of FBU General Secretary Matt Wrack's letter to PM Theresa May. The word 'hypocrisy' sprang immediately to mind as Mr Wrack demanded a full and proper investigation with transparency and honesty, including a review of the 'Stay Put' policies, something he previously neglected to address when confronted with the "Sudden Building Collapse" report authored by your colleague, yet is now keen to have examined following the death of so many at Grenfell Towers.
I should imagine, a year on from the above report's initial warning of this problem, Mr Wrack and Mr Dark might seek to assuage your fears by suggesting The Saloman Brothers Building and Grenfell Tower were two different building construction types, and therefore no great urgency was required in bringing your attention of the 2001 collapse. I needn't remind you that this is a specious defence. Firefighting procedures for high-rise buildings do not differentiate between these two building types, as both are considered viable enough to implement the use of a forward control bridgehead. No firefighter would enter a building believing it could collapse on top of them regardless of concrete pour, or steel frame – they are ALL assumed to be up to the task. They may have you believe that The Saloman Building had suffered catastrophic damage or some mitigating factor which would ensure it could not sustain its 47 stories. THAT is not the conclusion of the US investigators. 'Normal Office fires' were sufficient. And still your brothers and sisters were permitted to fight long hours inside a building, suffering far greater fires at Grenfell. STILL those residents were left to perish based on an antiquated Stay Put procedure which your executive endorsed despite warnings.
Many of your colleagues are too frightened to speak out – ironic for firefighters – but I sympathise. How can one count on support from your Union superiors when their indifference is so obvious.
This information has now been passed to the National Press and media. It is also in the hands of lawyers and residents of the Grenfell Tower disaster. Mr Wrack and Dark will be getting a copy. Jeremy Corbyn is aware, as is Theresa May as are many others who should be apologising to you.
But having spent the last few years liaising with a fair few of your colleagues, the one thing we have all learned is that you can NOT rely on your FBU Executive, you MUST unite and fight this together. You are the Union. The EC works for you and your membership, not the other way around. Once you understand the gravity of this situation you will.
Sincerely,
Tony Rooke
Director/Writer 'Incontrovertible'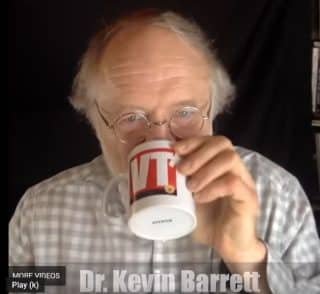 Dr. Kevin Barrett, a Ph.D. Arabist-Islamologist is one of America's best-known critics of the War on Terror.
He is the host of TRUTH JIHAD RADIO; a hard-driving weekly radio show funded by listener subscriptions at Substack and the weekly news roundup FALSE FLAG WEEKLY NEWS (FFWN).
He also has appeared many times on Fox, CNN, PBS, and other broadcast outlets, and has inspired feature stories and op-eds in the New York Times, the Christian Science Monitor, the Chicago Tribune, and other leading publications.
Dr. Barrett has taught at colleges and universities in San Francisco, Paris, and Wisconsin; where he ran for Congress in 2008. He currently works as a nonprofit organizer, author, and talk radio host.
ATTENTION READERS
We See The World From All Sides and Want YOU To Be Fully Informed
In fact, intentional disinformation is a disgraceful scourge in media today. So to assuage any possible errant incorrect information posted herein, we strongly encourage you to seek corroboration from other non-VT sources before forming an educated opinion.
About VT
-
Policies & Disclosures
-
Comment Policy
Due to the nature of uncensored content posted by VT's fully independent international writers, VT cannot guarantee absolute validity. All content is owned by the author exclusively. Expressed opinions are NOT necessarily the views of VT, other authors, affiliates, advertisers, sponsors, partners, or technicians. Some content may be satirical in nature. All images are the full responsibility of the article author and NOT VT.