Asif Haroon Raja
Panama Leaks case that had surfaced from nowhere in April 2016 has reached a critical stage. It has become the most hyped and publically conducted trial in the history of Pakistan. It has been more of media trial outside the court and very little of court trial. Strangely, the Supreme Court gave full liberty of action to the petitioners and defendants as well as the media houses to go to any lengths to insult and discredit each other as well as the state and its institutions as well as the judiciary and to build up civil-military tension. It looks as if accountability of the selected lot, followed by elections for a regime change has been set into motion.
The petitioners (Imran Khan and Sheikh Rashid) seeking disqualification of third-time elected PM Nawaz Sharif (NS), failed to provide evidence to the specially constituted Supreme Court (SC) Bench that NS and his family had resorted to corruption and money laundering in Pakistan to purchase the Mayfair flats in London. Likewise, the defendants also failed to provide sufficient evidence to prove their innocence although they have presented records of last 30 years.
The 5-member SC Bench after listening to both sides for a year and then holding on to its verdict for 40 days, failed to give conclusive judgement because of 3:2 split decision, two judges favoring disqualification of NS on flimsy grounds of inconsistency in his statements in the National Assembly and to the media, and the other three judges wanting more evidence to disqualify him.
From within the 5 judges, another Bench of three judges who had desired additional evidence was formed. A high powered Joint Investigation Team (JIT) headed by FIA officer under the direct supervision of the new SC Bench was mandated to find answers to 13 questions within 60 days (by 10 July 2017).
While NS who from the day one had suggested setting up of a judicial commission, acquiesced, PTI raised objections saying the JIT comprising grade-18 officers from government departments cannot carryout accountability of sitting PM and demanded PM's resignation, or vacation of the chair till the completion of probe. Its stance changed once the proceedings kicked off. PPP and PAT didn't accept the authenticity of JIT.
The officious and abrasive conduct of the JIT has raised emotions of the petitioners as well as the defendants (NS and his three children). The former are bucking up the JIT while the latter are accusing the JIT of being unreasonably harsh, biased and predisposed. While the two sons of NS have been repeatedly summoned and interrogated for hours, PM NS, Shahbaz Sharif, Ishaq Dar and Maryam Nawaz have appeared one time each. Tariq Shafi, cousin of NS was called twice. Each hearing was followed by press briefing of both sides during which stinging barbs were traded.
In the ongoing political tussle, civil-military relations have remained under severe test. The government sees the Army's role with suspicion, and the PTI, seen as a proxy for the establishment goads it to intervene. Mercifully, the Army has kept itself out of the political muddle.
Amidst the ever rising political temperature, several opportunists from PPP belonging to Punjab after assessing the mood of the JIT, jumped into the boat of PTI thinking it to be the winning party. The fort of PML-N has however, till now remained intact and not a single defection has occurred. Sharif brothers act as glue for the party. PTI is impatiently waiting for the outcome of the SC decision and hope that disqualification of NS will crack the ruling party and large numbers of fence sitters in PML-N will join PTI. This is the only way out for the PTI to win next elections, since it has failed to mobilize the masses against NS, or to make him unpopular, particularly in Punjab, or to seek intervention of the Army.
Aspects which gave reasons to the government to raise objections against the JIT were the mysterious call made by the Registrar of SC to the heads of two government institutions asking them to appoint Amer Aziz and Bilal Masood in the JIT team, both having affiliations with anti-PML-N parties and nursing old prejudices against NS. The two were not changed despite objections made by Hussain Nawaz (HN).
Secondly, picture of HN sitting before the JIT was slyly leaked to the media by one of the officials inside the Judicial Academy where the JIT has been conducting its probe. PTI exploited the picture to humiliate him. While the defaulter has been identified, sent back to his parent organization and punished, but his name has not been disclosed.
Thirdly, Tariq Shafi looking after Choudhry Sugar Mills since the beginning was grilled and coerced to change his affidavit or else he will be jailed for 15 years.
Fourthly, SECP Chairman Zafar Hijazi was accused of tampering the records of Sugar Mills.
Fifthly, Maryam Nawaz who was never called by SC Bench was also summoned by JIT despite resentment expressed by PML-N members.
Sixthly, a highly controversial man like Rahman Malik was called as a witness.
Seventhly, including members from ISI and MI and excluding IB member in JIT.
Eighthly, possible phone tapping of PM House.
Lastly, Qatari Prince Hamad bin Jassim who is the principal witness of the defendants and the lone source of loaning money to NS family to purchase Mayfair flats in London has so far not been interrogated.
The reason is that the Prince who has already written two letters to the SC and now to the head of JIT, reiterating the stance of the defendants, wants to record his statement in his office or at home in Doha and nowhere else since he is not bounded by Pakistani laws. He has rejected the plea of the JIT insisting that he should appear in Islamabad, or in Pak Embassy in Doha. The government spokespersons are lamenting that if statement of Gen Musharraf being tried under Article 6 could be recorded in his private house, why can't this leeway be given to the prince who is not an accused. His statement providing the details of money trail originating from purchase of Gulf Steel Mills in 1972 to the purchase of flats in London in 2006 will close the case. It will prove that no money was transferred from Pakistan for purchase of flats owned by Hussain Nawaz and Hasan Nawaz.
The defendants feel that the JIT has been turned from a probing body into an accountability court with mala fide intentions. On account of their reservations on JIT and media hype which is heavily tilted in favor of PTI, it has given reasons to the defendants to suspect that a conspiracy is being woven to oust elected PM. They are suspecting the intentions of the JIT and have succeeded in making it politically controversial. It is liable to be challenged by the defendants in case the ruling of the SC Bench based on JIT probe doesn't go in their favor.
Their stance is that the business of father of NS was ruined by ZA Bhutto as a result of his policy of nationalization of industries in 1972 in which Muhammad Sharif's Ittefaq Foundry was also taken over by the government. Furthermore, NS had been put through thorough probe by Benazir Bhutto in her two stints in power and then by Gen Musharraf and he and Shahbaz Sharif had come clean.
They argue that Panama case does not relate to corruption, and that NS name is not included in the list of over 400 holders of accounts in Fonseca Mossack Offshore Company in Panama. Conversely, IK and several of his top leaders in the party are holding accounts in foreign offshore companies. They say the PM presented himself for accountability despite enjoying immunity and has been extending full cooperation to the SC as well as the JIT. PML-N workers and leaders are keyed up and are in aggressive mood to contest the negative decision of SC on the legal platform and also to display their street power.
Call up notice to Maryam Nawaz by the JIT further incensed the PML-N leaders, but her self-assured conduct on 7 July while addressing the media after the appearance buoyed her political fortunes as well as of the hard pressed PML-N and his father. NS is feeling upbeat and confident and has thrown a gauntlet to his political opponents that he is ready for the contest. He stated that his opponents cannot defeat his party in elections and are therefore resorting to conspiracies to down the elected government prematurely. His apprehensions are not altogether unfounded when seen in the backdrop of the happenings in the last 4 years during which frenzied efforts were made to unseat him.
To start with, Imran Khan (IK) refused to accept 2013 election results and chanted the slogan of 'rigging'. He and his party leaders wailed that elections were massively rigged under the direct patronage of NS. A sit-in was staged in Islamabad in July 2014 which continued till 15 December 2014. During this time, the Parliament, PM House and PTV building were assaulted by the goons of PTI and Tahirul Qadri led PAT. IK kept waiting for the lifting of the finger of 3rd empire (Army) but Gen Raheel didn't oblige. But for the School tragedy in Peshawar, the sit-in would have continued.
The sit-in fizzled out without achieving its main objective but it put the people of twin cities to great inconvenience, it checkmated surging economic indicators, diverted the urban youth in the direction of dance, music and defiance, made a mockery of the state institutions, and above all postponed the visit of Chinese President scheduled in September 2014 to sign the historic CPEC agreement. The sit-in delayed the start of CPEC by six months and caused a huge economic loss to Pakistan.
Once the SC ruled that the 2013 election results were in order and free of manipulation, and that electoral irregularities could be the handiwork of some election staff, the bogey of rigging was buried. However, IK then raised another bogey of 'corruption' and restarted the process of public gatherings and animated the political temperature by resorting to unsubstantiated allegations and character assassination of NS and his family. Media and the secular urbanites boosted his image as a change-maker and helped him in tarnishing the image of NS.
After boycotting the National Assembly (NA) and vainly trying to convince other parties to follow his example, he then tried to besiege Jati Umra (private residence of NS in Raiwind) in September 2015. Next he attempted to lock down Islamabad in early November. But for tough response of the police to block the invaders from Khyber Pakhtunkhwa (KP) led by CM Pervez Khattak, a highly dicey situation could have emerged in the capital city.
The opponents of NS led by IK have adopted politics of agitation as a policy to create instability and insecurity so as to scare away the investors, impede development works, prevent the government from showing results and put it on the back foot. They find faults in everything to degrade the government and state institutions. While the weak areas are castigated with full force, the good points are downplayed and ridiculed. All those in other parties are declared as sinners and corrupt to the core and the ones in PTI including the defecting bad hats from other parties as clean. Ironically, PTI is bereft of democracy within its ranks and most of its high profile leaders have a dubious past.
An impression has been built that corruption is the chief cause of the travails of Pakistan and that accountability and disqualification of NS will cure this cancer. All and sundry seem to have bought this hazy idea, not realizing that corruption is a worldwide phenomenon and can never be cured without morally reforming the society as a whole. According to National Accountability Bureau, $133 million is lost to corruption daily. Financial corruption is most rampant in which PPP and MQM were deeply involved. Moral reformation is possible only under Sharia laws, but except for religious parties, all others are secular and disfavor Islamic laws.
Panama leaks case in April 2016 came as a godsend opportunity to the depressed and sulking IK. He grabbed the opportunity with both hands to nail down NS. He and his stalwarts have pinned their hopes on this case. Dawn leaks case had also bolstered them and they were very hopeful that the Army would not spare NS in a case related to national security. But much to their frustration, it fizzled out after a compromise agreement between the government and the GHQ, after the former sacked Information Minister Pervez Rashid, Adviser Foreign Affairs Tarik Fatemi and a bureaucrat. IK wanted the prized scalp of NS and none else. Gen Qamar Bajwa was intensely criticized on social media.
Closure of Dawn leaks case has further enhanced the importance of the outcome of Panama case in the eyes of opponents of NS. The PPP, PML-Q, JI, PAT have ganged up with PTI, all desirous of getting their share in power in future dispensation. All are wanting to disqualify NS on charges of corruption and money laundering. Zardari is recalling 1993 episode when Gen Kakar had sacked PM Nawaz and powerful President GIK and had paved the way for Benazir to return to power. He is confident that both NS and IK will be disqualified by SC, thereby leaving the arena open for the PPP to capture power in the Centre and in all 4 provinces.
There are reasons to believe that foreign hands covertly working since 2001 to impair Pakistan may be behind the brewing political chaos. Failing to make the rulers abide by their dictates, fomenting political chaos to derail the pro-development government and consequential bedlam to scuttle CPEC and halt progress could be a calculated plan with sinister motives. It is this lurking fear of foreign hands manipulating political instability which has alarmed the rulers and made them doubt the motives of JIT. Many among the PML-N are skeptical about the intentions of Army. They are questioning as to why the quest has gone much beyond the scope of money laundering via Panama offshore company, and has riveted towards probing the business of NS and his father. Hudaibya Papers Mills and Choudhry Sugar Mill were brought under the scrutiny of JIT to establish a link of money trail from Pakistan.
Media has played a key role in hyping the case. The electronic media that had suddenly expanded from one TV channel to 100 in a matter of 2-3 years under the rule of Gen Musharraf was programmed by the plotters and was an important ingredient of the overall plan to destabilize, denuclearize, secularize and Balkanize Pakistan. George W Bush followed by Obama invested huge amounts and so did Israel and India to buy the loyalties of media persons and then float tutored perceptions, condition the minds of the public, civil society and the elites and make them dance to the tunes of enslaved media. Well over decade old brainwashing by foreign manipulated electronic and social media has indoctrinated the minds of the people and they get easily swayed by foreign news and own media.
Unmindful of the web being woven and tightened around Pakistan, and the launch of the final and decisive phase of Operation 'Blue Tulsi' against Pakistan by the enemies of Pakistan, the gullible fans of IK are still hoping that NS ouster and IK takeover will save Pakistan and make it an Asian tiger free of all worries.
The political tussle has consumed 4 years and during this time, while the PTI has wasted its time in hatching conspiracies and resorting to hooliganism and paid little attention to KP, NS led government has remained fully focused on its development agenda and has produced pleasing results. Feeling sure that energy crisis will be overcome by March 2018, and CPEC will become productive, NS is upbeat and is feeling confident to win elections in 2018 and form PML-N government in KP as well.
PML-N has launched a counter offensive by way of registering several cases of corruption, money laundering and tax evasion against IK and is also bringing to fore his moral failings. Civil-military relations are apparently harmonious as was evident from the national security conference chaired by the PM on July 7, but like a ghost, stiffness in relations persist.
Last evening, PML-N senior leaders dropped a bombshell by stating that the entire audio and video recording of testimonies given by the PM and his family including questions and answers before the JIT must be made public, and until and unless the statement of Qatari Prince is recorded by JIT, the government will not accept the report of JIT. Probably, confirmation by FIA team that SECP Chairman had tampered records of Sugar Mills pressed the panic button.
It is now quite evident that the government has lost faith in the JIT and the SC Bench and has decided to take the case to the people's court.  
Against the backdrop of simmering volcano, SC is in a catch-22 situation. JIT might be given more time to record the statement of Qatari prince at his residence in Doha. It's to be seen whether JIT proceedings are made public. The 5-member SC Bench will reassemble and let both sides give their respective arguments in the light of fresh evidence collected by JIT before arriving at a decision. If one judge disfavors NS, it will tilt the balance in favor of IK and the final verdict will be 3 in favor of disqualification and 2 against. The full Bench may then refer the case to Election Commission for final decision. Or refer the case to the NAB or a trial court for criminal proceedings.
Since the loser is likely to out rightly reject the decision, SC will have to act maturely and give a fair and balanced decision. If it has concrete evidence of corruption and misconduct, by all means the PM should be penalized. This option has become difficult to exercise with the JIT becoming controversial and the defendants inclined to boycott it. Disqualifying the PM without maintainable evidence will prove counterproductive and may evoke a backlash. There will be a pandemonium resulting in a political logjam and Army will have to intervene to restore order. August will be crucial.
In case NS is disqualified and PML-N accepts the verdict quietly, probably Maryam Nawaz will take over as PM till elections in May 2018. In case she is also debarred, a senior PML-N stalwart takes the seat of Chief Executive. This option has its implications and may result in infighting and desertions since NS is the binding force which has kept them together. In case NS is not found guilty, PML-N after gaining majority in the Senate in March 2018, will win the next elections with a thumping majority and form a coalition government in KP as well. NS after getting re-elected as PM for the 4th time will hand over his seat to Maryam and will take the chair of President.
In case by some stroke of luck, IK led PTI wins the next elections, he will at best win with very thin majority. He will find it extremely difficult to form a government and will have to make coalitions with PML-Q, PPP, JI, JUI-F and MQM-Pakistan both in the Centre and in provinces. Defeated PML-N will form a strong opposition in Punjab. With this mishmash arrangement, the dream of making New Pakistan will remain an elusive dream and Pakistan will once again lurch from one crisis to another and remain dependent upon the crutches of the US and IMF.
The best course open is to let the incumbent government under NS complete its term and hold fair and free elections next year after carrying out electoral and judicial reforms. All other courses point towards political disarray and are least desirable under the obtaining environments.
The writer is retired Brig, war veteran, defence analyst, columnist, author of 5 books, Vice Chairman Thinkers Forum Pakistan, Director Measac Research Centre. asifharoonraja@gmail.com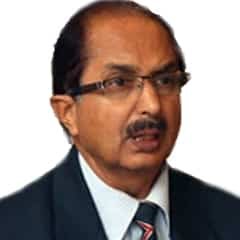 Brig. General Asif Haroon Raja is on the board of advisors for Opinion Maker.  He holds an MSc war studies degree.  A second-generation officer, he fought the epic battle of Hilli in northwest East Bengal during 1971 war,
He served as Directing Staff Command & Staff College, Defence Attaché Egypt, and Sudan and Dean of Corps of Military Attaches in Cairo. He commanded the heaviest brigade in Kashmir. He is tri-lingual and speaks English, Pashto, and Punjabi fluently.
Currently, he is a defense analyst and columnist and writes articles on security, defense, and political matters for numerous international/national publications.  He is chairman at the Thinkers Forum Pakistan, Director Measac Research Centre, & Member CWC PESS & Veterans Think Tank
He is also the author of many books;  'Battle of Hilli', '1948, 1965 & 1971 Kashmir Battles and Freedom Struggle', 'Muhammad bin Qasim to Gen Musharraf', and Roots of 1971 Tragedy'.  His latest book is 'Tangled knot of Kashmir : Indo-Pakistan antagonism: vol. 1 and vol. 2″
ATTENTION READERS
We See The World From All Sides and Want YOU To Be Fully Informed
In fact, intentional disinformation is a disgraceful scourge in media today. So to assuage any possible errant incorrect information posted herein, we strongly encourage you to seek corroboration from other non-VT sources before forming an educated opinion.
About VT
-
Policies & Disclosures
-
Comment Policy
Due to the nature of uncensored content posted by VT's fully independent international writers, VT cannot guarantee absolute validity. All content is owned by the author exclusively. Expressed opinions are NOT necessarily the views of VT, other authors, affiliates, advertisers, sponsors, partners, or technicians. Some content may be satirical in nature. All images are the full responsibility of the article author and NOT VT.