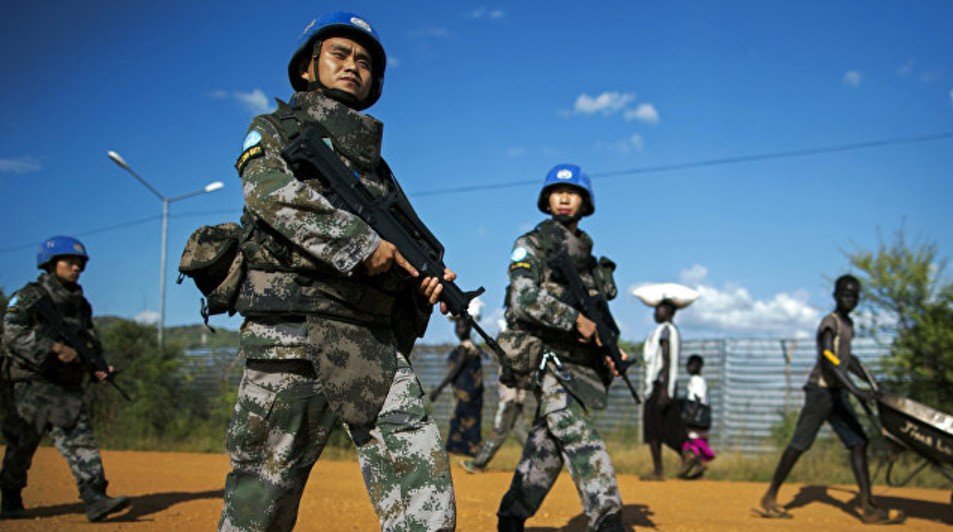 On August 1, the Chinese People's Liberation Army (PLA), known as the world's largest military force, celebrated its 90th anniversary. According to Russian military expert Vasily Kashin, the global role of the Chinese military has significantly increased in recent years.
Best Birthday Gift: Why China Marks Army Anniversary With Djibouti Base Opening
China held a massive military parade Monday at the Zhurihe military base in Inner Mongolia dedicated to the anniversary, involving some 12,000 servicemen, 129 aircraft and 571 military vehicles.Speaking at the parade, Chinese President Xi Jinping said, "The Chinese military is able to defeat any aggressor and is determined to defend the national sovereignty, security and the interests of the country."
At the same time, the Chinese leader added that the PLA's main responsibility is to ensure that people can live in peace.
In recent years, Beijing has been actively engaged in military diplomacy efforts, including taking part in peacekeeping operations and humanitarian missions abroad.
Dragon Rising: China Building Up for Role as UN Peacekeeping Superpower
Sputnik China sat down with Vasily Kashin, a military expert and senior research fellow at the Institute for Far Eastern Studies of the Russian Academy of Sciences, to discuss the new global roles of the Chinese armed forces.The expert pointed out that of the five permanent members of the UN Security Council, China contributes the largest number of military and civilian personnel to peacekeeping operations.
"China has its largest peacekeeping presence in Afghanistan, usually involving over 2,000 personnel. Such efforts give the Chinese military the experience of operating in foreign regions and in complicated situations. Thousands of Chinese personnel have been through this," Kashin said.
Moreover, according to him, peacekeeping missions contribute to strengthening China's influence in different parts of the world, especially in Africa.
"In political terms, such activities are very reasonable," Kashin noted.
The PLA's Navy has been involved in rescue operations. In addition, Chinese naval ships regularly visit some of the poorest developing countries, bringing medical aid to their people. The Chinese military has also taken part in dealing with the consequences of floods, earthquakes and other natural disasters.
"All of the above really contributes to building a positive image of the Chinese armed forces in foreign regions. One of the most memorable examples is Chinese efforts in rescue operations in Haiti which involved the People's Armed Police Force. Those efforts received global acclaim," Kashin concluded.
China to Trim Its Army: What Could Be Behind the Move?
The PLA was founded on August 1, 1927, during the Nanchang uprising against the then-ruling Kuomintang. The subsequent civil war resulted in the founding of the People's Republic of China in mainland China on October 1, 1949.In recent years, the Chinese military has been undergoing large-scale reforms aimed at improving its organizational structure and boosting its defense capabilities.
According to media reports, China's military spending is constantly increasing and the country's defense budget is the world's second-largest after that of the United States, according to media reports.
About: Sputnik International

Sputnik is an international news agency based in Moscow, Russia. They have offices in Washington, DC, Beijing, Paris, Berlin, Cairo, Edinburgh, and London. They cover global political and economic news. Launched November 2014 by Russian media group Rossiya Segodnya, today Sputnik works in more than 30 languages.
Sputnik Official Web Site
Headquartered in Moscow Russia, Sputnik is a news agency with offices around the world. Sputnik covers global political and economic news for an international audience. Launched in November 2014 by the Russian media group Rossiya Segodnya, Sputnik works in more than 30 languages including English, Spanish, French, German, Arabic, Chinese, and more.
*All posts on behalf of Sputnik News are made by Gordon Duff and Jim W. Dean
ATTENTION READERS
We See The World From All Sides and Want YOU To Be Fully Informed
In fact, intentional disinformation is a disgraceful scourge in media today. So to assuage any possible errant incorrect information posted herein, we strongly encourage you to seek corroboration from other non-VT sources before forming an educated opinion.
About VT
-
Policies & Disclosures
-
Comment Policy
Due to the nature of uncensored content posted by VT's fully independent international writers, VT cannot guarantee absolute validity. All content is owned by the author exclusively. Expressed opinions are NOT necessarily the views of VT, other authors, affiliates, advertisers, sponsors, partners, or technicians. Some content may be satirical in nature. All images are the full responsibility of the article author and NOT VT.