A former town clerk filed a civil-rights lawsuit against the town of Hitchcock, Oklahoma, accusing several residents of repeatedly threatening him for being homosexual and his adopted son for being African-American.
According to the lawsuit obtained by the Washington Blade, Randy Gamel-Medler, 59, began to be harassed in August 2016 when he brought his adopted 7-year-old African-American son to live with him and his husband in Hitchcock, where he was the town clerk.
After learning that Gamel-Medler had an African-American son, the lawsuit claims Meradith Norris, a trustee of the town, asked him at a town meeting: "What's going to happen when your house burns down and we don't send out the fire trucks?"
Afterward, Gamel-Medler filed a police report with Tony Almaguer, the Blaine County sheriff, but the lawsuit says that "no criminal action was commenced."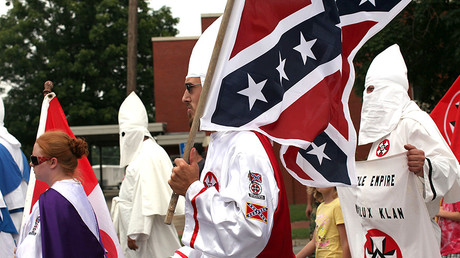 'Still a threat to society': KKK remain active in 33 states – report
The lawsuit then claims Gamel-Medler was assaulted by Jonita Pauls Jacks, a convicted felon who attempted to break into his vehicle on one occasion. Jacks allegedly shook the vehicle and yelled: "F***ing queer, I'm going to grab your little boy, rip his n****r head off, and shit down his throat."
Again, Gamel-Medler went to the sheriff's office to file a report, but this time, Almaguer refused to take the report, saying: "That's just how they how they are out there and it's free speech."
When he returned to work, the lawsuit claims that Joel Pauls, a member of the Hitchcock water board, and Renita Pauls, an employee of the town, had filed a complaint against Gamel-Medler. In the presence of the deputy sheriff, the lawsuit claims that Pauls told Gamel-Medler: "We're just going to rip your little person of color boy's head off and shit down his throat."
The lawsuit then alleges that a large sign was erected across from the post office where Gamel-Medler and his son often walked. The sign read: "The town clerk is a f*****g queer."
For the third time, Gamel-Medler contacted the sheriff, who again told him that the sign was covered by "free speech."
On a separate occasion, Kenny Meier, another resident of the town, allegedly got in his pickup truck and ran Gamel-Medler off the road.
Meier also attempted to take a gun from Gamel-Medler's friend, resulting in a struggle. Gamel-Medler called the police again and a deputy arrived. At the same time, Patsy, Kenny's wife, arrived and asked Gamel-Medler: "We haven't run you off yet?"
Patsy admitted to the deputy that she was the one who put the sign up across from the post office.
The deputy pulled Gamel-Medler aside and told him: "These people are serious. They're going to kill you, they're going to kill your son and they're going to burn your house down."
Undersheriff David Robertson also pulled Gamel-Medler aside and advised him and his son to leave. However, Robertson denied that any of the town's residents were racist or homophobic.
"I got to know him very well from all the complaints and allegations that he made, and I cannot find one person who made any racist statements against his child or against him for being a homosexual," Robertson said, according to NBC News. "We don't take too kindly to being called racist and homophobic, because we're not."
However, when Rick Edsall, the mayor of Hitchcock, arrived, he dismissed the sheriff and explained the Meiers' actions as "just how they behave."
Gamel-Medler attempted to file another police report, but the Robertson would not allow him, according to the lawsuit.
In May, Gamel-Medler heard a crash in the garage "like glass breaking" and called the sheriff's office to report someone breaking into his house. He then saw fire in his garage and called the fire department.
The fire station is only one block from Gamel-Medler's house, but did not respond soon enough, according to the lawsuit. The house burned to the ground while the Meiers, Pauls and the mayor "were in their lawn chairs watching."
An individual identified as the fire marshall approached Gamel-Medler after the fire was out and asked him if the minutes from the town council meeting where Norris threatened to burn his house down were burned in the fire. When Gamel-Medler said they were, the individual said: "I guess that takes care of that."
Gamel-Medler alleged that the fire department did nothing to save his house.
"No sirens, no calls to other towns. They didn't even save the grass," Gamel-Medler said, according to NBC News. "All of my family records dating back to the Civil War, photographs, the first seven years of my son's life, his karate trophy, his bike, his baptism book, all gone."
In the lawsuit, Gamel-Medler accused the police of violating his equal protection rights under the Fourteenth Amendment.
"The actions of each of the Defendants were motivated by a common desire and part of a common plan and conspiracy to deprive the Plaintiff of his common rights and protections as a citizen of the United States," the lawsuit states.
"The actions of each of the Defendants were part of a common scheme to use force, violence, and intimidation to force the Plaintiff to step down," it adds, alluding to his career as the town clerk. "Such scheme was first announced on September 2016, and which culminated when Defendants burned Plaintiff's house down and did not send out fire trucks."
Gamel-Medler did end up stepping down from his position and moved away from the town of Hitchcock. He is claiming injuries in the form of emotional distress, fear for himself and his child, and destruction of his home. He is seeking an award of punitive damages against each of the nine defendants listed in the case
"The horrific treatment of this man and his child are a terrible reminder of how hatred and bigotry feed off of each other," Mark Hammons, an attorney representing Gamel-Medler, said, according to the Washington Blade. "I hope this lawsuit will bring justice for him and social awareness for everyone."
ATTENTION READERS
We See The World From All Sides and Want YOU To Be Fully Informed
In fact, intentional disinformation is a disgraceful scourge in media today. So to assuage any possible errant incorrect information posted herein, we strongly encourage you to seek corroboration from other non-VT sources before forming an educated opinion.
About VT
-
Policies & Disclosures
-
Comment Policy
Due to the nature of uncensored content posted by VT's fully independent international writers, VT cannot guarantee absolute validity. All content is owned by the author exclusively. Expressed opinions are NOT necessarily the views of VT, other authors, affiliates, advertisers, sponsors, partners, or technicians. Some content may be satirical in nature. All images are the full responsibility of the article author and NOT VT.