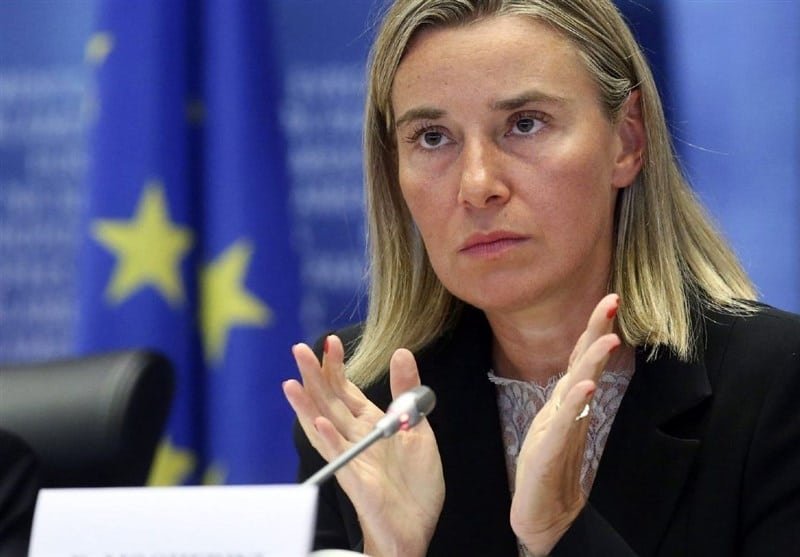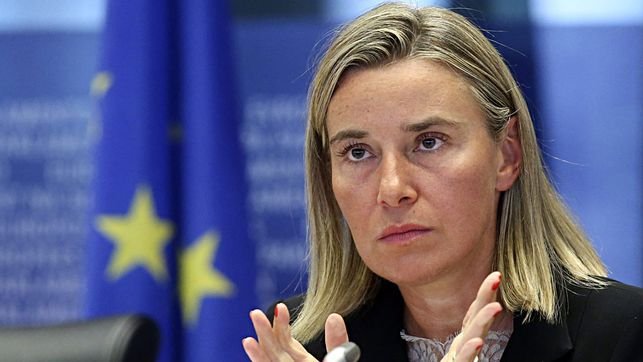 … from Press TV,  Tehran
[ Editor's Note: Mogherini's comments were no surprise to VT. The most dangerous rogue nation on the planet now is the US – not because the American people are that way, but because we have sat on our asses while special interests have taken over our government, something that is actually in its final stages.
This did not happen overnight. I will be posting a Press TV one-hour special I was on for North Korea, featuring video footage recently obtained from a trip there. Part of the background mentioned is the former nuclear deal with the North Koreans that Clinton negotiated and then never completed.
Oh yes, not a word of this has been mentioned by corporate media – another example of their controlling public thought by what info is withheld.
And then we had the deal with Gaddafi to end his nuclear program and normalize relations with the West; and we see what happened to him a few years later. Most Americans do not even remember that deal. So it does not take a genius to grasp that trust in a US signature on a deal, already of questionable historical value, will go down to zero if Trump does his Mr. Tough Guy stunt by backing out of the deal.
Every new administration will consider all past agreements up again for approval. Signed deals can become political issue footballs to garner wedge issue votes to put a new gangster-in-chief into the White House.
We already have an out-of-control proxy terrorism, regime-change foreign policy, where US and NATO weapons are being found everywhere among dead terrorists, mixed in with the East European and Ukrainian post-WWII, Russian AK-47s.
There is not a single politician running for office based on cleaning this mess up. Virtually all of them are onboard, with people like McCain in a state of perpetual euphoria over the US terror war.
The EU has drawn its line in the sand on the JCPOA, and even stalwart allies like Britain, in the middle of the Brexit controversy, are standing firm with the EU on the Iran nuclear deal.
And where are the American people standing? Actually they aren't. They are sitting – sitting on their butts – so the politicians rightfully think "why should they have any say in this, when they are too lazy to do anything about it"?
VT, as always, will be making a stand; and no one will be hazy about what that is. And that includes the new hit piece the Oxford front group has put out, a rerun of the failed Politico one that bombed, posing that VT is a Russian tool for subverting the US military – a charge so absurd it runs off the charts.
This new one is sponsored by Google Jigsaw, their thank you for our exposing their paramilitary operations that run with some Washington DC NeoCon token endorsement. We expect it to tank like the first one, but decided to send a little heat their way, that actions have consequences, for all of us, including them.
Our response will be published in a few days; and it will be something they will remember for some time. Those who live in glass houses should not throw stones. We learned that when we were kids. Google Jigsaw apparently did not.
We have not survived all these years by being stupid… Jim W. Dean ]
Jim's Editor's Notes are solely crowdfunded via PayPal – JimWDean@aol.com
This includes research, needed field trips, Heritage TV Legacy archiving, and more – Thanks for helping out
*
US to lose trust of nations if walks away from Iran deal: Top EU diplomat
–  First published  …  October 12,  2017  –
The EU foreign policy chief says Washington's possible withdrawal from the Iran deal will send a message to the international community that the US is not trustworthy when it comes to deal making.
In a Wednesday interview with PBS channel, Federica Mogherini highlighted Iran's full compliance with the 2015 deal, known as the Joint Comprehensive Plan of Action (JCPOA), and said, "We have the international community strongly behind the full implementation of the deal."
"Once that we have an agreement that is functioning, that is working, that is delivering, the worst thing you can do is trying to dismantle it, also because you would show the way to others that making deals actually is not worth it, because the message that America would send to the rest of the world is that America cannot be trusted upon," she said.
The US, Mogherini added, would lose global trust "because a deal that America voted for just two years ago in the UN Security Council with a resolution unanimously adopted, a deal that America helped to shape enormously, enormously, would be rejected by the same country."
"If we pass the message that with every change of administration in Washington or elsewhere deals are thrown away and renegotiated, no one would negotiate with any administration ever and any deal would be exposed to be renegotiated every term. This is not the way of making deals, not in foreign policy, not in private businesses and I think [US] President [Donald] Trump understands that perfectly well," she said.
Mogherini noted that the international community, including the EU and other US allies, will continue to abide by the deal even if Trump chooses not to certify Iran's compliance, something which has been confirmed eight times by the International Atomic Energy Agency (IAEA).
"The deal not only will hold, but the deal does not belong to one country or another. It is a UN Security Council resolution," she said.
Touching on speculations about the likelihood of renegotiation of the deal, Mogherini pointed to the "extremely complex nuclear aspects" of the JCPOA which have been ironed out over 12 years of intensive negotiations, saying, "It is not a deal you can easily open and renegotiate. There is [neither] technical, nor political space to renegotiate this deal."
She pointed to other international agreements that the US has abandoned but the rest of the world has remained committed to, including the Paris Agreement on climate change, and said, "What will happen would simply be that the US will contravene a UNSC resolution and the rest of the world will stick to it."
While the Trump administration has twice certified Iranian compliance with the deal in notifications to the US Congress under an American law, the White House has indicated that a third verification — due later this week — would not be offered.
In his planned address, Trump is expected to declare that the deal is not in America's national interest. If he does that, Congress would then have 60 days to decide whether to re-impose the sanctions against Iran, which were lifted under the JCPOA.
Tehran and other signatories to the JCPOA have joined voices in support of the landmark deal, repeatedly warning Washington against repercussions of walking way form the multilateral deal.
On Wednesday, head of the Atomic Energy Organization of Iran (AEOI) Ali Akbar Salehi said that Iran is considering "various scenarios" in response to Trump's "probable withdrawal" from the international nuclear deal.
Trump's administration, which took over a year after the nuclear agreement had come into force, has repeatedly attacked the agreement and desperately sought a pretext to scrap or weaken the deal.
Political observers have warned that any unilateral action by the United States based on unsupported claims of Iranian non-compliance would isolate Washington, impede future efforts for other nonproliferation agreements in the broader international community and increase the likelihood of a wider conflict in the Middle East.
Observers say even if Congress decides to re-impose the sanctions, a dispute resolution process provides another month before the US makes it clear that it is no longer a party to an agreement accepted by its key allies, the rest of the UN Security Council and Iran.
After failing to make Trump change his mind, European diplomats and businessmen have shifted the focus of their lobbying efforts on US Congress to help prevent Washington from killing the JCPOA. Last week, European envoys to the US, including EU Ambassador David O'Sullivan, met with top senators to help save the deal.
*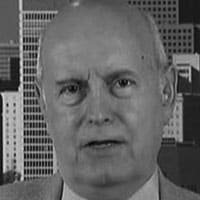 Jim W. Dean is VT Editor Emeritus.  He was an active editor on VT from 2010-2022.  He was involved in operations, development, and writing, plus an active schedule of TV and radio interviews.  He now writes and posts periodically for VT.
ATTENTION READERS
We See The World From All Sides and Want YOU To Be Fully Informed
In fact, intentional disinformation is a disgraceful scourge in media today. So to assuage any possible errant incorrect information posted herein, we strongly encourage you to seek corroboration from other non-VT sources before forming an educated opinion.
About VT
-
Policies & Disclosures
-
Comment Policy
Due to the nature of uncensored content posted by VT's fully independent international writers, VT cannot guarantee absolute validity. All content is owned by the author exclusively. Expressed opinions are NOT necessarily the views of VT, other authors, affiliates, advertisers, sponsors, partners, or technicians. Some content may be satirical in nature. All images are the full responsibility of the article author and NOT VT.