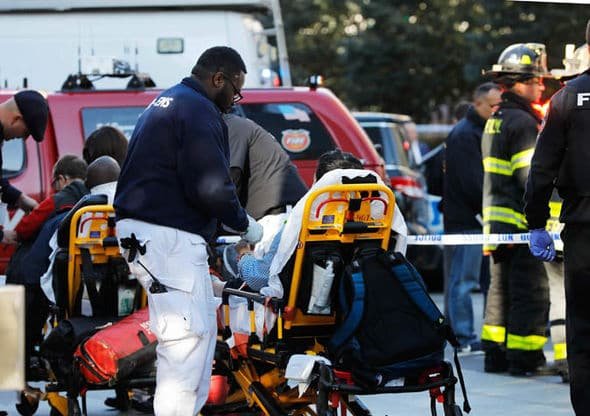 Wednesday's disgraceful terrorist attack in New York's West Side has rightly been condemned by the President. Equally correctly he has called for the one suspect arrested so far, Uzbeki Uber driver Sayfullo Saipov, to be transferred to Gitmo and sentenced to death.
Tragically, eight people, including two nice young Americans, were murdered after being hit by the rental truck driven by Saipov. Notice I am not saying "alleged to have been driven by Sayfullo". The guy was caught on CCTV and asked for an ISIS flag to be flown in his hospital room.
In addition to the nice young Americans, Nicholas Cleeves and Darren Drake, a nice Belgian lady, Ann-Laure Decadt (I suspect she was Flemish) and five Argentinians died. The 6:2 ratio of foreigners to Americans is not particularly surprising – New York City is an odd place to go to kill Americans.
Home Depot
The truck was rented from Home Depot. I am not saying that Home Depot are now part of ISIS. Home Depot are not actually a terrorist organisation. They just rent trucks to terrorists.
There are a couple of issues here for Home Depot. Firstly, why in the middle of the Global War on Terror, with ISIS mounting a terror by truck campaign, are they renting trucks to crazed Moslem aliens with long beards shouting 'Allahu Akbar'? I don't suppose that he was actually shouting 'Allahu Akbar' at the rental counter, nor is it likely that when asked whether he was renting for business or pleasure he replied 'neither, I just want to go downtown to kill some Americans'.
It is not unknown however for terrorists to be drugged up before their attacks. What were the results of the tox screen? Why have we not been told that it is was negative? Given that we have not been told it is a reasonable inference that Saipov was high on something. Even if they were unaware that he was an Uber driver this surely ought to have put Home Deport on notice. At the very least they ought to have insisted he take out extra insurance.
Better still, they ought to have rung the FBI's New York Field Office. Surprising though it may sound, the boys and girls in the New York Field Office are not entirely stupid. At any rate they're a lot more sensible than the boys and girls in the Hoover Building, who would probably have started a civil rights investigation into Home Depot.
If an FBI agent had been told by a rental company that they had a Moslem alien with a long beard renting a truck whilst high on something that may not have been legal, with no obvious need for a truck, behaving oddly and showing signs of stress, I am sure they would have sent someone around. If told 'and by the way, he's an Uber driver' they'd probably have flown a team over in a helicopter. At the very least Home Depot showed a distinct lack of imagination. I expect they'll have to pay for it in lost sales, not to mention new windows in their Tampa Palms store after an irate local drove into the store on Thursday in his Ford Ranger pick-up. He didn't park the truck in the car park. He parked it in the candy aisle, and what's more he didn't buy any candy.
The local rozzers are saying that it was wholly unconnected to the fact that Home Depot had facilitated a murderous terrorist attack the day before by renting a truck to a Moslem. They're also saying that he was mad – I'll bet he was, livid in fact. I'll also bet that he was madder after the New York attack than before. If unconnected, why not drive his truck into a Wallmart?
I am not saying of course that Home Depot intentionally facilitated Wednesday's attack. I'm sure that they didn't know what they were doing, which is precisely my point. There is such a thing as due diligence. If they're unfamiliar with the concept I'm sure their lawyers will acquaint them as the writs fly in.
Uber
Uber are basically saying that Saipov is a nice terrorist and that he didn't give any sign of being a mass-murderer. Oh really? The man is clearly a fanatic, affiliated to the world's most bloodthirsty terrorist organisation. I don't suppose that he was flying ISIS flags from his cab, which might have been what in the Intelligence Community we call a clue.
However there were probably some signs. Saipov was not a trained intelligence operative. The guys driving the trucks rarely are. They're cannon-fodder, and are not selected for their intelligence.
Again Uber might find themselves in the legal firing line. No employer's insurer wants their client's employees committing mass murder during working hours, let alone driving on a cycle path. (I gather NYPD have yet to issue Saipov a traffic citation – they're normally a bit quicker.)
Was Saipov acting alone?
Of course he wasn't. There are singleton attacks, in the sense that the actual murders are carried out by one individual, but there are no 'lone wolf' terrorist attacks. They are invariably planned by someone higher up in the organisation or an intelligence officer or officers from the sponsoring agency.
The FBI, as usual, are trying to close down the investigation and protect the planners, as they did at Las Vegas. This is the same bureau, after all, which is lying about the American president and has played a key role in the hysterical 'Russian interference' smear campaign. The FBI has almost no integrity left, no offense intended.
There may also be a second driver, who drove Saipov to Home Depot. At this stage we do not know how he got there. As it was he seems to have lost control of his vehicle, a typical hazard for hyped-up or doped-up terrorists driving themselves.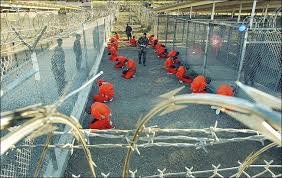 Gitmo
President Trump, to his credit, came up with the sensible idea of transferring Saipov to Gitmo. I see no legal reason why this could not be done. Prosecutions of enemy combatants who commit offenses on US soil can be run in parallel with detention on Gitmo as an enemy combatant. The US military are more than capable of transferring Saipov to New York City for court hearings, some of which could be conducted by video-link in any event. It is vital that Saipov not be interrogated by the FBI, given its long record of covering up the truth re terrorist attacks going back to the USS Cole and beyond.
This would be an opportune moment for the President to sanction the bringing back of Enhanced Interrogation Techniques, including water-boarding. The latter is a valuable tool in the military interrogator's tool-kit.
It's perfectly legal, being a sub-torture routine. I know Allied intelligence officers who have been water-boarded as part of their training. It's a bit more stressful than a drinks break, but the fatality rate is low.
In reality, the loud objections to water-boarding by liberals were not based on humanitarian or arguable legal grounds, but on its effectiveness. Liberals do not want us to find out who is attacking us. Many if not most want to see our societies fail. American liberals want China to become the world's only superpower and British liberals want Britain to remain under the German thumb in the EU.
Saipov would be an ideal subject for the resumption of water-boarding. If he does not want to be water-boarded he should assist the interrogating officers by giving frank and truthful responses to their questions. It's a bit like the Jesuit priest (i.e. intelligence operative) in the new BBC TV series Gunpowder, about the dastardly Gunpowder Plot. If the Jesuit didn't want to be tortured on the rack he should have answered the perfectly proper questions being put to him. (Being a BBC program of course, made by Kudos, it seeks to imply some moral or legal objection to the use of Enhanced Interrogation Techniques on Jesuit operatives.)
We could get a great deal out of Saipov. Well done the NYPD for only shooting him in the stomach! It's better to capture the enemy in a situation like this, rather than kill him.
The Death Penalty
The President, after due and careful deliberation, has decided that the federal government should seek the death penalty for Saipov, and rightly so. It is now the duty of the Department of Justice to give effect to the President's decision.
America has not executed a single terrorist since 9/11, which is absurd. Once again, Saipov would be a good place to start, after a fair trial of course.
Twitter
The President's views were communicated, quite properly, on Twitter, to which there can be no more constitutional objection than there was to President Roosevelt's fireside chats. Outrageously, his Twitter account was then suspended, and not by Twitter.
Twitter can twitter on all they like about 'a rogue employee on his or her last day of work'. I'm not buying. This could have been a hacking attack, e.g. by the DVD, or sabotage by a sleeper agent inside Twitter. I am far from convinced that a single employee could have done it, nor have Twitter named this person.
The Green Card Lottery
Saipov only gained entry to the States through the Green Card Lottery. This nonsense is designed to allow over 100,000 Third World residents, who do not meet US entry requirements, into America. That's over one million a decade. Never mind the 55,000 a year official figure – the program allows winners to bring in their families.
We have yet to hear whether Saipov was known to the Uzbekistan's efficient National Security Service (NSS) prior to being handed a Green Card. He may well have been. Islamic radicals are not always radicalised overnight.
If he was known to the NSS in his own country then it suggests that the lottery is being used by the Correa/COREA Group to infiltrate terrorists into the United States. The lottery should be scrapped at once – any idea backed by that idiot Chuck Schumer, no offense intended, is very likely to be a bad one. Someone – not the FBI, who are badly penetrated and would let terrorists slip through the net – needs to conduct a thorough counter-intelligence review of the entrants under this insane and dangerous program.
John Brennan SJ
Former CIA Director John Brennan gave a disgraceful interview to the BBC's flagship Today program this week. He was not only disrespectful to his own president, but was disrespectful to Russia's president as well.
Brennan, a Jesuit (once a Jesuit, always a Jesuit) is a paranoid Cold War warrior, who has been unable to move on intellectually since 1991. The Cold War's over, John. Showing his lack of class, Brennan could not once bring himself to refer to Vladimir Putin as "President Putin". Russia is not the enemy, indeed she is an ally in the Global War on Terror.
Russia is a democracy. The CIA may have been backing one or more of President Putin's opponents in the 2012 election, but they all lost. Indeed it would be interesting to speculate how much CIA interference there was in the 2012 Russian election. The Virginia farm boys need to get over their defeat. They are not going to get away with starting a second Cold War.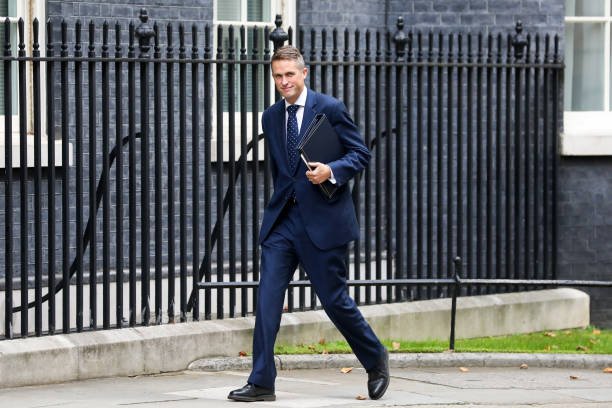 Britain's new Defence Secretary
Theresa May has shot herself in the foot with this ridiculous appointment. I did not hear a single commentator suggest Gavin Williamson's name as Sir Michael Fallon's replacement, for a reason. An absurdly ambitious left-wing nutter and Remainer, who opposed a new US radar facility in Britain as a young councillor, he's only been an MP since 2010.
He has no interest in defense at all. I doubt he could tell the difference between a P-35 (see below) and an F-35, in fact the RAF will probably now end up with P-35s instead of more F-35s. I seriously doubt whether he's ever attended the Remembrance Sunday parade at the Cenotaph. It's the sort of event he needs to be paid to go to, I suspect, no offense to the little weasel intended. And yes, I have marched past the Cenotaph on Remembrance Sunday, at the invitation of a veterans' group, with whom I was proud to march.
Speaking of the F-35, I'm hearing that the Lockheed Martin boys have got the unit price of the A model down to just 85 million bucks for the full production airplanes. I just don't know how they do it for the money. Talk about a great deal for the taxpayer!
This Week's Movie Review: Murder On The Orient Express
2017, dir. Sir Kenneth Branagh
Released to theaters in the UK this week (this is one time we get to see it before you guys), this is an outstanding movie, with a stellar cast. All y'all will have heard of, if not read, Dame Agatha Christie's 1934 book and seen the 1974 movie.
The big question of course is whether or not this latest version is up to the 1974 original. The Guardian's film critic didn't think so, which was encouraging. In fact I think it's better.
It's based in 1934, the year the book was published. Sir Kenneth plays an outstanding Poirot, arguably the best ever. The supporting cast includes Dame Judi Dench, Johnny Depp, Sir Derek Jacobi, Michelle Pfeiffer, Willem Dafoe and Leslie Odom, Jnr (Red Tails).
The acting is quite superb. Johnny Depp plays a particularly good Ratchett, the mean murderer who himself is topped on the train. He's such a good villain he could stand for Congress, or become an FBI Director.
The photography is excellent and the mountain settings breathtaking. It's a great visual spectacle.
It's a little slow in starting, but that's quite normal for a whodunnit. The scene has to be set and the characters introduced. My criticisms are minor. The train is a bit short for the Orient Express, although the carriage interiors are superbly done. The engine is also wrong, to my mind, although finding an authentic 1934 Simplon Orient Express choo-choo would not be easy.
There's a decided American influence in the train scenes, but you guys put up the money, so you're entitled to hear American railroad crossing bells.
Go watch it. I don't think you'll be disappointed.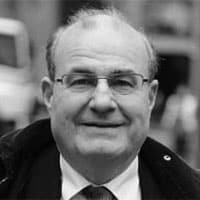 Michael Shrimpton was a barrister from his call to the Bar in London in 1983 until being disbarred in 2019 over a fraudulently obtained conviction. He is a specialist in National Security and Constitutional Law, Strategic Intelligence and Counter-terrorism. He is a former Adjunct Professor of Intelligence Studies at the American Military University.
Read Articles from Michael Shrimpton;
ATTENTION READERS
We See The World From All Sides and Want YOU To Be Fully Informed
In fact, intentional disinformation is a disgraceful scourge in media today. So to assuage any possible errant incorrect information posted herein, we strongly encourage you to seek corroboration from other non-VT sources before forming an educated opinion.
About VT
-
Policies & Disclosures
-
Comment Policy
Due to the nature of uncensored content posted by VT's fully independent international writers, VT cannot guarantee absolute validity. All content is owned by the author exclusively. Expressed opinions are NOT necessarily the views of VT, other authors, affiliates, advertisers, sponsors, partners, or technicians. Some content may be satirical in nature. All images are the full responsibility of the article author and NOT VT.