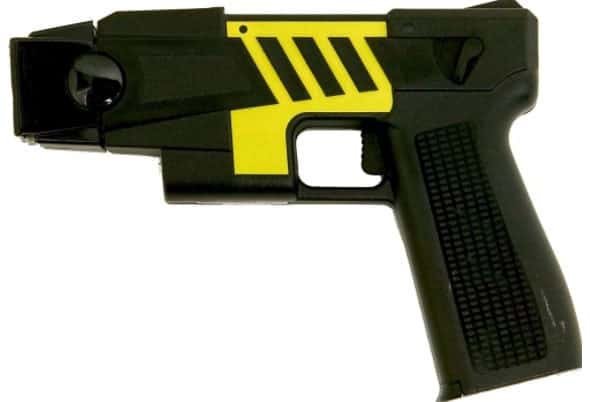 Health Editor's note: Exactly what is a stun-gun?  First of all, you can purchase one from Amazon, "official stun-gun sites," Ebay, Walmart, Cabelas….well just about anywhere.  The use of the stun gun has become common practice for our police system to use to "bring down or control" a suspect.  There are stun-guns that look, well look like a gun, there are those that resemble a cattle prod, some fire projectiles and deliver the electric punch though wires that attach themselves to the victim.  There are even projectiles that can be fired from shotguns and deliver that electric punch.  
Exactly, how does a stun-gun do its job of incapacitating with the disruption of muscle function allegedly without causing significant injury?  I suppose if one falls to a soft portion of grass that would be the case.  But what if someone is stunned and proceeds to fall off of a roof since there is no muscle function available to prevent a fall.  That would certainly cause some significant injuries, if not death.   
I am certain there is far more I can write here about how these harmful weapons work but I will keep to the basics. Essentially a high-voltage, low-current electric shock is delivered to the body to over-power the body's ability to use muscles.  Muscles become useless and quiver as the body essentially becomes paralyzed.  This is painful.  Heaven help you if you have a pacemaker, as this shock will probably stop your heart.  People with electrical problems with their heart muscle conduction would be in jeopardy of loosing all effective heart pumping function, since the heart is just one big muscle. At the very least there can be electrical burns, heart palpitations (heart beating too fast) and nerve damage. So if you have a person that you wish to subdue and do not have a medical history on him or her, you can do major or irreparable damage.  Using a stun-gun on someone with cardiac disease, who is having a medical or mental health crisis, or is pregnant will cause harmful health issues and possibly death. 
The state of Ohio has begun to look into the use of tasers in jails, a place where a person, in all probability, is under physical control due to the fact that he or she is, well, is already in jail. Perhaps a bit or more than a bit of unnecessary use of this potentially lethal weapon?……Carol
---
Ohio Politicians Call for Inquiry Into Jail Stun-gun Abuses Cited by Reuters
By Jason Szep and Linda So, December 20, 2017
COLUMBUS, Ohio (Reuters) – In one video, Sergeant Mychal Turner stunned a mentally ill inmate with a Taser multiple times after the inmate defied an order to stand in his cell at Ohio's Franklin County jail.
In another, Turner fired the Taser's electrified barbs into an inmate's chest after he refused to remove a piece of jewelry. In a third, he pulled the trigger five times on a handcuffed inmate who wouldn't sit on a bench.
Each incident violated the jail's Taser policy, and each was cited in a class-action lawsuit the county settled that accused jail guards of "sadistic" and unconstitutional use of Tasers from 2008 to 2010, court records show.
Yet neither Turner nor any other deputies were disciplined, according to internal county jail records reviewed by Reuters.
Instead, Turner was promoted to major. He's now commander of Franklin County Corrections Center II, the largest of the jail's two main facilities.
Reached by phone, Turner declined to comment. In court documents, he has defended his actions, saying he feared for his safety in some incidents and wanted to avoid potentially dangerous physical struggles in the small confines of a cell. Jail officials also declined to comment, though the county said it instituted reforms in 2011 under the lawsuit settlement.
Now, following a Reuters report this month that included publication of more than a dozen stun-gun videos, the jail faces escalating calls for investigation.
Two United Nations torture experts called for a criminal inquiry into the cases documented by Reuters. Local political leaders say they agree.
Ohio State Senator Charleta Tavares, a Democrat whose district includes the jail, said she planned to call on the county prosecutor's office to investigate. She said she was disturbed by the video footage published by Reuters.
"Any time a stun gun is used inappropriately – particularly in the video, where it looks as though it is just used over and over and it's more like a prod that people would use on animals – that is criminal in my opinion," Tavares said.
Ohio Democratic State Representative Kristin Boggs also urged a closer look. A criminal investigation would be appropriate, she said, if an officer was found to have used excessive force that violated jail policy. "I certainly think it's worth investigating to determine what we can be doing to make our system better," Boggs said.
Deputies who misused Tasers should be held to account, said relatives of the inmates.
"It was absolutely abuse," said Logan Amburgey, whose brother Patrick was stunned multiple times and pistol-whipped with a Taser by another deputy after defying orders to sit on a bench in his cell on June 12, 2009. Patrick, a 21-year-old college student at the time, had been arrested for passing out intoxicated on the front porch of a local residence.
"UNCOOPERATIVE"
From 2008 to 2010, 22 deputies at the Franklin County Jail used Tasers on 80 inmates, according to a Reuters review of the jail's "use of force" reports. No jailer pulled the trigger more times than Turner.
In all, Turner delivered 28 shocks for a total duration of 126 seconds over the course of 12 incidents. One other guard, Sergeant Andrew Eing, fired his Taser 26 times for a total of 114 seconds. Most other deputies who used the weapons pulled the trigger fewer than a dozen times.
Like Turner, Eing was promoted – to lieutenant in the department's Internal Affairs Bureau, responsible for investigating officer misconduct. Now supervisor of the detective bureau, he did not return calls seeking comment. In internal reports, Eing denied abusing the Taser, saying he aimed to prevent injury to staff and inmates.
In one case, Eing shocked a 23-year-old mentally ill inmate, Jibril Abdul-Muwwakil, 14 times for 64 seconds while he lay bleeding on the floor, surrounded by 10 officers. An internal investigation concluded the Taser use was "justified" to control a "violent, dangerous, resisting inmate." Experts for the plaintiffs described the incident as "excessive" and a violation of Taser product-safety and health warnings.
Sixty percent of the 80 Taser incidents involved people classified by the jail as intoxicated or mentally ill, Reuters found.
In January 2009, Turner and four deputies tried to move Ralston Distin, a 47-year-old inmate classified as "mentally disabled," to another location. When the jailers opened his cell door, Distin shielded his body with a sleeping mat, speaking unintelligibly. Turner shocked him repeatedly for refusing to stand up. Once in leg irons, Turner shocked him again for not letting go of the mat.
Turner feared he would get "entangled in a wrestling match" or be kicked if he didn't use the Taser, he testified in court documents.
In another video, Turner fired the Taser's electrified barbs into the chest of Kevin Carey in May 2009 for refusing to remove a nipple ring. Carey, 25, had been charged with drunk driving and resisting arrest.
Turner said he stunned Carey to "make sure that he doesn't become uncooperative" and because he failed "to follow directions."
He also stunned a handcuffed Gregory Esmile five times after the 46-year-old failed to sit down on a bench. Esmile was jailed on trespass charges after failing to leave a nightclub, court records say.
Turner said he worried Esmile was "getting ready to charge."
"UNLAWFUL USE"
According to the jail's Taser policy at the time, Tasers were allowed for self-defense, protection of another inmate or staff, disarming an inmate, preventing self-harm to an inmate, or controlling a combative inmate.
Tasers could not be used on inmates in handcuffs, leg irons or a restraint chair, or on pregnant women. So several cases violated the policy, the lawsuit against the county alleged. One video cited in the case showed a pregnant woman, Martini Smith, being shocked. She later miscarried, and was among plaintiffs in the civil lawsuit.
Axon Enterprise Inc, the stun gun manufacturer, said its guidelines suggest proper practices and that it does not "condone torture of any kind."
In separate statements, the office of Franklin County Prosecutor Ron O'Brien and the Franklin County sheriff's department said no one officially sought a criminal investigation in the cases.
The statements said the U.S. Department of Justice did not recommend criminal charges when the DOJ intervened in the civil lawsuit on grounds that Franklin County "engaged in a pattern or practice of unlawful use of Tasers against detainees and inmates in their custody."
After that case, the county agreed to pay eight inmates a total of $102,250 in damages, strengthened its Taser policy and expanded training.
The Department of Justice's Civil Rights Division does not recommend that jurisdictions prosecute cases, according to DOJ rules.
O'Brien's office said neither the inmates' lawyers nor its expert witness, Steve J. Martin, sought charges.
Disability Rights Ohio, a legal group representing inmates, said that's not its role. The nonprofit group "is not an enforcement agency," said advocacy director Kerstin Sjoberg-Witt.
Martin, who has inspected more than 500 U.S. prisons and jails, said urging investigations is not his role. He was "surprised" at O'Brien's comment.
The cases were ultimately investigated by the special litigation section of the DOJ's Civil Rights Division. Under DOJ rules, litigation lawyers can refer possible crimes to the unit's criminal section.
Justice spokesman Devin O'Malley said he couldn't "comment on the existence or non-existence of investigation.
---
Cite this article: Ohio Politicians Call for Inquiry Into Jail Stun-gun Abuses Cited by Reuters – Medscape – Dec 19, 2017.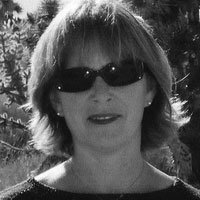 Carol graduated from Riverside White Cross School of Nursing in Columbus, Ohio and received her diploma as a registered nurse. She attended Bowling Green State University where she received a Bachelor of Arts Degree in History and Literature. She attended the University of Toledo, College of Nursing, and received a Master's of Nursing Science Degree as an Educator.
She has traveled extensively, is a photographer, and writes on medical issues. Carol has three children RJ, Katherine, and Stephen – one daughter-in-law; Katie – two granddaughters; Isabella Marianna and Zoe Olivia – and one grandson, Alexander Paul. She also shares her life with her husband Gordon Duff, many cats, and two rescues.
ATTENTION READERS
We See The World From All Sides and Want YOU To Be Fully Informed
In fact, intentional disinformation is a disgraceful scourge in media today. So to assuage any possible errant incorrect information posted herein, we strongly encourage you to seek corroboration from other non-VT sources before forming an educated opinion.
About VT
-
Policies & Disclosures
-
Comment Policy
Due to the nature of uncensored content posted by VT's fully independent international writers, VT cannot guarantee absolute validity. All content is owned by the author exclusively. Expressed opinions are NOT necessarily the views of VT, other authors, affiliates, advertisers, sponsors, partners, or technicians. Some content may be satirical in nature. All images are the full responsibility of the article author and NOT VT.